Try this irresistibly cheesy, delicious and easy to make pasta dish with cheddar, ham and broccoli. A comforting family favorite that will have everyone asking for seconds!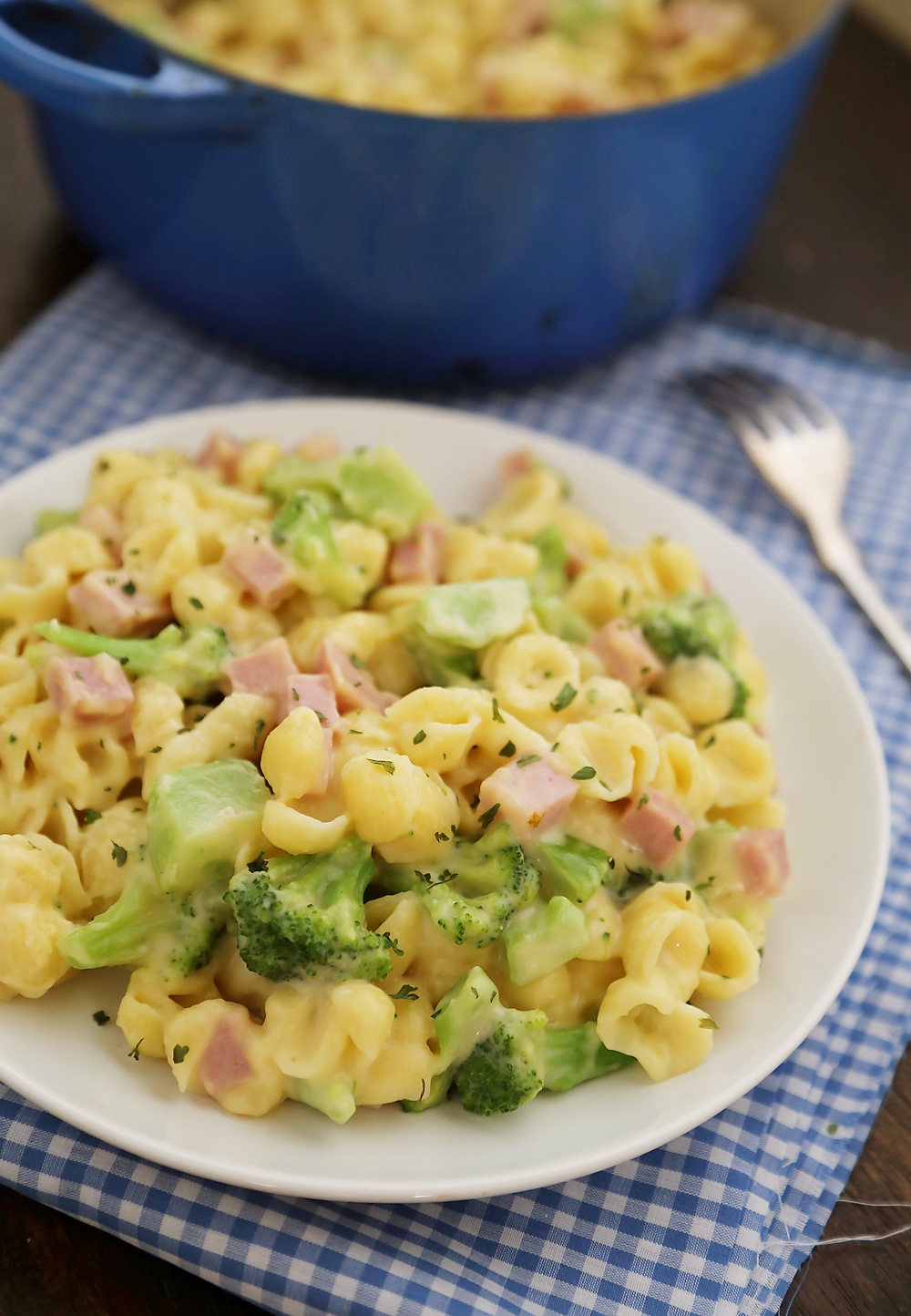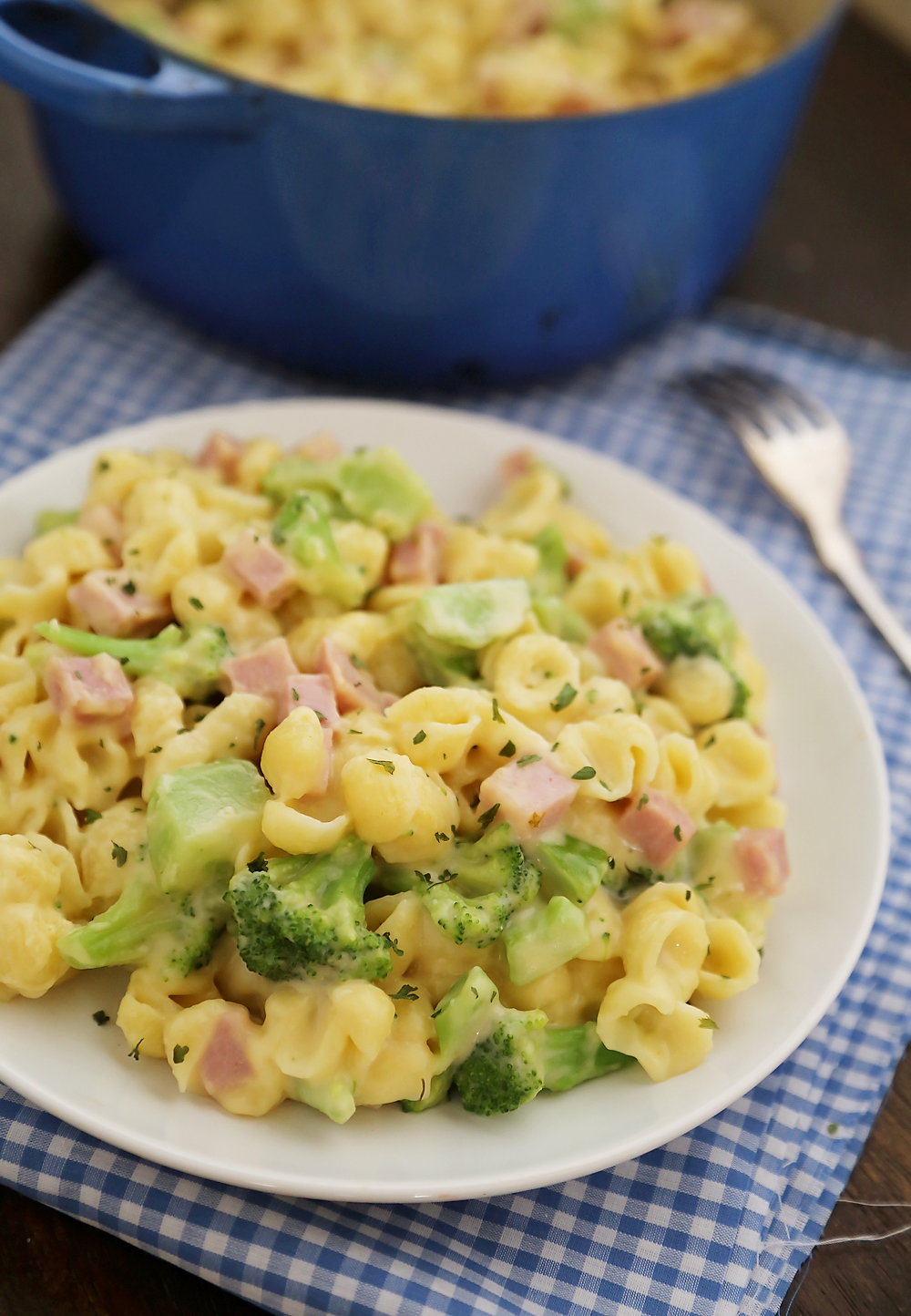 It has been unusually chilly in Austin lately, but that's nothing compared to the strong winter storm coming East. So, with my East Coast family and friends in mind, and all of my readers needing some belly-warming goodness, I bring you a pot full of creamy shells and cheese, with chopped ham and broccoli. Comforting, delicious and incredibly easy to make. Basically, a hug in a bowl. And who couldn't use one of those?!
This has to be one of my favorite fall and winter meals, but it satisfies kids and adults alike year-round. It truly is the perfect meal to come home to after a long day of work or school, or to whip up on a cozy weekend evening in. The ingredients are easy to find anytime of year, in any grocery store, and you can even swap them out for whatever protein or veggie you prefer.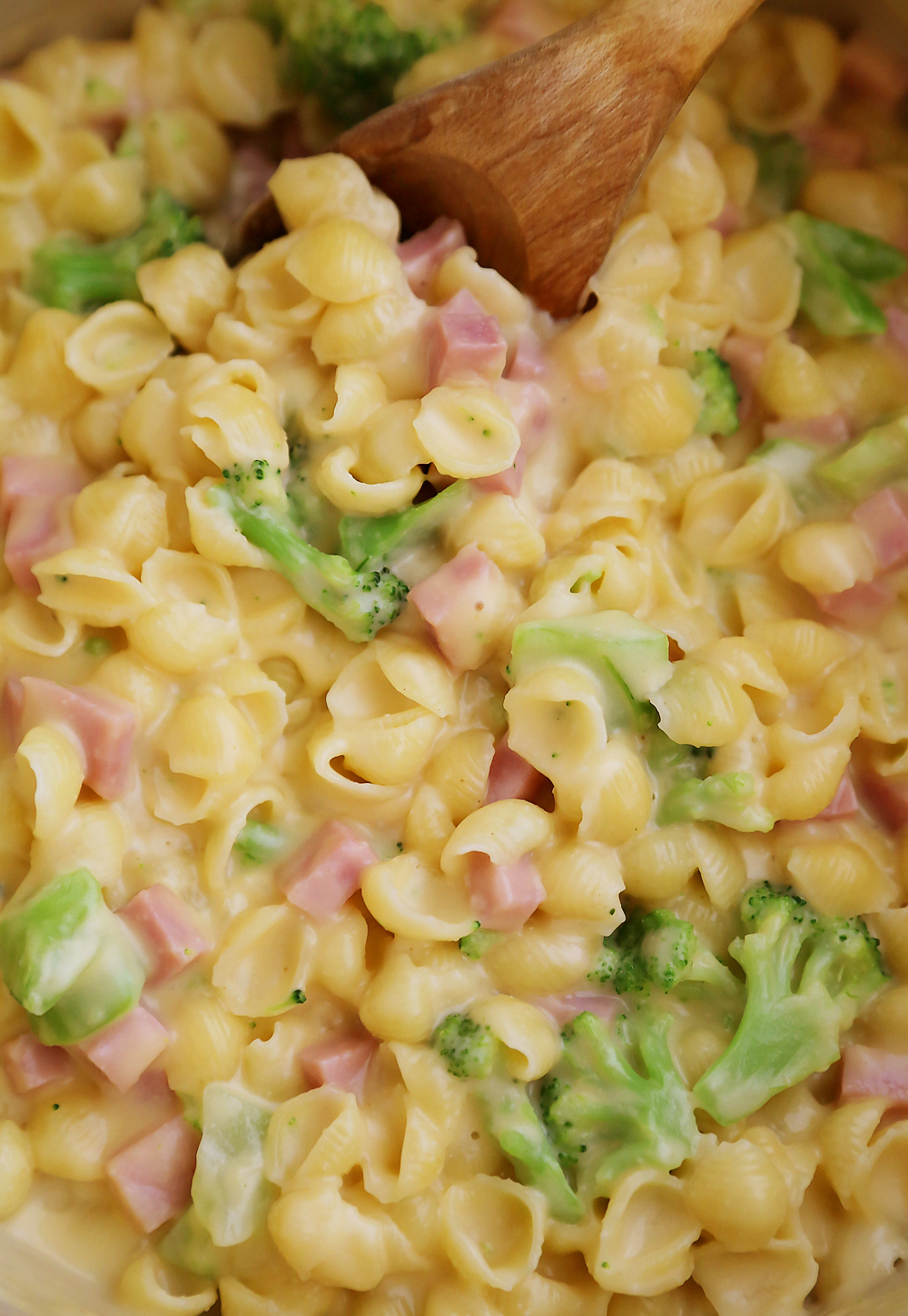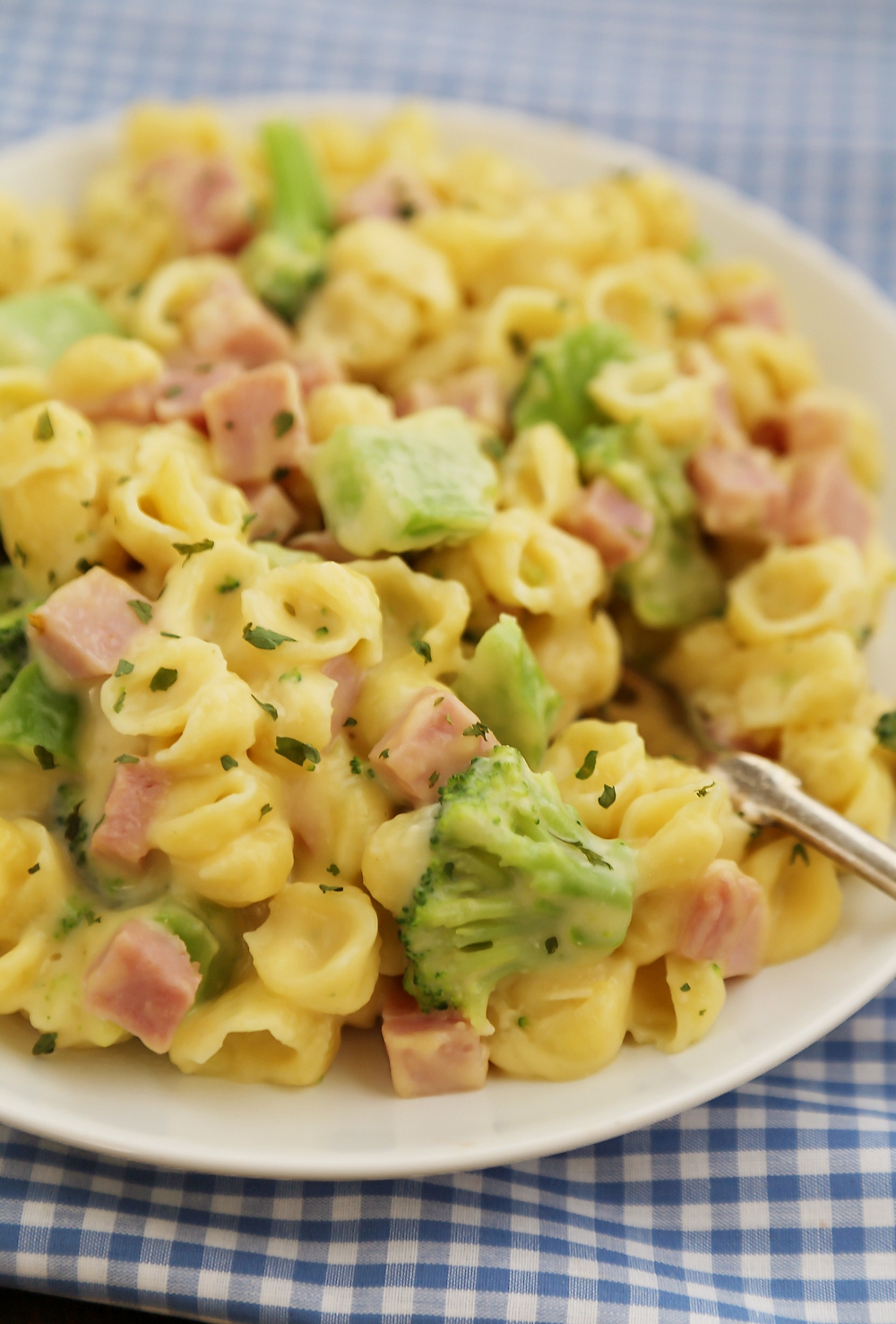 Need some substitution ideas? To swap the ham, I've added chopped up chicken, smoked sausage or crumbled cooked ground turkey, beef or sausage to this pasta dish. What can work in place of broccoli? Try chopped bell peppers, carrots, peas, tomatoes, fresh spinach, mushrooms, or zucchini. Really, anything goes. I'm always switching it up, and as long as it's covered in cheese, it all gets glowing reviews from my picky toddler!
This meal is perfect for feeding a crowd, but also freezes well, too! Simply pour it into an airtight container and store in your freezer for up to 1 month.
You will love how simple and scrumptious this shells and cheese dinner is, and you made it all from scratch! I guarantee your whole family will reach for seconds, and come back to this recipe again and again, like we do. Hope you enjoy!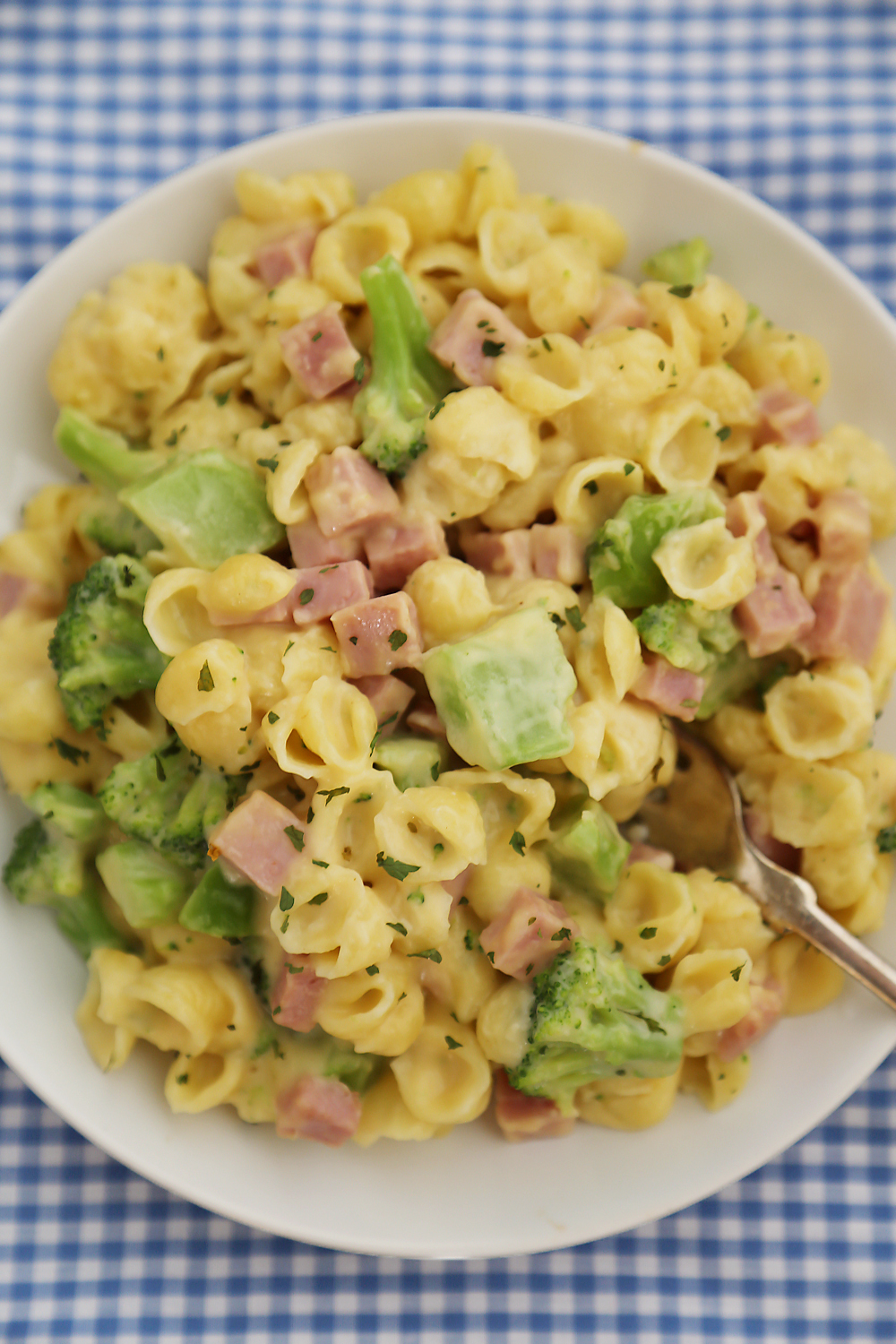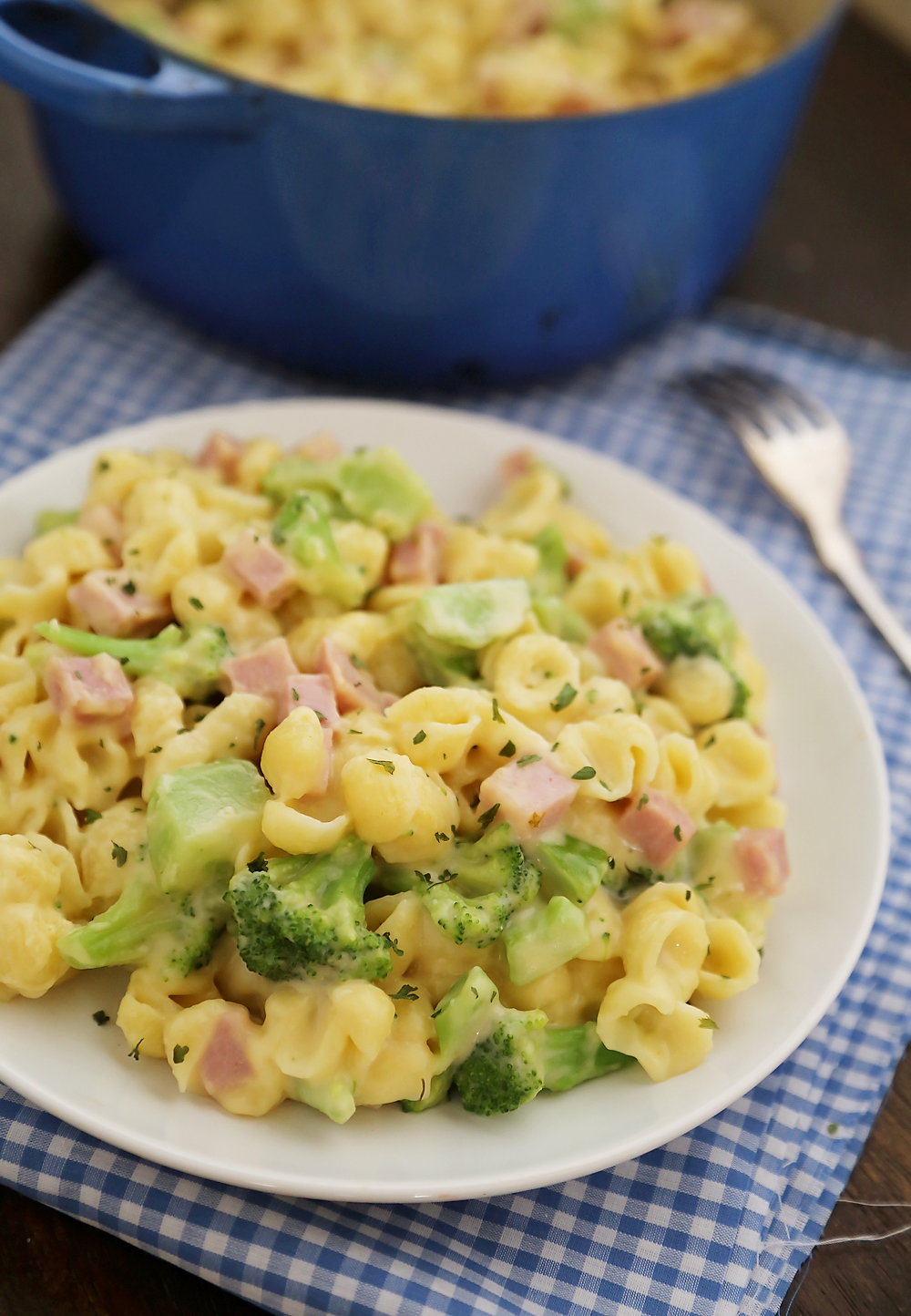 Creamy Ham and Broccoli Shells and Cheese
Ingredients
1-1/2 cups dry shells pasta
1-1/2 cups broccoli florets
1/4 cup unsalted butter
1/4 cup all-purpose flour
2 cups milk, any kind
1/4 teaspoon onion powder
1/4 teaspoon garlic powder
1-1/2 cups chopped ham
Kosher salt and freshly ground black pepper, to taste
2 cups (8 oz.) shredded cheddar cheese
Instructions
Set a large pot of salted water to boil. Add pasta and cook according to package directions. Add broccoli to boiling water with pasta during last 3-4 minutes. Drain and set aside in a colander.
In the same large pot set over medium heat, melt butter. Stir in flour. Cook mixture, stirring constantly, for 1 minute. Whisk in milk, then season with onion powder, garlic powder, salt and pepper. Increase heat to medium-high and cook mixture, stirring constantly until it boils and thickens. Remove from heat and stir in cheese until melted. Add pasta, broccoli and ham, tossing to evenly coat.
Enjoy!