Classic comfort food, made easily in under one hour! Tender, juicy meatloaf with crispy roasted potatoes makes for a mouthwatering one-pan dinner the whole family will love. Spread on a tangy sauce for extra flavor, slice and serve hot!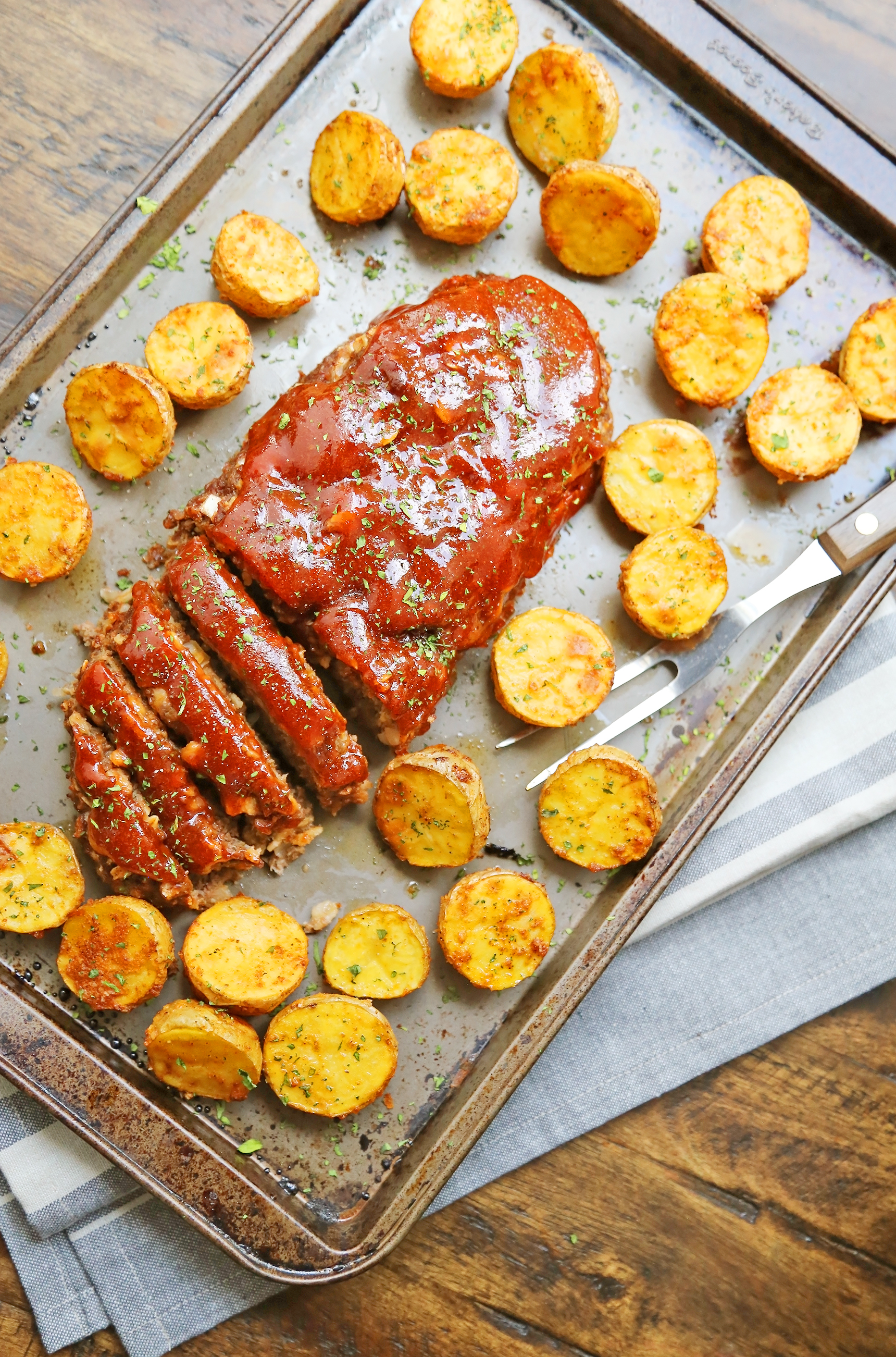 Ever feel homesick for a familiar favorite, like mom used to make? I know how you feel! And I've got you covered.
This mouthwatering meatloaf is simple enough for any everyday cook to make. No mess, no fuss and just one bowl to prepare it all. It comes together quickly and results in the most deliciously, juicy beef. Made all on one sheet pan in under one hour!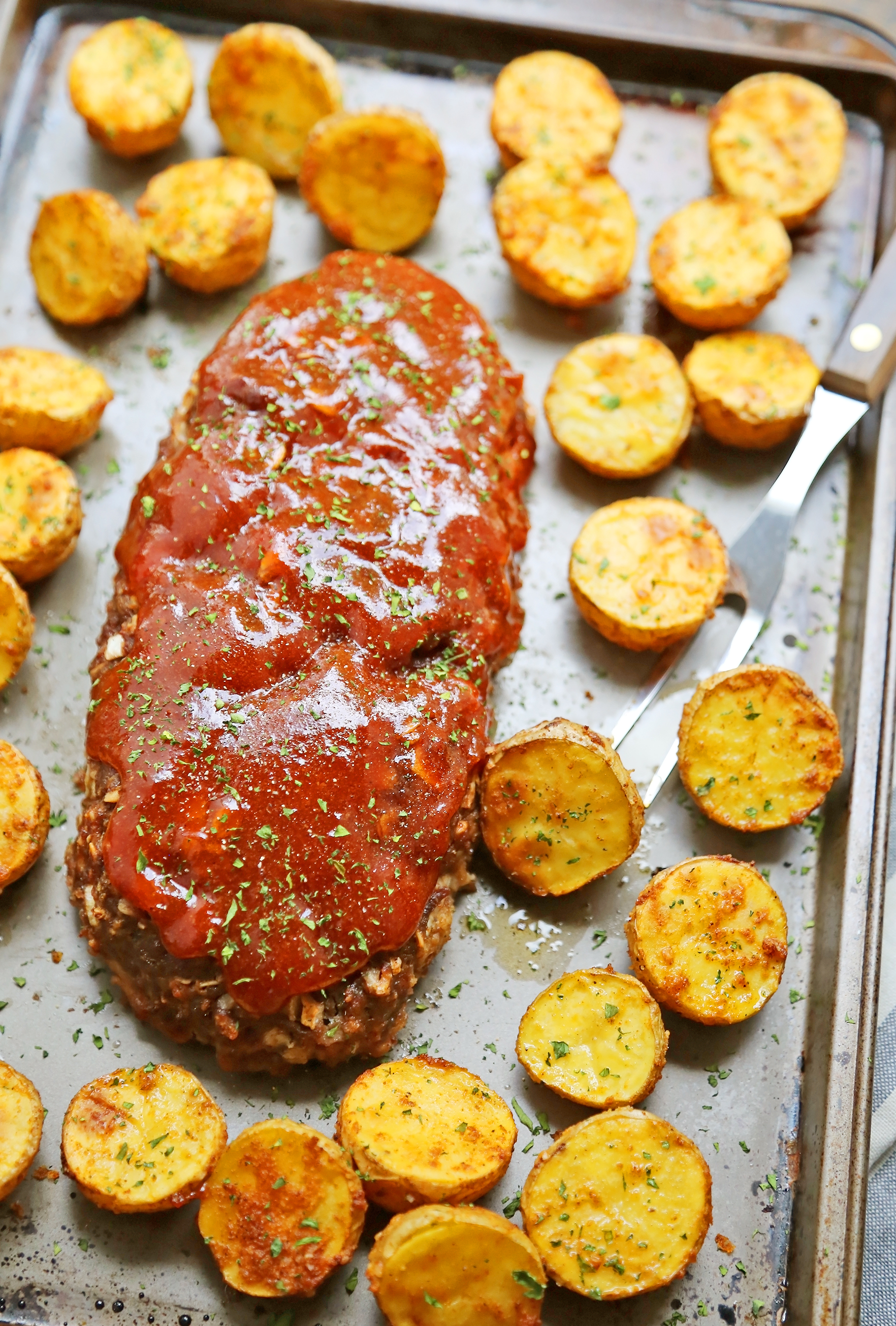 The roasted baby potatoes crisp up perfectly while the meatloaf cooks. So, you can have a complete dinner on the table easily, without any headache about side dishes. Though I like to serve this with an easy vegetable on the side, like steamed broccoli or a simple green salad.
With a tangy sauce on top, every bite of this meatloaf is melt-in-your-mouth delicious. Perfect for those chilly nights, and a hearty homecooked leftover lunch the next day.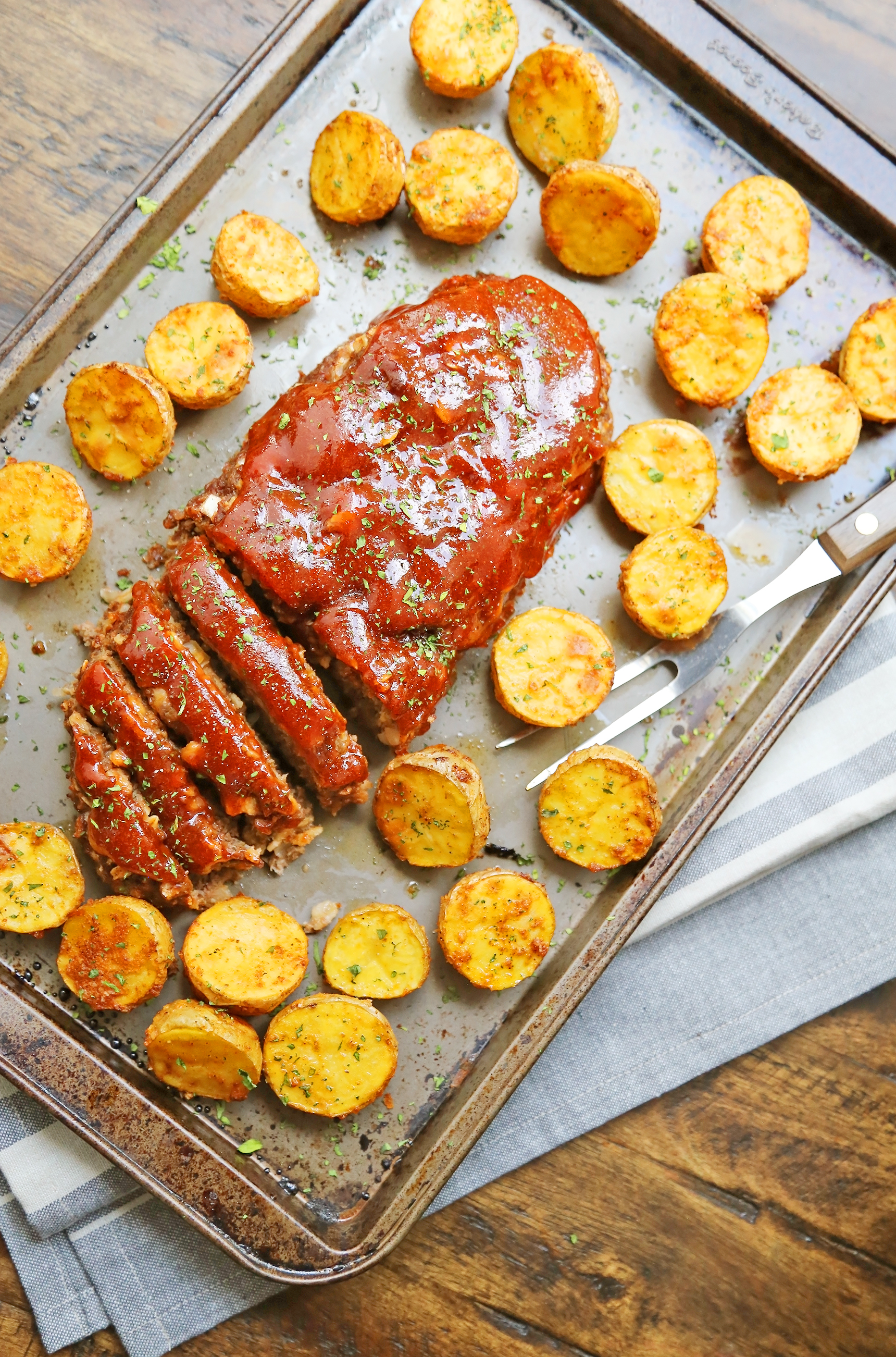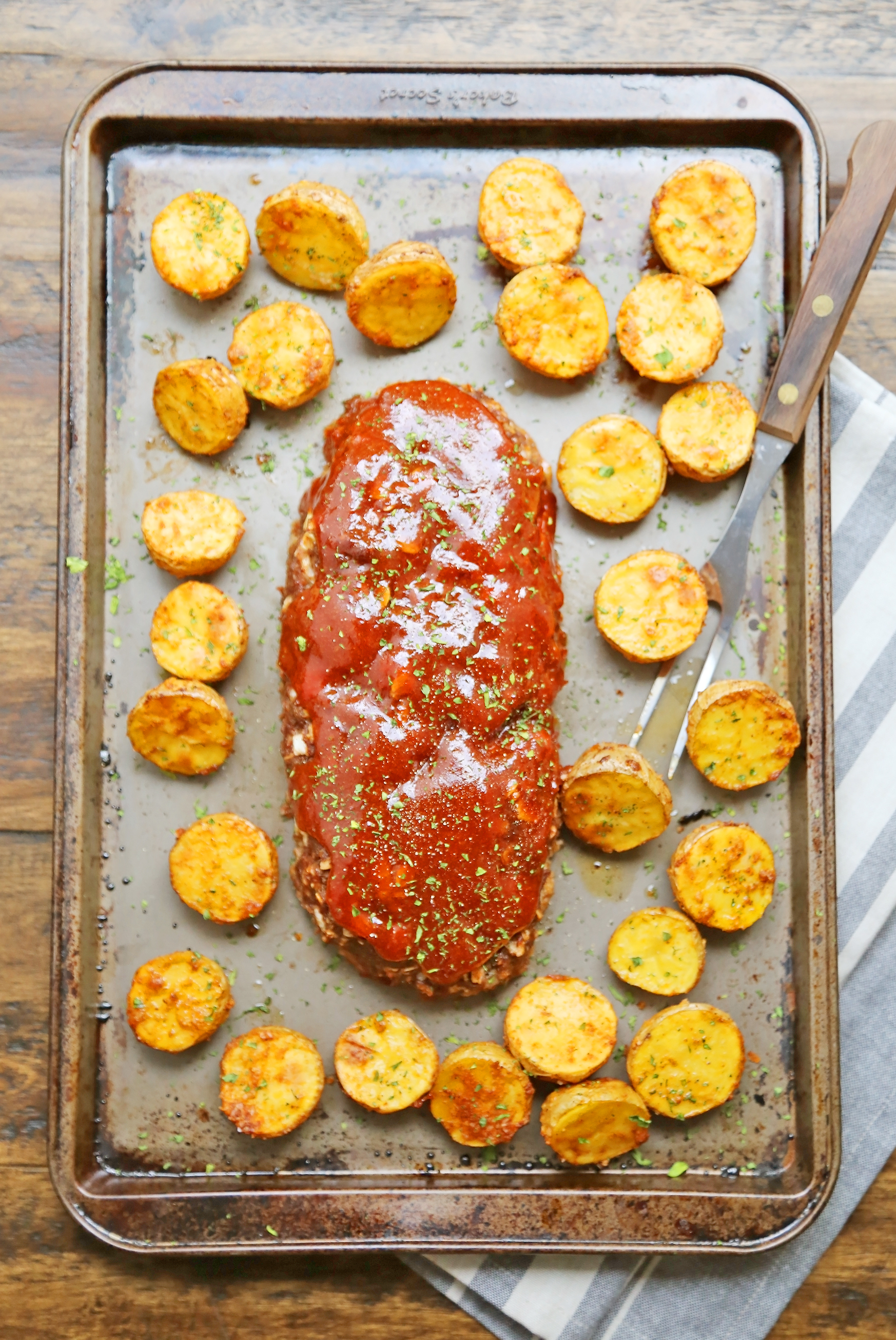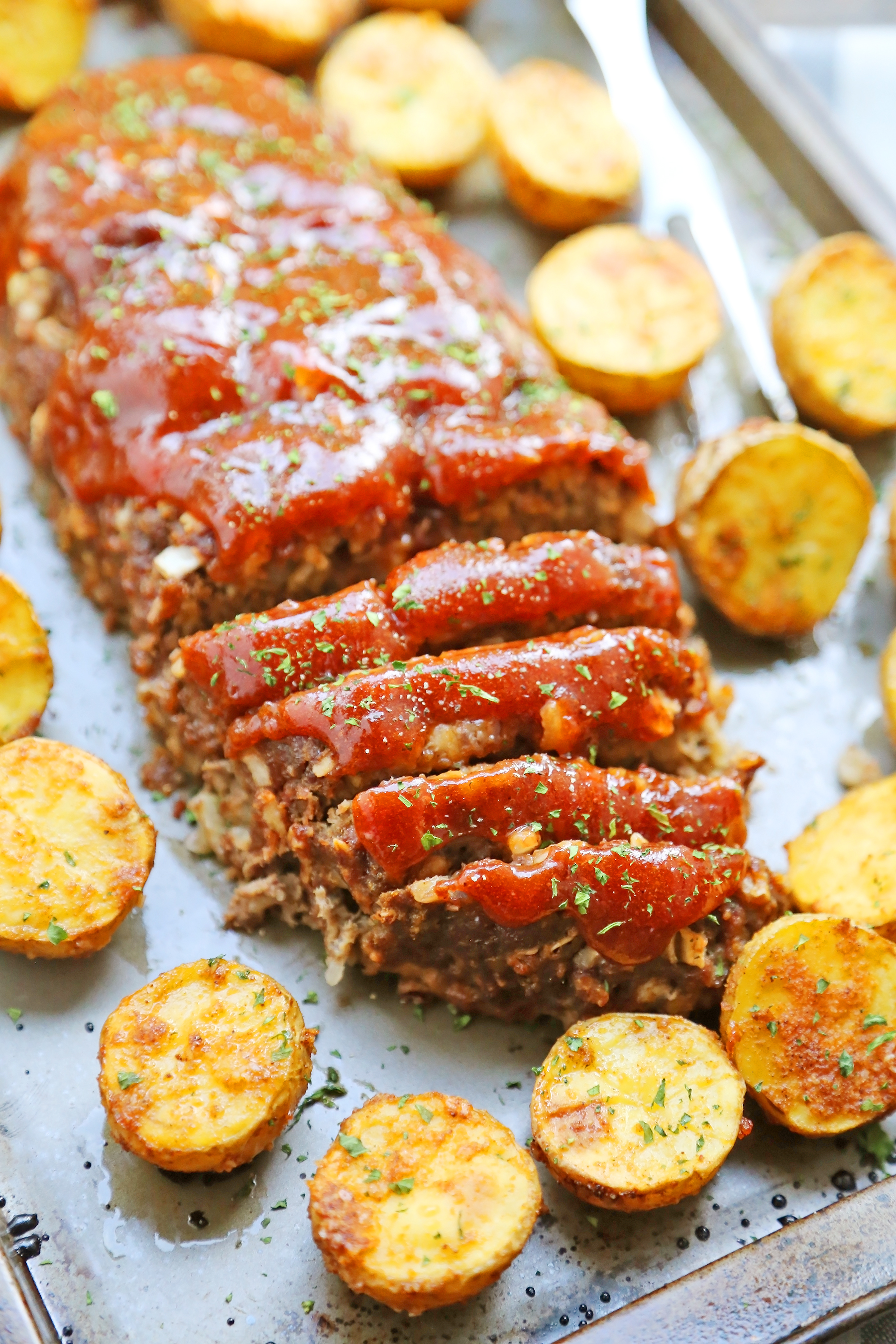 One-Pan Glazed Meatloaf and Roasted Potatoes
Ingredients
<strong>FOR THE MEATLOAF:</strong>
1 lb. ground beef
1/2 medium onion, finely chopped
1 large egg
1/3 cup oatmeal, or panko breadcrumbs
2 Tablespoons milk
2 teaspoons ketchup
1 teaspoon kosher salt
1/2 teaspoon ground black pepper
1/2 teaspoon ground sage
<strong>FOR THE POTATOES:</strong>
1 lb. baby potatoes, halved, gold or red
2 Tablespoons olive oil
Salt and pepper
<strong>FOR THE MEATLOAF GLAZE:</strong>
1/2 cup ketchup
1-1/2 Tablespoons brown sugar
1 teaspoon white vinegar or apple cider vinegar
1/2 teaspoon garlic powder
1/4 teaspoon onion powder
1/4 teaspoon kosher salt
1/8 teaspoon ground black pepper
Instructions
FOR THE MEATLOAF:
Preheat oven to 375 degrees F. Coat a large sheet pan with nonstick cooking spray.
In large bowl, combine all meatloaf ingredients. Mix well to combine. Form mixture into a log (about 4-5 inches thick) on the sheet pan.
FOR THE POTATOES:
Toss the potatoes with olive oil. Spread around the sheet pan, surrounding the meatloaf. Sprinkle generously with salt and pepper.
Bake for 45 minutes.
FOR THE MEATLOAF GLAZE:
In a small bowl, mix all ingredients together for the sauce. Spread over meatloaf, then return to oven. Bake additional 15 minutes, until potatoes are tender.
Rest meatloaf 10 minutes before slicing. Cut meatloaf into slices and serve with potatoes.
Enjoy!
Want to receive our latest recipes straight to your email inbox? Click here to subscribe!