Dig in to these delicious turkey meatballs with fresh pesto and hearty marinara sauce, all simmered together in your slow cooker!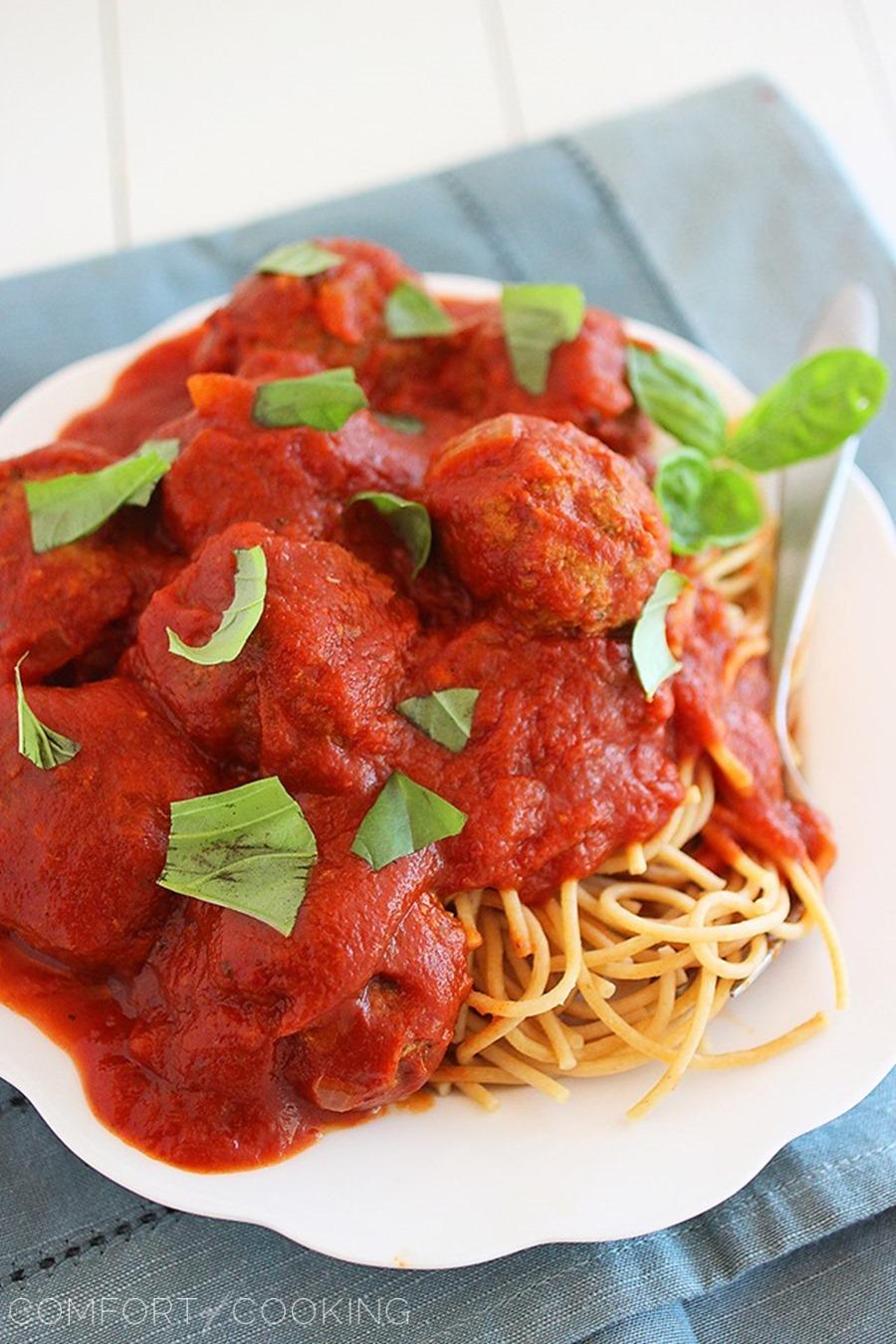 So, here's my plan: If fall isn't gonna come to me, I'm gonna grab it and take it for myself! What does that mean? Warm cinnamon cookies, imaginary roaring fires, cable knit sweaters and cozy slow-cooked meals simmering as I look out the window and think, "Ooh, what a chill we're having today…."
All in the comfort of my air conditioned cocoon.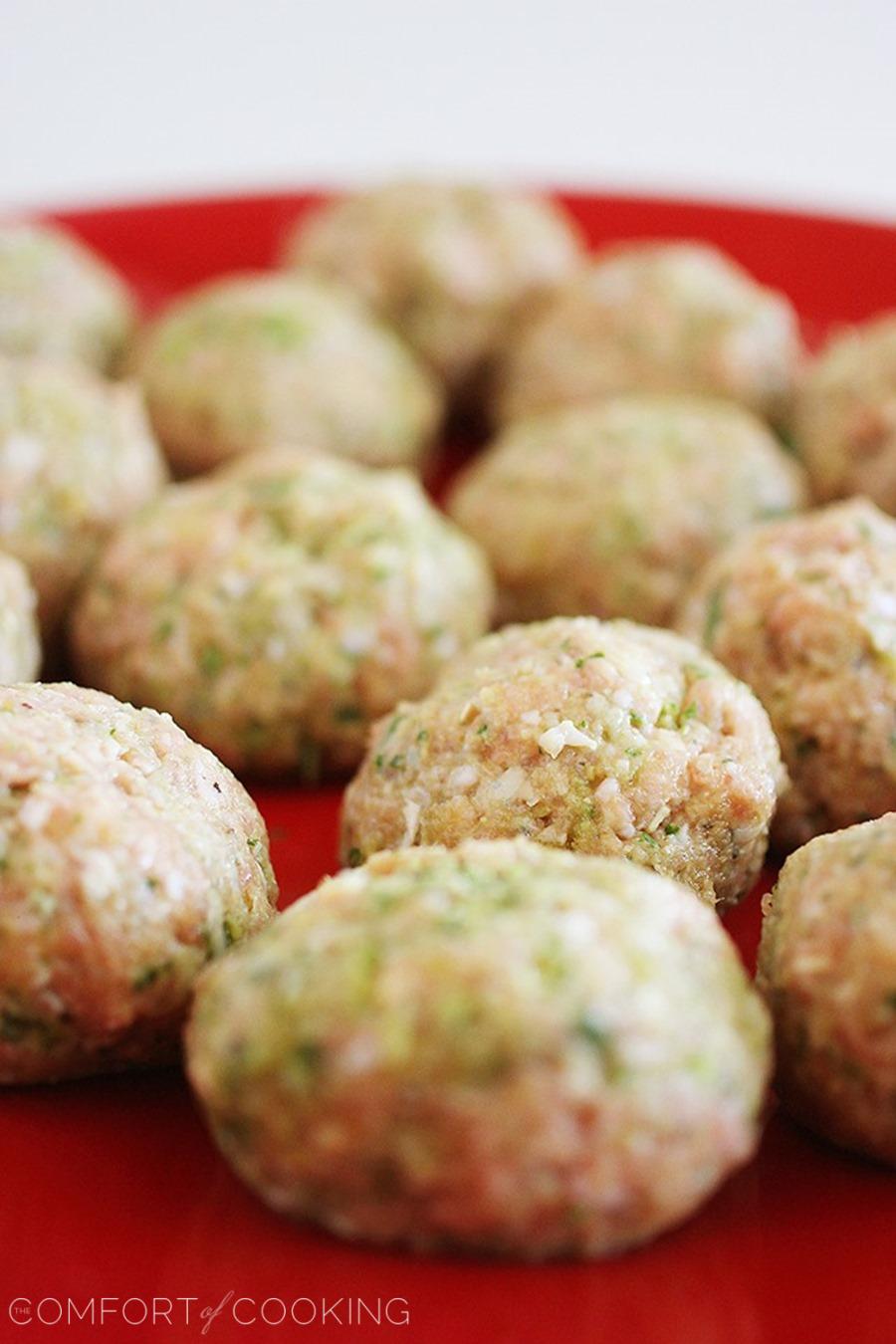 Sure, it's far-reaching seeing as we're still fanning ourselves through the Texas heat, but a girl's gotta do what she can!
And guess what? It's totally working. That is, until I slip into my buttery soft leather boots, wrap up in a scarf and step outside only to discover it's NINETY FRICKING DEGREES.
Sigh.
Cold weather or warm weather, though, your slow cooker is the perfect solution for scrumptious, home-cooked meals with minimal effort. Sprinkled with fresh basil and tucked into a bed of warm pasta, these slow cooked turkey-pesto meatballs were mouthwatering. Seriously the most tender and delicious I've ever had.
The meatballs and marinara sauce cook all in one pot, and the flavor of each just intensifies with every hour! If you work at home like me, you'll find the wait excruciating but the aroma amazing. Fear not, these fabulous meatballs only take 4-5 hours.
Give your plateful a healthy dusting of Parmesan, pour a glass of vino, and dinner is done and on the table!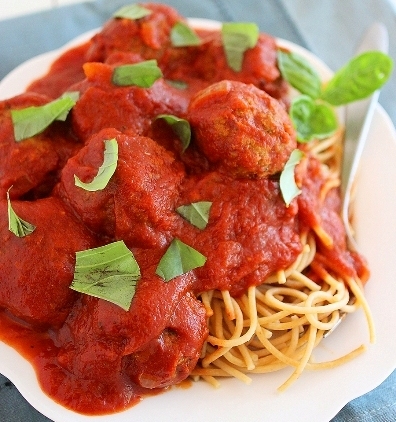 Slow Cooker Turkey Pesto Meatballs & Marinara
Ingredients
For meatballs:
1 lb. ground turkey, not ground turkey breast
1/2 cup prepared basil pesto, homemade or store bought
1/2 cup panko bread crumbs
1/4 cup grated Parmesan cheese
Kosher salt and freshly cracked black pepper
For marinara:
1 28 ounce can crushed tomatoes
2 Tablespoons tomato paste
1 medium yellow onion, chopped
2 garlic cloves, minced
1 1/2 teaspoons salt
1/4 teaspoon black pepper
1 teaspoon Italian seasoning
1/2 teaspoon crushed red pepper flakes
1/2 teaspoon sugar
1 lb. cooked pasta
1/4 cup chopped fresh basil or parsley, for garnish
Instructions
For meatballs:
In a medium bowl, using your hands, mix all ingredients for meatballs until well combined. Roll into 2-inch meatballs and arrange on a large plate. Microwave meatballs on high until fat renders and meatballs are firm, about 5 minutes.
For marinara:
Combine all ingredients, except for pasta and basil/parsley, in slow cooker and stir to combine. Using tongs, transfer meatballs to slow cooker, discarding rendered fat. Cover and cook until meatballs are tender, 4 to 5 hours on low.
Serve over warm cooked pasta and garnish with chopped basil or parsley, if desired.
Enjoy!