This hearty, healthy spaghetti squash stuffed with zesty Mexican flavors is perfect for putting a twist on your typical weeknight meals!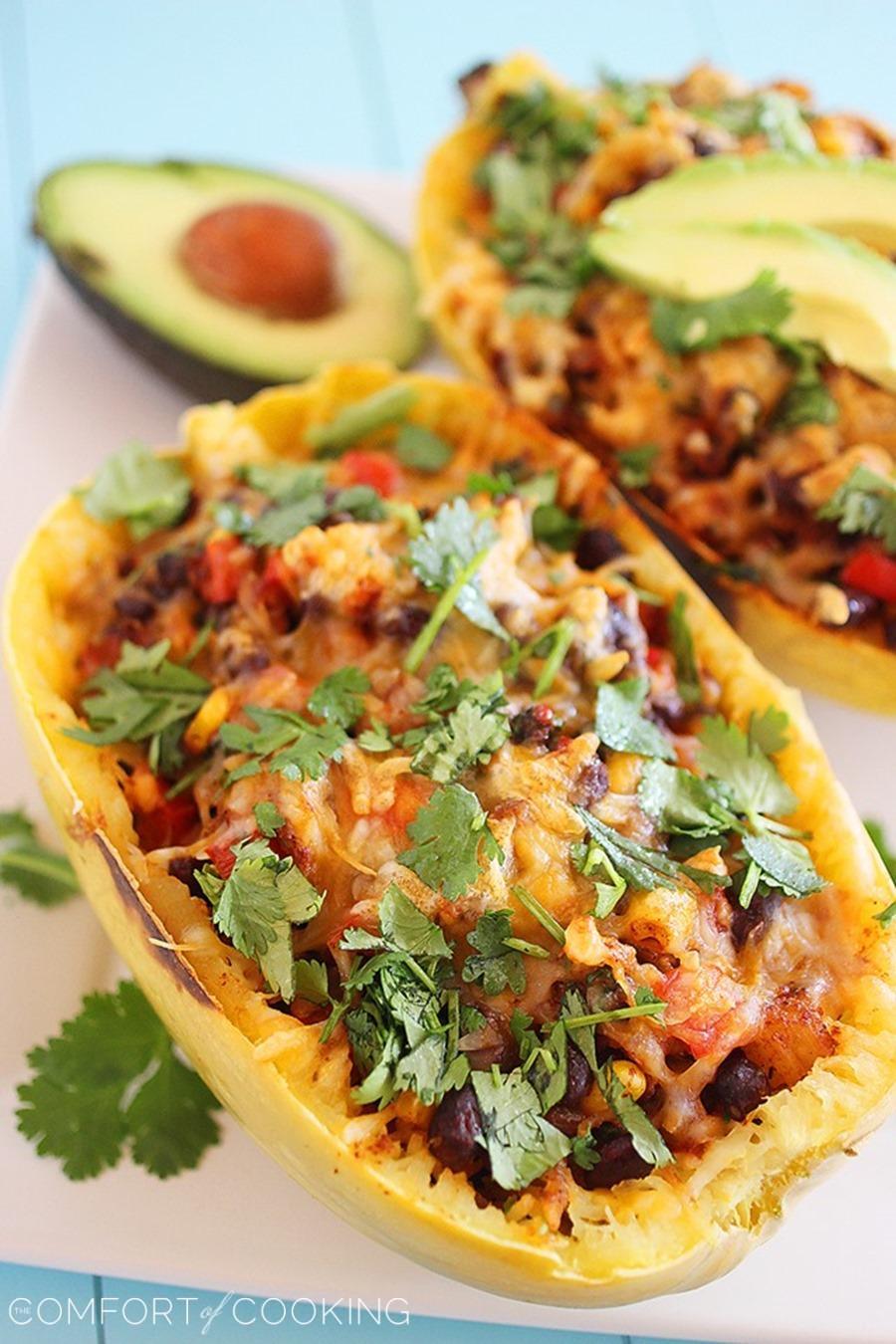 Sooo… hi? Hello? You still there?
I may have taken a little breather from the blog to focus on some offline duties, but I'm back! And I have something fantastic to share with you. It's spicy and zesty and just about the best thing since sliced bread. Spaghetti squash! Have you tried it? If not, you're in for a treat…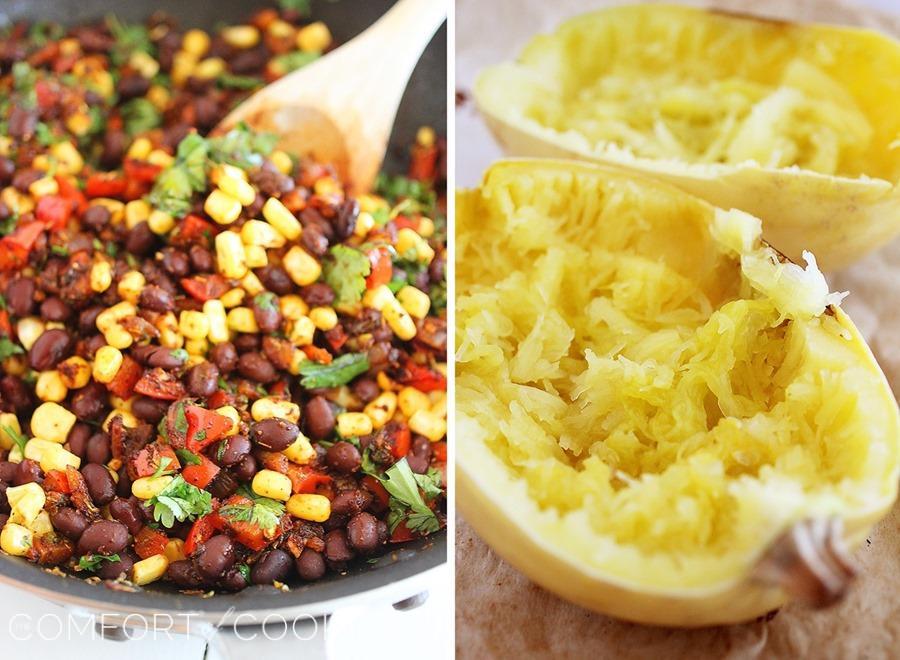 For the past few weeks, I've been cooking and photographing recipes for a brand, and it's kept me quite tied up. But, since they're not my own recipes – and it's basically all I've been cooking – I felt like I was losing a little free will for making fabulous, inventive meals!
This hearty, healthy spaghetti squash with gave me just the kick in the tush I needed. Back in the kitchen but with a new zest for cooking with creativity!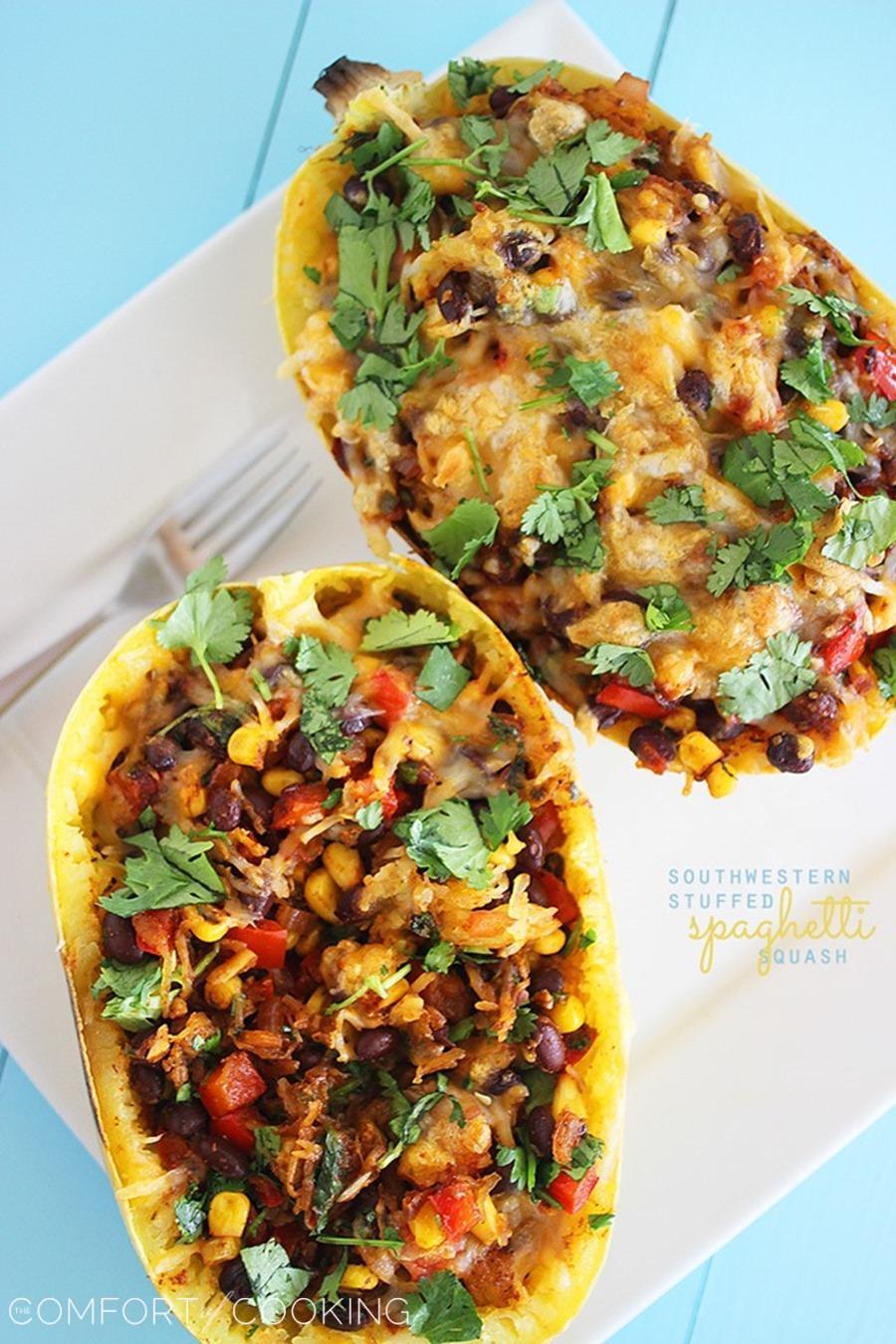 I mean, just look at this big ole' bowl of love! Pure comfort food.
Just roast up a medium spaghetti squash whole, slice it up and scrape out tendrils of the squash's "spaghetti"-like flesh. In a heaping, hot pan, sizzle chopped onions, bell peppers, garlic and jalapeno with spices, beans and corn. Chuck in some fresh cilantro, give the whole shabang a squeeze of citrusy lime juice, and stir in the stringy, warm spaghetti squash.
Pop it all back in your squash "bowls", sprinkle on handfuls of grated cheddar, and pop that baby under the broiler!
Once it's melted and cheesy and gooey and gorgeous, garnish with a little cilantro and DIG IN. Enjoy it and love it and share it, since it makes a lot. Two squashes full make a hearty, delicious dinner for two (hungry) foodies. Or, slice each squash in half for four side dish servings.
Whatever way you serve it, I know you'll love this Southwestern Spaghetti Squash as a mouthwatering meatless meal for enjoying with family and friends!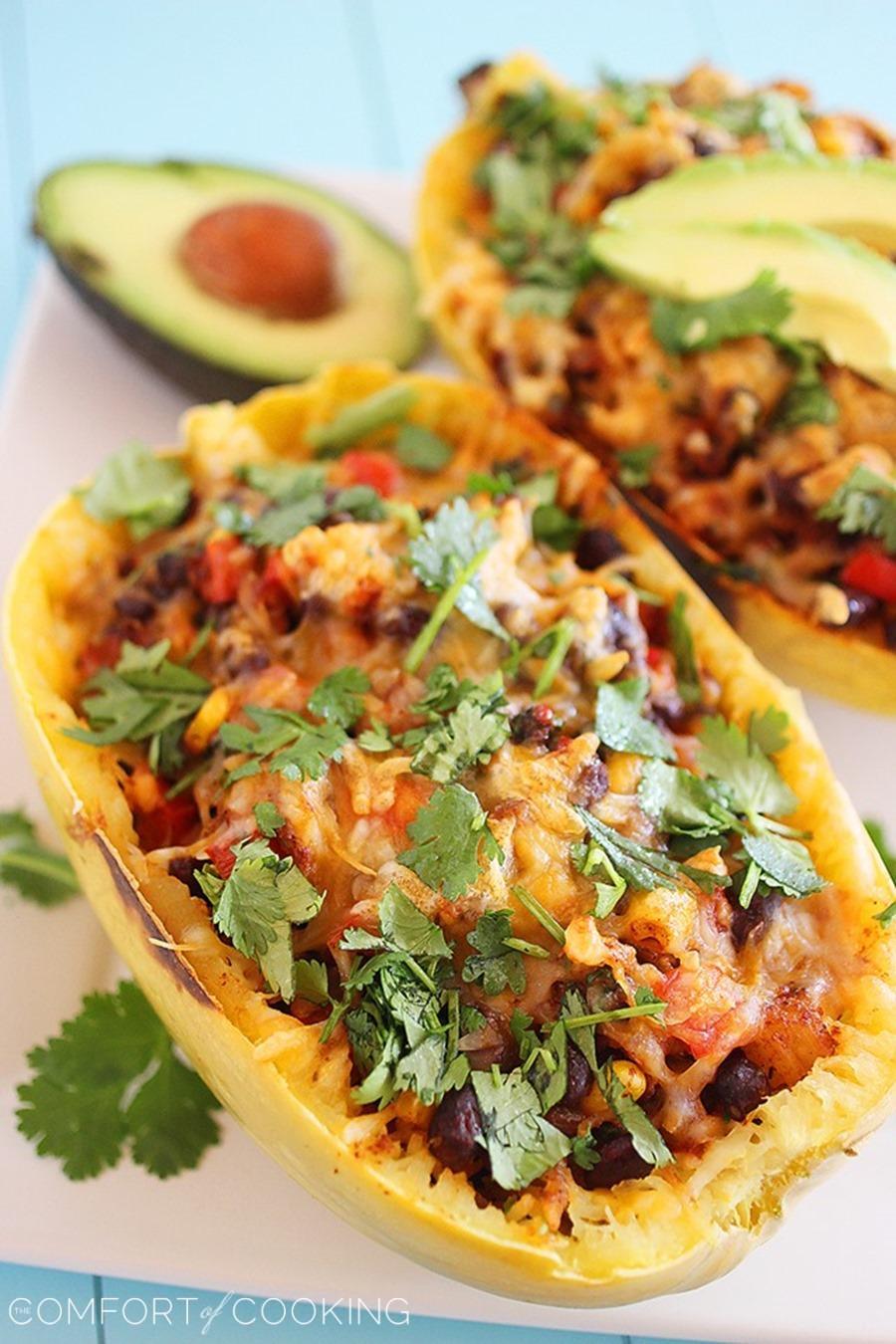 Southwestern Stuffed Spaghetti Squash
Yield:
2 (large) servings & 4 (side dish) servings
Ingredients
1 medium spaghetti squash
1 Tablespoon olive oil
1/2 red onion, chopped
2 garlic cloves, minced
1 jalapeno pepper, minced (leave seeds in for more heat)
1 red bell pepper, chopped
1/2 Tablespoon ground cumin
1/2 Tablespoon oregano
1/2 Tablespoon chili powder
Kosher salt and freshly cracked black pepper
1 15 oz. can black beans, drained and rinsed
1 cup frozen corn, thawed
1/2 cup freshly torn cilantro, plus more for garnish
Juice of 1 lime
1 cup grated cheddar cheese
Instructions
Preheat oven to 375 degrees F.
Place whole squash on a baking sheet and roast for 50 minutes. Let cool another 30 minutes, then cut in half (a serrated knife is best for this). Spoon out the seeds and discard, then scrape up the spaghetti squash flesh with a fork, creating the "spaghetti."
In a large skillet, heat oil over medium-high. Add onion, garlic, jalapeno and red bell pepper. Sauté 2 minutes. Stir in cumin, oregano, chili powder, and a good pinch of salt and pepper. Sauté 1 more minute. Stir in beans, corn, half of cilantro and lime juice until well combined. Add the "spaghetti" from each squash to the vegetable mixture and stir to combine. Taste and season as desired.
Set oven to broil. Stuff each squash half with the squash-vegetable mixture and top with grated cheddar. Broil until cheese melts and gets brown and bubbly, 1-2 minutes.
Sprinkle with remaining cilantro and serve warm.
Enjoy!