Gooey, melted cheddar meets richly spiced roasted butternut squash in this melt-in-your-mouth comfort food favorite. The ultimate special occasion side dish, and a perfect addition to your holiday table! To save time, use frozen cubed squash from your grocery store. So easy!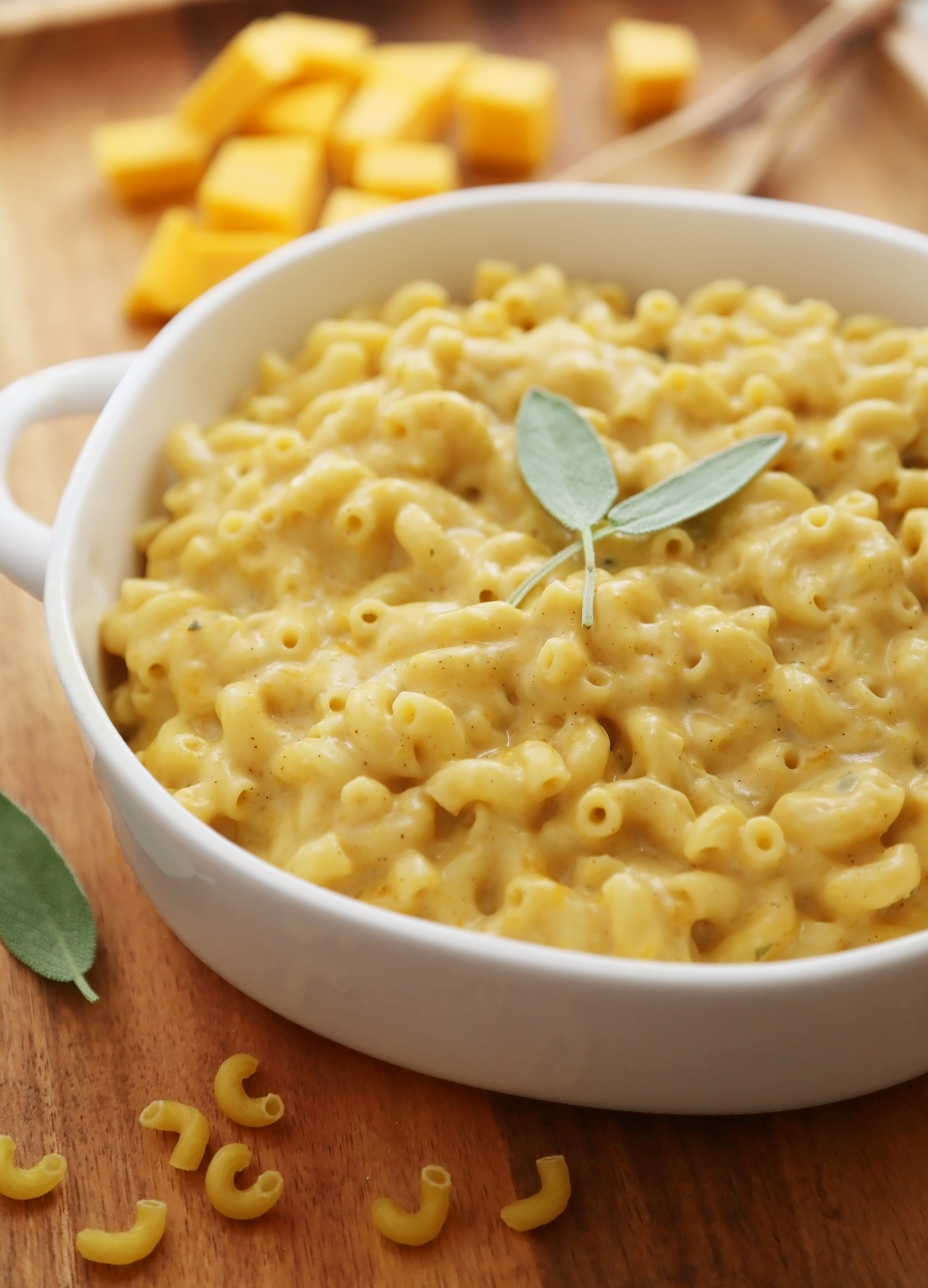 I have been cooking this mac and cheese recipe for AGES. And I'm so excited to finally share it with you today! This mouthwatering mac has been a longtime family favorite, with its irresistible cheesiness and warm fall flavors that take the chill off these chilly months. I consider the butternut squash the secret special ingredient, that gets kids (and picky adults) to eat, and enjoy, their veggies!
Ever thought your mac and cheese was missing a little something? Well, here it is!
Velvety pureed butternut squash, swirled with melted butter and spicy nutmeg, is one of the best autumnal aromas on earth! Combined with creamy cheddar cheese and hot macaroni noodles, this dish oozes comfort and ease with every bite. Simple enough for weeknights and elegant enough to serve on your Thanksgiving table!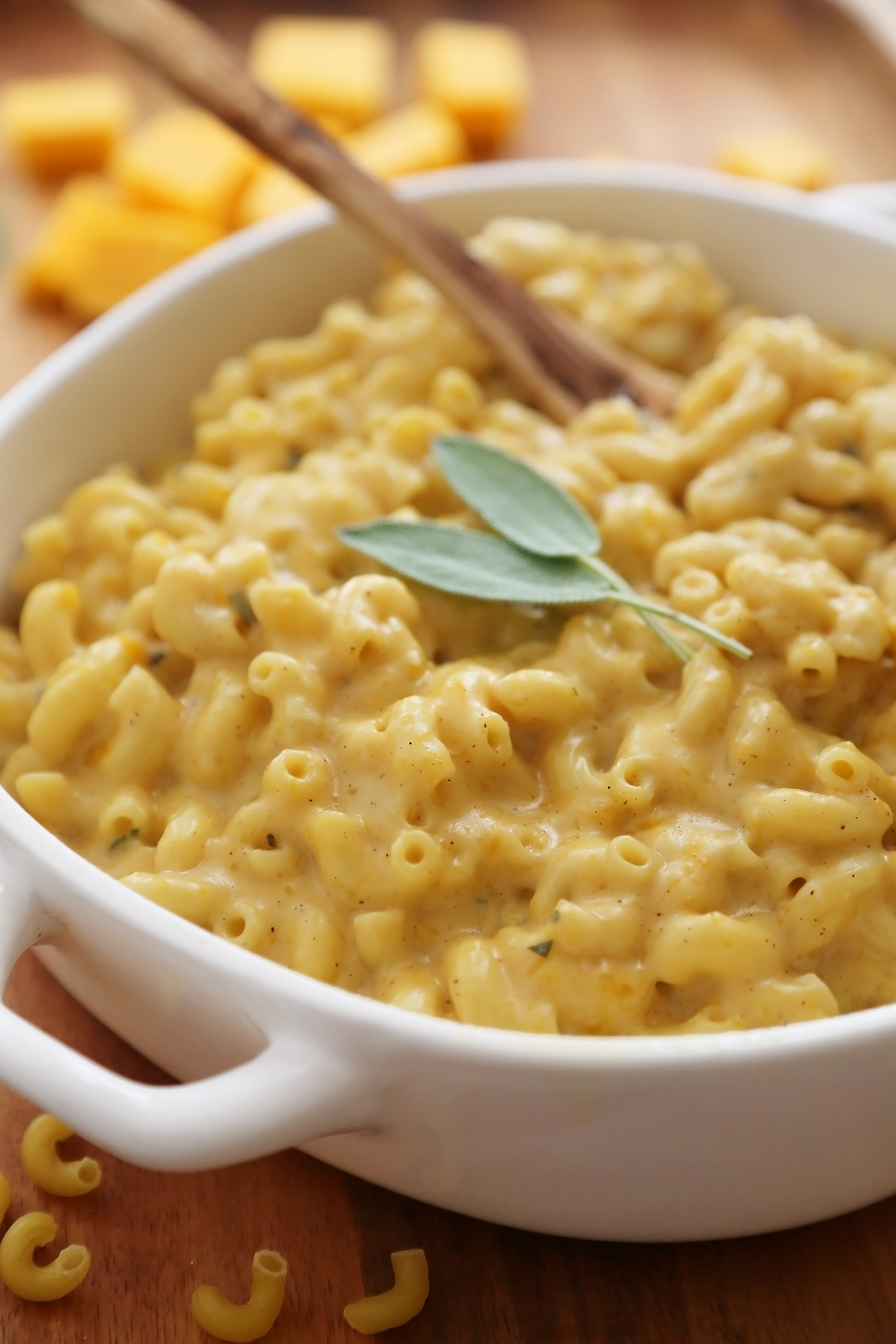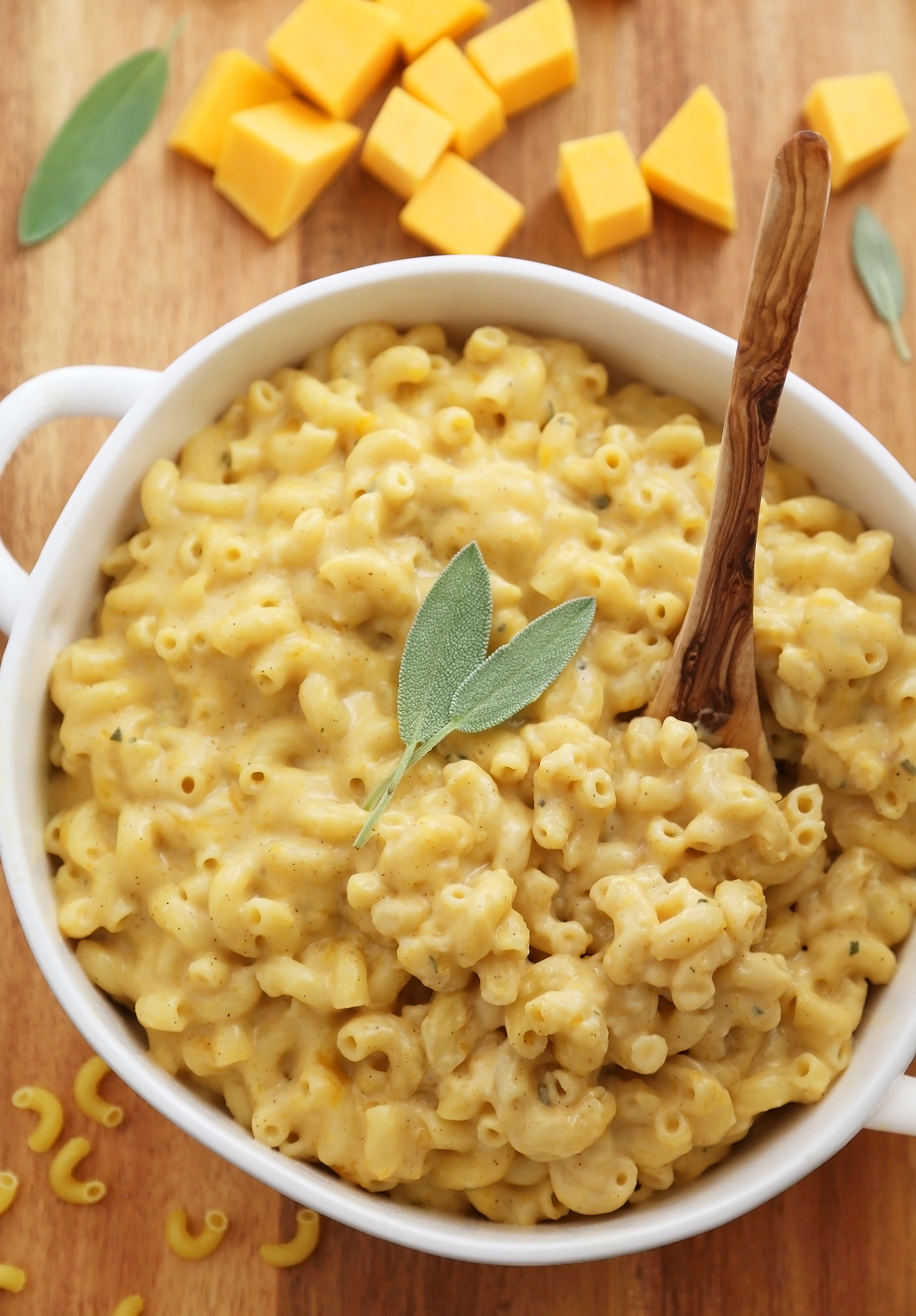 If you've decided that you need this melt-in-your-mouth mac and cheese for your next gathering, you (and your family and friends) are in for a treat! This delicious bowl of comfort only needs a handful of ingredients, and 30 minutes to cook. Simple and scrumptious!
I love creating the butternut squash puree for this macaroni and cheese, since it folds so silkily into the noodles and really adds depth of flavor. The fresh squash also adds a gorgeous golden color, and sneaks in a little added veggie goodness. And who can't say their picky eaters need more of that?
For a pretty finish, top with sage leaves before you're ready to serve. You can also make this dish a few days ahead of your gathering, then reheat covered in your oven, at a low setting. It makes delicious leftovers, too!
I hope you try this best-ever butternut mac and cheese, and let me know how you like it. Happy Thanksgiving prepping!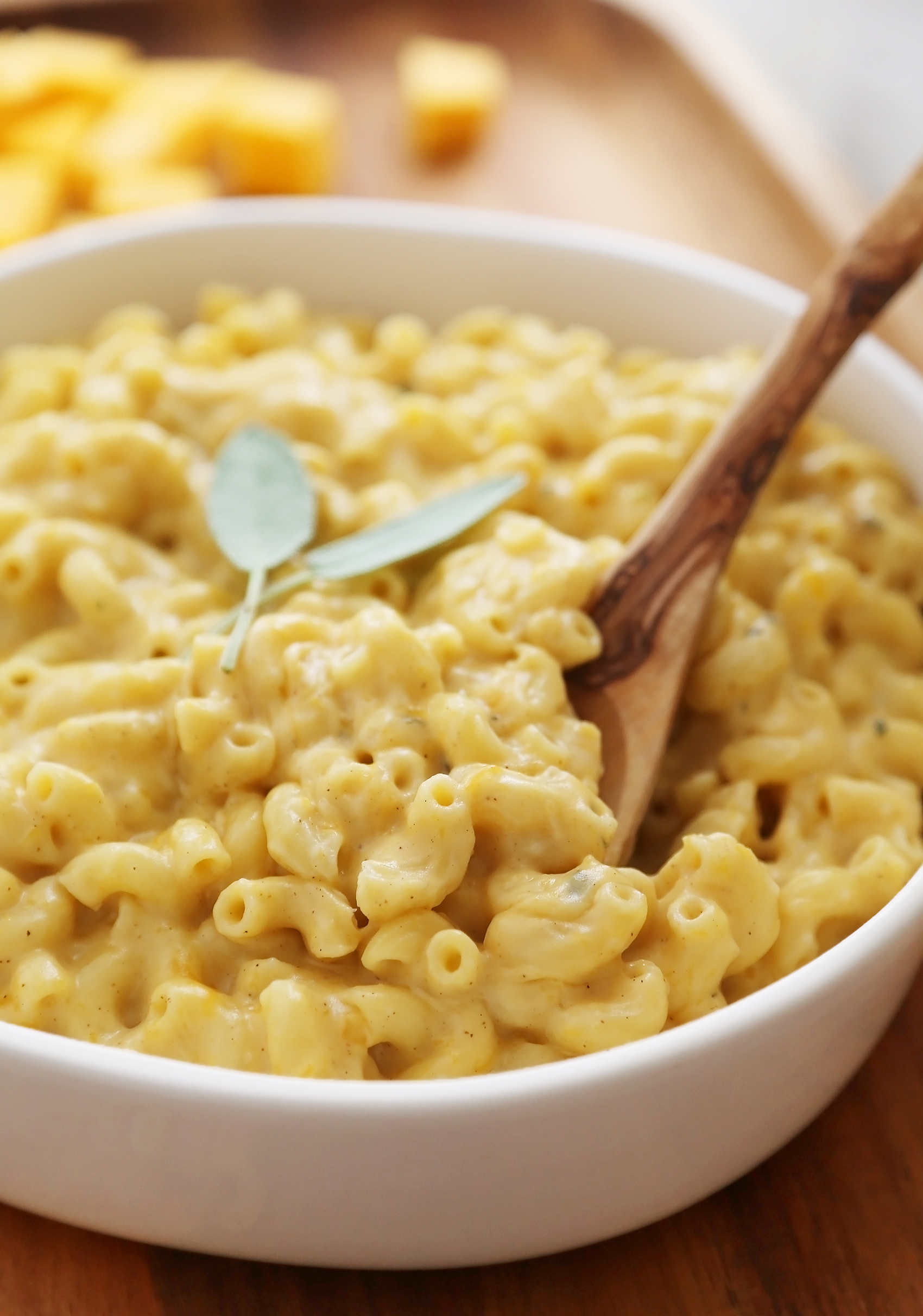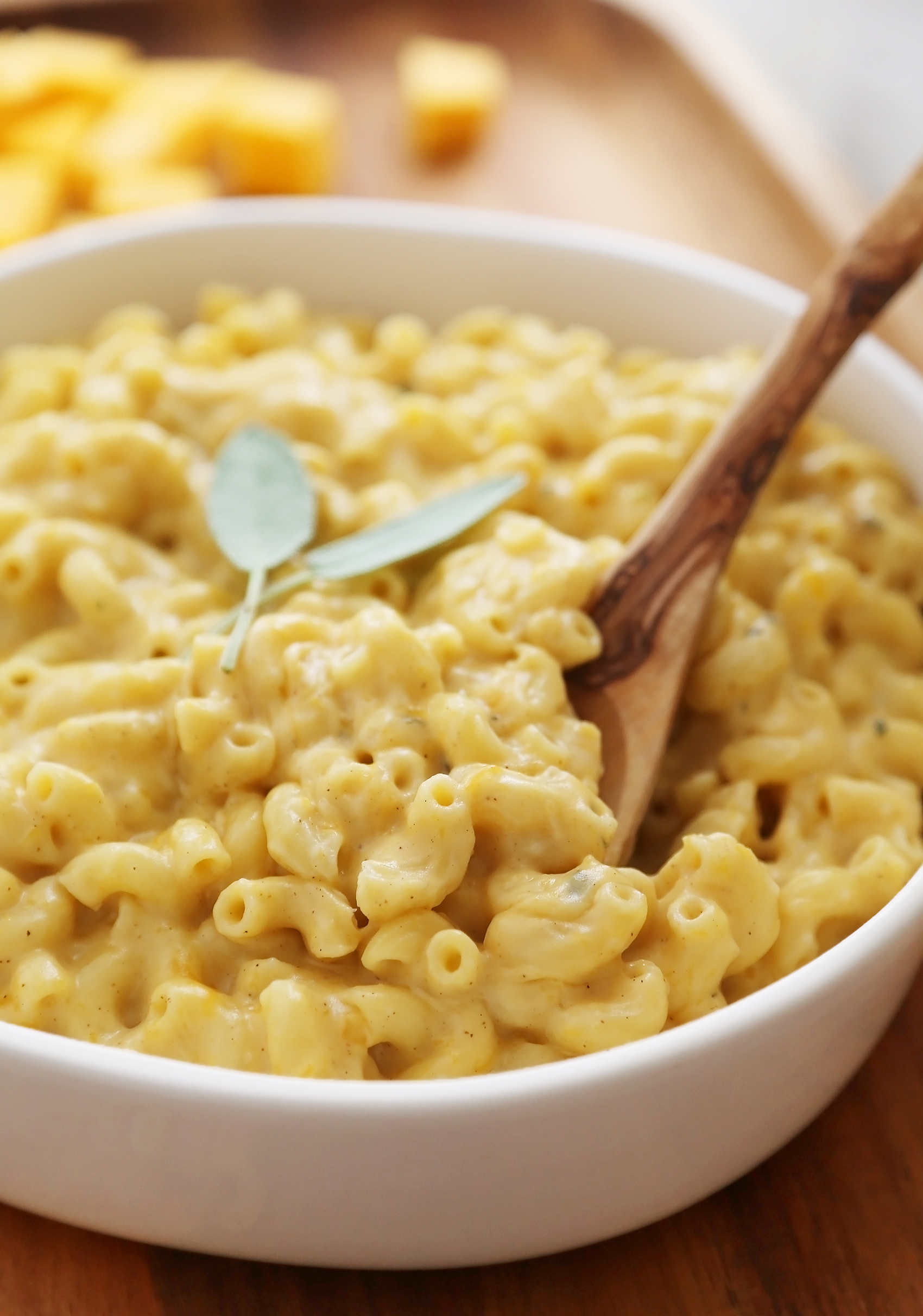 Butternut Squash Mac and Cheese
Ingredients
4 cups butternut squash (peeled, seeds removed, cut into 1-inch cubes)
1 cup low-sodium chicken broth
1 cup milk
Kosher salt and black pepper, to taste
2 Tablespoons unsalted butter
1/4 teaspoon ground nutmeg
1 cup cheddar cheese
1 lb. (about 2 cups) elbow macaroni
Instructions
Bring a large pot of salted water to a boil.
Set a separate large saucepan to medium-high heat. Add butternut squash, chicken broth, and milk. Season with salt and pepper. Bring to a simmer. Reduce heat to low, cover and cook until squash is tender, about 15 minutes, stirring occasionally. Add squash mixture to a blender and purée until smooth, or purée in the saucepan with an immersion blender. Pour purée into a bowl.
With the squash set aside, set same saucepan over medium heat. Add butter, squash purée and nutmeg. Simmer and cook until thickened, about 5 minutes. Remove from heat. Add cheese and stir to combine.
Meanwhile, add macaroni to boiling water and cook about 8 minutes, or until al dente.
Add the pasta to saucepan with squash-cheese mixture; mix well. Serve warm.
Enjoy!