Creamy dark chocolate nestled in a bed of buttery, flaky puff pastry is just about the closest thing to heaven! Bake this easy, elegant 4-ingredient puff pastry braid to share as an effortless and impressive dessert.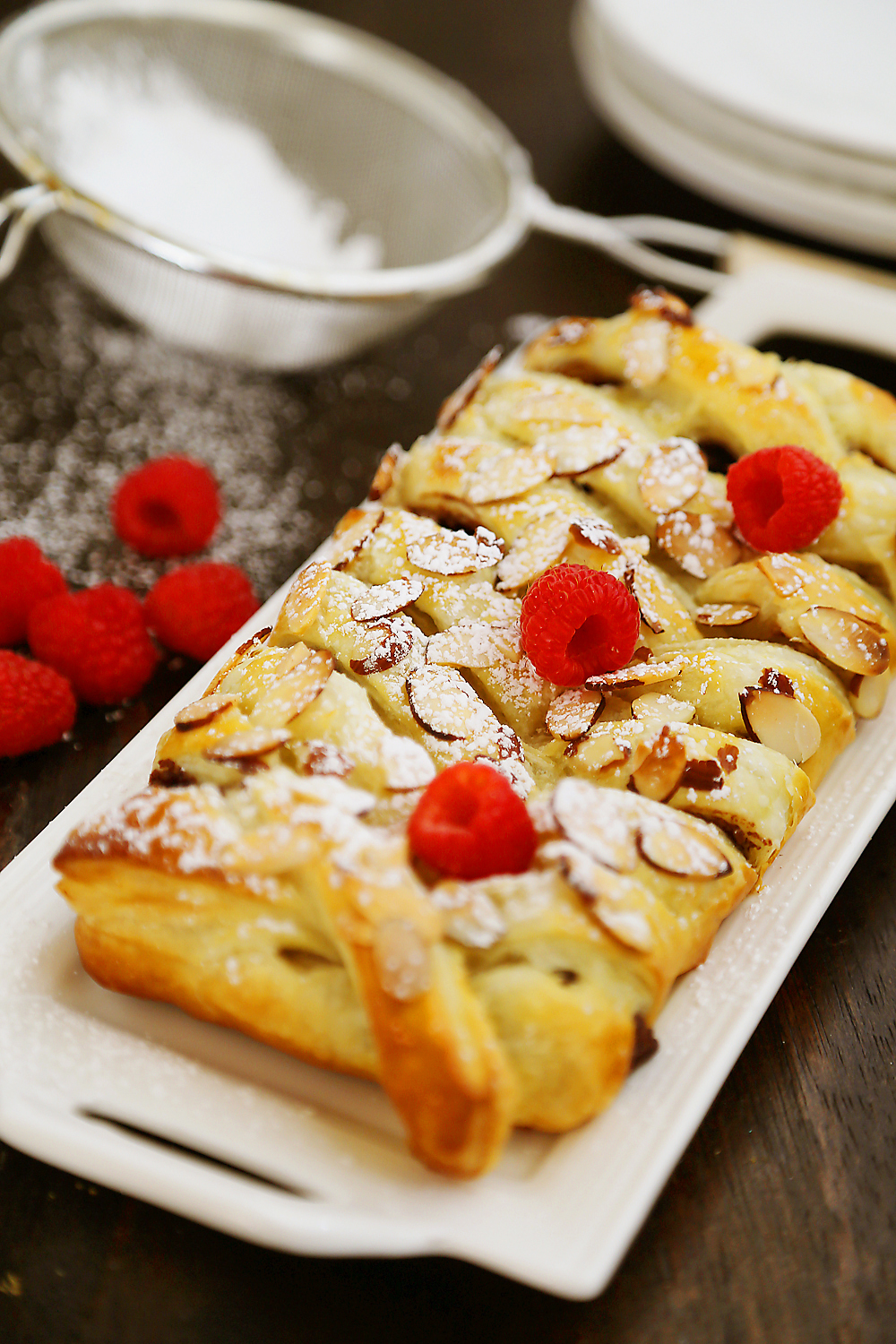 You know when you've had one those days that calls for some kind of naughty chocolate bomb? You can't find any goodies in your pantry, and you don't really want to make something from scratch, but you need it NOW… and you want to exert little to no effort?
Sure, you could reach for box of brownie mix, you could plop out some premade cookie dough. Or, you could make an insanely gorgeous, gooey chocolate pastry from scratch in 5 minutes. And then dust it with powdered sugar, toss on some berries, and tell no one. Because you don't have to share.
This can be our little secret.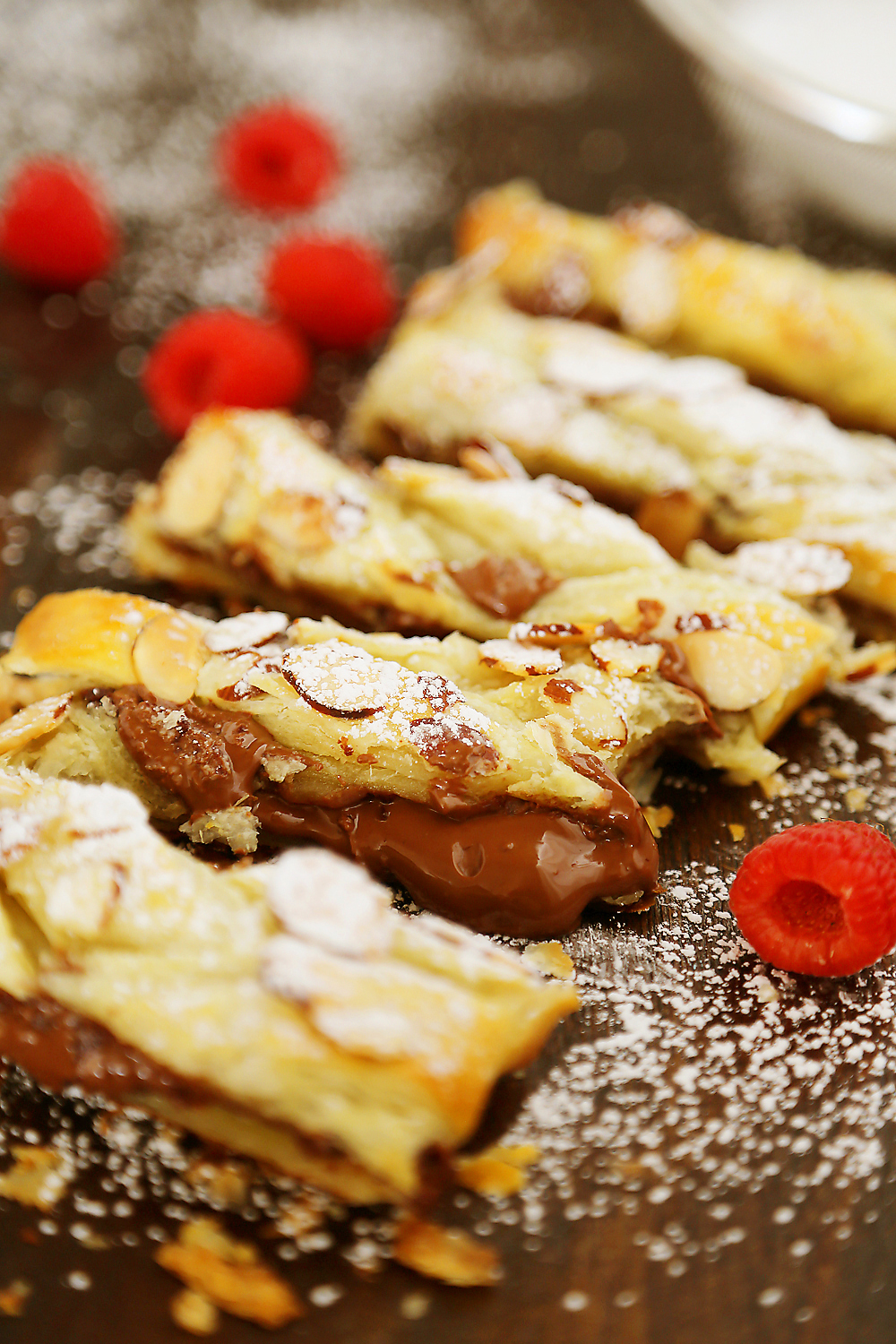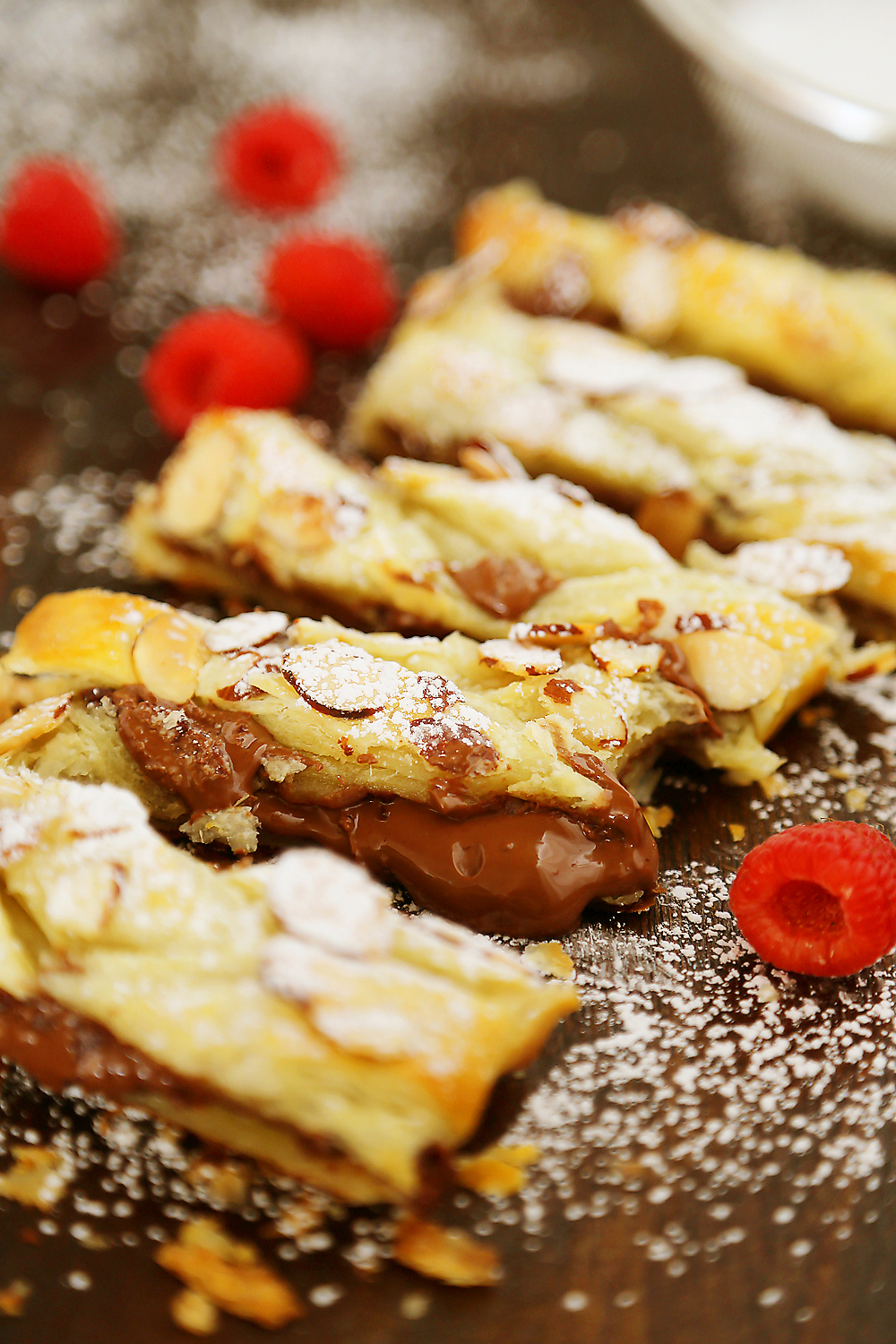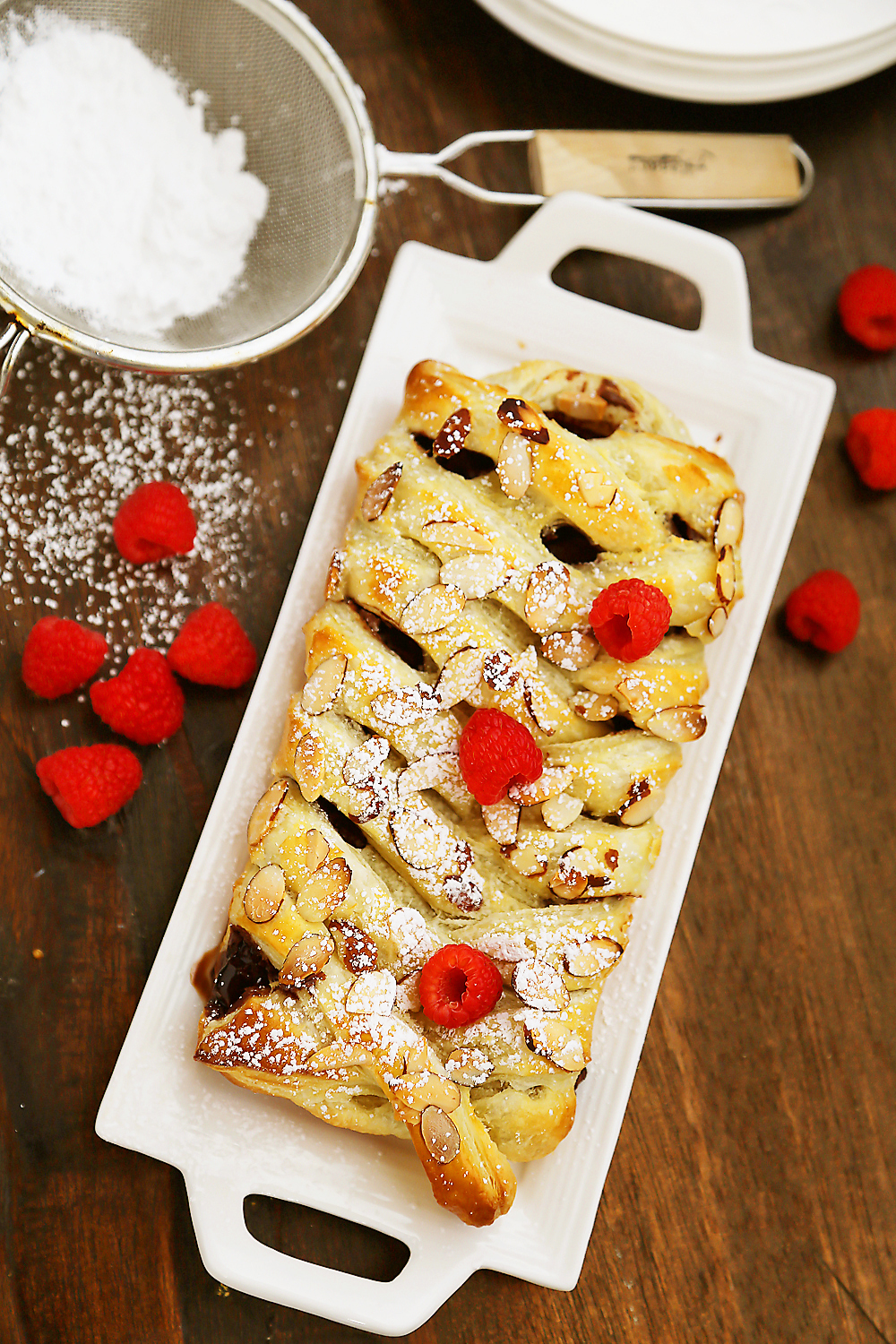 I live for desserts like this. Four ingredients, crazy good with a cup of tea, minimal cleanup. I'd say not having to do dishes makes this flaky braid taste all the more fabulous.
All you need is a sheet of puff pastry and your favorite chocolate bar. Choose a chocolate that's flat, like a Hershey bar, so that the pastry can lay flat on top. I love a good dark chocolate, but use milk chocolate or even white chocolate, if you prefer. I wish there was more to it than that! Two ingredients to start with, and a sharp knife to cut the pastry. Work quickly, since you want your pastry to be as cold as possible before you pop it in the oven. Cold pastry = extra flaky, puffy pastry layers! Yum.
Flatten your puff pastry, lay your chocolate bar down the middle, then diagonally slice the sides of the pastry. Overlap them to create an elegant braid-like effect. Gorgeous!
Now, your only two ingredients are left – egg and water. Whisk 'em good in a small bowl, brush it on your pastry, top with sliced almonds if you'd like, and you're done. It's time to bake!
What results is the most magical, comforting goodness with flaky, golden layers and melt-in-your-mouth, sweet and creamy chocolate that oozes out of every bite. Dust on some powdered sugar, and serve it with your favorite berries.
Simple, beautiful and belly filling for those sweet craving nights. Which, in this house, happens to be every night.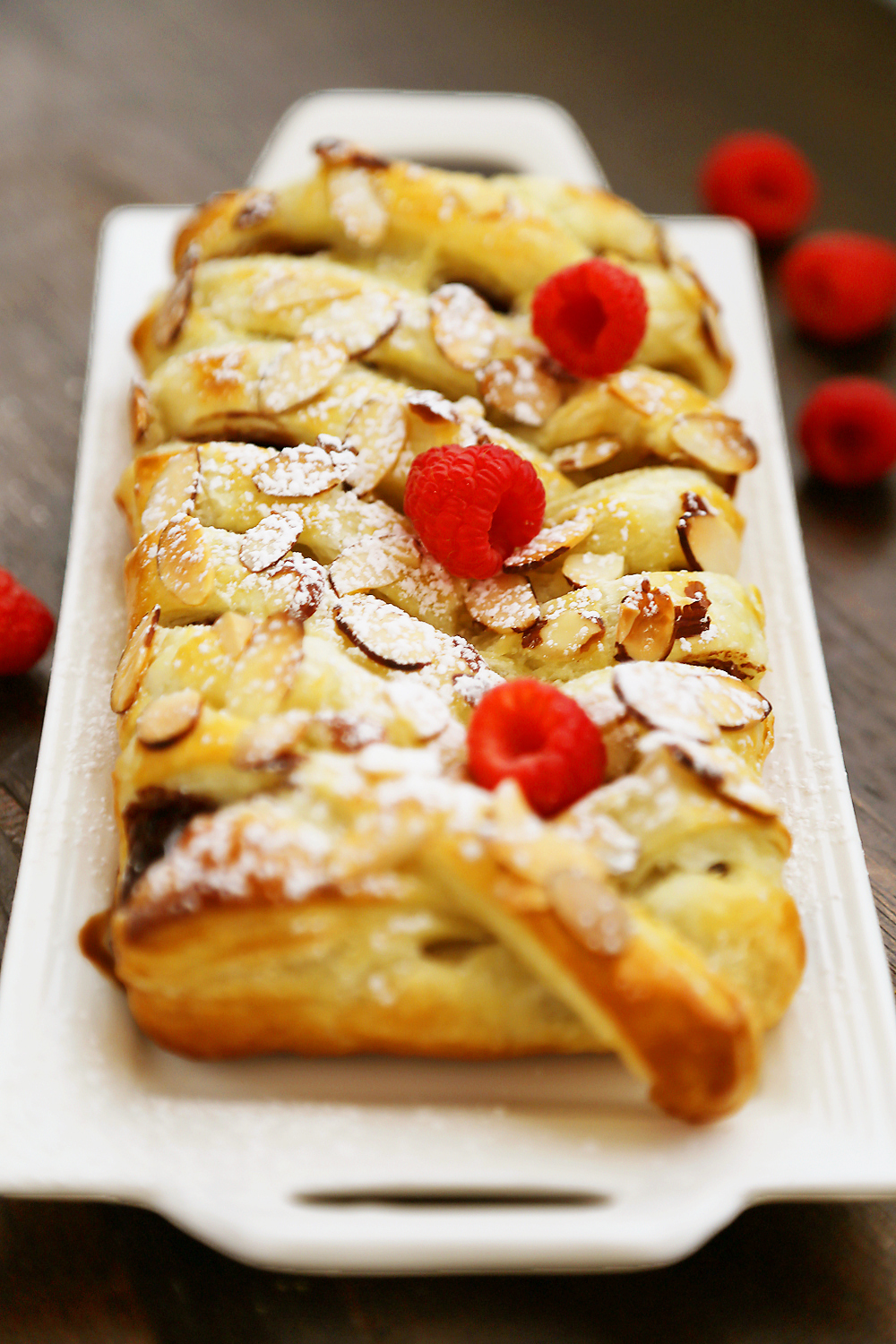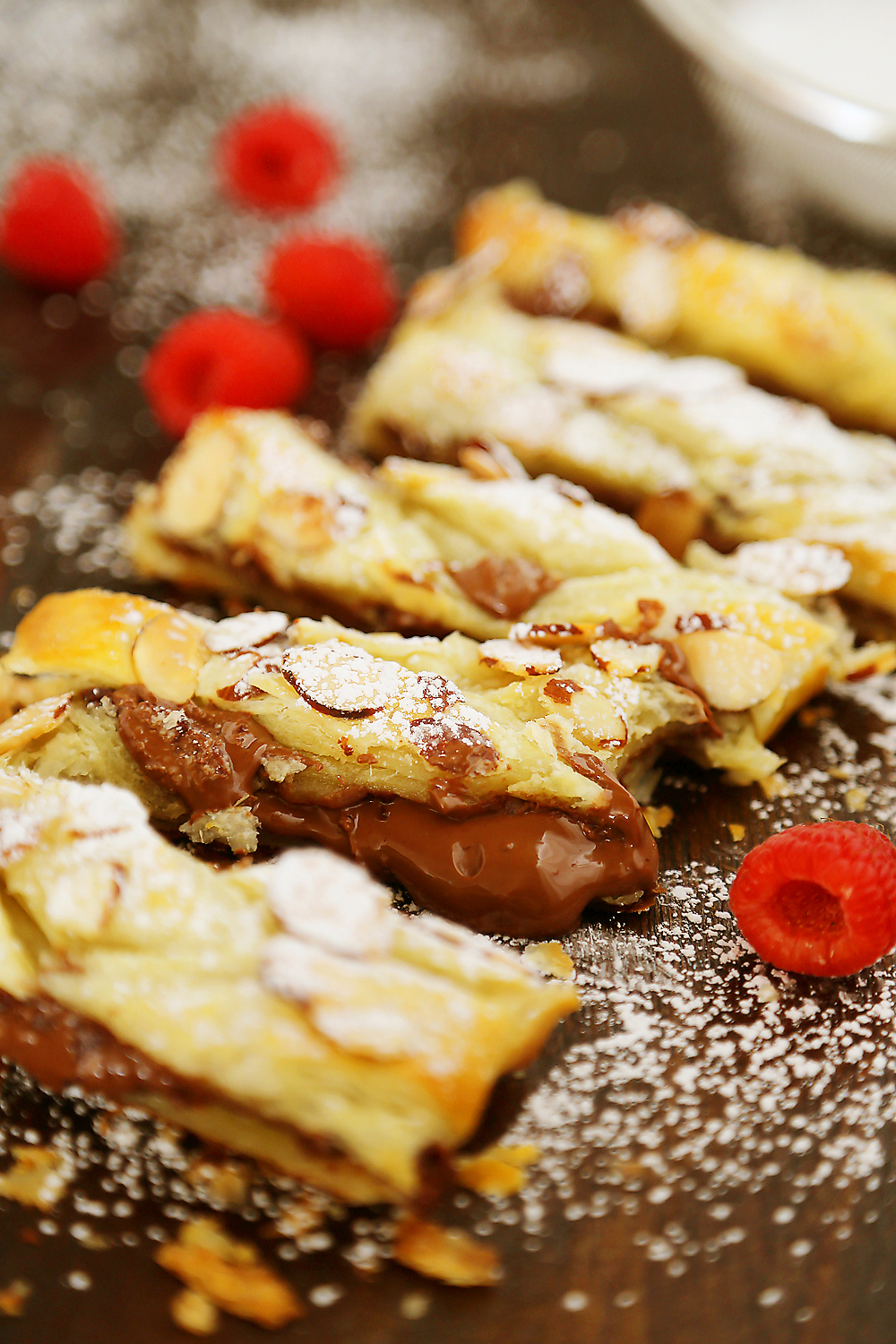 Easy Chocolate-Almond Puff Pastry Braid
Ingredients
1 sheet ready-made puff pastry, thawed
1 (3-4 oz.) milk or dark chocolate bar
1 large egg
2 Tablespoons water
For topping (optional):
Fresh berries, such as raspberries or strawberries
Sifted powdered sugar
Instructions
Preheat oven to 400 degrees F. Line a large baking sheet with parchment paper.
Lay puff pastry on top of prepared baking sheet. Place chocolate bar, vertically, in the center of the puff pastry.
Slice diagonal strips, about 1/2-inch apart, down pastry flaps on either side of the chocolate. Starting at the top, fold strips over each other, alternating on both sides until chocolate is covered and all strips have been crossed. Fold flaps on bottom over pastry strips to fully encase chocolate.
In a small bowl, whisk the egg and water to make an egg wash. Lightly brush the pastry with the egg wash, coating well.
Bake for 15-20 minutes, until pastry is puffed and golden. Let cool for 5 minutes. Top with sifted powdered sugar and fresh berries, if desired.
Enjoy!