Slippery, flavorful and scrumptious garlic Ramen noodles! Made easily at home in just 15 minutes. These noodles are 10x better than takeout and ready in half the time. Talk about a speedy and delicious weeknight dinner – try them tonight!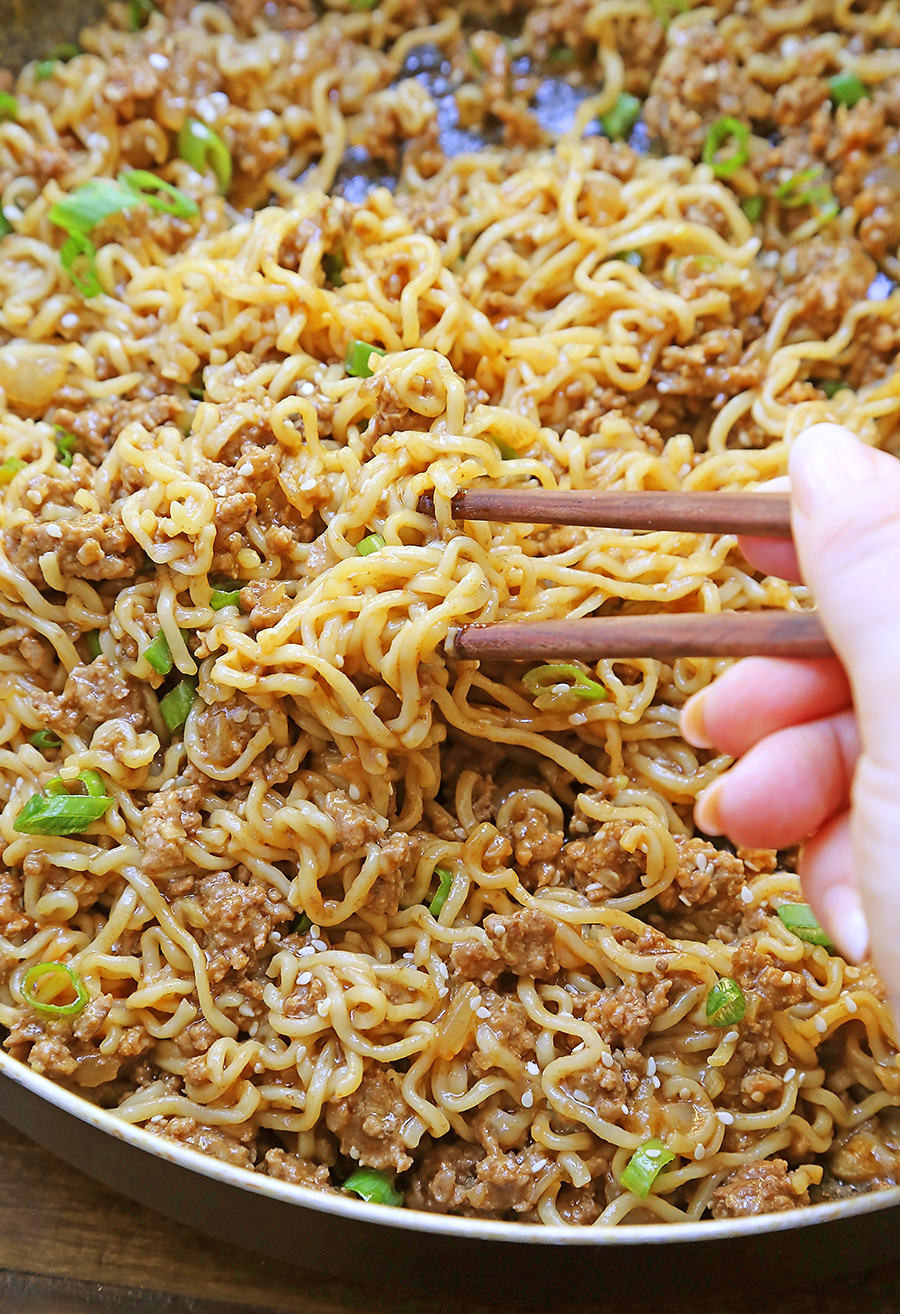 It was one of those nights when we needed something exciting on the table for dinner. We had become so tired of the chicken-and-pasta standby that seemed to be making a repeat appearance on weeknights. Time for some more zesty flavor, and a recipe that was familiar but also new! Enter: Ramen noodles.
What I was really craving was some good takeout! But, realizing that I had all the ingredients to cook these incredibly delicious Ramen noodles (toss the seasoning packet!), dinner was decided. This one happens to be not only better than my local grab-and-go Asian restaurant, but budget friendly, too!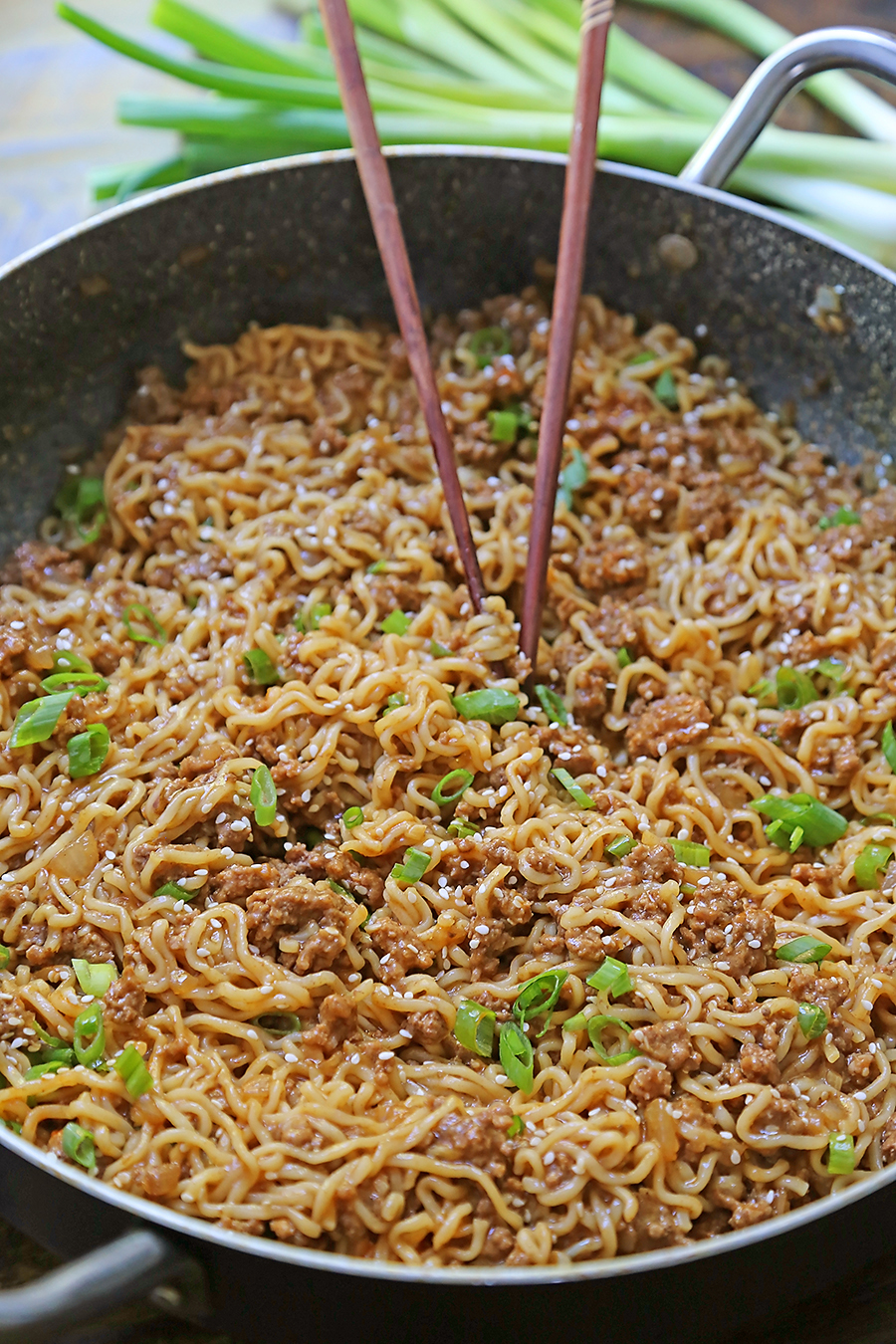 Looking for more "better than take-out" recipes? Try these!
• Cold Sesame Cucumber Noodle Salad
• Simple Asian Soy-Peanut Noodles
• Slow Cooker Teriyaki Chicken
• Slow Cooker Asian Chicken Lettuce Wraps
• Easy Asian Dumplings with Soy-Ginger Dipping Sauce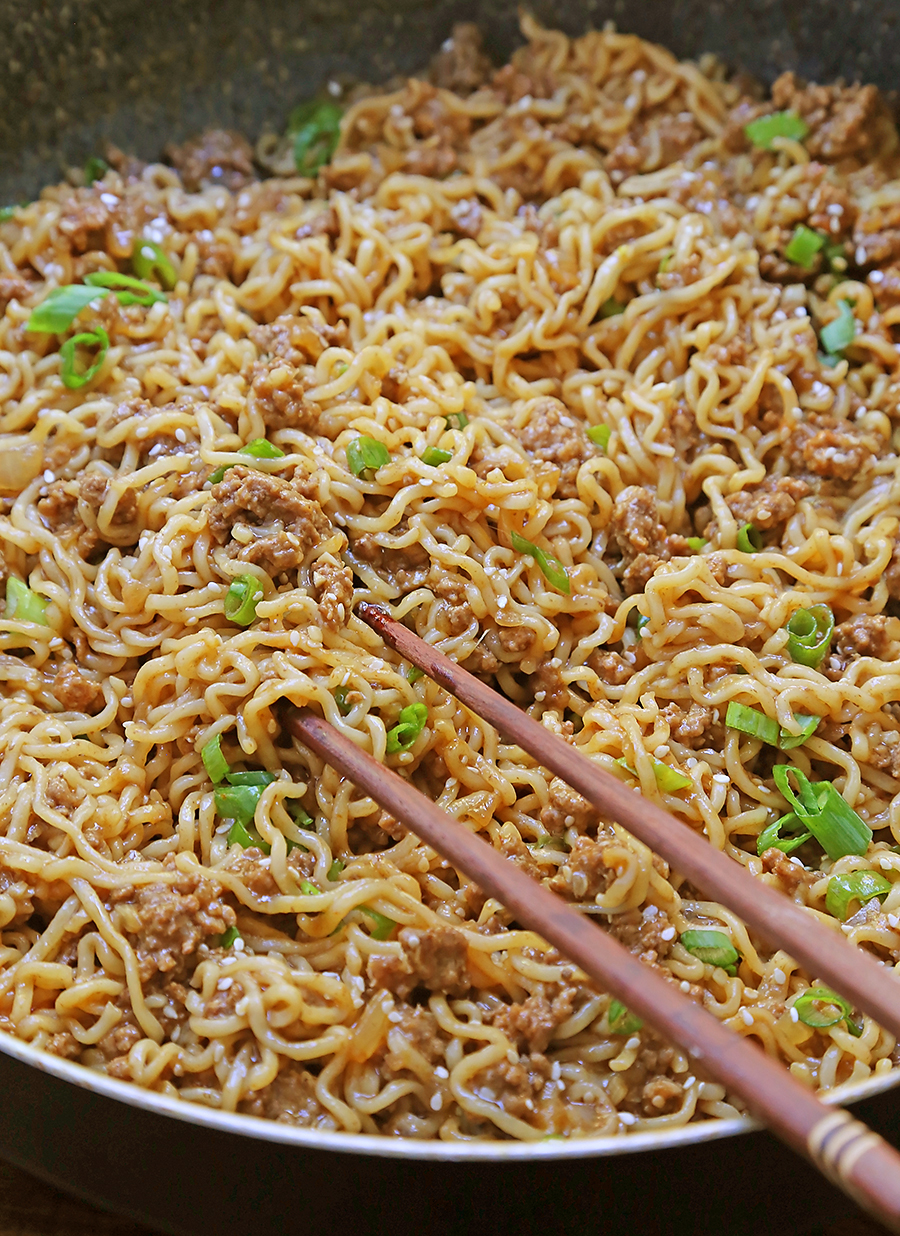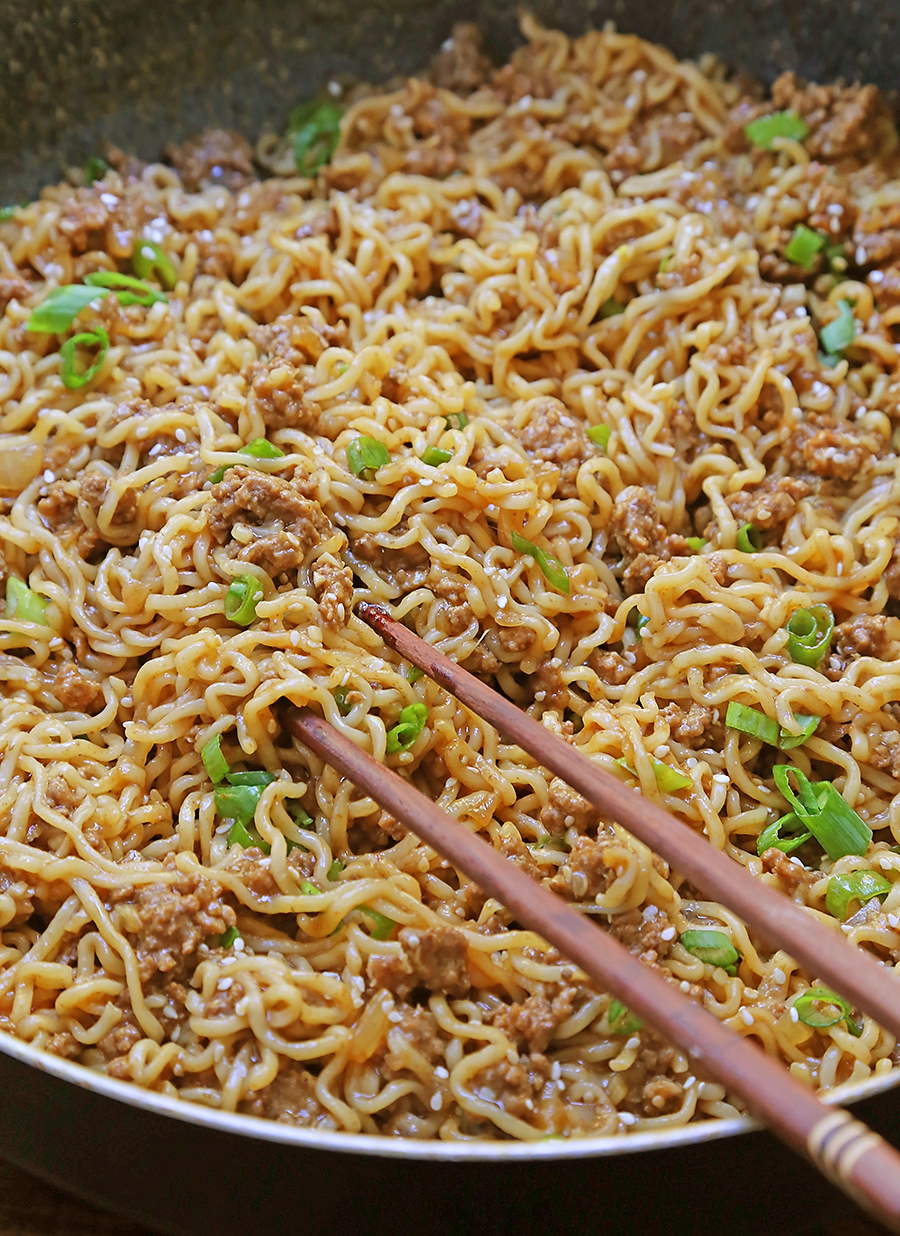 These richly flavored, zesty noodles fit the bill perfectly! A fast Ramen stir fry was the perfect all-in-one meal for an easy, delicious weeknight fix. As a bonus, this dinner was on the table in less than 20 minutes!
When you're craving Asian food and don't feel like splurging on takeout, it helps to keep a few basic ingredients in your pantry. These include sesame oil, rice wine vinegar, Sriracha, beef stock, ginger root (freeze and grate!), and sesame seeds. You can whip up a fabulous family meal with these on hand!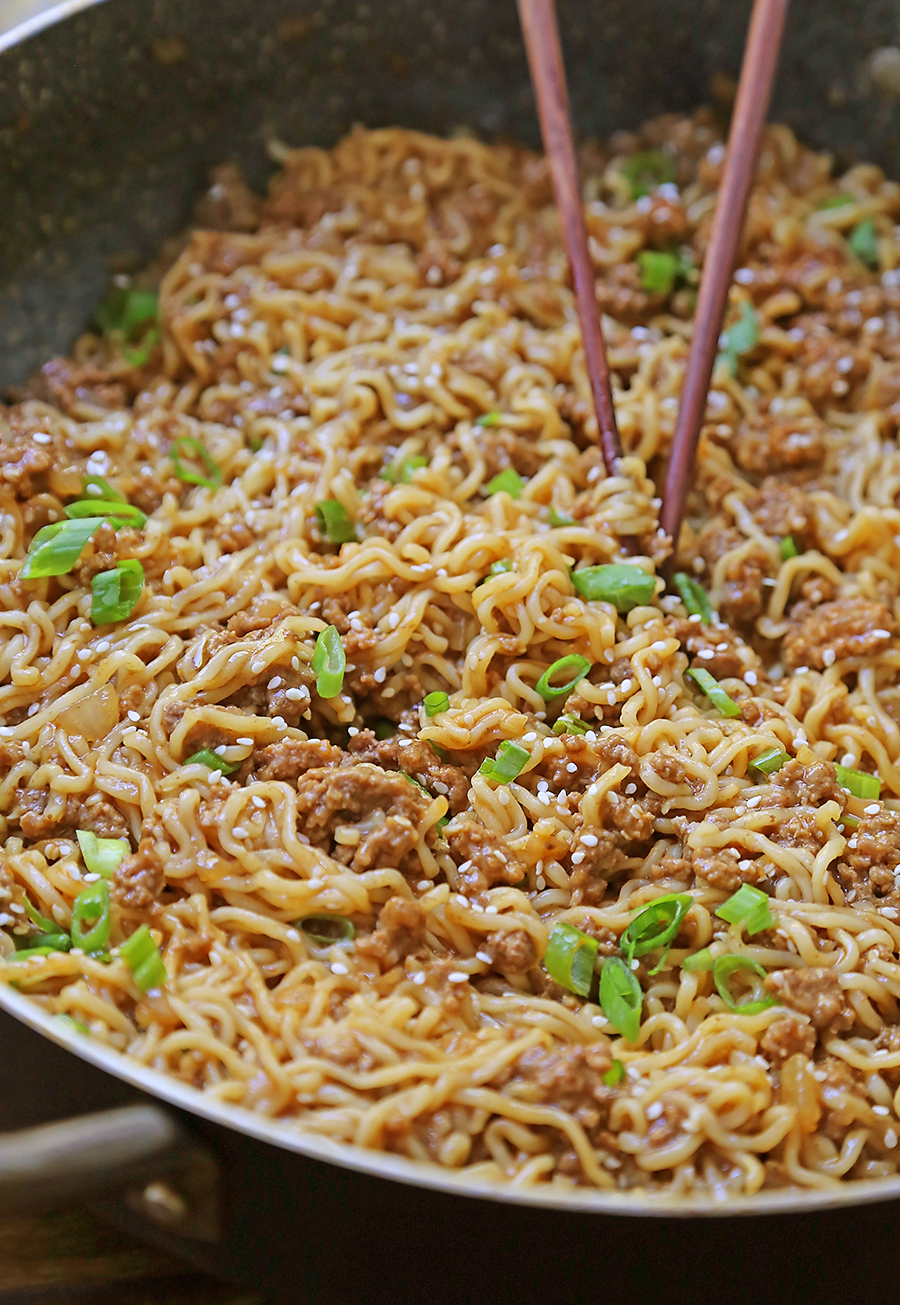 Whether you're craving a bowlful of noodles, or something new in your weeknight rotation, these Sesame Beef Ramen Noodles will leave you SO satisfied! The kids and adults at home loved this dinner, and it will definitely hit the spot in your kitchen. Watch the leftovers disappear before your eyes!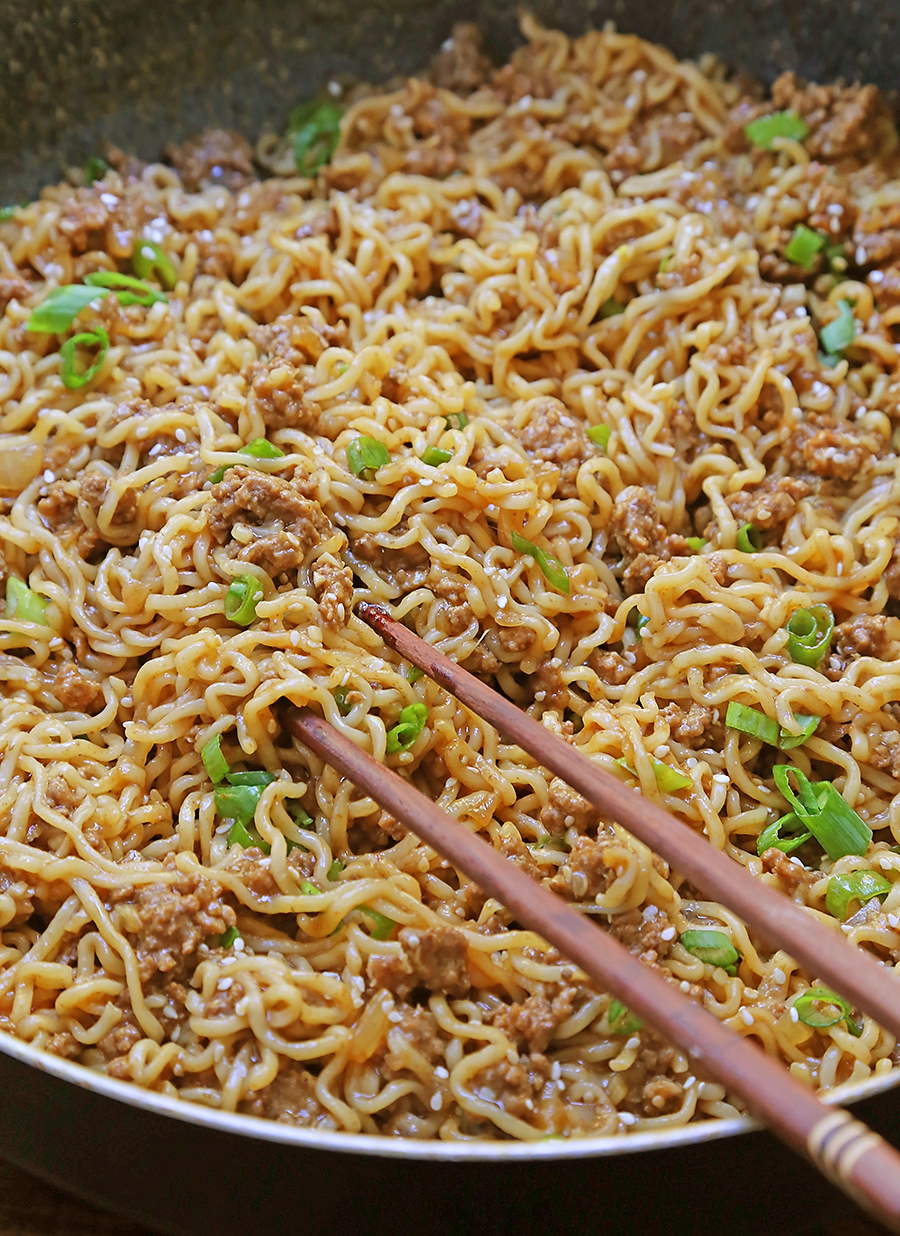 Sesame Beef Ramen Stir Fry
Ingredients
2 (3.5-ounce) packages instant ramen noodles, flavor packets discarded
1/3 cup beef stock
1/4 cup oyster sauce OR hoisin sauce
1 Tbsp. rice wine vinegar
1 tsp. Sriracha, or more, to taste
1 Tbsp. toasted sesame oil
1 lb. lean ground beef
1 cup diced sweet onion
3 cloves garlic, minced
1 Tbsp. freshly grated ginger
2 green onions, thinly sliced
1/2 tsp. toasted sesame seeds
Instructions
Set a large pot of water to boil. Add ramen noodles and cook 'til tender, about 3-4 minutes. Drain well and rinse with cold water; set aside.
In a medium bowl, whisk beef stock, oyster sauce, rice wine vinegar and Sriracha until well blended.
In a large skillet over medium heat, add sesame oil. Add ground beef and onion. Cook for 3-5 minutes, crumbling beef as it cooks, until beef is browned. Drain excess fat.
Stir in garlic and ginger. Cook until fragrant, about 1 minute.
Add beef stock mixture. Stir well, scraping up browned bits from bottom of skillet.
Stir in ramen noodles. Cook until heated through and evenly coated in sauce, about 1-2 minutes.
Spoon into individual serving bowls. Garnish with green onions and sesame seeds, if desired.
Enjoy!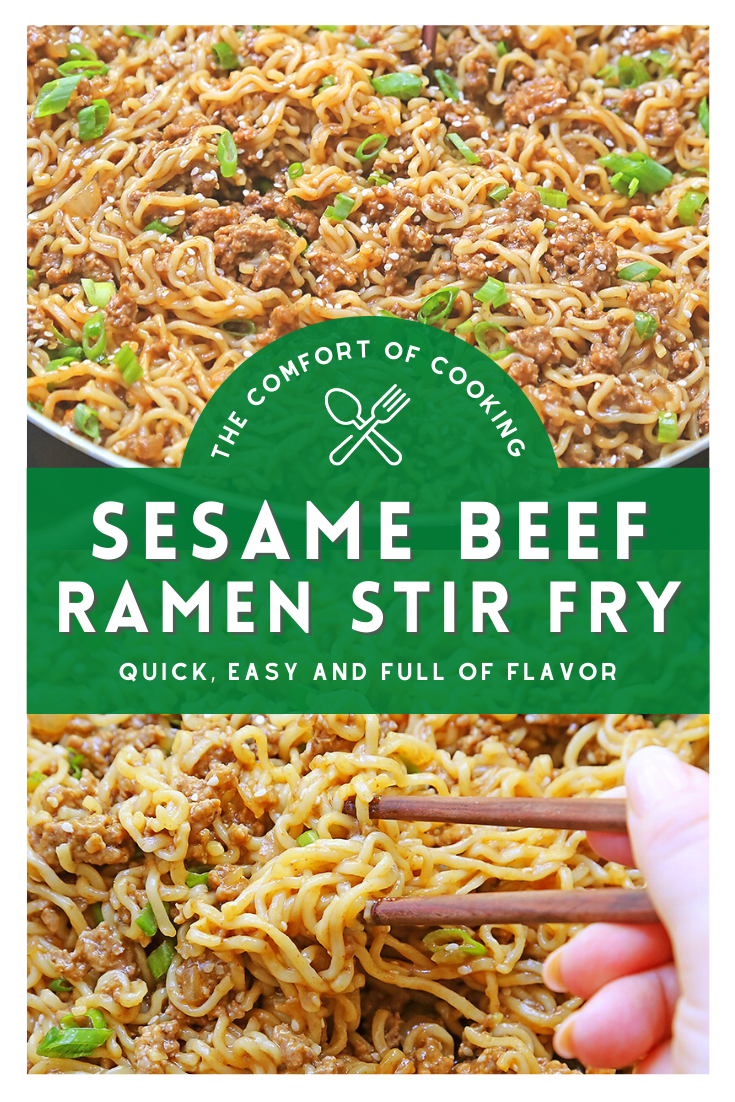 Want to receive our latest recipes straight to your email inbox? Click here to subscribe!