Try this colorful, mayo-free Tex-Mex slaw as a side dish for your next BBQ, or a crunchy topping for sandwiches!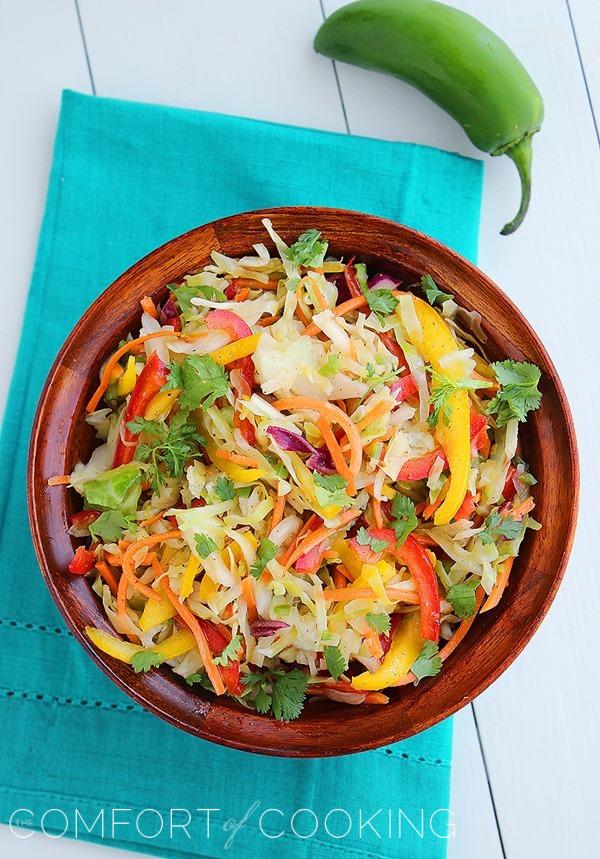 Last night, I had the amazing privilege of meeting some of my favorite blogger friends at a dessert and cocktails party in Austin! They're all in town for the big BlogHer Food convention, which is kicking off its first day today. I'm attending this year, since it's just down the block, and am so excited for everything I'll learn, all the delicious food I'll munch on, and the many more talented, inspiring people I'll meet!
So, what better recipe to kick off the weekend than with a colorful, vibrant Texas slaw! This wonderful state welcomed us with open arms two years ago (this week!), and I hope everyone visiting this weekend feels right at home in Austin like we did.
This is one of my favorite slaws to make in the summertime. It's citrusy and a little zippy, with a kick of color and just the right amount of tang! As a scrumptious side or topping for sandwiches and burgers, it's a must-make for your warm weather barbecues. The light, easy vinegar and olive oil dressing coats the slaw perfectly and really compliments fish, chicken or even steak! You'll just love it.
I'll be playing the part of professional eater, note-taker, hand-shaker and shutterbug this weekend, and I can't wait! I hope you have a wonderful weekend and stay cool in the summer heat. And, if you'll also be at BlogHer Food, here's hopin' we get to meet (and eat)!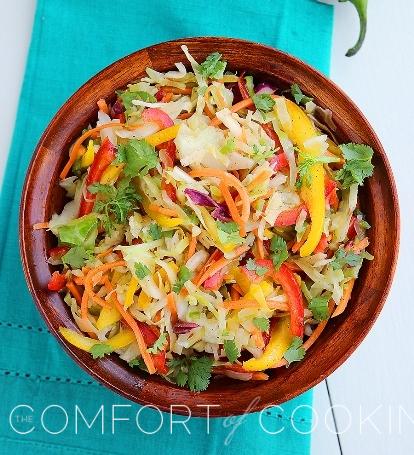 Tangy Tex-Mex Bell Pepper Slaw
Ingredients
For dressing:
2 Tablespoons white vinegar
2 Tablespoons extra virgin olive oil
1 1/2 tablespoons sugar
Juice from 1 fresh lime
1/4 teaspoon crushed red pepper flakes
1/4 teaspoon ground cumin
1 1/2 teaspoons kosher salt
1/4 teaspoon freshly ground black pepper
For slaw:
2 cups thinly sliced white cabbage
1 1/2 cups thinly sliced red cabbage
1/2 cup shredded carrot
1 medium jalapeño pepper, deseeded and minced
1/2 red bell pepper, thinly sliced
1/2 yellow bell pepper, thinly sliced
1/2 cup chopped fresh cilantro
Instructions
In a large bowl, whisk together all ingredients for the dressing. Add slaw ingredients to the bowl and toss to coat. Cover with plastic wrap and chill 1 hour before serving, tossing occasionally. Stir in cilantro just before serving.
Enjoy!