We cook this every week! Our favorite all-in-one meal with smoky sausage, sweet peppers and hearty sweet potatoes. Change them out for whatever veggies are in season!
When I'm not feeling my best and need to whip up something easy and healthy, I turn to this simply scrumptious recipe. The hearty, smoky turkey sausage mixed with crisp sweet potatoes and soft bell peppers and onions is a delicious medley in your mouth – and really light on calories, too! Just drizzle the chopped vegetables and sausage with a little olive oil, stir in some fragrant fresh garlic, and sprinkle on salt, pepper and herb de Provence (or, just use thyme and rosemary or any Italian seasoning mixture).
Enjoy this tasty meal on weeknights, lazy days, or anytime in between. It's an easy, mouthwatering meal with only basic ingredients and instructions!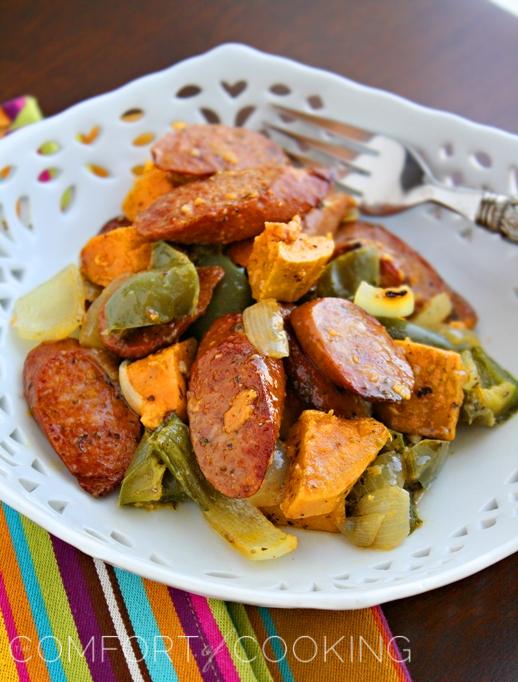 Roasted Sausage, Peppers and Sweet Potatoes
Ingredients
1 bell pepper, any color
2 large sweet potatoes, peeled, or 3-4 medium baking potatoes
14 oz. lean smoked sausage, turkey, beef or chicken
1/2 onion, yellow or red
2 garlic cloves, minced
2 Tablespoons olive oil
1 1/2 teaspoon Italian seasoning
1 teaspoon kosher salt
1/2 teaspoon freshly ground pepper
Instructions
Preheat oven to 375 degrees F.
Chop bell peppers, potatoes, sausage and onion into 1-inch pieces. Spread sausage and vegetables on a large baking sheet sprayed with nonstick cooking spray. Add minced garlic. Drizzle with olive oil. Sprinkle with Italian seasoning, salt and pepper. Toss until well coated.
Roast for 40-45 minutes, or until vegetables are tender and sausage is browned.
Enjoy!