Tender tortellini and fresh colorful veggies combine in this standout spinach salad. Super healthy, delicious and so easy to prepare!
Lately, I'm all about cooking up scrumptious, light meals that leave you feeling satisfied instead of starved. A salad just isn't a salad to me without lots of bright, fresh flavors and a little protein to keep you going. Whether by tossing in some grilled meat or seafood, a handful of black beans or a hardboiled egg, there are lots of additions that can take a salad from flat to fabulous!
On a bed of spinach leaves, I piled cooked three-cheese tortellini, chopped bell peppers, zucchini, yellow squash and cucumber. Tossed with my favorite Italian salad dressing and freshly grated Parmesan cheese, this delicious combo made for a colorful, flavorful and pretty darn healthy dinner!
Try this tasty tortellini salad sometime for yourself and you'll agree that this is one scrumptious springtime meal to make over and over again. Just don't forget the glass of wine and garlic bread!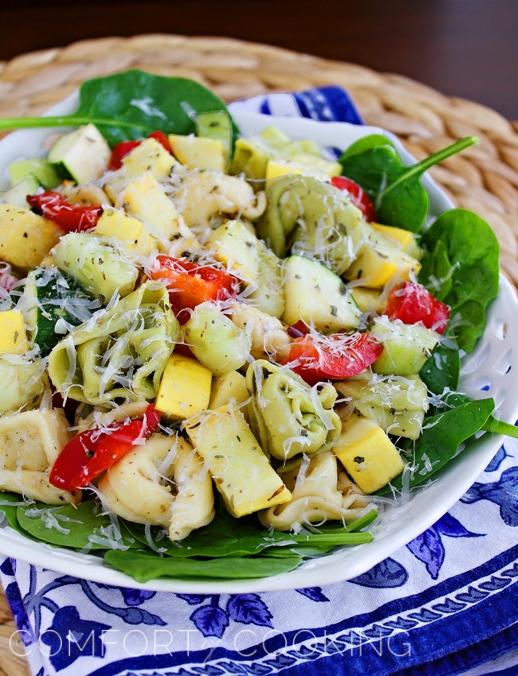 Tortellini Spinach Salad
Ingredients
1 cucumber
1 zucchini
1 yellow squash
1 red bell pepper
9 oz. frozen three-cheese tortellini
1/4 cup Italian salad dressing, or more, if desired
2 teaspoons Italian seasoning, or more, if desired
Kosher salt and freshly ground pepper, to taste
1 block Parmesan cheese or Parmigiano Reggiano
2 1/2 cups fresh spinach
Instructions
Chop cucumber, zucchini, yellow squash and red bell pepper into 1-inch pieces. Set aside.
In a 4 quart pot of boiling salted water, cook the tortellini according to package instructions (usually 7-9 minutes). Remove pot from heat, strain tortellini and rinse with cold water. Add to a large bowl. Stir in chopped vegetables and Italian salad dressing. Season with Italian seasoning, salt and pepper. Top with freshly grated Parmesan cheese.
Cover bowl and chill up to 1 day, or serve immediately over spinach.
Enjoy!