Crispy chicken tenders with a sweet-salty honey Dijon dipping sauce and zucchini rice make a delicious meal!

Rarely a day goes by when I don't pick up a paintbrush. But instead of mastering fancy landscapes and portraits, I'm preoccupied with the four walls of every room we take on in our house. It's great fun taking care of our new home, adding our touch here and there, but sometimes it leaves no time to think about dinner.
It's always good to have some staples on hand for quick fixes, though, and some of my must-haves are boneless chicken breasts, panko breadcrumbs, zucchini, and white rice… not to mention a variety of dipping sauces (sweet barbecue and honey mustard sauces are my favorites, but my husband likes a mix of Ranch dressing and sriracha sauce)!
All I did was coat the chicken in a mixture of dijon mustard and melted butter, sneaking in a drizzle of honey for a touch of sweetness. Bread the chicken with panko breadcrumbs, or you could also use crushed crackers like Ritz or Saltine. Meanwhile, just boil some white rice, toss it with butter, salt and pepper, and sprinkle in some freshly grated zucchini. The crispy chicken is moist, flavorful and absolutely scrumptious with the soft, buttery zucchini rice. When you're ready to serve, dip the chicken in a little sauce, do a little dance, and praise yourself for making a delicious, easy dinner in just thirty minutes!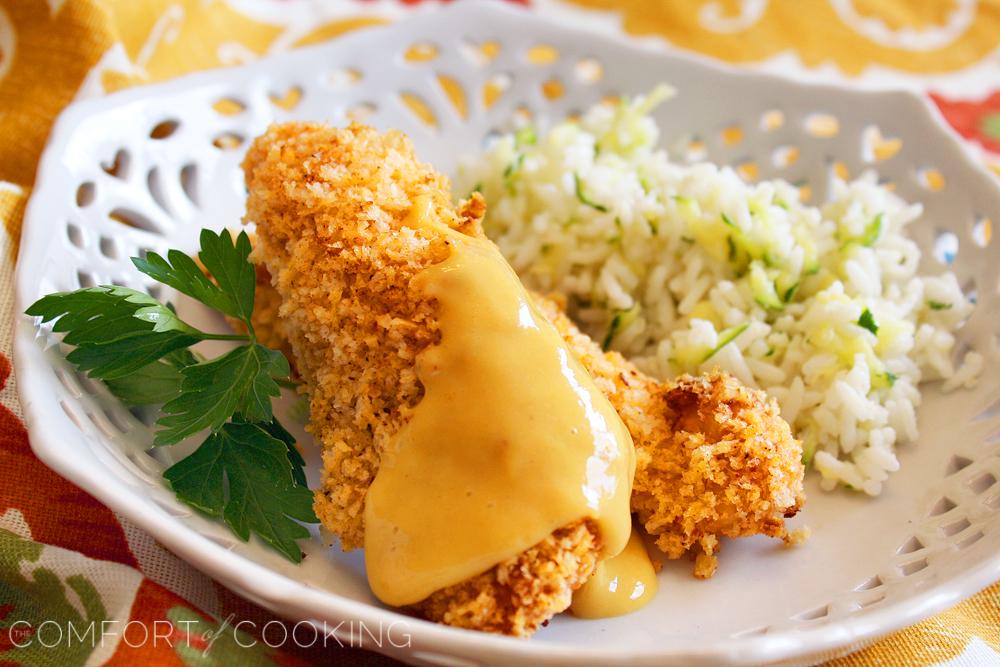 Honey-Dijon Chicken Tenders with Zucchini Rice
Ingredients
Honey-Dijon Chicken Tenders
1 cup panko breadcrumbs
1 tsp. salt
1/2 tsp. pepper
1/4 tsp. garlic powder
1/4 tsp. paprika
3 tbsp. butter, melted
heaping 1/4 cup Dijon mustard
1 Tbsp. honey
3 boneless skinless chicken breasts, sliced vertically into strips
Zucchini Rice
1 cup long-grain white rice
1 medium zucchini, coarsely grated
3 tbsp. butter
Salt and pepper, to taste
Instructions
Honey-Dijon Chicken Tenders
Preheat oven to 400 degrees F. Prepare a large baking sheet and set aside.
In a large bowl, combine the breadcrumbs, salt, pepper, garlic powder and paprika. Set aside. In a separate bowl, combine melted butter, Dijon mustard and honey; whisk until well combined.
Place the chicken strips into the mustard-butter mixture, then into the breadcrumbs. Coat evenly. Place onto the baking sheet and bake for 25-30 minutes. Meanwhile, prepare the zucchini rice (see below for recipe).
Zucchini Rice
Cook rice according to package directions. Remove from heat, add butter and sprinkle zucchini over the rice. Cover and let stand 5 minutes. Fluff rice with a fork. Salt and pepper, to taste.
Serve immediately with the chicken tenders, or with your own favorite main course.
Enjoy!