This post is sponsored by Holland House Cooking Wines.
Juicy, flaky roasted salmon drizzled with lemon-garlic honey butter and tender summer veggies! One pan full of hearty, healthy goodness… and easy enough for weeknights. Meet your new 30-minute dream dinner!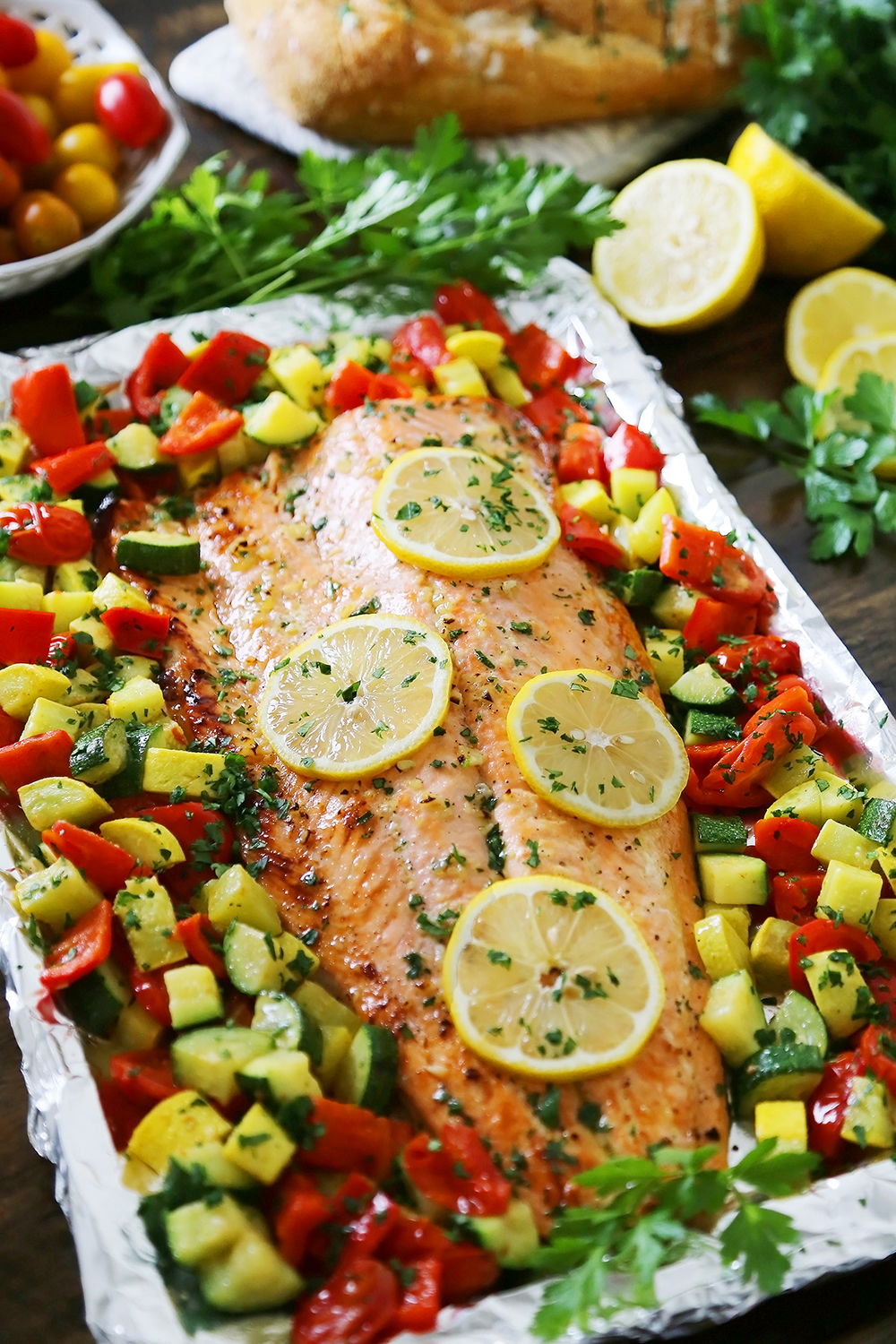 Oh, one-pan wonders. How I love thee! There is simply no easier way to make a weeknight dinner for your family. Lately, I have become obsessed with simply combining a protein (fish, chicken and sausage mostly) onto a large sheet pan, tossing in some summer veggies, popping it in my oven, and letting it cook itself!
Leading up to our move to New England tomorrow, it has been all about using what foods we already have! So, when rooting around our fridge, I found this beautiful filet of salmon and my favorite summer veggies – zucchini, yellow squash, bell peppers and grape tomatoes. I was craving a lemony, zesty Mediterranean meal to help me through the Texas heat, so I grabbed the basic ingredients from my pantry, and dinner was decided.
What I love about this salmon is that it's elegant enough for company, but easy enough for weeknights! The ingredient list is so simple, but turns out an incredibly flavorful fish with citrusy brightness and crisp-tender vegetables.
My family and I always enjoy this scrumptious salmon and veggie dinner with a side of garlic bread, and of course some hungry friends never hurt. A two-pound salmon will easily serve six, so invite company over to wow them with this wonderful dish… or enjoy the even-better leftovers for a few days!

Want to make it in your own kitchen? The steps are simple!
Arrange your salmon on a large baking sheet, on top of two layers of aluminum foil. Heavy duty foil is best for this job, to safeguard spills and tearing.
Melt butter in a small saucepan, and once it's bubbling and hot, add your garlic. Let it sizzle for a minute to really release its fragrance, then pour in your lemon juice, honey, and my new favorite secret weapon for adding (even more) bright, fresh lemon flavor – Holland House's White Cooking Wine with Lemon! A splash of this cooking wine gives my poultry and fish dishes the perfect extra citrusy tang, and it's so easy to store in your cabinet instead of opening a whole bottle of wine. I have loved using this lemon cooking wine in my summer cooking, especially for sauces and marinades. It is a new must-have for this lemon lover!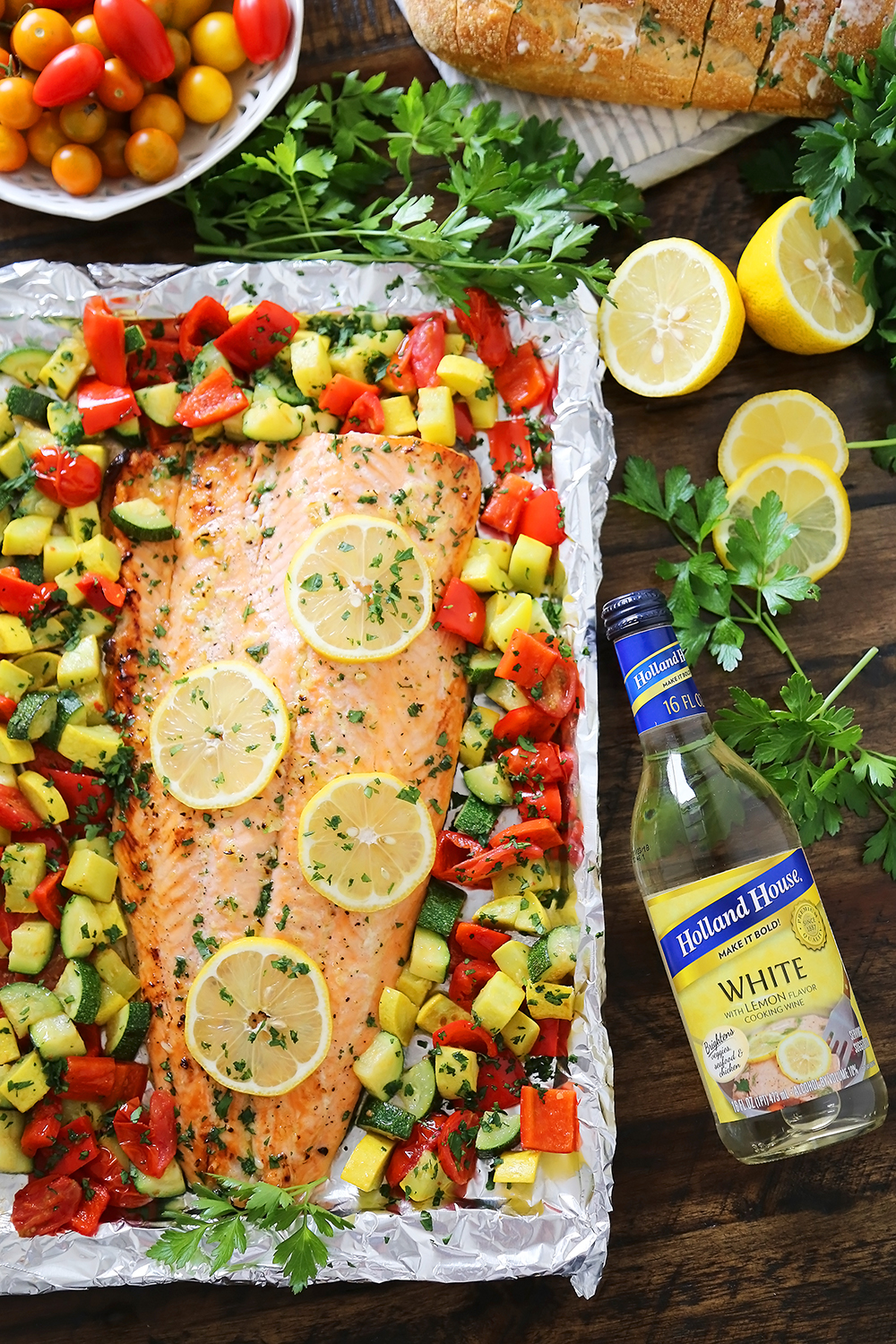 Once your butter mixture is ready, pour it over the salmon, brushing all over with a pastry brush. Wrap it up in the top layer of foil, placing another foil sheet on top, if your layer doesn't wrap all the way around the salmon. Scatter your chopped zucchini, squash, bell peppers and tomatoes around the foil packet (or, any combination of quick-cooking veggies you like). Then, pop it in the oven for 15 minutes. Do a little washing up, pour a glass of wine, and if you're like me, toast some buttery garlic bread for the side!
Your salmon will be halfway cooked at this point, but that's okay. Switch your oven to broil, remove your pan, and open up the foil packet. Pop it back in for another 3-4 minutes, just until the salmon is golden and vegetables are tender. Sprinkle your scrumptious, sizzling fish and veggies with fresh parsley and layer on a few lemon slices for an elegantly finished look. Dinner is done!
I know you will love this recipe as much as my family and I have. All it takes is a few basic ingredients and 30 minutes, start to finish. I am so happy to share this easy, deliciously doable salmon dinner with you, and hope you give it a try soon!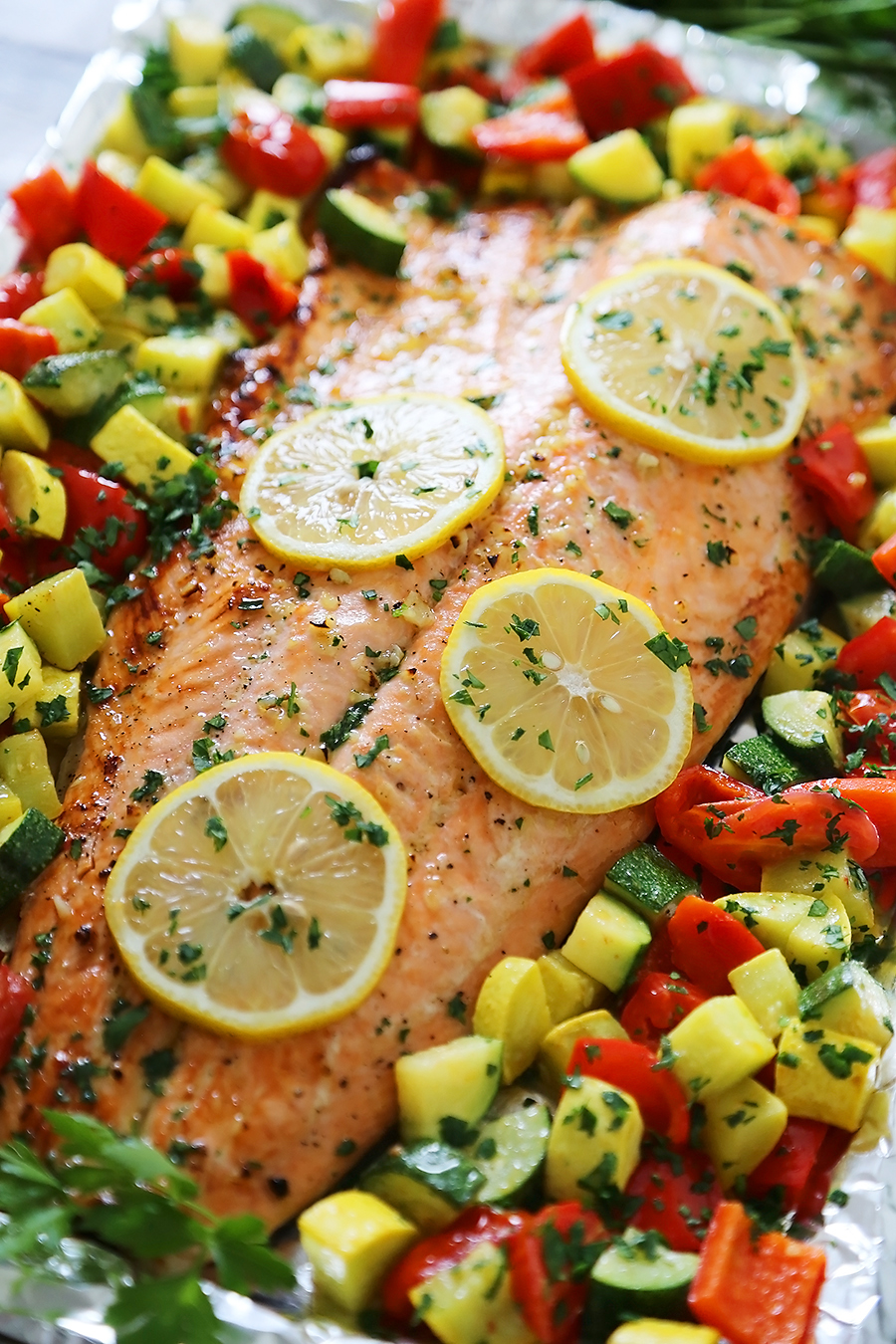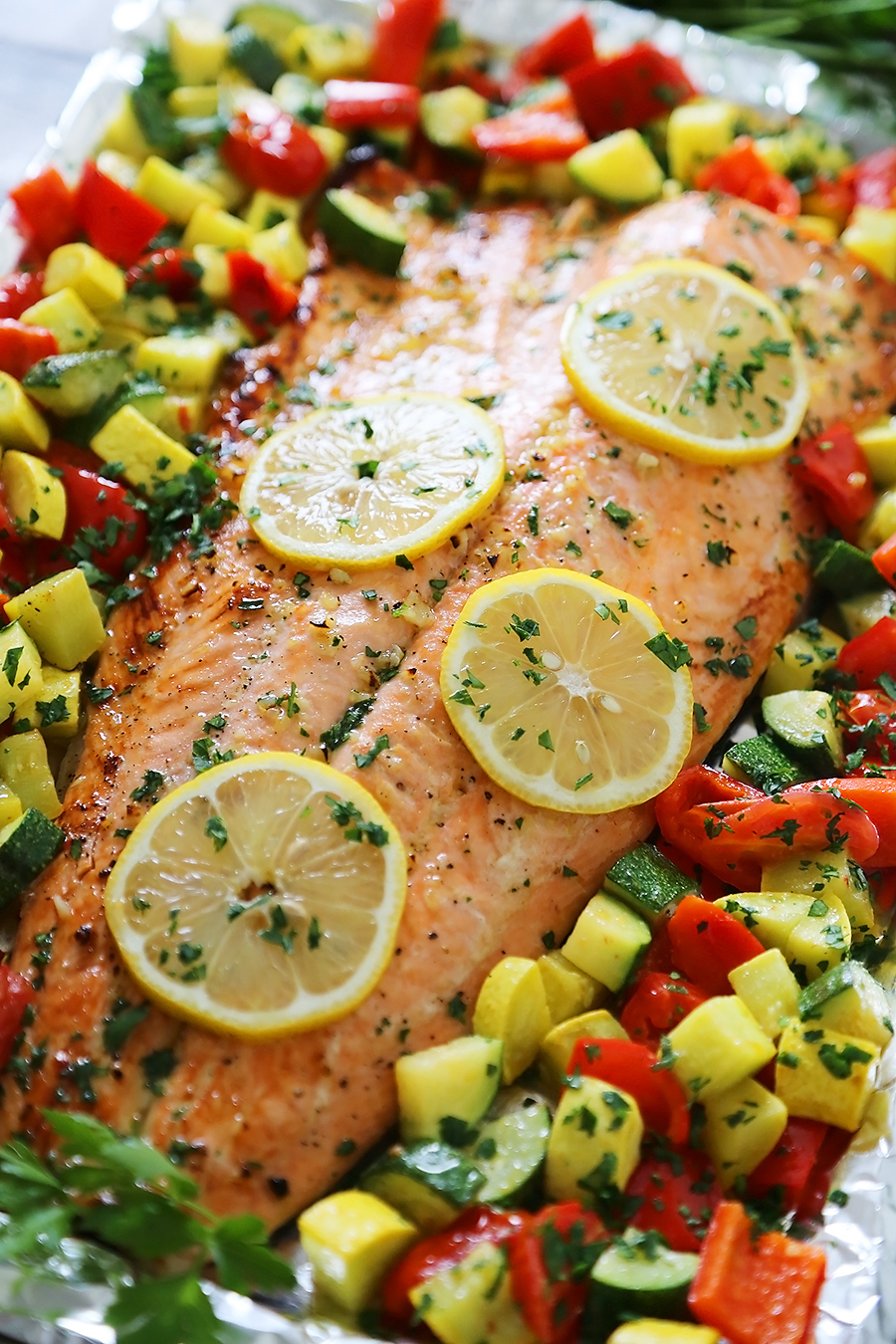 For more easy, healthy one-pan meals, check out these recipes:
Roasted Chicken Sausage, Peppers and Potatoes
One-Pan Greek Orzo with Tomatoes and Feta
Honey-Soy Asian Salmon in Foil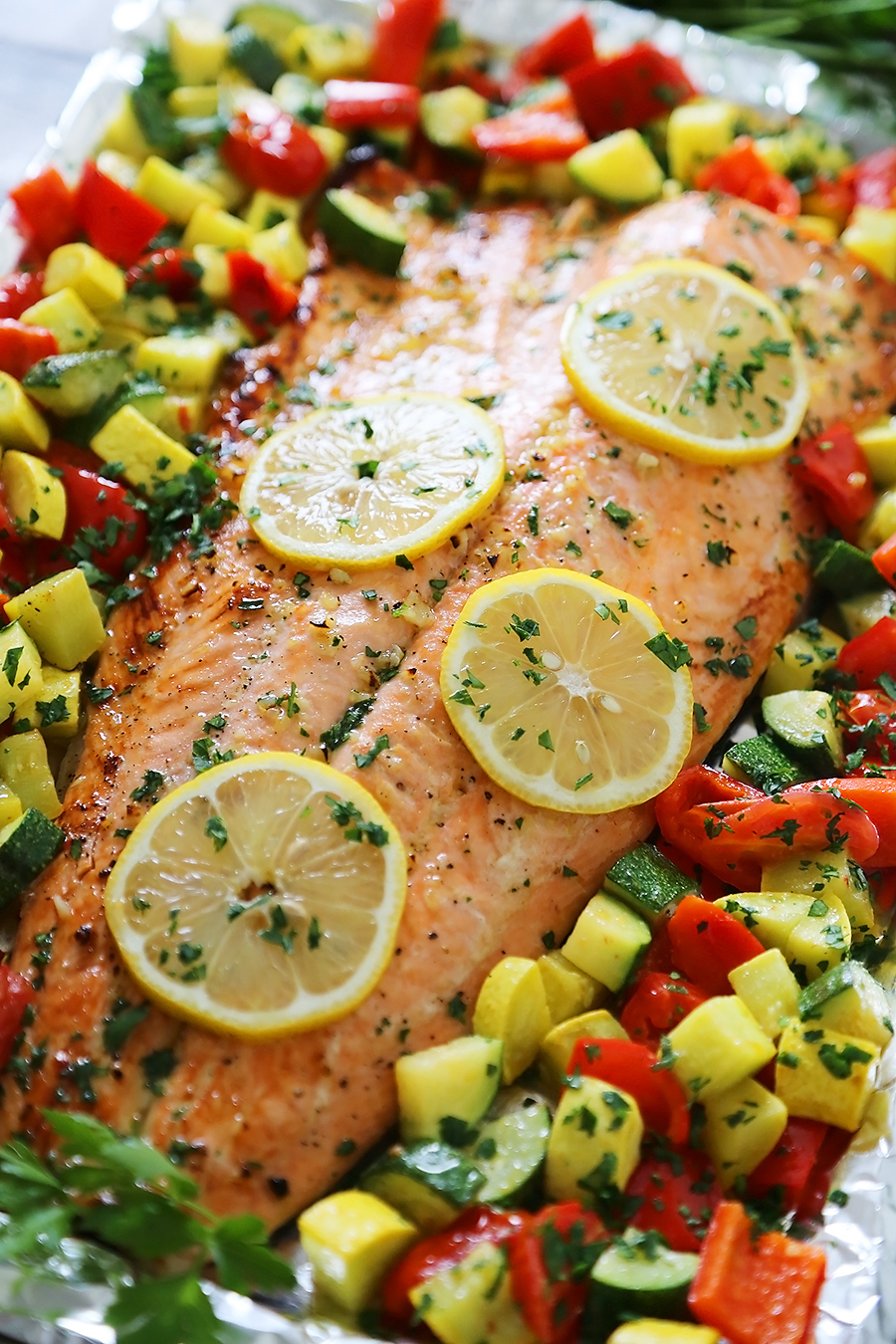 Lemon-Garlic Honey Butter Salmon & Veggies in Foil
Ingredients
For the Salmon:
Nonstick cooking spray
1-1/2 to 2-lb. salmon filet (skin-on recommended, or use skinless)
1/4 cup (4 Tbsp.) unsalted butter
3 cloves garlic, minced
2 Tablespoons honey
1/4 cup Holland House White Cooking Wine with Lemon
1 Tablespoon lemon juice (from 1/2 lemon)
Kosher salt and freshly ground black pepper
For the Veggies:
1 medium zucchini, chopped
1 medium yellow squash, chopped
1 red bell pepper, chopped
1 cup cherry or grape tomatoes, halved
For serving:
Chopped fresh flat-leaf parsley
Fresh lemon slices
Instructions
Preheat oven to 375 degrees F. Line a large baking sheet with aluminum foil. Lay another layer of foil on top. Coat foil generously with nonstick cooking spray. Arrange salmon filet on top of foil.
Set a small saucepan set to medium-high heat. Add butter and stir as it melts. Add garlic and cook, stirring, until fragrant, about 1-2 minutes. Remove from heat. Stir in honey, white wine and lemon juice.
Pour butter-garlic mixture on top of salmon. Using a pastry brush, evenly distribute mixture all over salmon. Season with salt and pepper.
Fold sides of foil up and over the top of the salmon until it is completely enclosed. (If your foil is not large enough, place a second sheet of foil on top. Fold edges together so that it forms a sealed packet.) Arrange chopped vegetables around salmon packet.
Bake for 15 minutes, or until salmon is almost cooked through and vegetables are crisp-tender.
Remove pan from oven. Carefully open and pull back foil, so that the top of the salmon is completely exposed.
Change oven setting to broil. Return pan to oven and broil for 3-4 minutes, careful not to burn. The salmon should be slightly golden and cooked through.
Remove from oven and sprinkle salmon and vegetables with chopped parsley. Slice salmon and serve with vegetables.
Enjoy!
Notes
Disclosure: This recipe was created for Holland House. All opinions are my own.