Easy to make on your grill pan or outdoor grill! This outrageously good salad stars a smoky Mexican-spiced grilled flank steak, fresh sweet corn, red onions, creamy avocado and a zesty honey lime dressing. Full of flavor, color and nutritious goodness for your next weekend feast!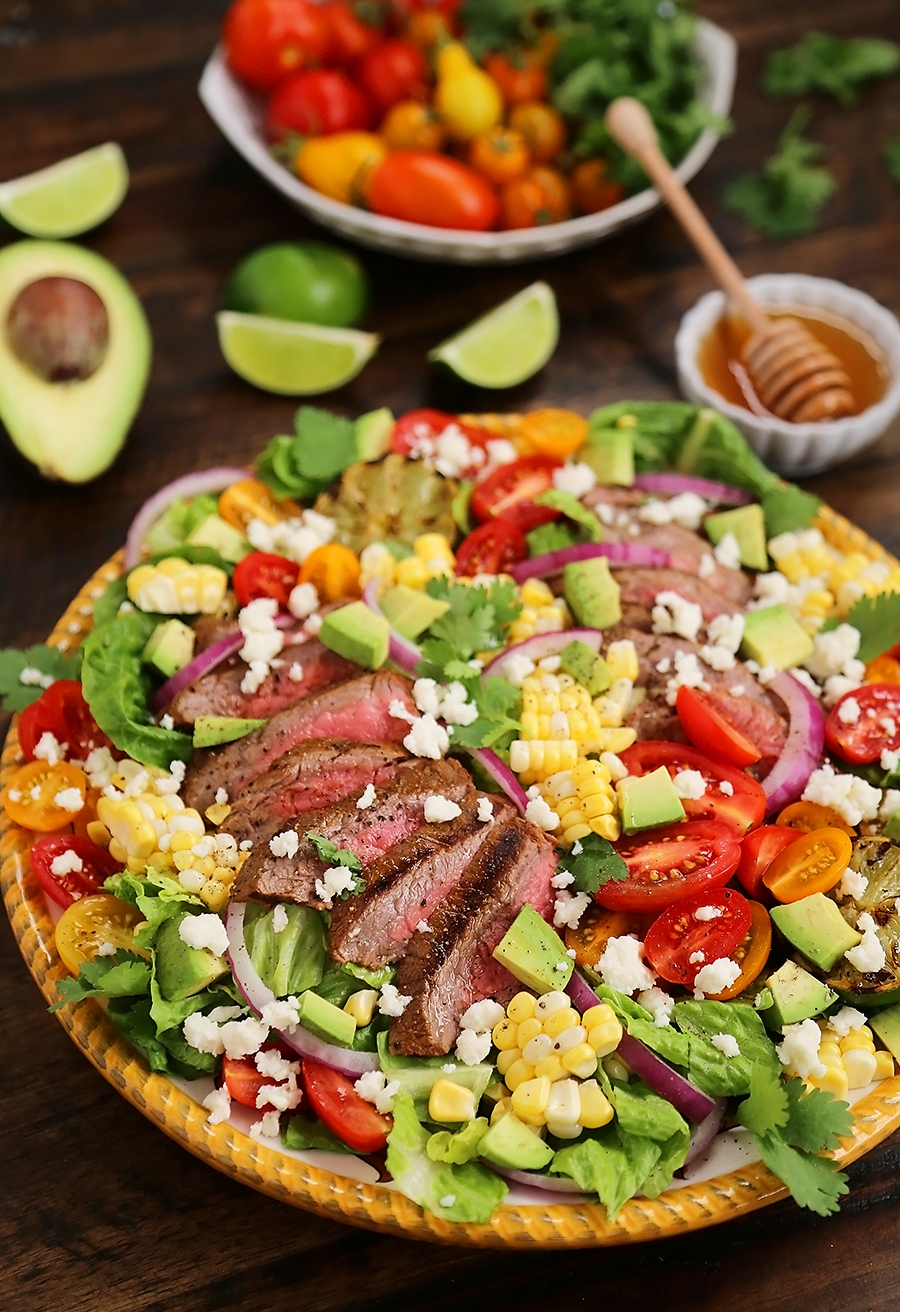 I don't eat steak often, but when I do, I enjoy it most nestled into spicy, salsa-smothered tacos, or on a bed of salad with all the fixings. Thankfully, my Southern charmer knows his way around the grill and can perfectly sear a mouthwatering, medium-rare steak when the craving strikes. Let's just say, since we will be putting the Southwest in our rear-view soon, I am intent on getting my fill of Texas beef and the bounty of Mexican-grown veggies that we have easy access to.
I have happily called Texas home for the last six years, but it's about time for a change! My husband and I are excited to be moving closer to my family in Massachusetts, in just one short week. We will miss our friends here dearly, and the unbeatably good Tex-Mex and barbecue. But, it is time to close our Texan chapter and raise my daughter in a smaller town than Austin is growing into. Plus, I just cannot stand one more sticky 100-degree summer!
So, we are making the most of the great quality ingredients that we have access to in Texas, and cooking up lots of nutritious, easy meals on our grill. This steak salad has become a big-time favorite, and what's not to love? All that eye popping color, zesty flavor and nothing artificial. Just a big, beautiful plate of homemade goodness that I'm happy to share with you today.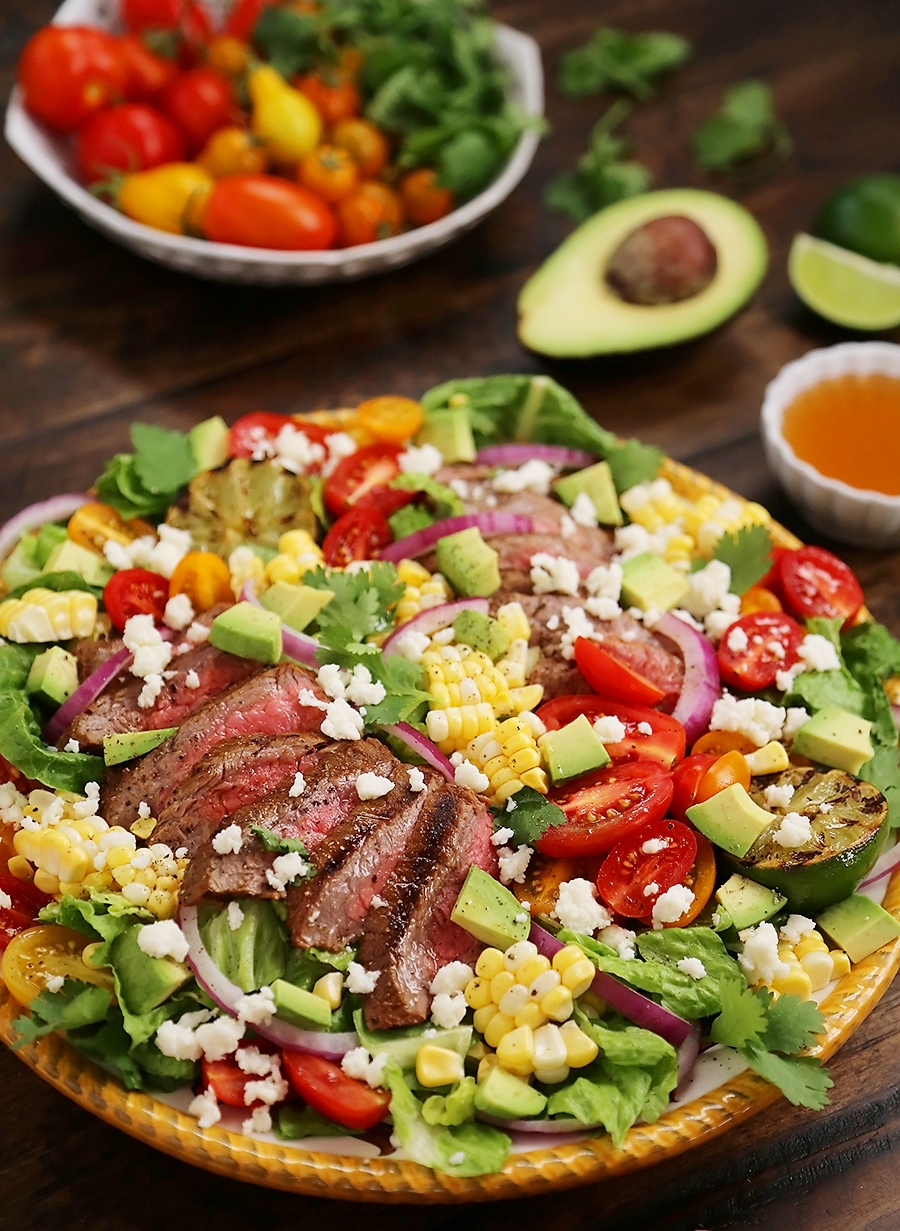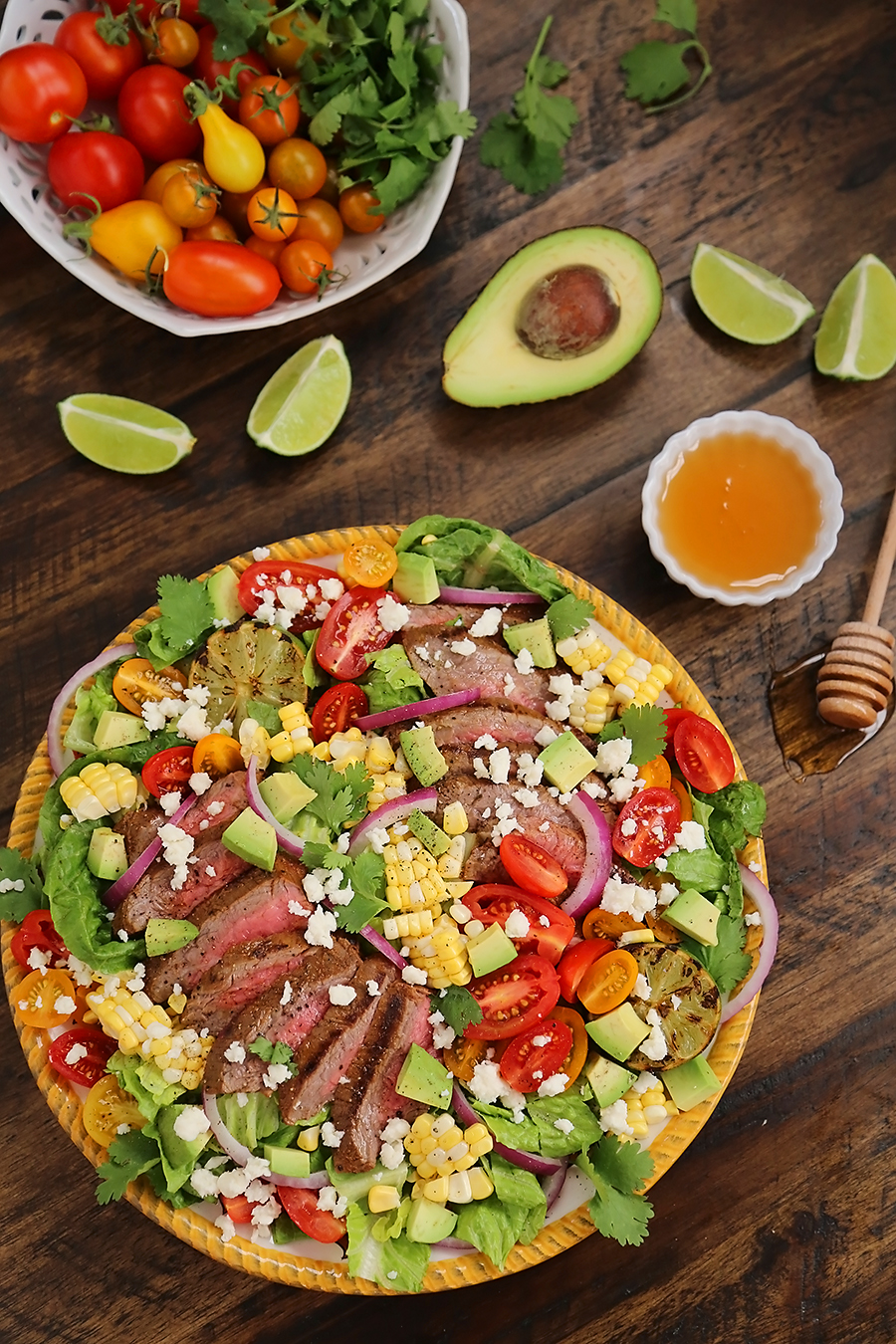 To compliment this scrumptious Tex-Mex salad's vibrant colors and flavors, I love to sprinkle crumbles of creamy La Vaquita Queso Fresco on top. This soft yet crumbly, feta-like Mexican cheese adds the perfect creamy richness to tacos, eggs, and even side dishes! We love to also pair it with grilled corn, fresh tomato salads, and bean dishes. This delicious queso fresco is a summer time staple in my house, and a must-have finisher for our grilled meats and vegetables. To say the least, I will be lost without it when we move to New England next week!
I will miss many things about Texas living, especially my family and friends, but I will also miss the fabulous food! The access to quality, authentic Mexican ingredients like this queso fresco will be a sore loss! However, my husband and I are really looking forward to switching up our cooking style in favor of more Northern-friendly ingredients. Hello, seafood, apples and maple syrup galore!
In the meantime, we're giving our grill a good workout with meals like this mouthwatering steak salad, loaded with veggies and smoky, crunchy, sweet, citrusy flavor. Simply marinade your steak in a blend of spices, whisk up an easy, tangy honey-lime dressing, and chop up your raw vegetables (or, grill your corn or red onions for some smoky flavor!). Many of the steps can be prepared ahead of time, too! Rub your steak and make your salad dressing up to 2 days ahead of cooking and serving.
Serve your stunning salad with some juicy lime wedges, fresh cilantro, and of course, a crumble of creamy queso fresco, and enjoy. You're ready to eat!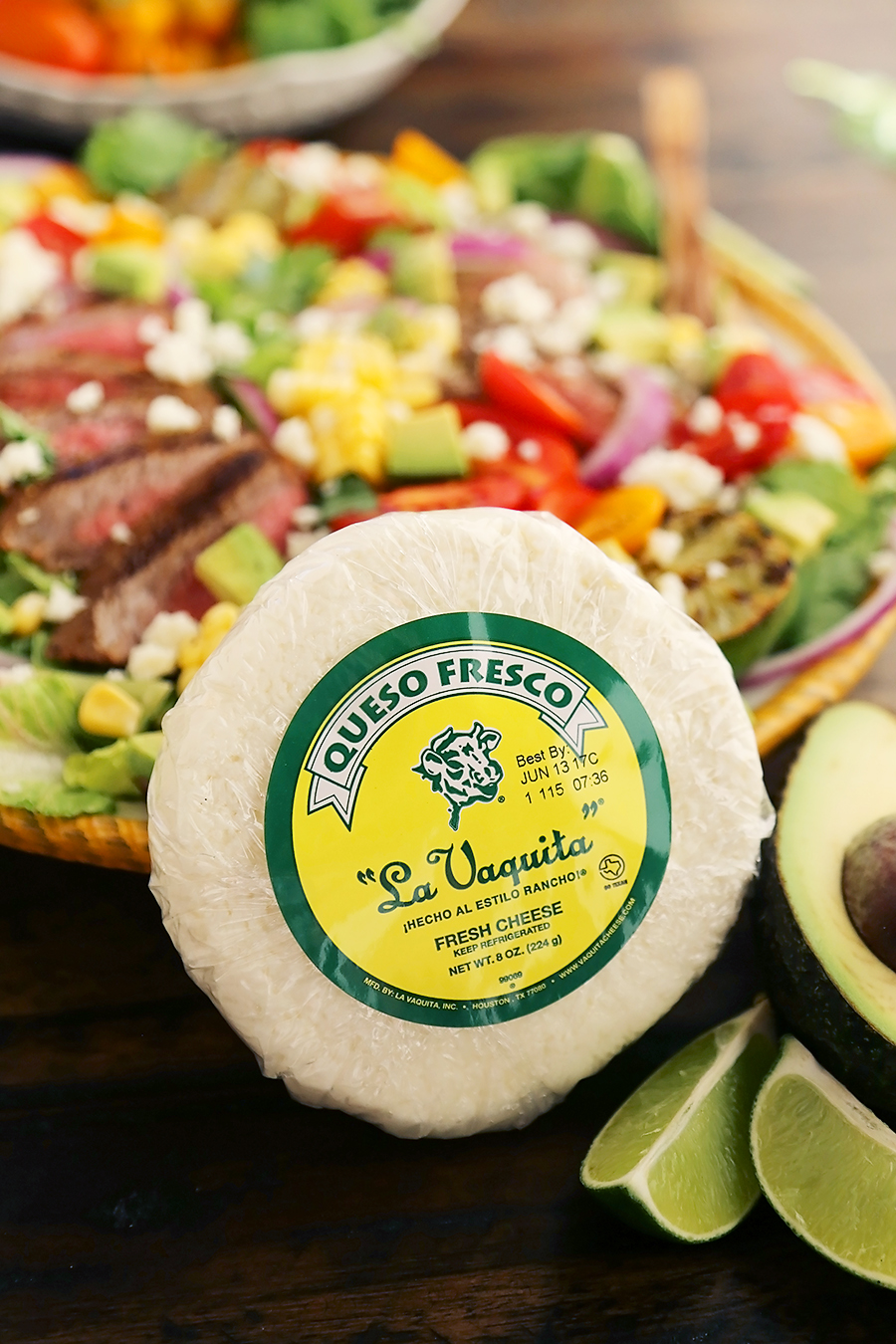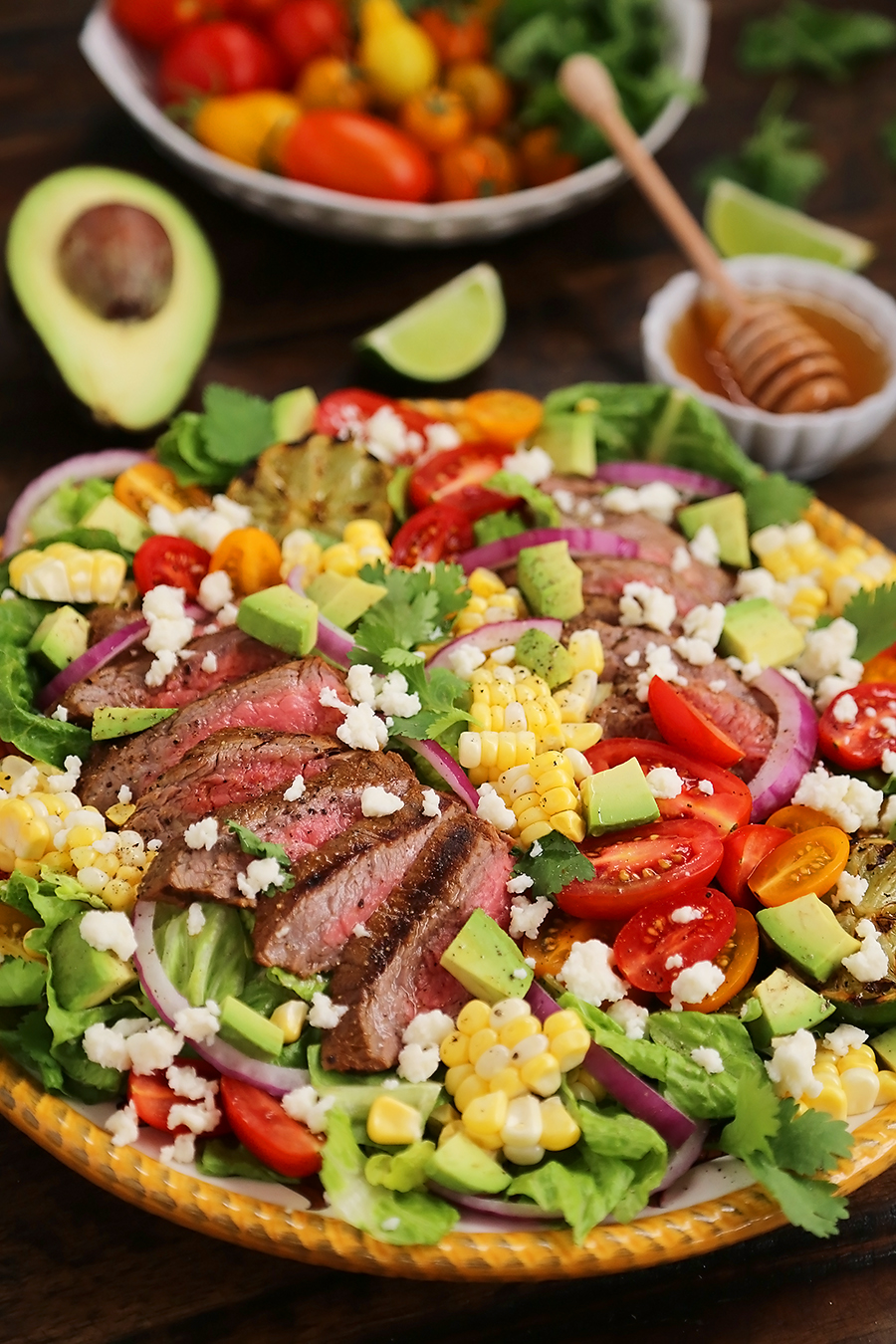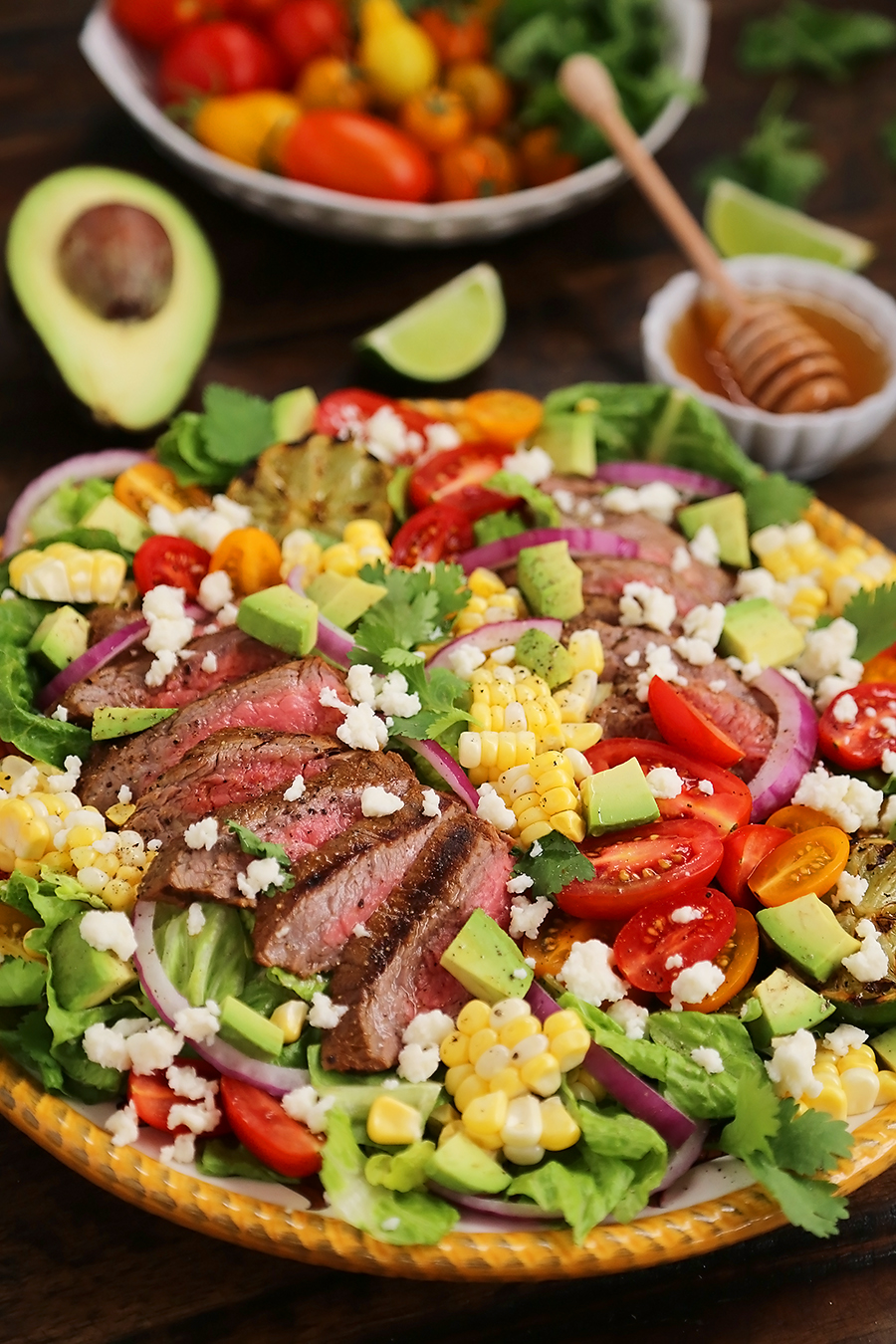 Mexican Grilled Steak Salad with Honey Lime Dressing
Ingredients
For the Flank Steak:
1 (1-1/2 lb.) flank or skirt steak
1 teaspoon chili powder
1 teaspoon smoked paprika
1 teaspoon ground cumin
1/2 teaspoon kosher salt
1/4 teaspoon fresh ground black pepper
1/4 teaspoon onion powder
1/4 teaspoon garlic powder
Nonstick cooking spray, for cooking
For the Honey Lime Dressing:
1/4 cup fresh lime juice
1/4 cup olive oil
2 teaspoons honey
1 garlic clove, minced
1/8 teaspoon crushed red pepper flakes
1/8 teaspoon kosher salt
For the Salad:
6 cups mixed baby greens or chopped romaine lettuce
1 cup cherry tomatoes, halved
1 cup (heaping) fresh corn
1 large red onion, sliced
2 avocados, sliced
1 (8 oz.) package La Vaquita Queso Fresco
Instructions
For Marinating the Steak:
Add to steak to a large resealable plastic bag. In a small bowl, combine seasonings and blend well. Pour into the bag and toss to coat steak.
For Cooking the Steak:
Set your gas grill to medium-high heat, or indoor grill pan to medium heat. Coat generously with nonstick cooking spray. One hot, add steak to grates. Cook about 5 minutes (or, up to 8 minutes for a grill pan), then flip and continue cooking about 3 more minutes, or until internal temperature reaches desired level (about 130°F to 135°F for medium-rare). Remove steak onto a cutting board and let rest for 5-10 minutes before slicing. Slice against the grain into thin strips.
For the Honey Lime Dressing:
In a small bowl, whisk all ingredients together until well blended.
For the Salad:
Arrange mixed greens/lettuce on individual plates. Top each plate with steak slices, cherry tomatoes, corn, onion slices, avocado slices and crumbled queso. Drizzle with honey-lime dressing. Serve.
Enjoy!
Notes
This recipe was created for La Vaquita Queso. All opinions are my own.