Super crisp, tender roasted chicken thighs with potatoes and carrots makes an easy one-pan weeknight meal! This delicious, wholesome meal is bound to become a family favorite.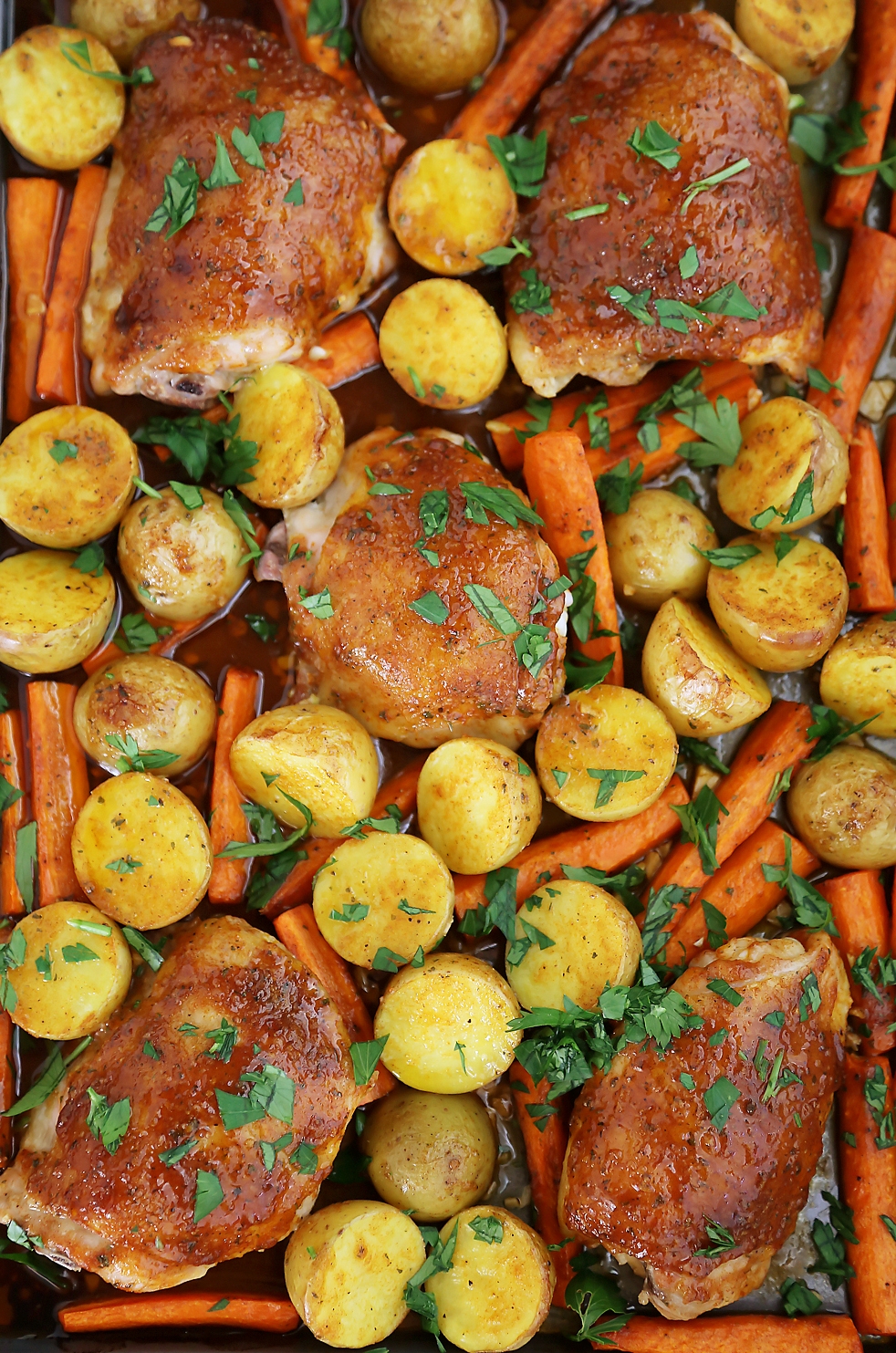 I live for meals like this during weekdays, and even for special occasions and holidays – simple, versatile and full of flavor! When I want to spice up dinner but still keep things relatively easy, this combination of crispy, tender chicken and roasted vegetables hits the spot for a wholesome meal.
The versatility of this dish lies within the veggies, especially! You can swap them out for whatever vegetables are in-season, which keeps your dinner even more healthy and budget-friendly. Springtime? Try asparagus or broccoli. Winter? Toss in some butternut squash in place of the potatoes. So many options, so much deliciousness. You simply cannot go wrong with this foolproof dish!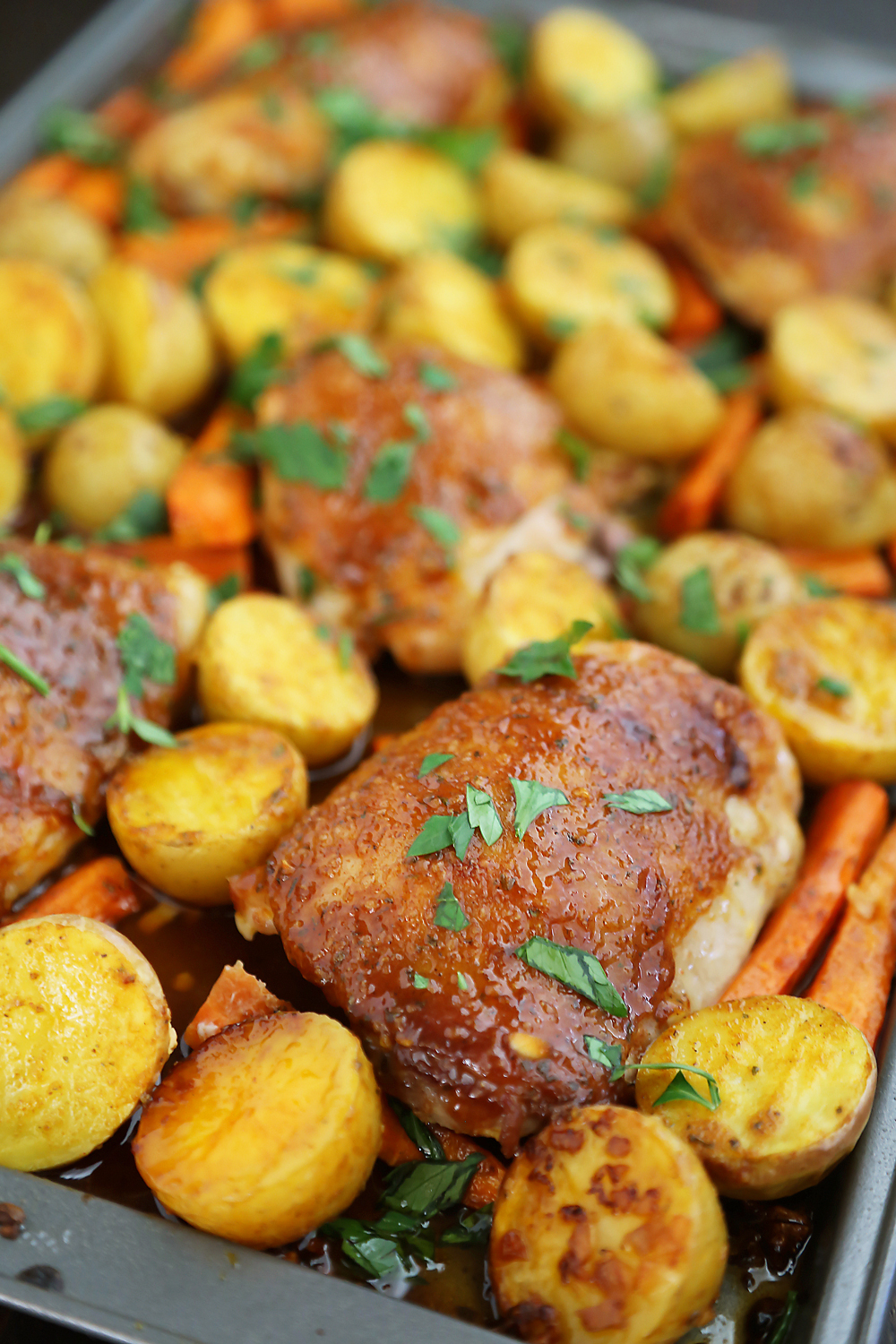 Want the flavorful secret to this scrumptious one-pan dinner? It lies within the seasoning. Using my longtime favorite Hidden Valley® Original Ranch® Salad Dressing & Seasoning Mix, this roasted chicken and vegetable dish is full of irresistible, belly-filling goodness.
To create this dish at home, combine the seasoning with olive oil, garlic, paprika, brown sugar, and a little salt and pepper. Spread it all over your chicken and vegetables, and pop it in the oven. Easy peasy 10-minute prep, and on your dinner table in under 30 minutes. A full dinner the whole family will love!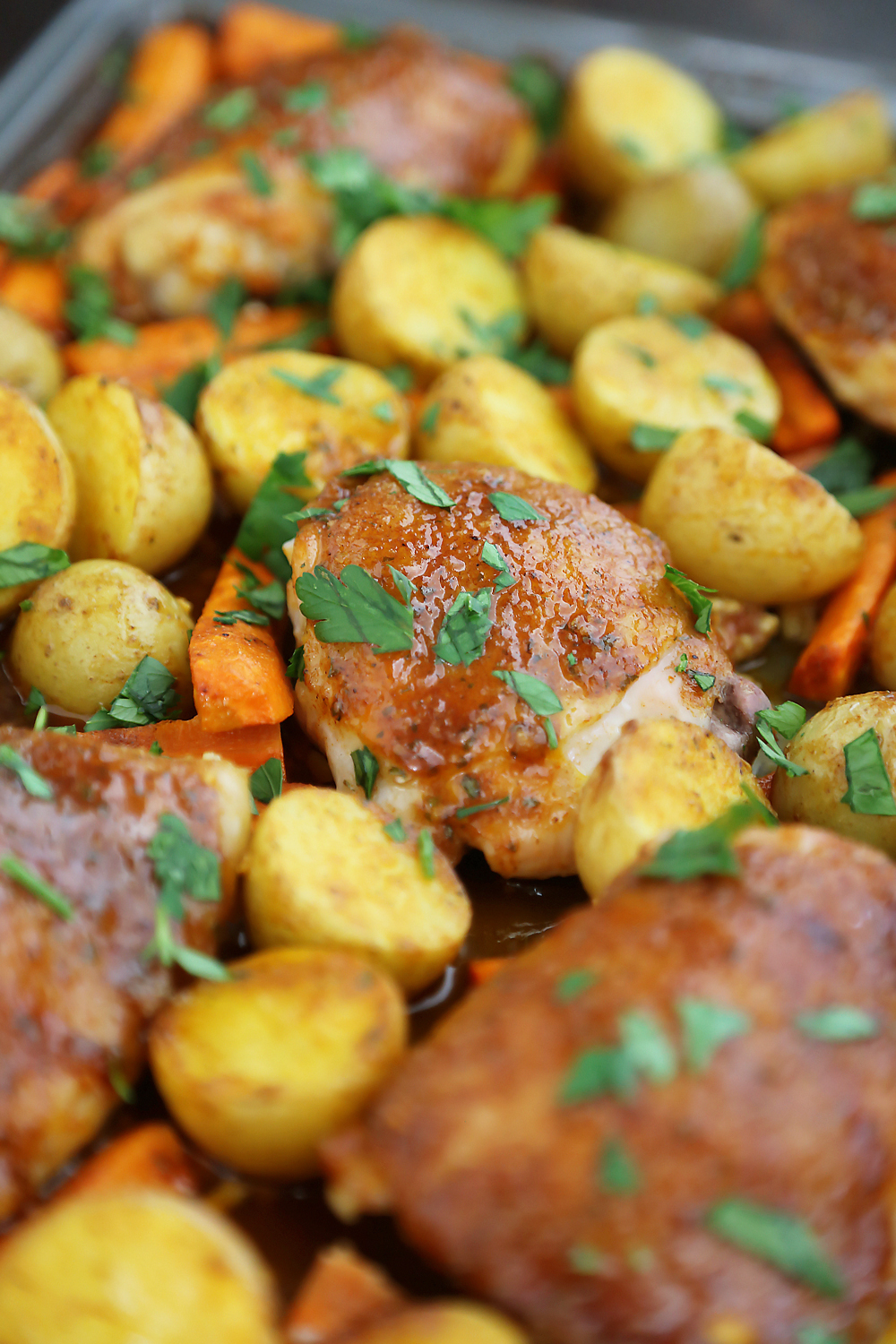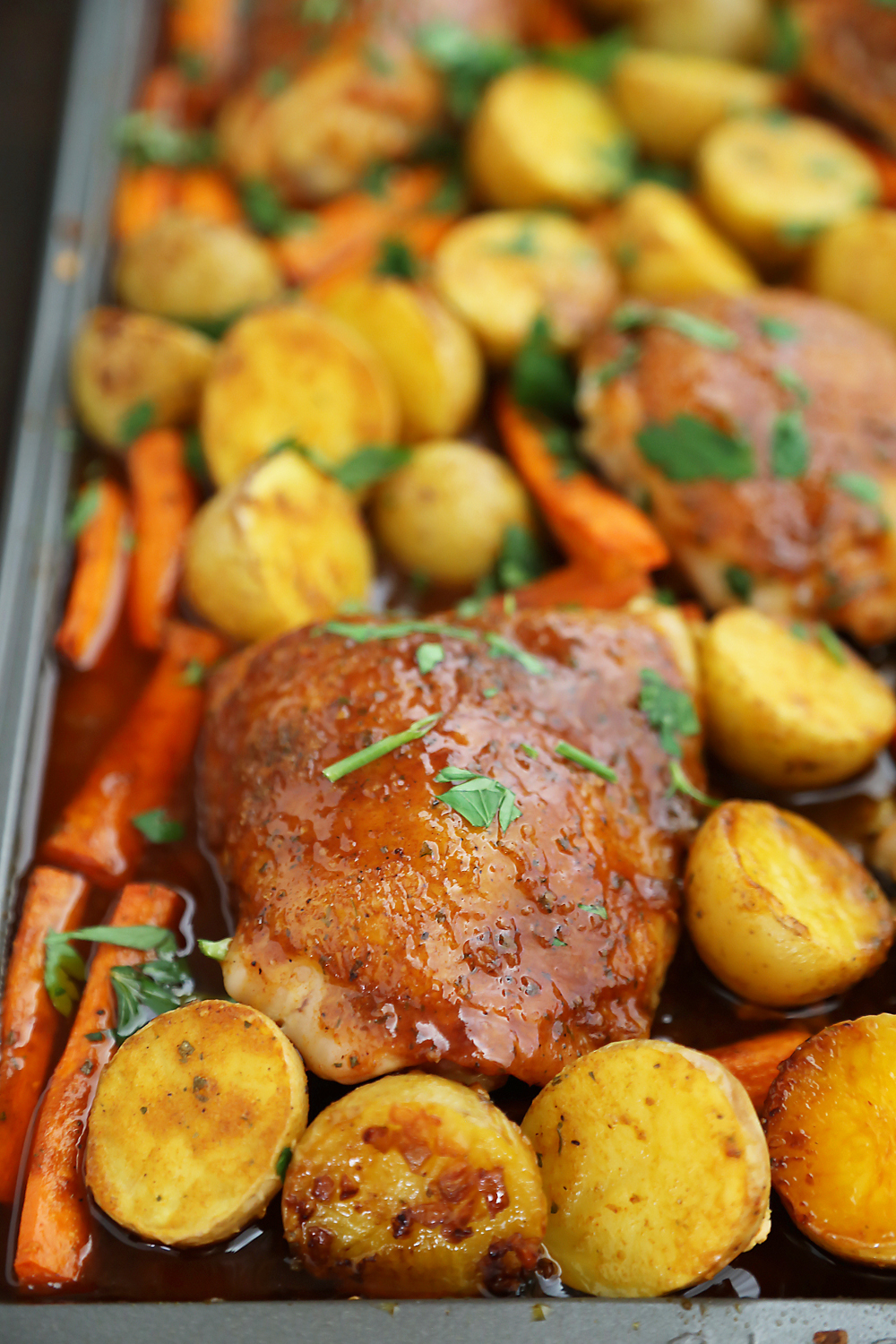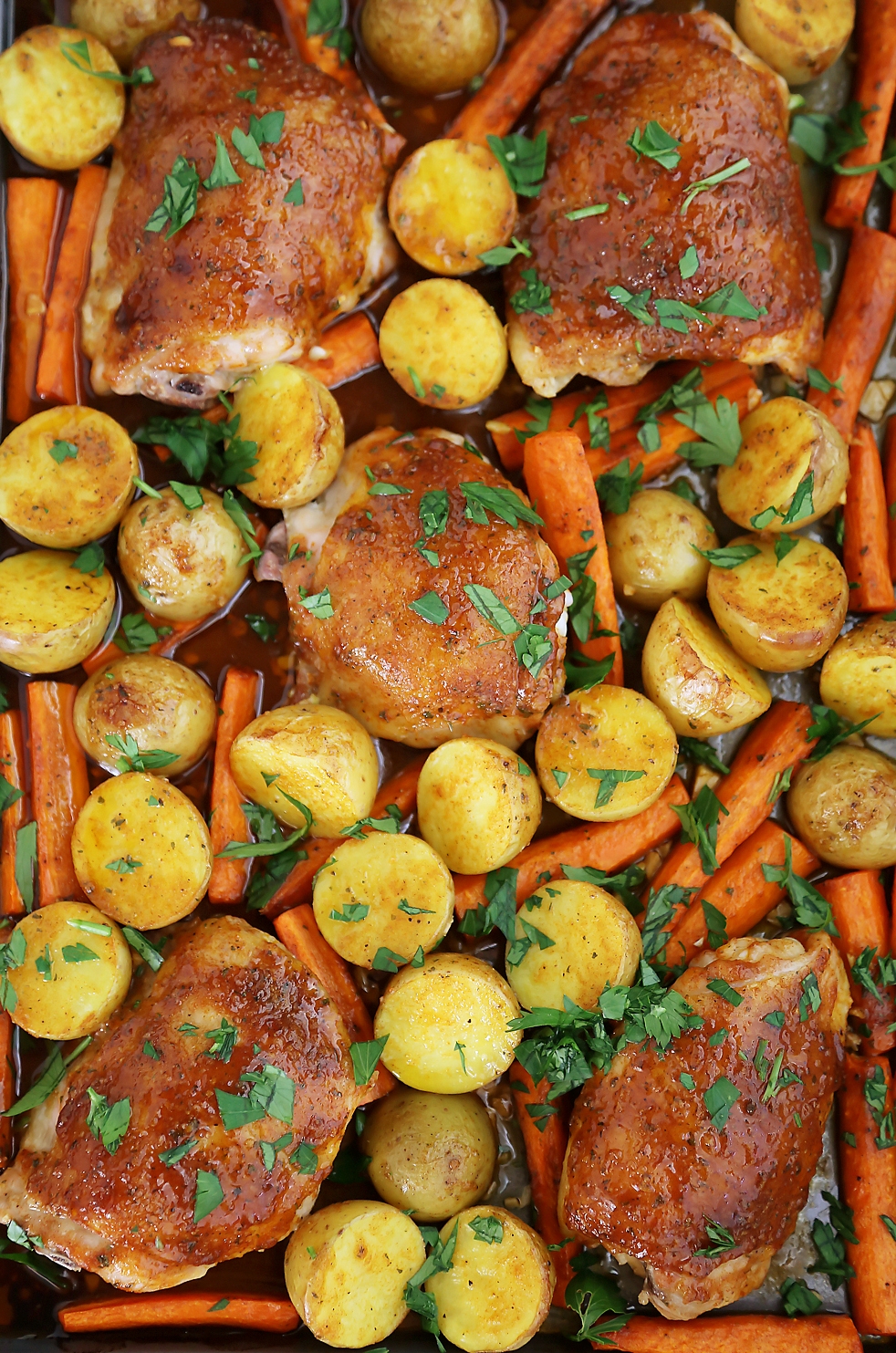 Garlic Ranch Roasted Chicken and Veggies
Ingredients
4-5 bone-in, skin-on chicken thighs
1 lb. baby potatoes, halved
1 lb. baby carrots, peeled
1/4 cup olive oil
1 (1 oz.) package Hidden Valley® Original Ranch® Salad Dressing & Seasoning Mix
3 cloves garlic, minced
2 heaping teaspoons brown sugar
2 teaspoons paprika
1 1/2 teaspoons kosher salt
1/4 teaspoon freshly cracked black pepper
2 Tablespoons chopped fresh parsley leaves
Instructions
Preheat oven to 400 degrees F. Coat a large baking sheet with nonstick cooking spray.
Arrange chicken thighs, potatoes and carrots in a single layer on the baking sheet.
In a small bowl, whisk together olive oil, ranch seasoning, garlic, brown sugar, paprika, salt and pepper. Spread all over the chicken thighs and veggies with a pastry brush.
Bake until chicken is cooked through and veggies are tender, 25-30 minutes. Once cooked, set your oven to Broil, and place back into oven for 2-3 minutes, or until caramelized and slightly charred.
Remove from oven and sprinkle with chopped parsley. Serve immediately.
Enjoy!