These sticky, soft cinnamon rolls with fresh apples taste like the classic pie and breakfast treat rolled into one! Bake a batch for holiday festivities, or any chilly weekend morning.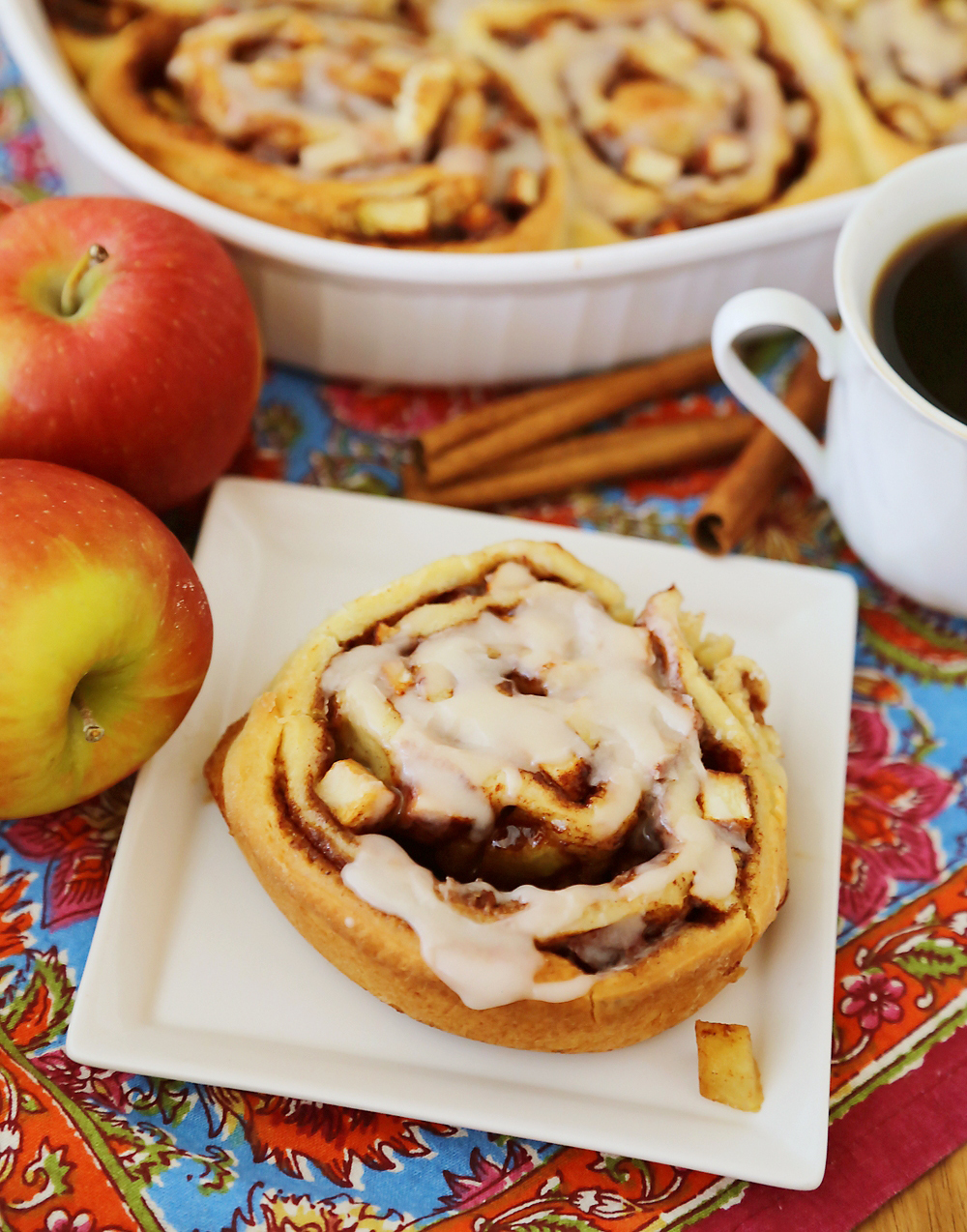 One of my favorite treats to bake this time of year is a batch of warm, fluffy cinnamon rolls. There is truly nothing better than the aroma of a pan-full puffing up in the oven, and the first bite into the soft, gooey cinnamon-spiced goodness.
I'm not one to mess with a good thing, so I haven't made many variations of the classic cinnamon roll before. However, I simply couldn't resist the idea of stuffing them full of fresh apples and pecans, and drizzling them with a buttery vanilla glaze. Can you think of any better autumnal treat on earth than apple-pie-meets-cinnamon-roll?
I didn't think so.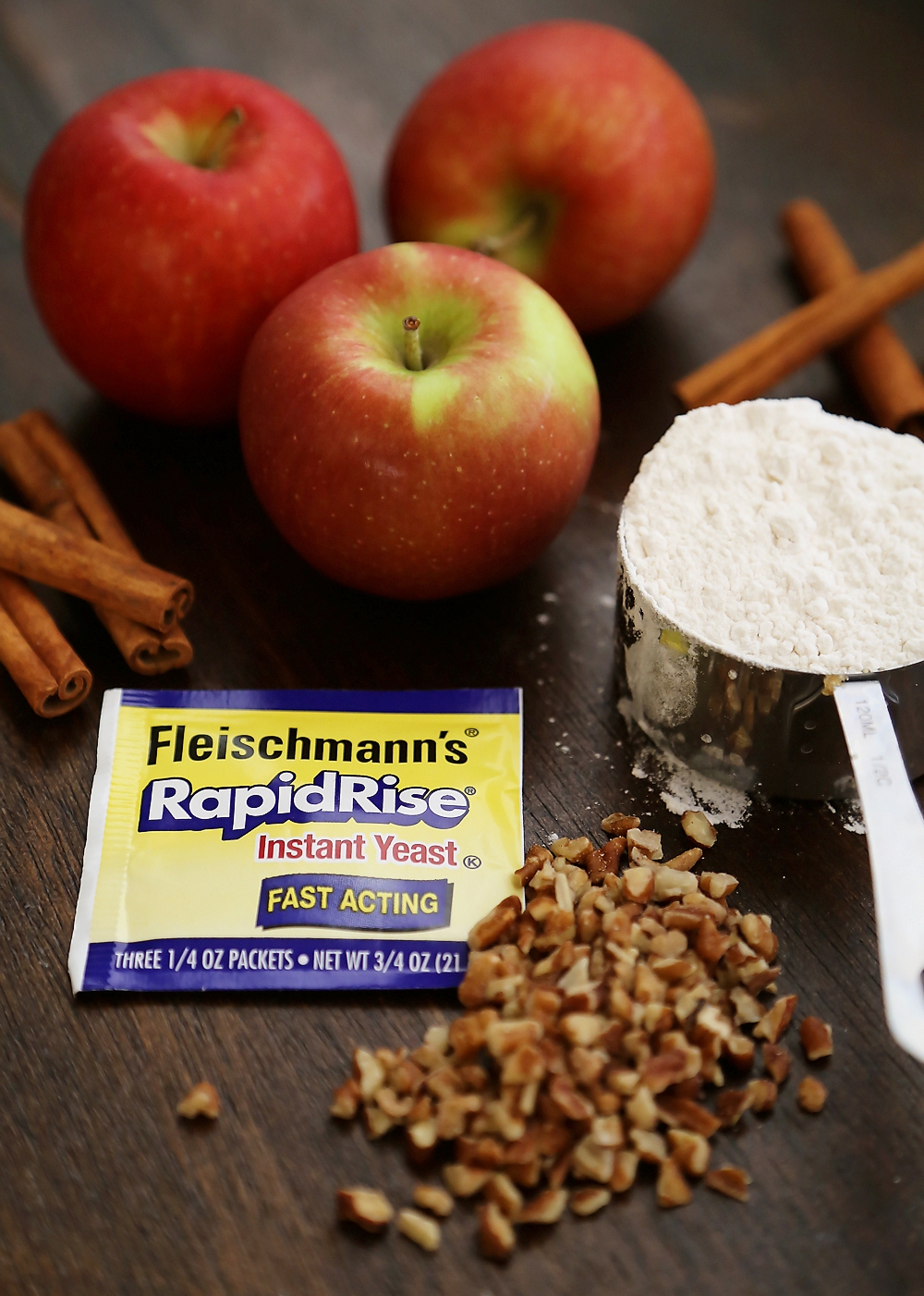 These cinnamon rolls are easily made by making a homemade dough with Fleischmann's® RapidRise™ Yeast. If you've never worked with yeast before, fear not! This yeast, in particular, is fantastic because you can save time by making your dough beforehand, refrigerating it, and using when ready. It's the perfect yeast for both everyday and seasonal recipes!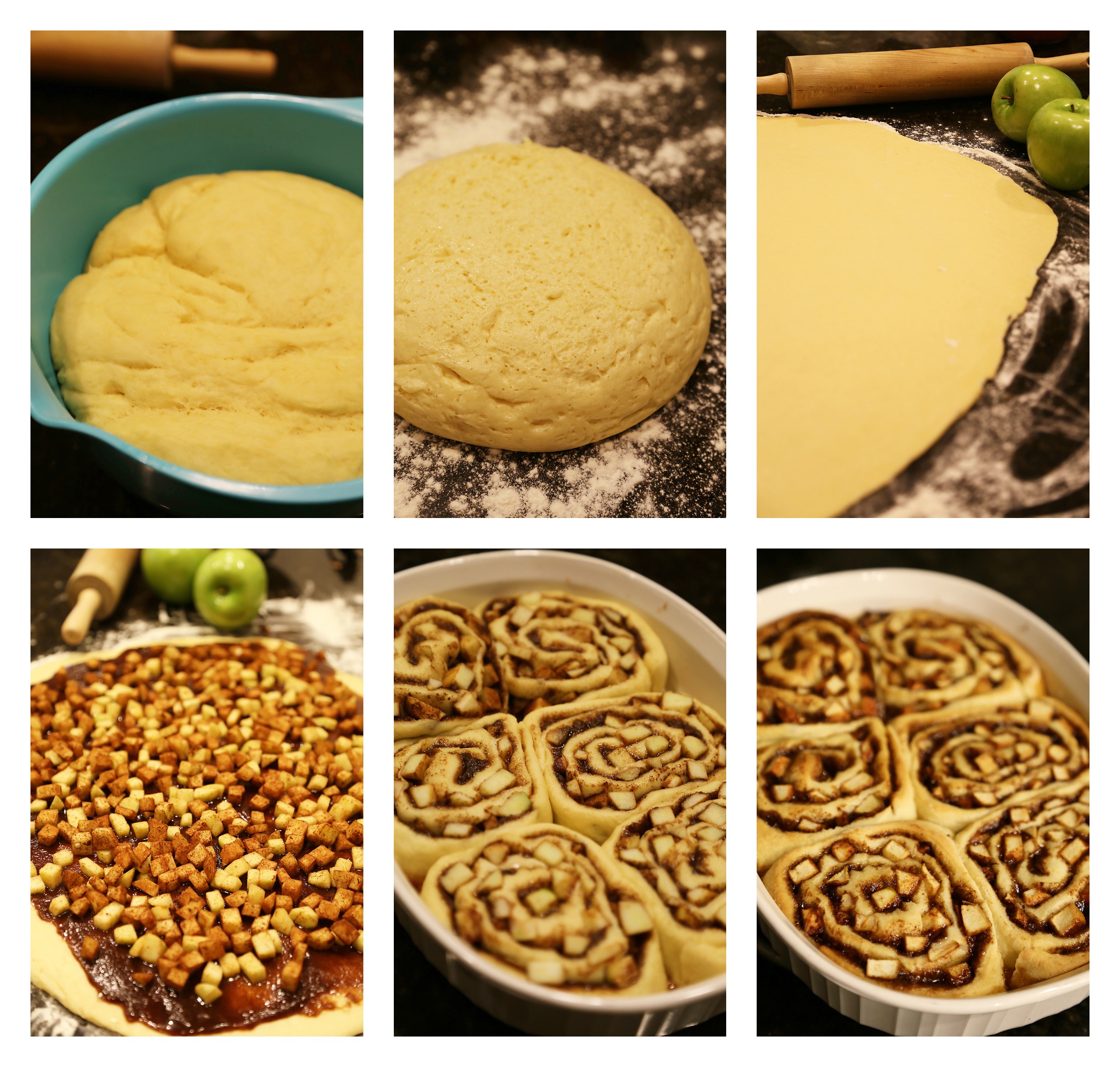 Once you're ready to use your dough, simply roll it out and slather it with a mixture of butter, brown sugar, cinnamon, nutmeg, allspice and chopped apples. Bundle it up as tightly as possible, slice the log into 12 rolls, and place them in your prepared pan. Another quick rise, then they're ready to bake. So easy!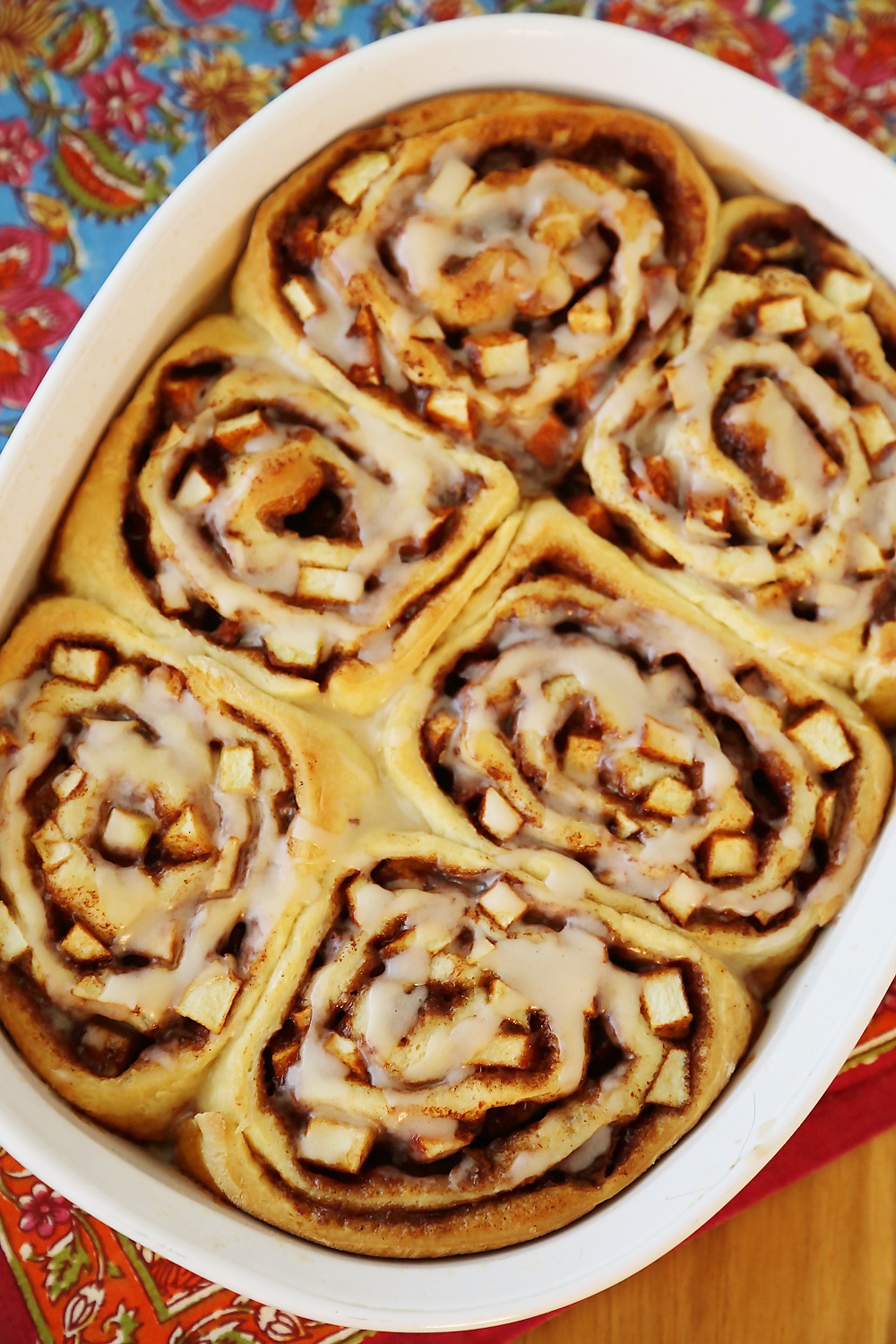 Baking a batch of cinnamon rolls for friends and family is an extra special way of showing you care, especially if giving these as gifts. A little homemade from-the-heart goodness is enough to warm up any chilly fall and winter day. Enjoy them with a cup of coffee and someone special today!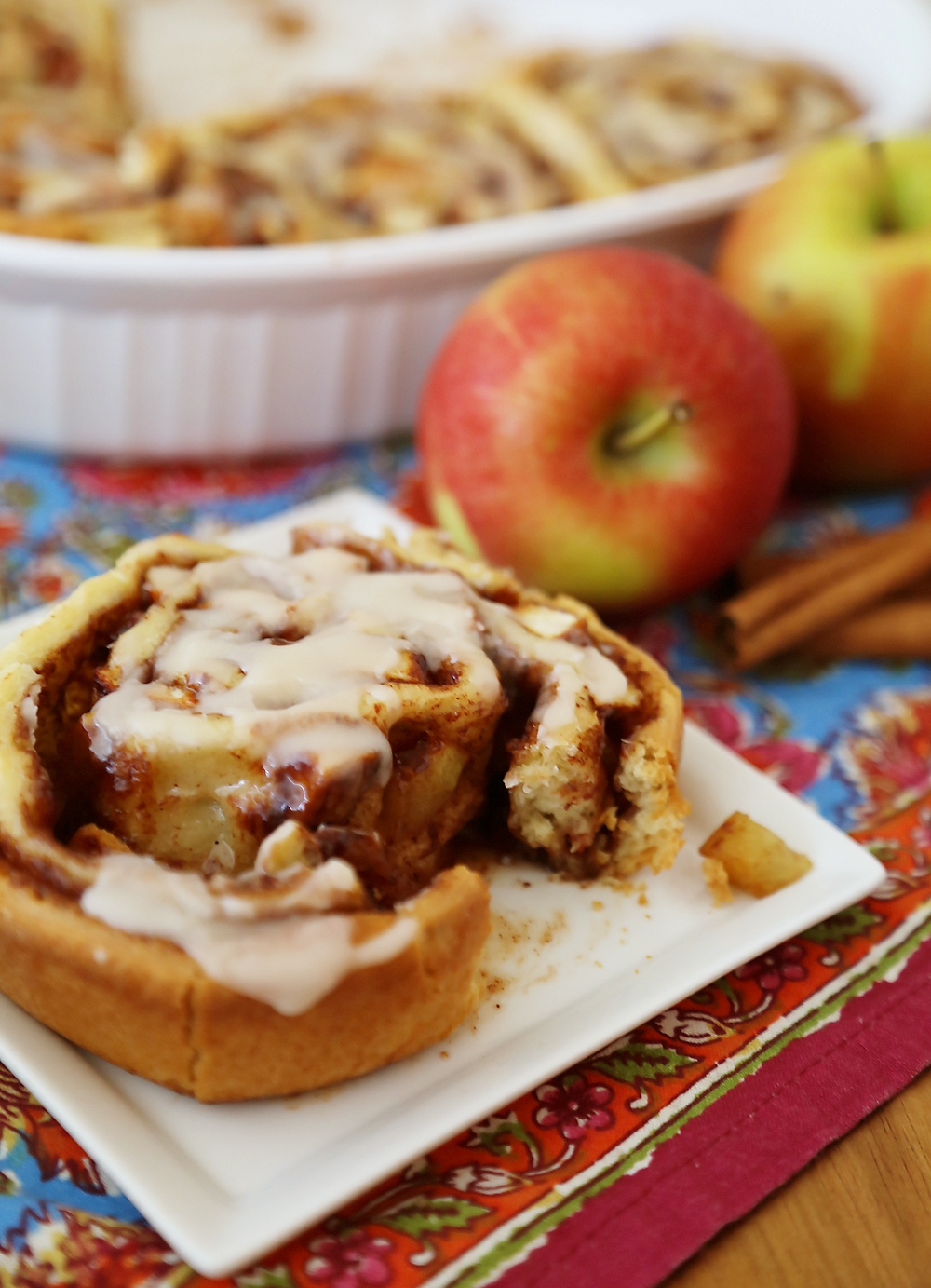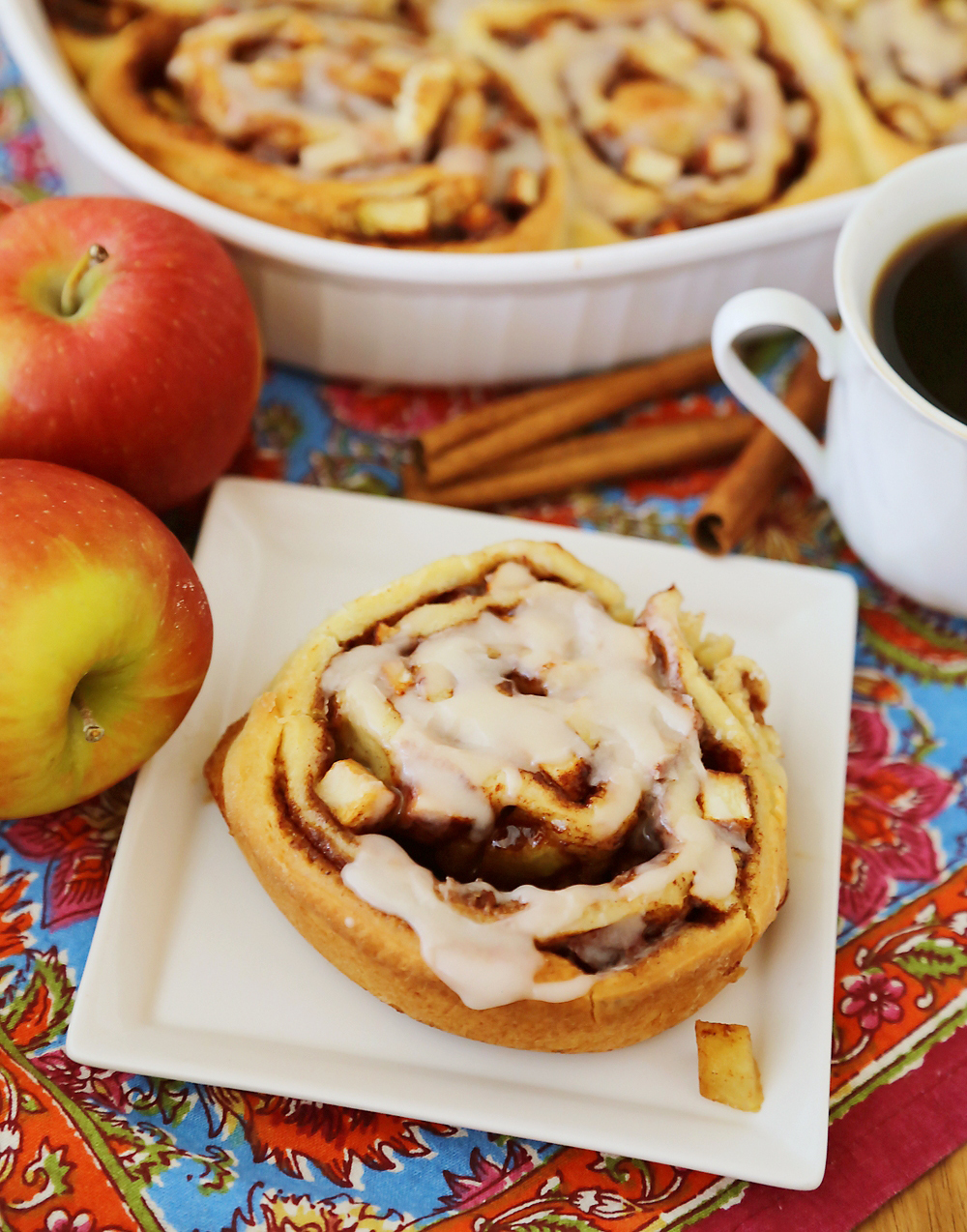 Gooey Apple Pie Cinnamon Rolls
Ingredients
For the dough:
1/2 cup milk
1/2 cup warm water
1/2 cup unsalted butter
1/4 cup granulated sugar
1 egg, plus 2 egg yolks
1 teaspoon kosher salt
1 envelope Fleischmann's® RapidRise™ Yeast
4 to 4-1/4 cups all-purpose flour
For the filling:
1/2 cup melted butter
1/2 cup brown sugar
2 Tablespoons Spice Islands® Ground Saigon Cinnamon
1/4 teaspoon Spice Islands® Ground Nutmeg
1/8 teaspoon Spice Islands® Ground Allspice
2 large or 3 medium Granny Smith apples, peeled, cored and small-diced
For the glaze:
1 Tablespoon unsalted butter, melted
1 cup powdered sugar
1/4 teaspoon Spice Islands® Pure Vanilla Extract
1-2 Tablespoons milk
 
Instructions
For the dough:
In a large bowl, combine milk, water, butter, sugar, eggs, salt and yeast. Beat with an electric mixer on low speed for 2 minutes (if using a stand mixer, use the paddle attachment.) Add enough remaining flour to make a soft dough.
If using a stand mixer, switch to dough hook and knead on medium-low speed for 3-4 minutes.
If kneading by hand, turn dough onto lightly floured surface. Knead until smooth and elastic, 6-8 minutes. Place in a large oiled bowl and turn to coat all sides of dough. Cover and let rise in a warm place for 1-1/2 hours.
Once doubled in size, punch down dough. Roll out on a floured surface into a 15 by 9-inch rectangle.
For the filling and baking:
Combine melted butter, sugar, cinnamon, nutmeg and allspice. Spread all over dough. Sprinkle chopped apples over top. Beginning at the longest (15 inch) side, roll up dough and pinch edges together to seal. Cut into 12 slices.
Coat a baking pan with nonstick cooking spray. Place cinnamon roll slices close together in the pan. Cover pan and let rise until dough is doubled, about 45 minutes.
When ready to bake, preheat oven to 350 degrees F. Bake for 20-25 minutes, or until golden brown.
For the glaze:
Mix all ingredients together. Whisk in milk 1 tablespoon at a time until the glaze reaches desired consistency. (If you like a thinner consistency glaze, add more milk.) Spread over slightly cooled rolls.
Enjoy!