Try a tropical spin on quick bread with this simple, scrumptious recipe! It makes for the most melt-in-your-mouth banana bread you've ever tasted!
It really is a great thing to have a handy hubby, I tell ya! A few weeks ago, we had our good friend Anique over for a little tech talk 101, since she was having some computer issues. In return, we got this amazingly moist and flavorful banana bread from the baking queen down the block. Yes indeedy, folks. Looks like we moved to the right neighborhood!
She was sweet enough to share the recipe with me, and I got right to whipping up this heavenly Hawaiian banana nut bread on my own. It turned out perfectly melt-in-your-mouth delicious, even showing my husband the light toward loving banana bread!
Try this scrumptious tropical spin on banana bread for yourself, and I guarantee you'll never go back to your original recipe. It's best served warm with a bit of melted butter or softened cream cheese, but if there's no time for dressing it up just dig in!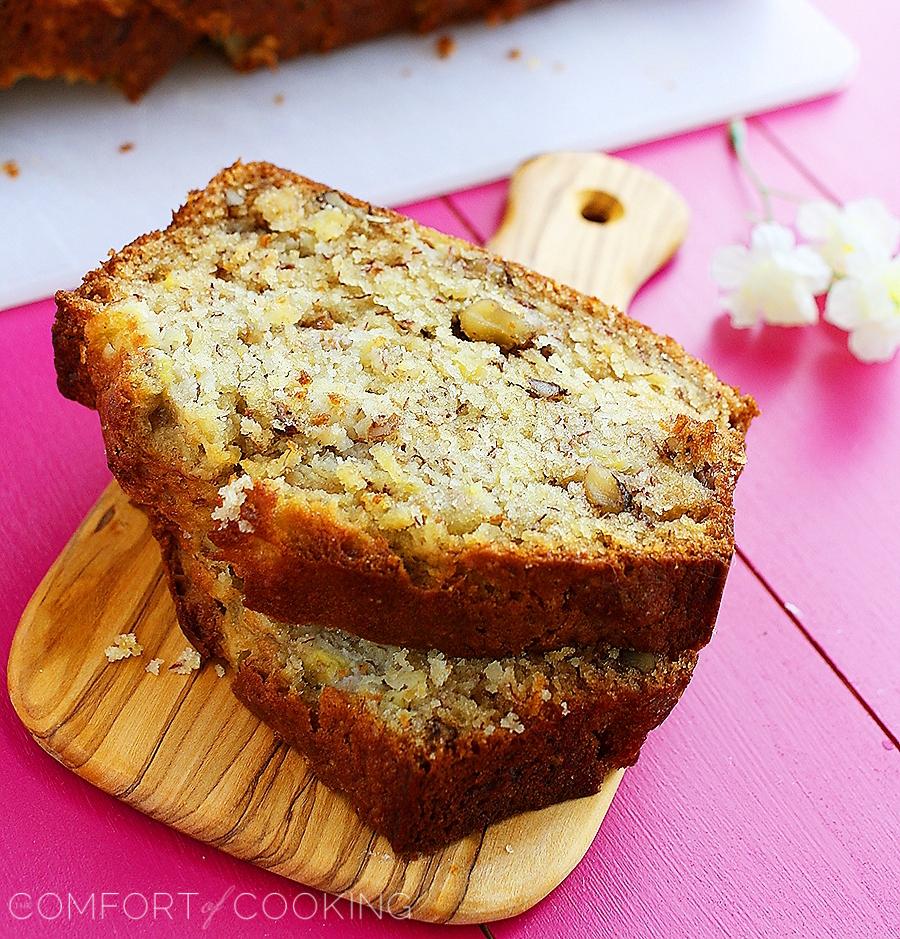 Hawaiian Banana Nut Bread
Ingredients
1 1/2 cups flour
1 cup granulated sugar
1/2 tsp. baking soda
1/2 tsp. salt
2 large eggs
1 tsp. vanilla extract
3/4 cups vegetable oil
1 cup mashed ripe banana, from 2 bananas
1 can (8 oz.) crushed pineapple, drained
1/2 cup chopped walnuts or chopped macadamia nuts
Instructions
Preheat oven to 350 degrees F. Coat a loaf pan with baking spray, or lightly butter and dust with flour. I also recommend putting a strip of parchment paper in the loaf pan to make for easy removal.
In a large bowl, combine flour, sugar, baking soda and salt. In a separate medium bowl, combine eggs, vanilla, vegetable oil, banana and pineapple; mix well. Add wet mixture to dry mixture, stirring just until batter is moistened. Stir in chopped nuts. Pour into loaf pan.
Bake for 1 hour, or until a toothpick inserted into the center comes out clean. Allow bread to cool in pan for 10 minutes before removing to a wire rack.
Enjoy!