For a fun weekend party food or a new weeknight meal, try these easy beef sliders with homemade chipotle mayo!
This weekend, I'll be crowded in at a cozy Massachusetts lake house with my big family for a big barbecue. I haven't seen them in almost three years, and it's due time! Today it's all about traveling though… We're bleary eyed, Boston bound and dreaming of tomorrow's burgers! Er, and family and friends too.
We're feeding a crowd of 30 with chili, chowder, burgers, hot dogs and whatever everyone else brings to the table. Hopefully the planned rain will pass us by and we can still grill up some good food our family!
For a weekend barbecue, or even just for a tasty weeknight treat, these scrumptious sliders are my favorite way to satisfy a burger craving. They're easy to make and fun to make your own. Use your favorite toppings but please also use my chipotle mayo! It's not too spicy but takes an ordinary burger to extraordinary!
Sizzle up your burgers, pile on the toppings, and serve 'em with a heaping handful of potato chips. These small portions are the perfect way to get your meat eatin' fix and pretend like the days of summer aren't already gone!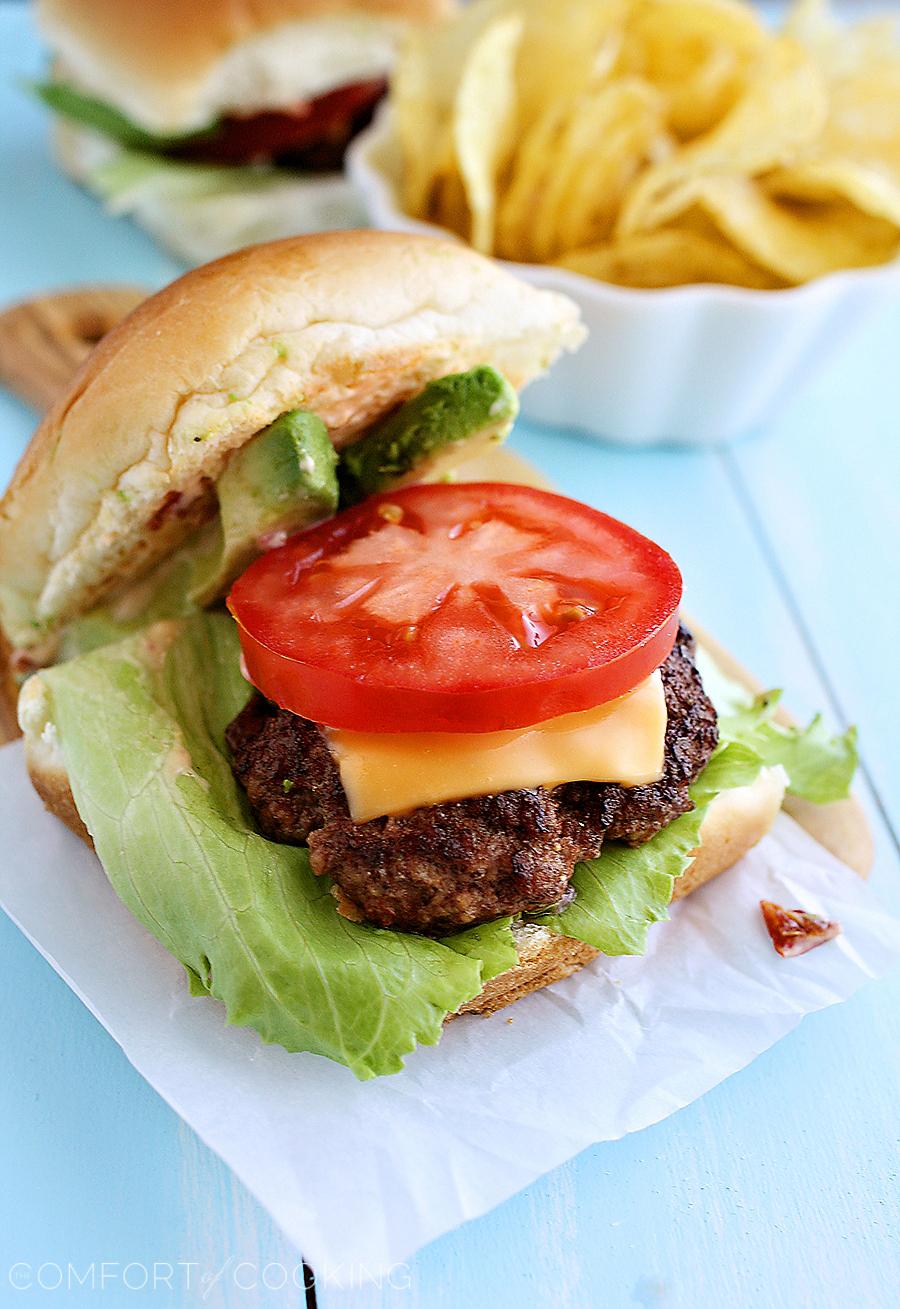 Beef Sliders with Avocado and Chipotle Mayo
Ingredients
Toppings
Dinner rolls or other small rolls, halved
6-8 slices cheese - Cheddar, Monterey jack, Swiss, etc., your choice!
1 head lettuce
3 Roma tomatoes
2 large avocados
Chipotle Mayo
2 chipotle peppers, finely chopped
1/2 teaspoon adobo sauce
1/4 cup mayonnaise
Burgers
1 lb. ground chuck, 80/20
Salt and pepper, to taste
Instructions
Prepare sliced rolls, cheese, lettuce, tomatoes, avocados, and any other desired toppings. Set aside.
Mix ingredients for chipotle mayo in a small bowl.
Form ground chuck into thick patties that are slightly larger in diameter than buns. Salt and pepper each side. Preheat large skillet to medium high; drizzle with vegetable oil. Place patties into hot frying pan. Cook for 2-3 minutes per side, depending on thickness, flipping only once. Remove patties to sliced buns. Serve with toppings and chipotle mayo.
Use a toothpick to hold the sliders together for serving, if desired.
Enjoy!