These candy corn hued cuties are easy and perfect for a Halloween party, or any fun reason to celebrate fall!
When you spend the entire weekend mulling over whether to be a Spartan cheerleader or Princess Peach, it's about time to stop telling people you're "just not into" Halloween. Seriously! For years I've been denying how much I really enjoy the day of jack-o-lanterns and draculas, but actually it's a lot of fun! Well, the dress up part at least.
…Am I late to this game or what?
Along with the fall festivities creeping into my costume choices, I've also done a little decorating and bewitching baking! These cupcakes from McCormick's great selection of Halloween recipes were too cute to pass up. But don't worry – the candy corn name only comes from the cute colors, not the taste!
Keep it simple with a white cake mix, yellow and orange food coloring, vanilla frosting, and a few fun decorations. These candy corn hued cuties would be delish for an upcoming Halloween party or any other fun reason to celebrate fall!
Also – look out for a great big McCormick giveaway next week!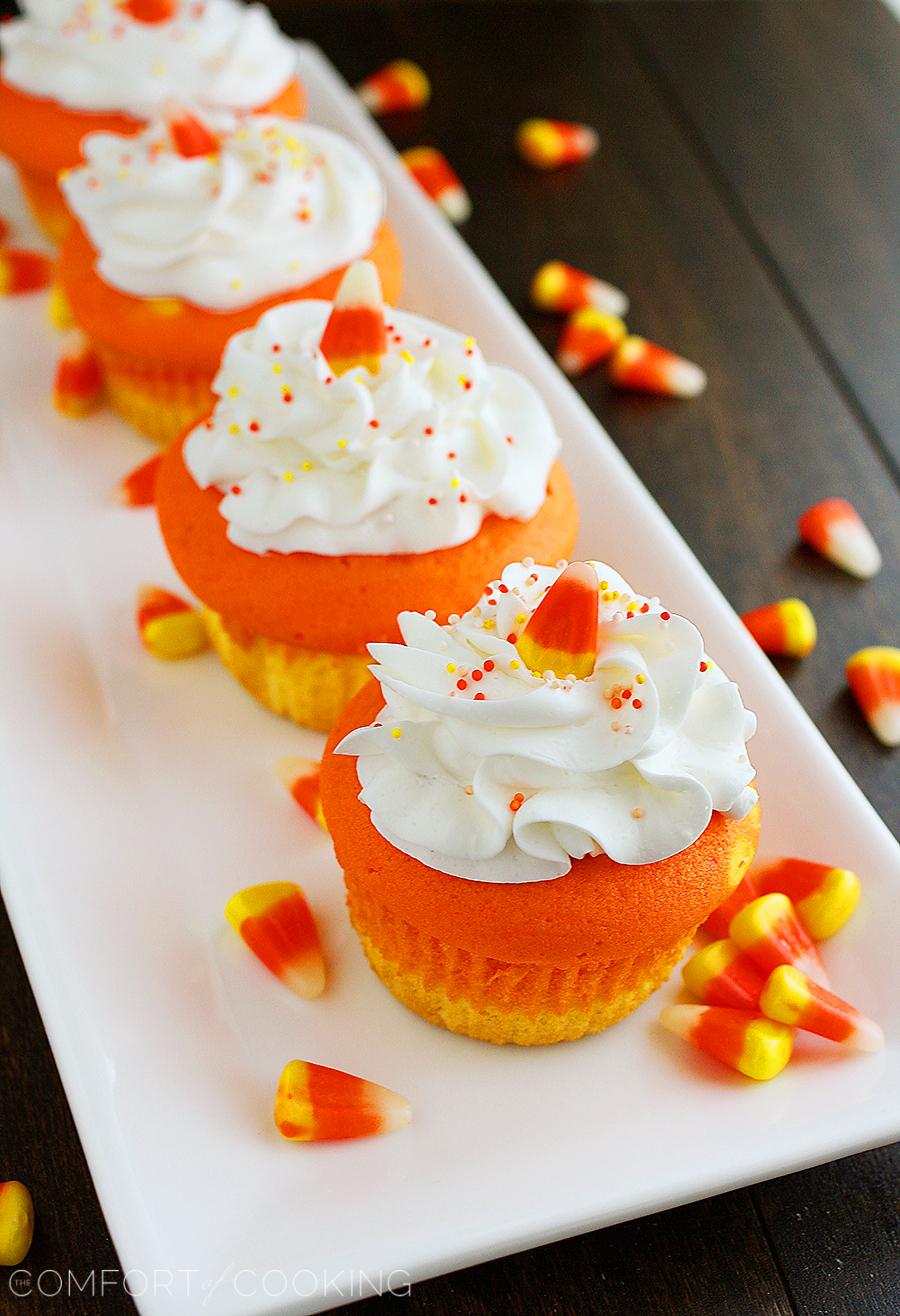 Candy Corn Cupcakes
Ingredients
1 package (18 oz.) white cake mix
1 teaspoon McCormick® Pure Vanilla Extract
1 16 oz. container vanilla frosting
Assorted decorations, such as orange sprinkles and candy corn
Instructions
Prepare cake mix as directed on package, adding vanilla. Divide batter in half between two bowls or liquid measuring cups. Each half should be roughly 2 cups. Tint one batch yellow with 1/3 teaspoon yellow food color. Tint second batch orange with 1/4 teaspoon yellow food color and 1/8 teaspoon red food color.
Fill paper-lined muffin cups 1/3 full with yellow batter. Gently add orange batter on top of yellow batter, filling each muffin cup 2/3 full. Bake as directed on cake mix package for cupcakes. Remove from oven, let stand 10 minutes and place cupcakes on a wire rack.
Cool completely before frosting with vanilla frosting. Decorate with sprinkles and candy corn.
Enjoy!