This smooth, creamy spread is simply made by whipping cream cheese with your favorite small-diced fresh vegetables. Spread over buttery toasted bagels, mix in to pasta sauce for decadent creaminess, or use as a veggie dip!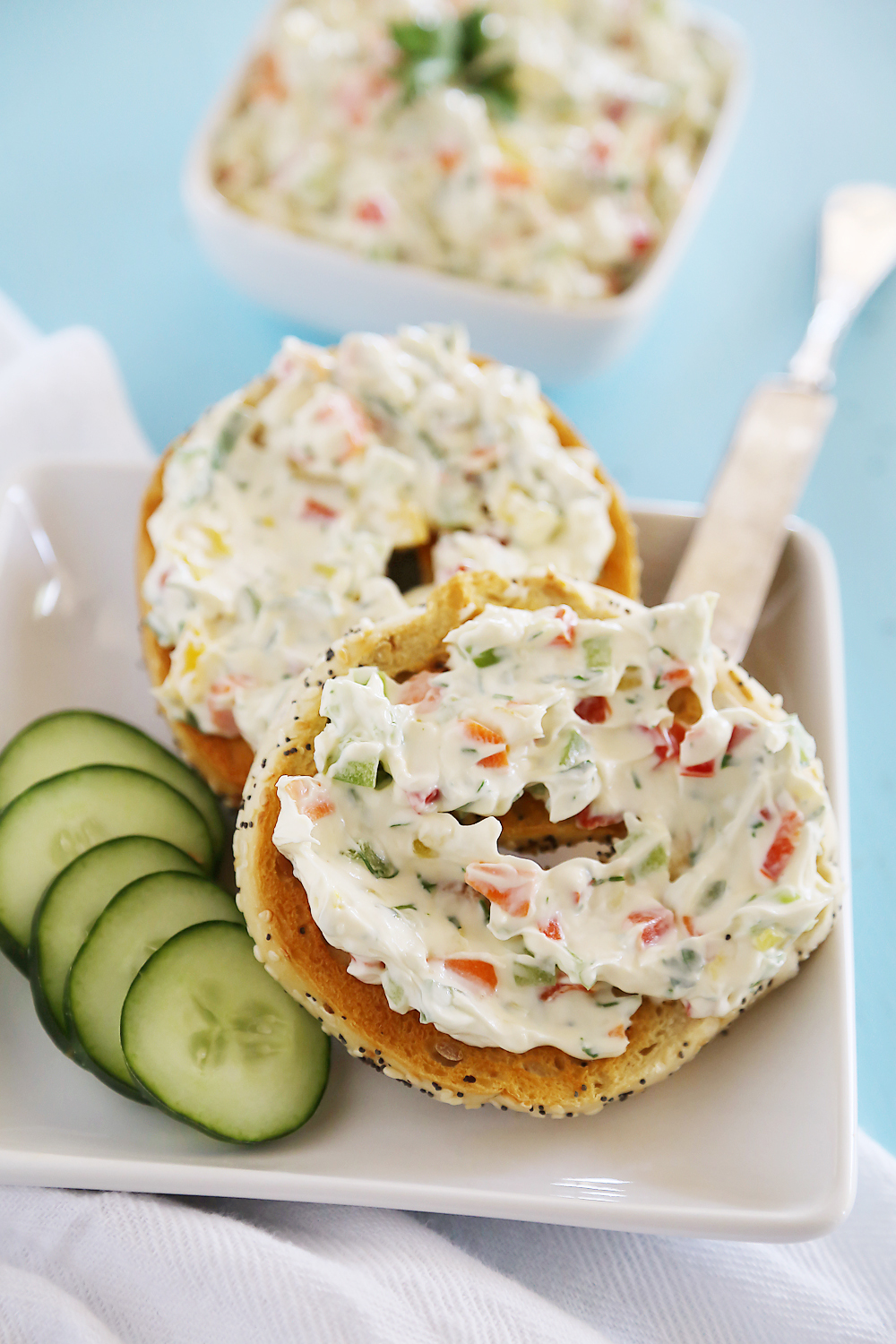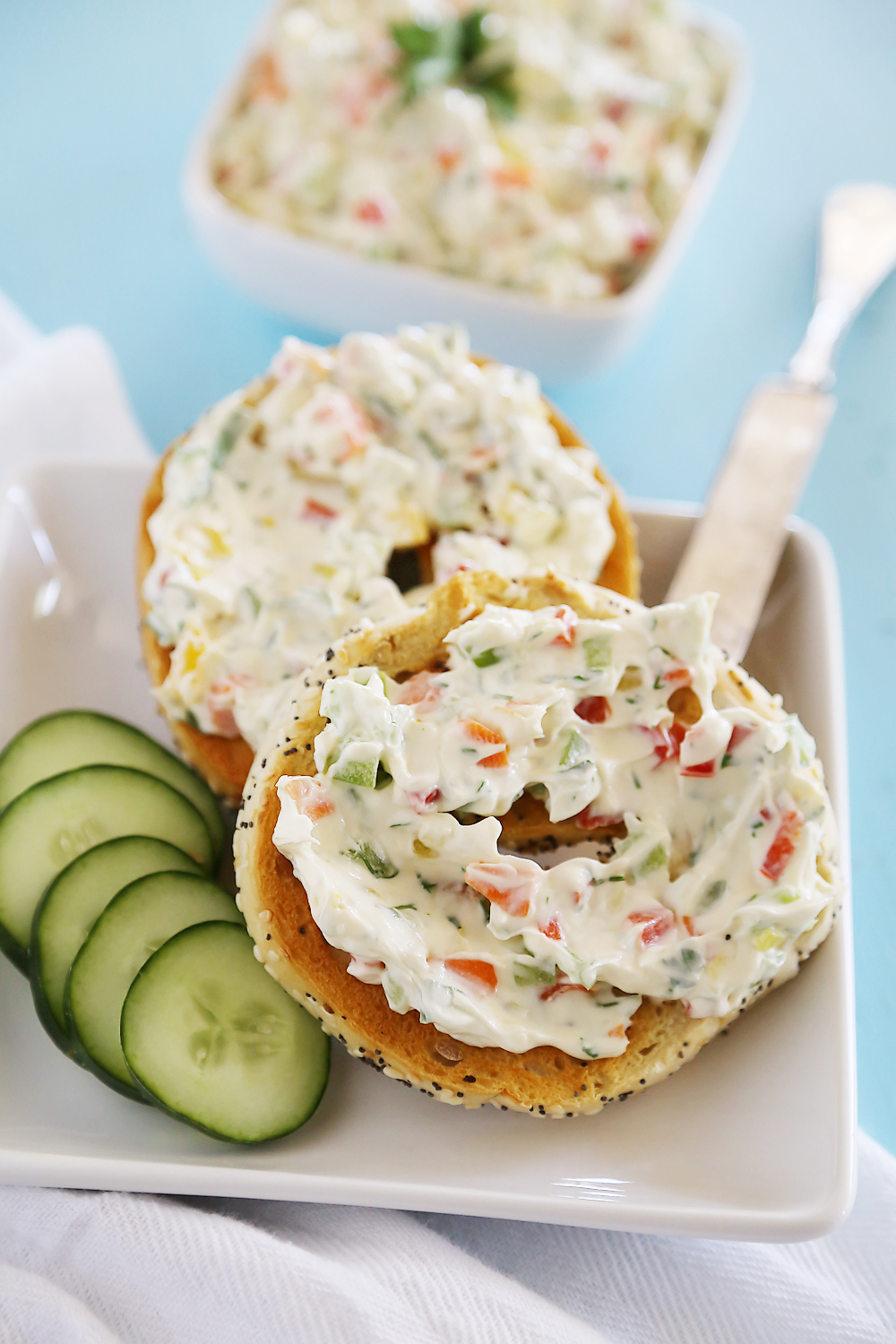 When considering my perfect Sunday, I often first think of sleep. Lots and lots of undisturbed sleep, until I naturally wake up. Maybe to birds chirping. It's a simple wish.
Then, I would want someone to bring me a small, steaming cup of coffee. A fluffy robe. And a bagel slathered with this scrumptious cream cheese chock full of veggies. Plus a cinnamon roll. Because I ate veggies in bed, I practically earned it.
But, back in reality, I am not a princess awaiting her perfect breakfast in bed. Just like the rest of us, I reluctantly wriggle out of my soft sheets and try to screw my head on straight for the day ahead. Fortunately, this cream cheese can accommodate any need from mad-dash morning meals, to lazy brunches in, to midday snacks, to a delicious pasta dinner.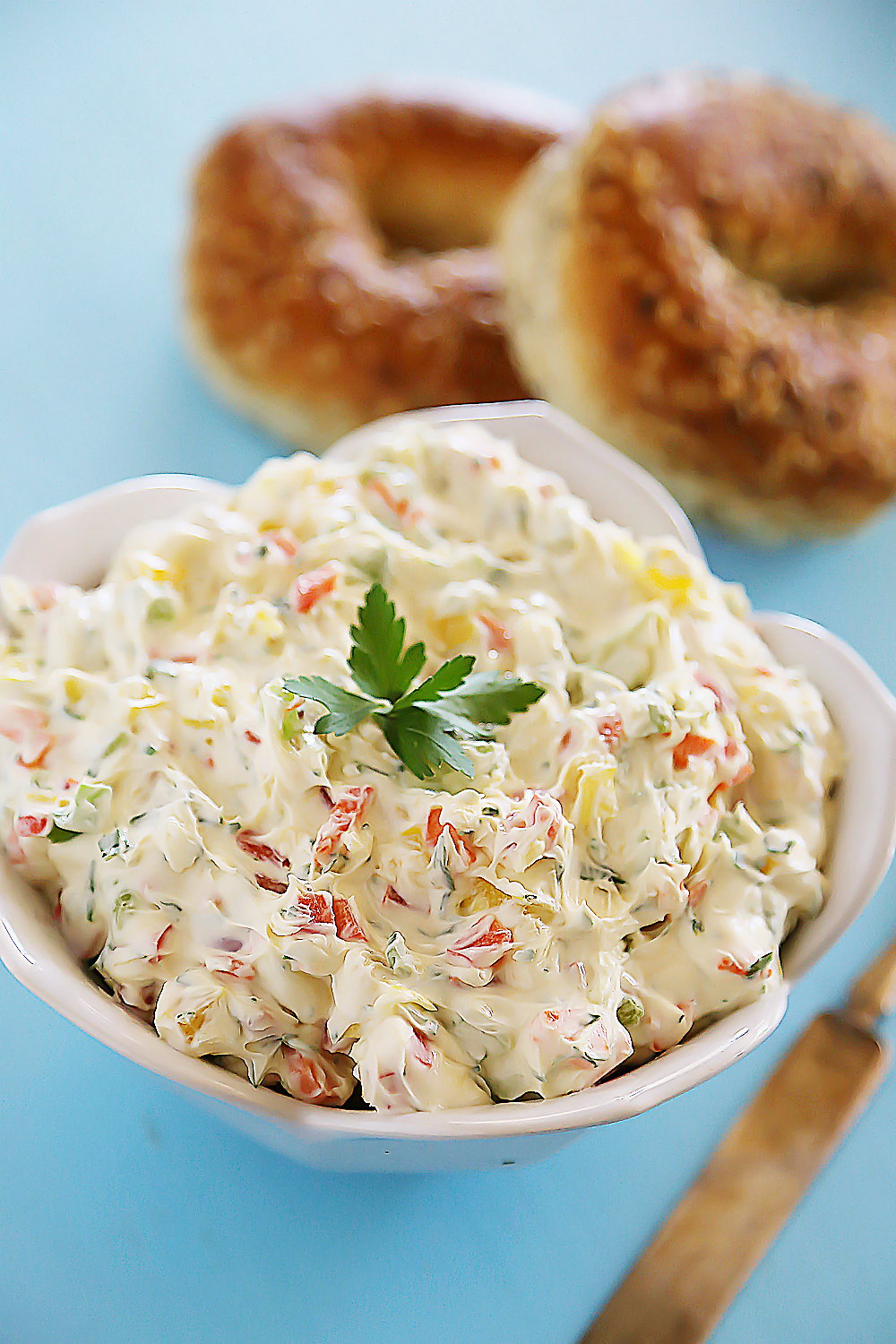 This cream cheese is especially delicious smoothed over a toasted Thomas' Everything Bagel. The buttery crispness and all that oniony poppy seed goodness is the perfect compliment to this creamy spread. Because I'm technically a Texan (hey, it's been five years, y'all!), I do up my bagels Southern-style with a dab of butter, THEN cream cheese. Then crunch-munch-nom-nom-nom. You catch my drift?
Back to the point: You must make this cream cheese, like, stat.
Get in your kitchen, grab a block of cream cheese, and whip it up with an electric mixer (handheld or standing) until nice and smooth. Toss in your favorite tiny-diced veggies and chopped herbs, and that's it. Ya done. Use to your dairy-lovin' heart's delight!
I loved using crisp bell peppers, carrots, garlic, parsley and dill in my cream cheese. But, this is a flexible recipe. Use what you like, tasting as you go!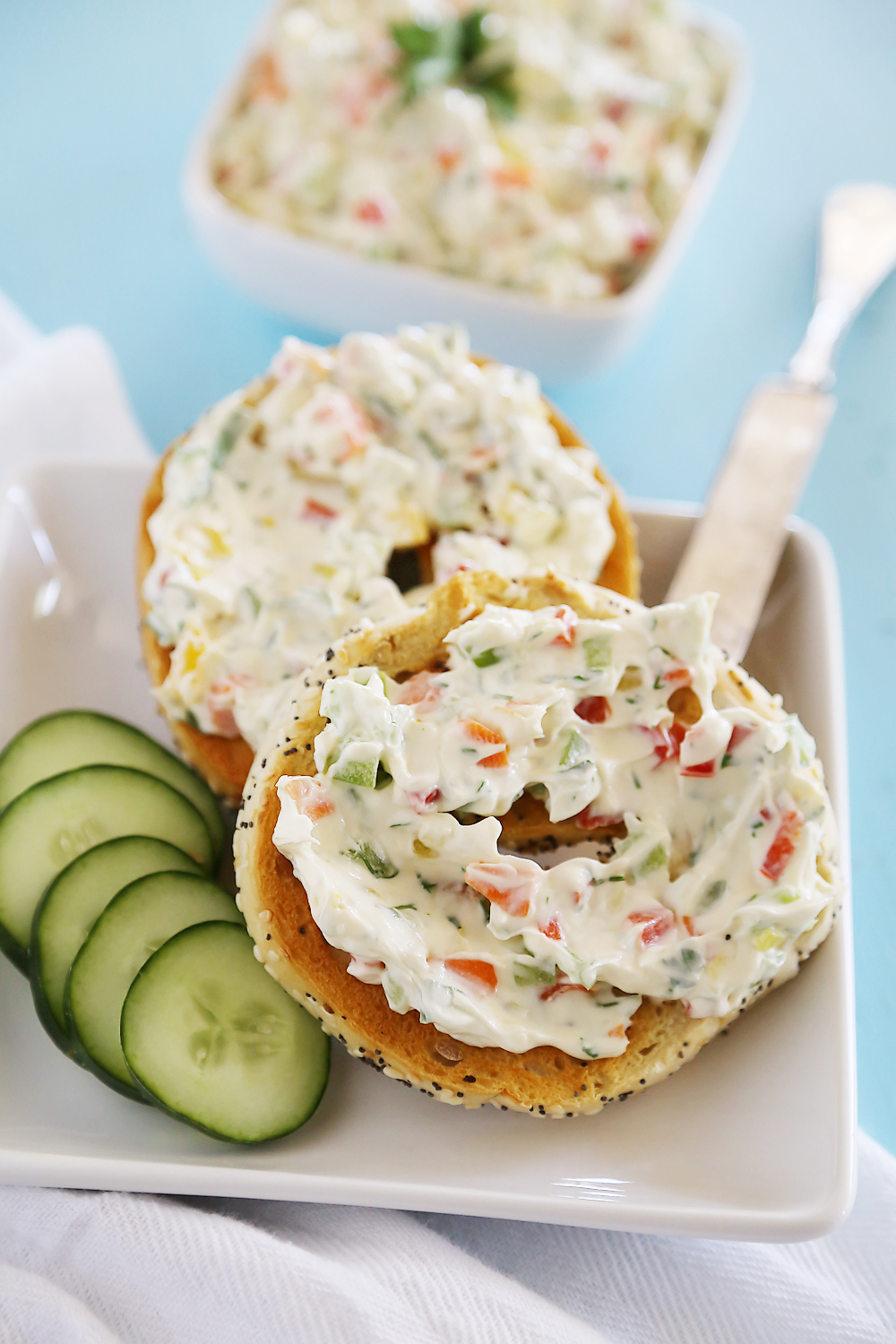 Whipped Garlic Veggie Cream Cheese
Ingredients
16 oz. light or regular cream cheese
1/2 green bell pepper, small diced
1/2 red bell pepper, small diced
1/2 yellow bell pepper, small diced
1 medium carrot, peeled and small diced
2 cloves garlic, minced
1/4 cup chopped fresh parsley
1/4 cup chopped fresh dill
Pinch of kosher salt
For serving:
Instructions
Place cream cheese in a large bowl. With an electric mixer, whip until smooth, about 1 minute. Add diced vegetables, garlic, parsley, dill and a pinch of kosher salt. Blend until well combined.
Serve on top of toasted bagel halves, or however else you desire. This cream cheese also makes a great mix-in for casseroles and saucy pasta dishes.
Transfer to a sealable container and store refrigerated for up to 1 week.
Enjoy!