Creamy, skinny spaghetti squash in a light alfredo sauce. A mouthwatering, healthy meatless meal!
Some of you are probably thinking, "what the heck is this thing?" and "is that really spaghetti in there?" It's a spaghetti squash and nope, no pasta here. This is the squash's natural texture when baked… cool, huh?
It's not only beautiful but absolutely delicious. Spaghetti squash has a very slight sweetness that really complements any savory flavors you stuff into it. In this case, I absolutely loved the Food Doodles take on it with a rich-tasting yet light alfredo sauce.
Topped with a bubbling hot, creamy mixture of milk, garlic, Parmesan and a teensy bit of butter, this squash alfredo was nothing short of sca-rumptious!
Pick up a pretty spaghetti squash, bake it up, and whack it in half. Pull out the seeds, give it a good rake with a fork and pour in your silky smooth cream sauce. Pile on the Parmesan – the more the better! – and broil until browned. Then, all that's left to do is dig in!
You'll love this healthy vegetarian squash alfredo. It's fun to make and experiment with something new, especially if you haven't introduced many meatless meals into your weeknight lately. Try it tonight!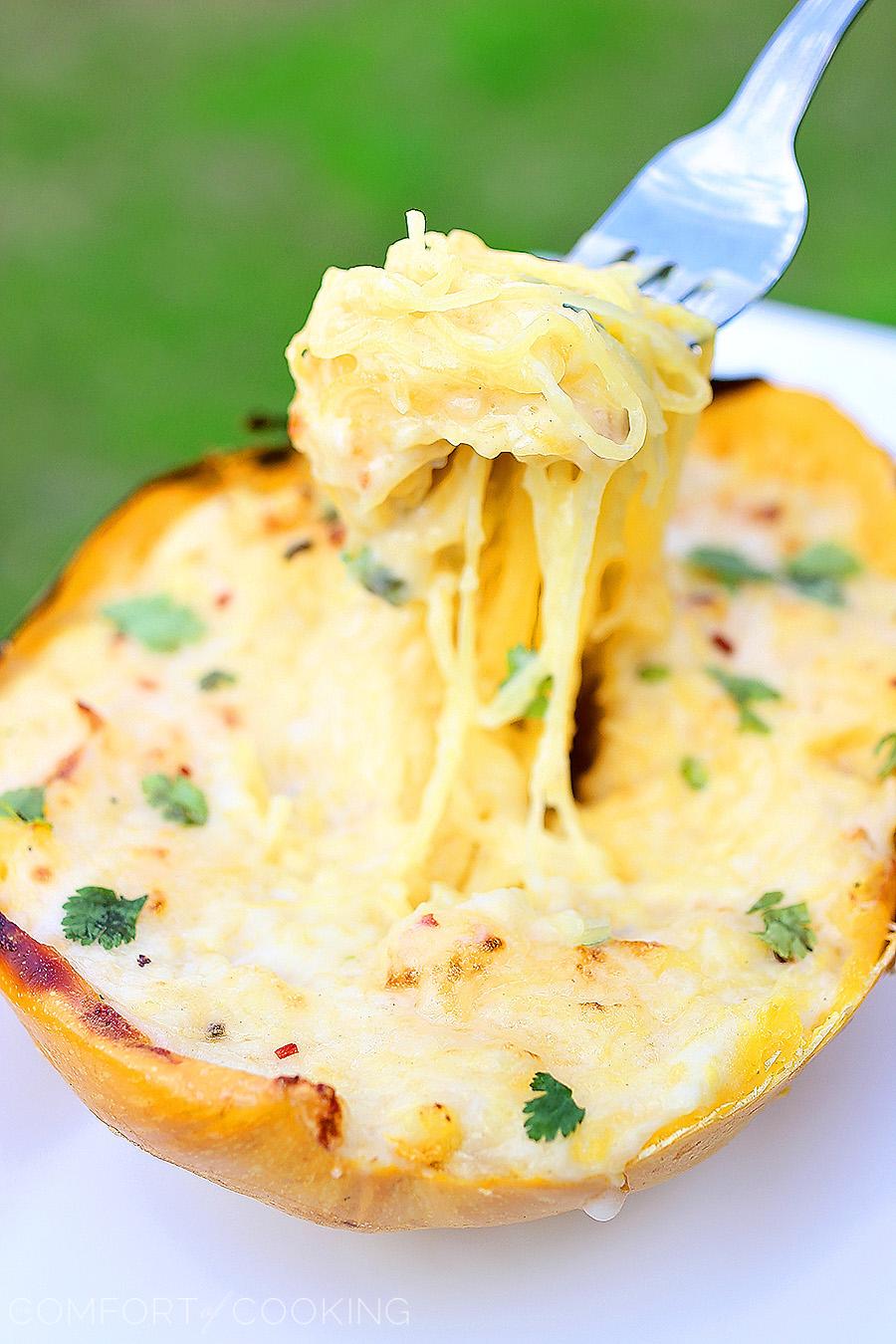 Skinny Spaghetti Squash Alfredo
Yield:
2 large servings or 4 side dish servings
Ingredients
1 medium-sized spaghetti squash
1 Tablespoon butter
3 cloves of garlic, finely minced
2 Tablespoons flour
1 cup milk, I used fat-free
1 Tablespoon cream cheese or Neufchatel cheese
1 cup freshly grated Parmesan cheese, plus 2 Tablespoons extra for topping
1/4 teaspoon kosher salt
1/8 teaspoon freshly ground pepper
Crushed red pepper flakes and fresh parsley, for optional garnish
Instructions
Preheat oven to 350 degrees F.
First, prep the squash. Cut spaghetti squash in half using a large sharp knife, scoop out the seeds and place cut side down on a rimmed baking sheet covered with water. Bake until tender, about an hour.
As an alternate way of baking: Poke a few holes deep into the whole squash with a paring knife. Bake for 60 minutes, remove from the oven and let rest for 10 to 20 minutes before slicing in half with a large serrated knife. Scoop out the seedy inside leaving the spaghetti strands.
Once squash is cooked, use a fork to gently scrape the "spaghetti" strands into the center.
For the sauce, melt butter in a small pot over medium-low heat. Once hot, add garlic and sauté for 1-2 minutes. Whisk in flour, cooking for another minute while stirring. Whisk in milk until no lumps remain. Once hot, add cream cheese and stir until smooth. Remove from the heat. Stir in Parmesan, salt and pepper.
Spoon sauce equally into each spaghetti squash half. Gently pull up the spaghetti strands to coat as much as possible with the sauce. Top with extra Parmesan and place under the broiler of your oven for 2-3 minutes, or until golden and bubbly.
Top each half with a pinch of red pepper flakes and fresh chopped parsley, if desired. Serve hot.
Enjoy!