Pile the tasty toppings on these lighter Mexican tostadas with chicken, black beans and red peppers!
In just a few days, Mark and I are headed away for a week of cruising around the Caribbean! I can't wait to check my to-do list at the door, spend all day swimming, and explore the tropical towns. I also plan to do some covert cocktail tasting work… ya know, to get inspired for summer drink recipes and all.
A girl's gotta stay on top of trends!
This year, swimsuit season has come far sooner than others for me, so in preparation I've been getting more active and eating right. These delicious tostadas taste similar to everyone's favorite fried version, but you save lots of calories with a baked tortilla, chicken instead of beef, and black beans instead of refried.
Pile yours high with tasty toppings like roasted red peppers, green onions and pepper jack cheese, and scarf them down with a cold Corona and a Mexican food loving friend!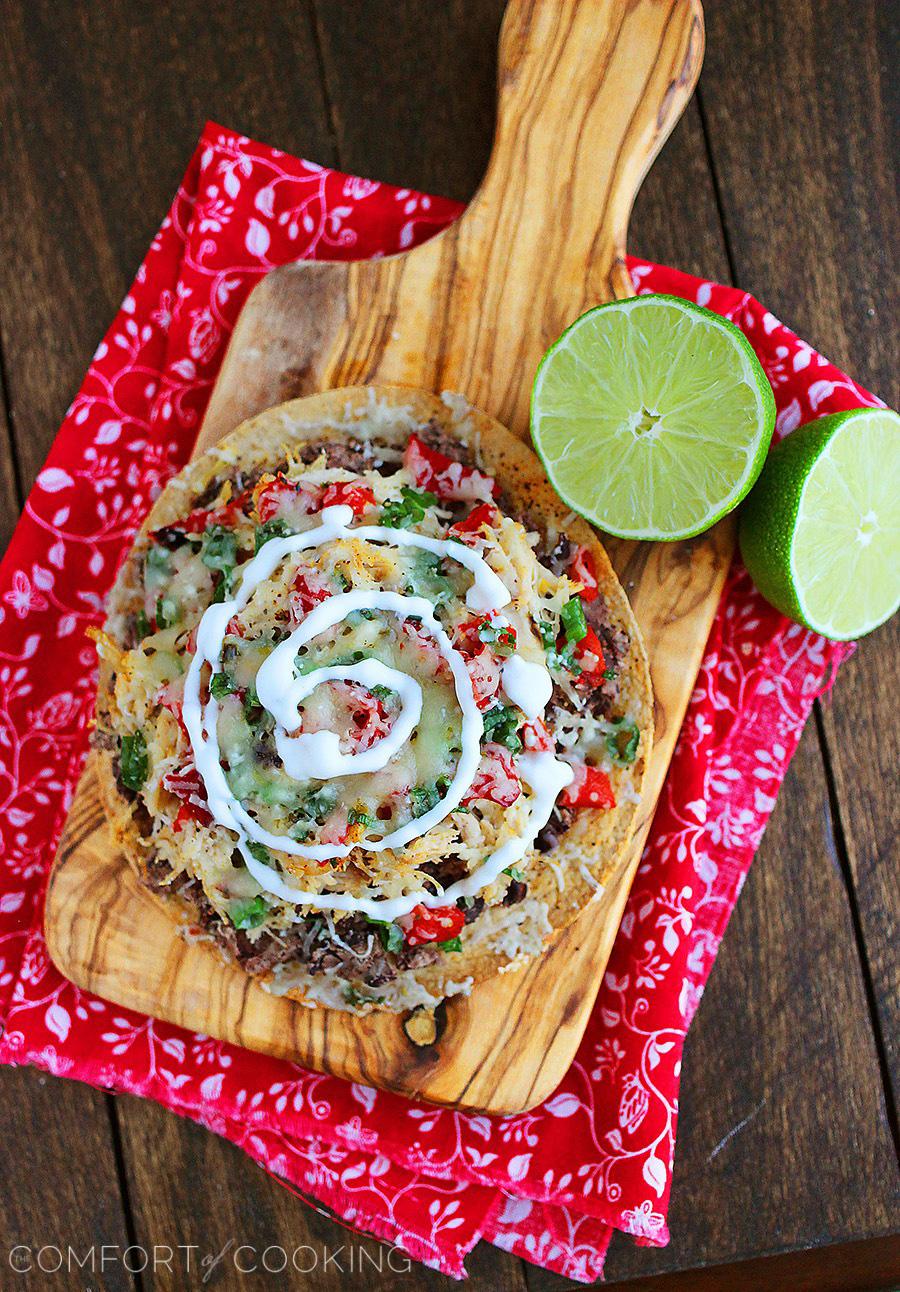 Baked Mexican Tostadas
Yield:
4 (1 tostada each)
Ingredients
4 7 to 8-inch flour or multigrain tortillas
Nonstick cooking spray
Chili powder
1 15 oz. can black beans, rinsed
2 cups shredded, cooked chicken
3/4 cups diced roasted red peppers
1/2 cup sliced green onions
Salt and pepper, to taste
Light sour cream and/or guacamole, for serving
Instructions
Preheat oven to 375 degrees F.
Place tortillas on a foil-lined baking sheet and spray lightly with nonstick cooking spray. Sprinkle each with a pinch of chili powder. Bake 9 to 10 minutes, or until crisp.
In a small bowl, microwave beans for 30-45 seconds, or until softened. Mash with a fork and set aside.
Leaving tortillas on baking sheet, top each equally with beans, chicken, red peppers, green onions and cheese. Sprinkle with salt and pepper. Return to oven and bake 8 to 10 minutes, or until heated through and cheese is melted.
Top with light sour cream and/or guacamole and serve.
Enjoy!