Make your own pizza sauce with just 5 ingredients and 5 minutes. You can even freeze it in ice cube trays!
Pasta sauce is usually my go-to pizza sauce, honestly. But since a standard jar is only enough for two large homemade pizzas, I figured why not make a big batch of real pizza sauce? Much cheaper, fresher, and now I have enough for four pizzas!
It's freezer friendly too… Spoon the sauce into ice cube trays, freeze until hard, pop 'em out and when you're ready to use, thaw them in the microwave for 10 seconds or so. Presto, pizza sauce!
With my best pizza dough recipe, melty mozzarella and your favorite toppings, a bubbly hot pizza can be yours by dinnertime. Just slather on this easy pizza sauce and pile on the good stuff!
Tomato sauce and paste, garlic, Italian seasonings and a little sugar is all your need for this scrumptious sauce… and five minutes to spare! Give it a whiz in the food processor and enjoy it on your favorite pizza tonight.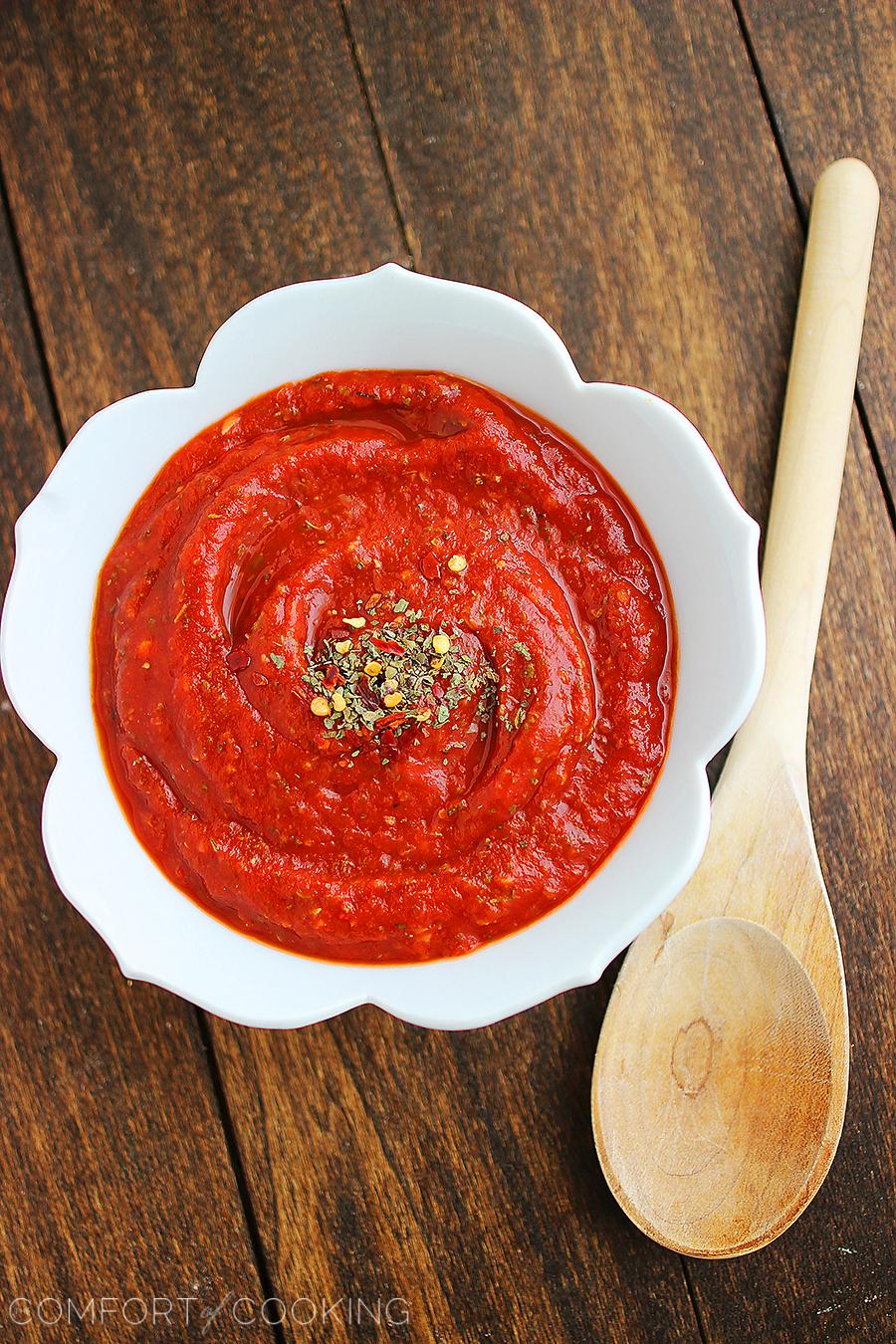 5-Minute Pizza Sauce
Yield:
2 3/4 cups (enough for 4 large pizzas)
Ingredients
1 15 ounce can tomato sauce
1 6 ounce can tomato paste
2 garlic cloves, peeled
1 tablespoon dried oregano
2 teaspoons dried basil
1/2 teaspoon onion powder
1/2 teaspoon granulated sugar
Instructions
In a food processor or blender, combine all ingredients and pulse until smooth.
Store in a resealable container until ready to use. Or, you could also freeze sauce in ice cube trays, pop out cubes, and place in a plastic bag to continue freezing. Use about 5 cubes per large pizza and microwave before spreading.
Click here for my best pizza dough recipe!