Pile your favorite tasty toppings on these fuss-free, scrumptious French bread pizzas. Just like the frozen kind, but 10x more delicious and wholesome!
Homemade pizza is loads of fun to make, but sometimes making the pizza dough, or finding just the right store bought one, is a pain in the buns. That's why I love to make French bread pizzas! I get wheat French loaves from Target for $1. They make a scrumptious side for mopping up soups, a fluffy soft garlic bread, and crisp pizzas!
I topped these with my 5-minute homemade pizza sauce, a sprinkling of mozzarella and the toppings I had on hand. In this case, fresh herbs, deli pepperoni, olives and bell peppers. Top yours with whatever you're craving or already have stocked! Here are some of my favorite toppings.
Great for kids and super easy to make, these scrumptious French bread pizzas are perfect for lunch, dinner or a snack when cut into slices. Though they may remind you of the frozen, plastic wrapped pizzas, these hot homemade pizzas taste ten times better!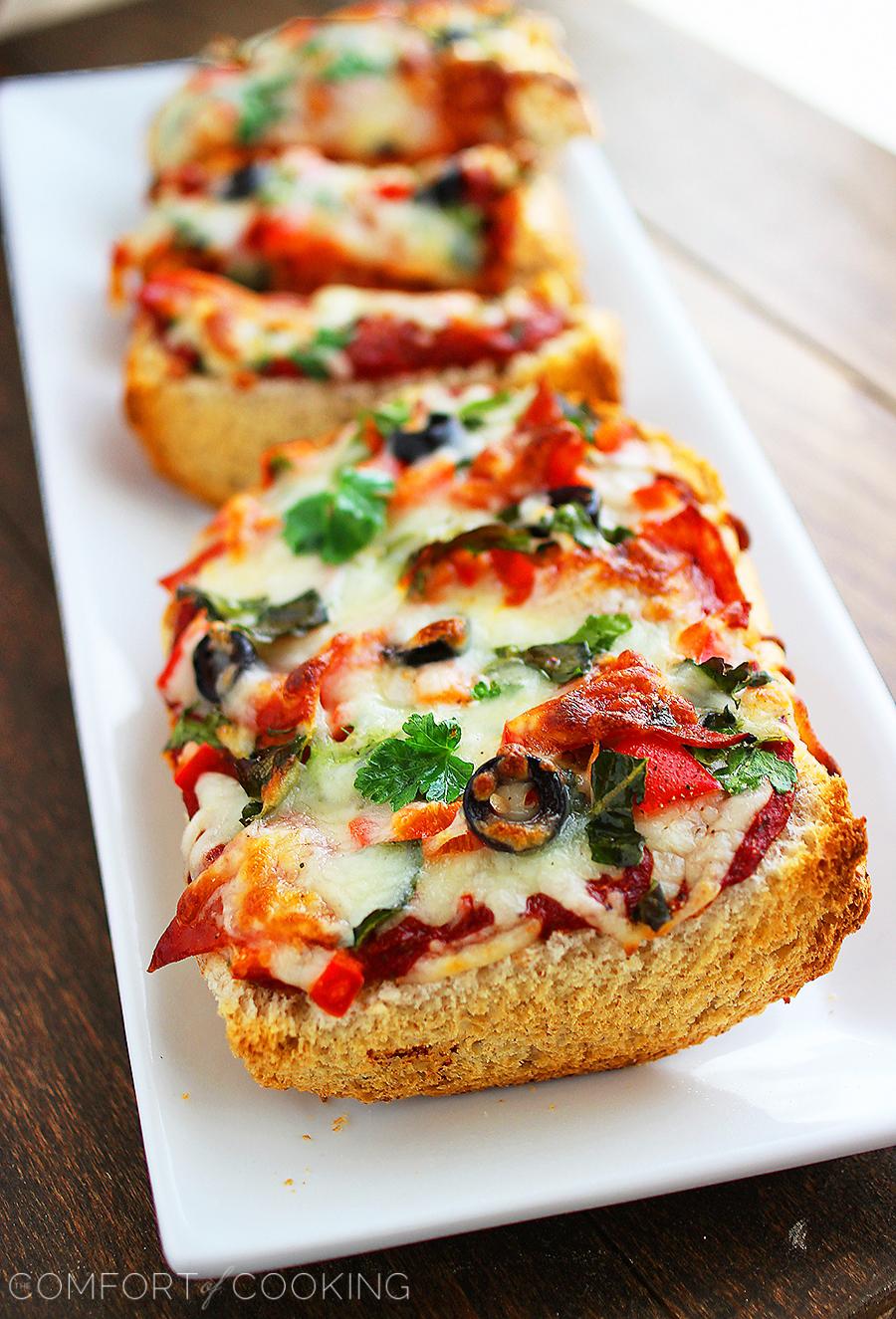 French Bread Pizzas
Ingredients
1 whole loaf French bread
1 Tbsp. extra-virgin olive oil
1/2 cup pizza sauce, divided
1 cup shredded mozzarella cheese, divided
Your desired toppings, see this recipe for many ideas
Kosher salt and freshly ground pepper
Instructions
Preheat oven to 400 degrees F.
Slice bread in half lengthwise and place on a large baking sheet lined with aluminum foil. Brush cut side of each loaf with a little olive oil. Bake for 5-6 minutes, or until lightly browned.
Spread 1/4 cup pizza sauce on each bread half, then top each with 1/4 cup cheese. Add desired toppings. Evenly sprinkle bread halves with remaining 1/2 cup cheese. Season with salt and pepper.
Bake for 10-12 minutes, or until cheese is melted and bread is heated through.
Enjoy!