The perfect all-in-one-pan meal in under an hour! So delicious, quick and wholesome. This simple chopped veggie and sausage medley is a staple in our weekly dinner menu. Everyone goes for seconds – or thirds!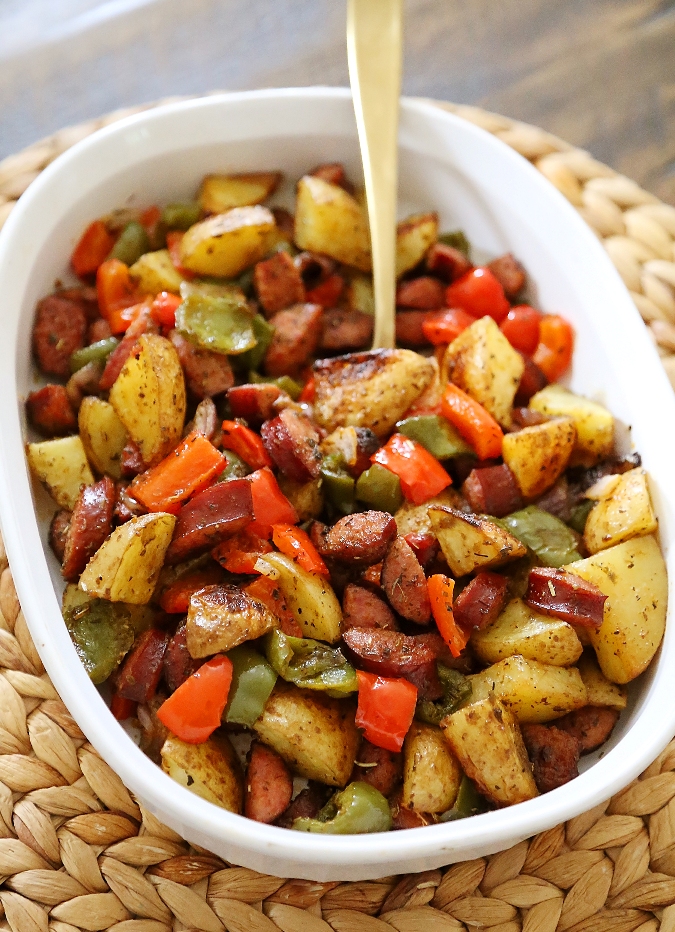 On nights when I don't know what to make for dinner, it's one of two options: Take out, or this mouthwatering sausage and veggie medley. It only takes 15 minutes to prepare, and uses ingredients I always keep on hand!
We love this quick & easy one-pan wonder for simple summer dinners on the deck. And all year round! Feel free to switch out the sausage for your favorite protein or a different type of sausage – beef, turkey and chicken sausage all work perfectly, too.
Simply chop up all your ingredients, combine them on a large baking sheet, and bake for about 45 minutes. Drizzle with oil and toss it all together. Voila! Dinner is set and you have nothing else to do, besides enjoy the amazing aroma as it roasts. We love to enjoy the smoky, salty, sweet flavors of this dish with a dollop of sour cream (and hot sauce for the big kids).
I hope you will love this one as much as we do. Enjoy!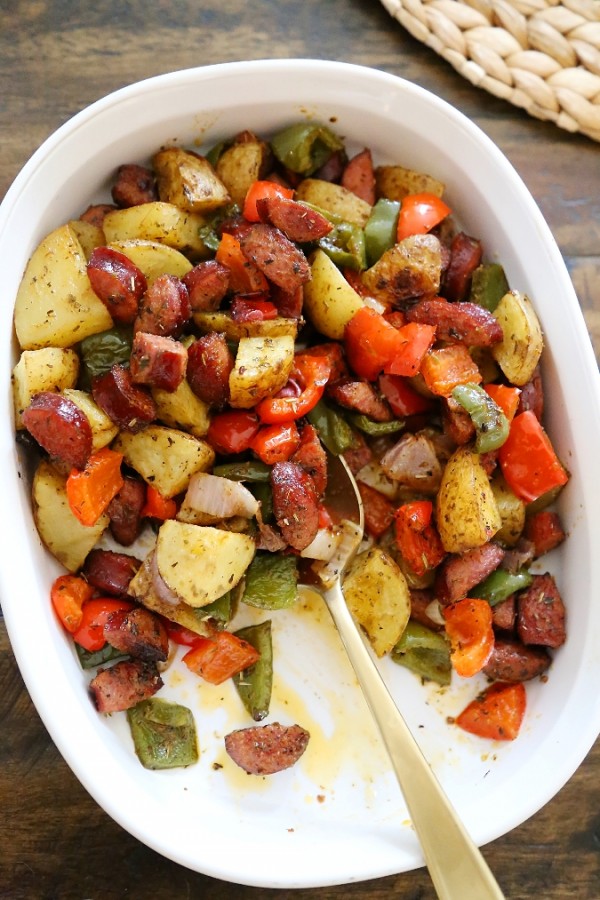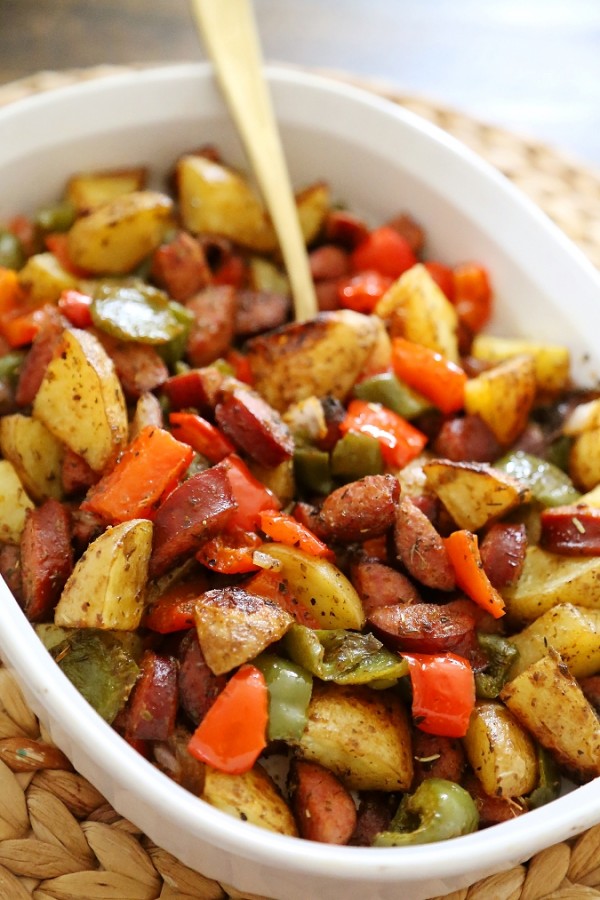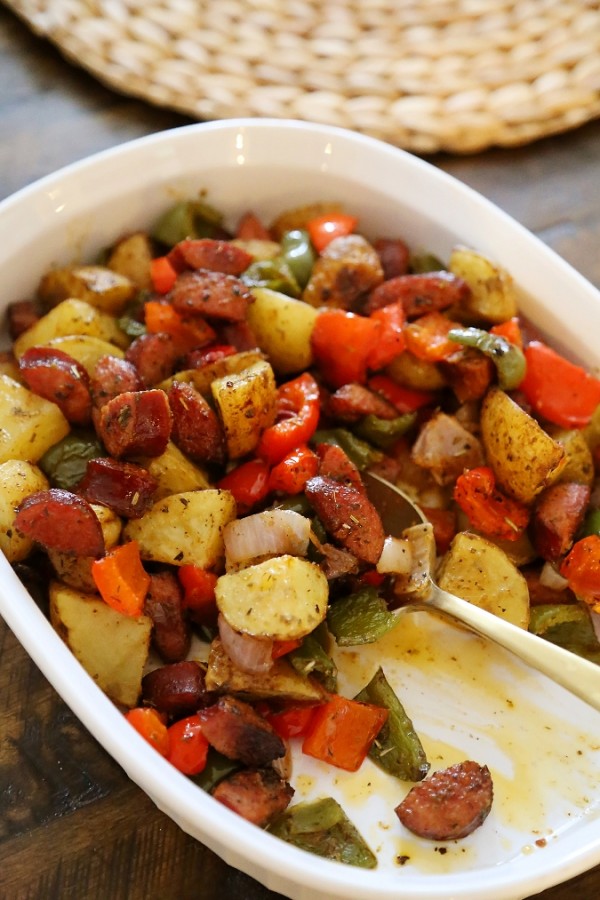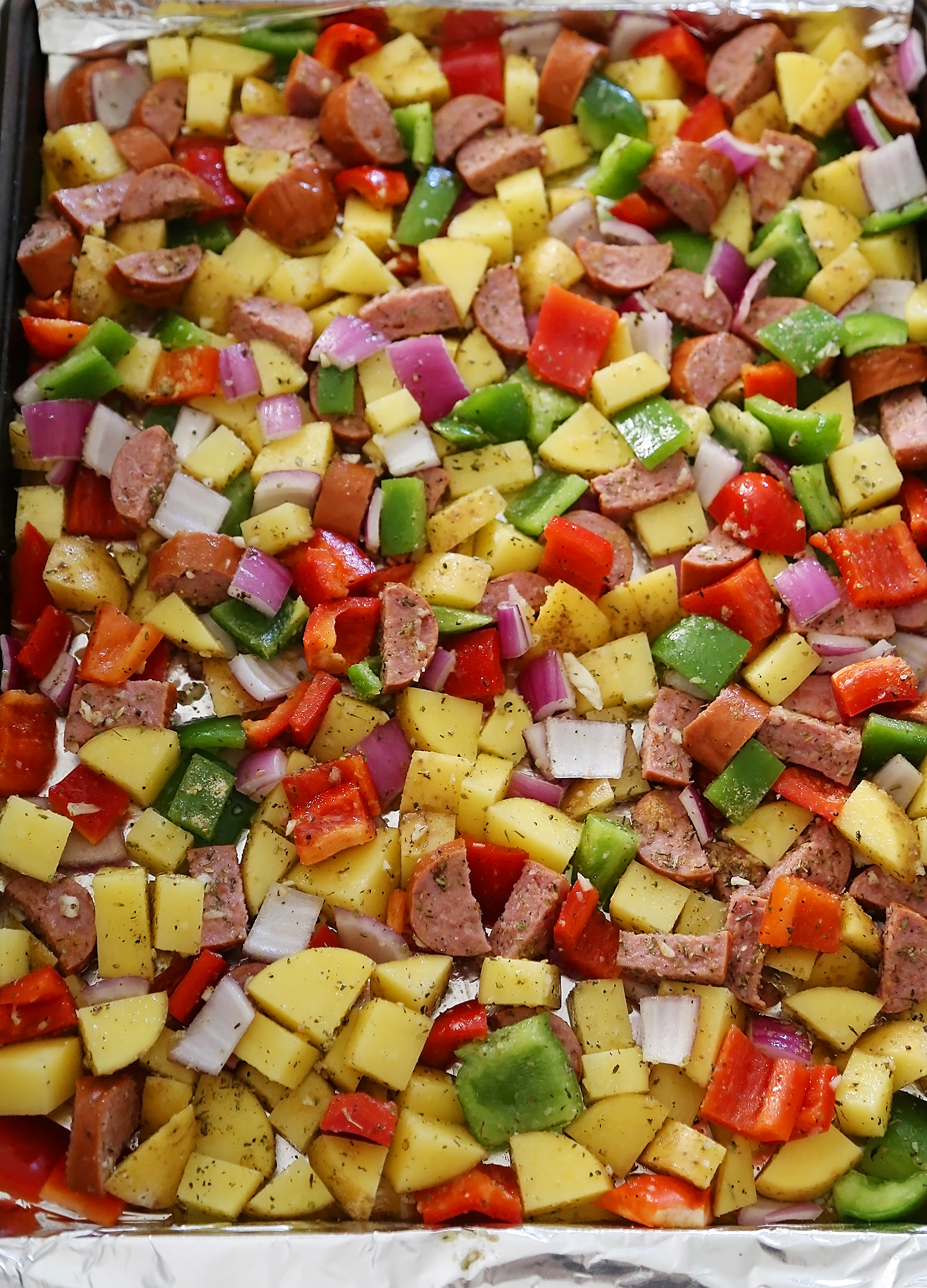 One-Pan Roasted Sausage, Peppers and Potatoes
Ingredients
1

14 oz.

package smoked sausage, halved lengthwise and cut into pieces

1

red bell pepper, small chopped

1

green bell pepper, small chopped

1/2

medium red onion, chopped

2

lbs.

yellow or red potatoes, small chopped

2

cloves

garlic, minced

1/4

cup

olive oil

1

teaspoon

Italian seasoning

1

teaspoon

kosher salt

1/4

teaspoon

black pepper

1/4

teaspoon

crushed red pepper flakes, optional
Instructions
Preheat oven to 400 degrees F.

Add sausage, veggies, potatoes and garlic to a large lined baking sheet. Drizzle with oil. Sprinkle with Italian seasoning, salt, pepper and red pepper flakes. With your hands, toss mixture together until evenly distributed.

Bake until veggies and potatoes are tender, about 30 minutes. Serve hot.

(Your favorite hot sauce and sour cream make a delicious pairing with this!)