Put those pretty summer veggies to use in this colorful, healthy and absolutely delicious appetizer!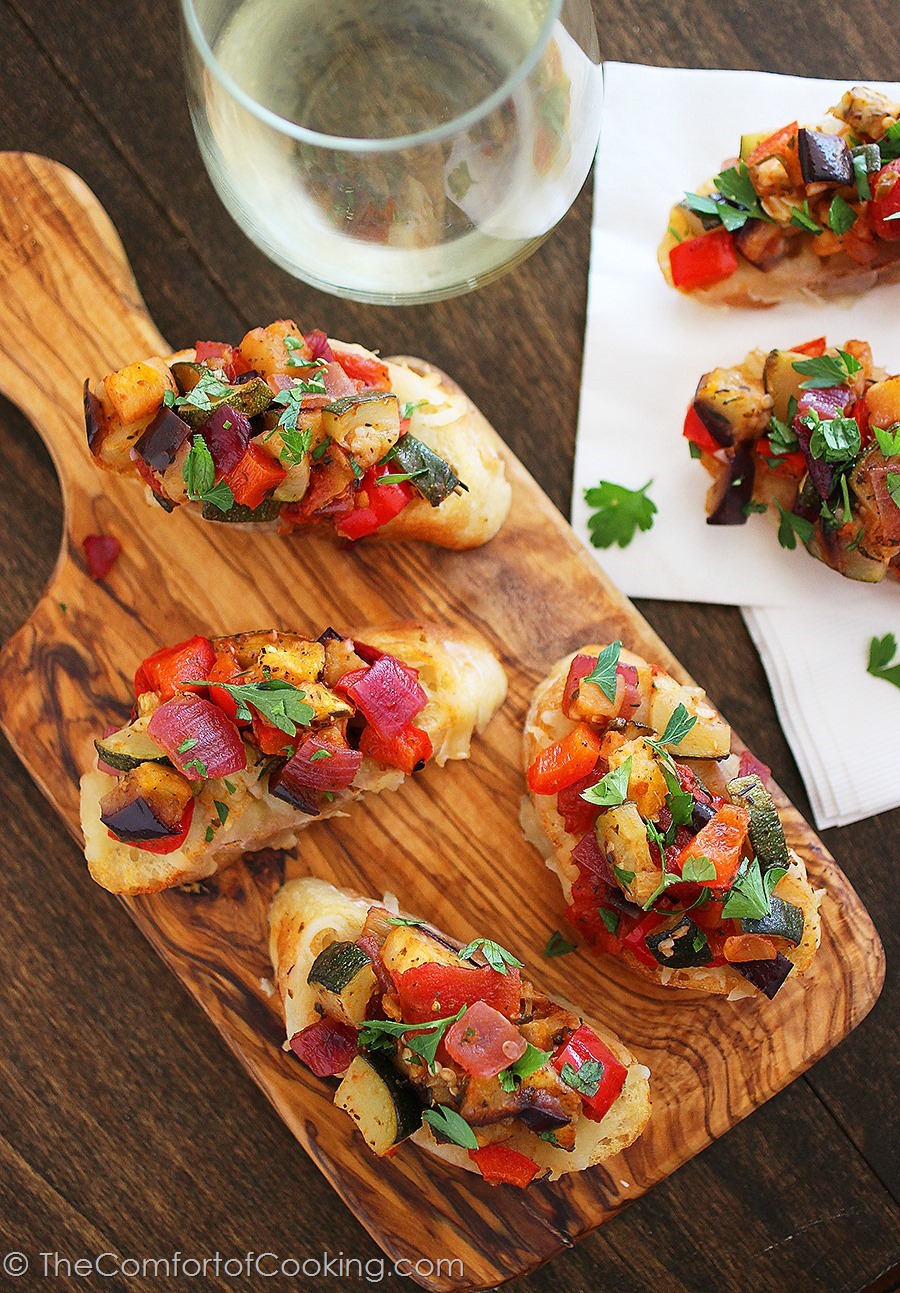 I cannot get enough of summer's bright and vibrant colors! From the fuschia flowers blooming outside the office where I type, to my breezy teal skirt dusting the floor, and the colorful ingredients I cook with… I tell ya, I'm a winter girl at heart who's really learning to love this whole summer thing.
I mean, except for the mosquitoes and the sweat, of course. But a little bug spray and a splash in the closest pool/pond/lake can cure all that ails you from June to early fall!
Just look at this mouthwatering medley of vibrant summer veggies! Ratatouille is one of my favorite excuses to use 'em up and make 'em shine. Pile your veggies in a big, pretty dish with tomato sauce for a fabulous full-sized side (my hubby's favorite). Or, grill up those gorgeous squash, peppers, tomatoes and onions to toss them with pasta.
If you're looking for a gorgeous two-bite treat to serve at BBQs alongside the savory fare, though, I've got ya covered.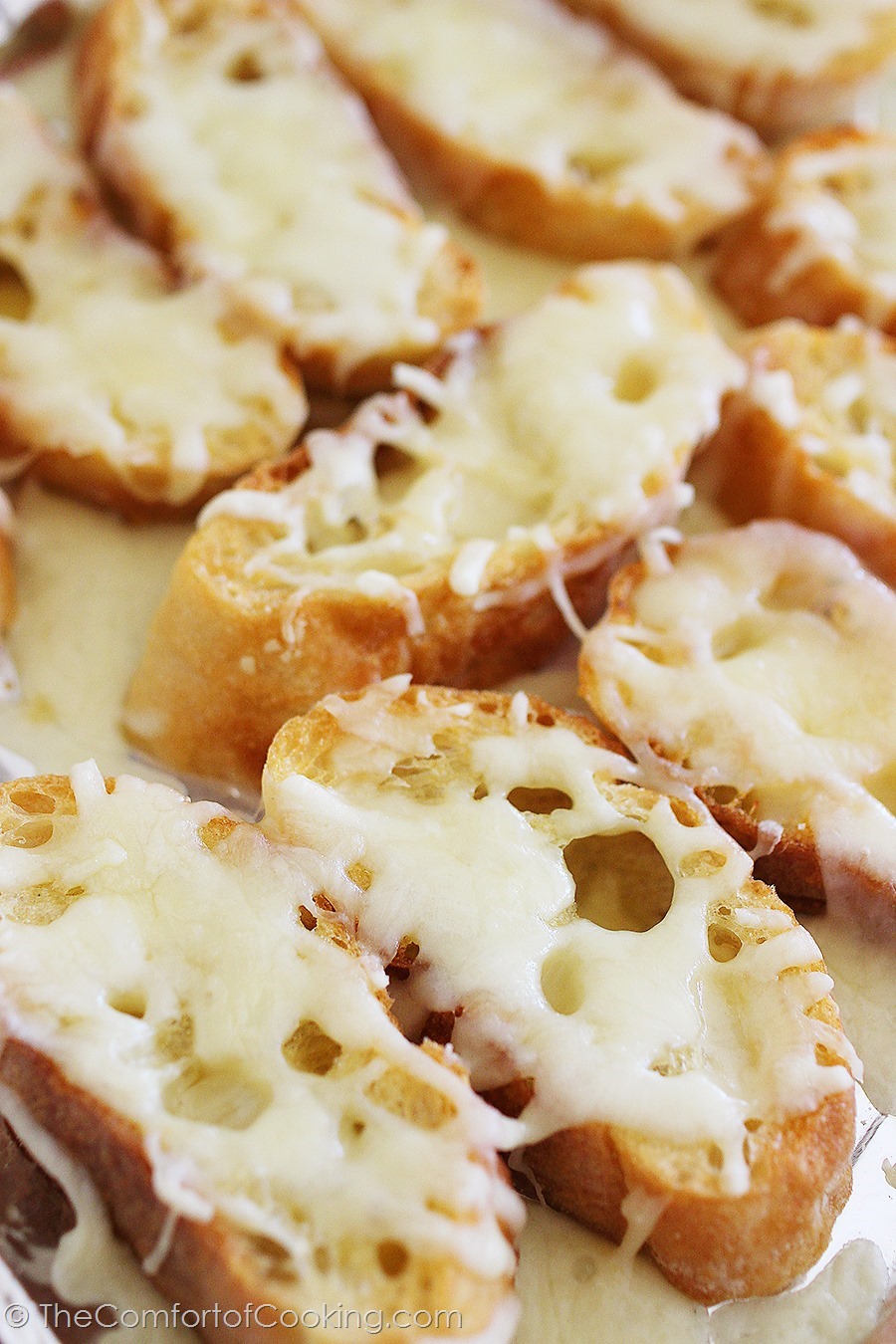 But what's a good crostini without cheese?
Let's do it like the French and grab the best baguette we can find, slather it with a bit of butter and toast it 'til golden brown. Sprinkle on a pinch of shredded mozzarella, slip it back into your oven, and when it's ready, ravish it with warm, melt-in-your-mouth roasted ratatouille!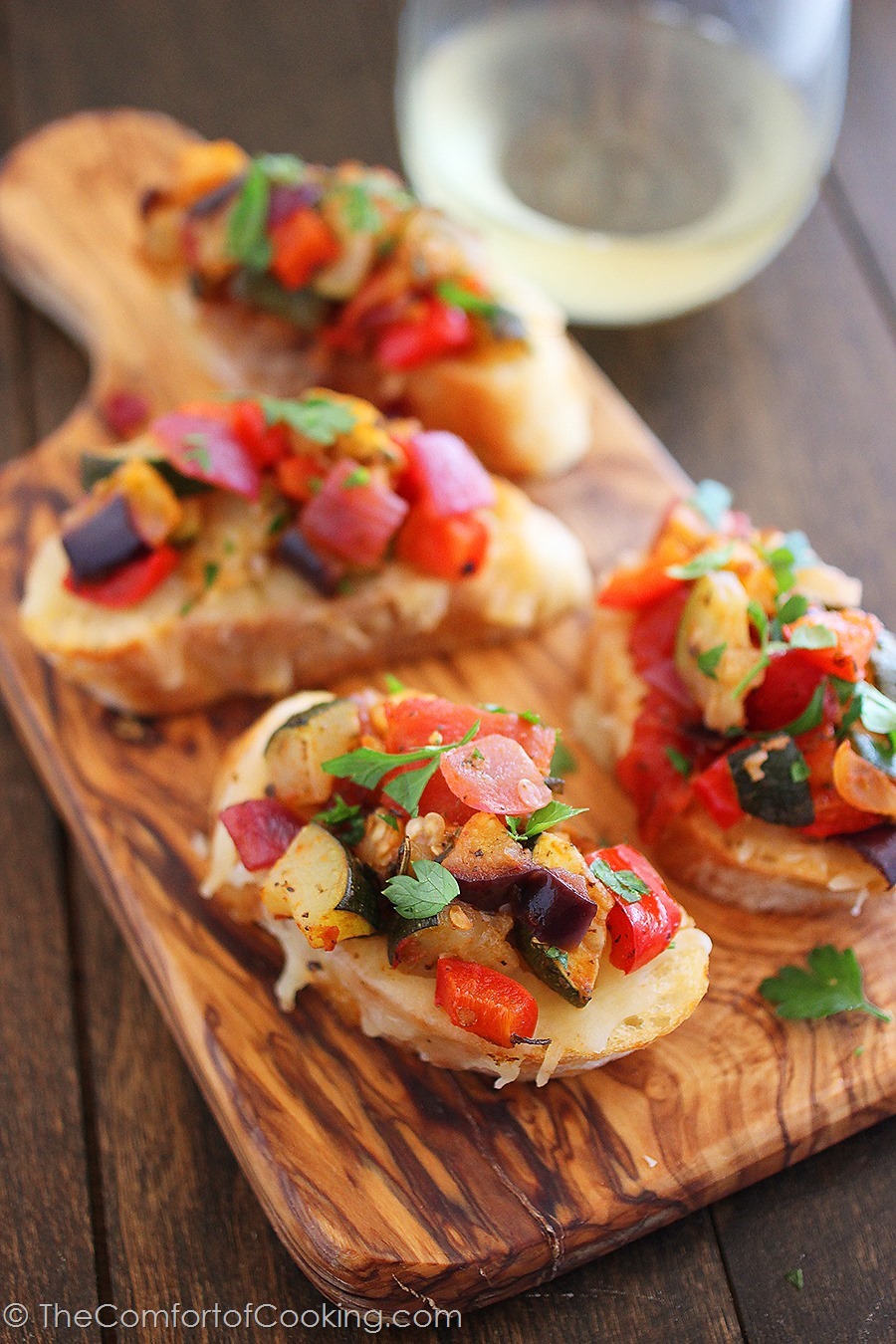 You can serve these beautiful bites hotter than a Texas summer, or at room temperature if timing is tricky. If you take it from me, the toastier the tastier. When those veggies have a little heat underneath them, you can really taste their salty, earthy flavors. Combined with the gooey mozzarella? Oh, don't even get me started.
Sprinkle the crostini with parsley, pop 'em on a tray and pass these out to party guests for any summer occasion. And, don't forget to grab yourself a glass of crisp white wine for all your hard work! Even though they were a piece a' cake…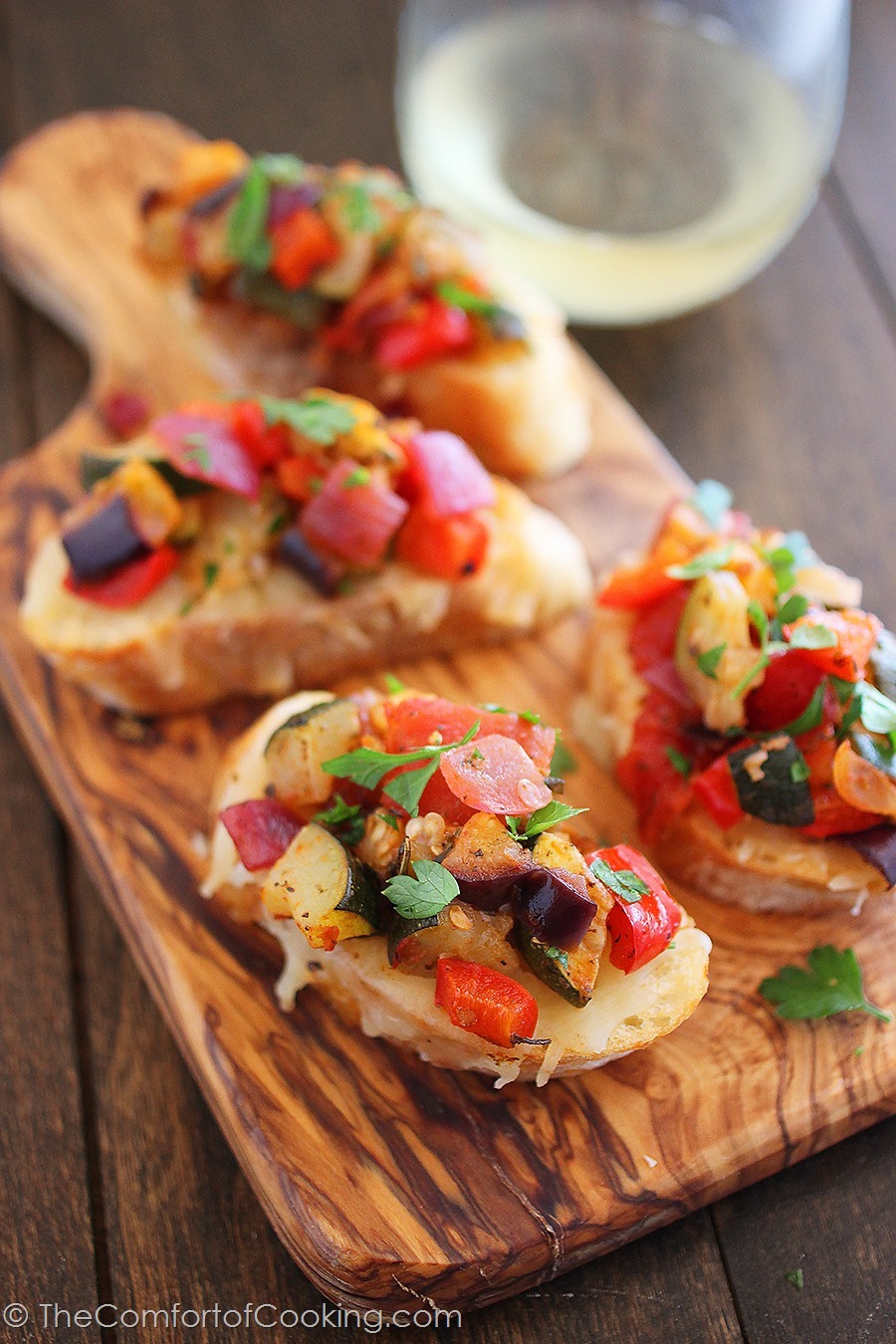 Ratatouille Crostini
Ingredients
1 medium eggplant, peeled, cut into 1/2-inch pieces
1 large or 2 medium zucchini, cut into 1/2-inch pieces
1 medium red onion, diced
1 medium red bell pepper, diced
1/4 cup olive oil
3 Tbsp. fresh lemon juice
3 cloves garlic, minced
2 tsp. Italian seasoning
1 tsp. salt
1 14.5 oz. can diced tomatoes, undrained
Butter nonstick cooking spray, or 4 Tbsp. melted butter
1 French baguette, sliced into 1-inch thick slices
2 cups 8 oz. Sargento® Fine Cut Shredded Mozzarella Cheese
1/4 cup chopped parsley or 2 Tbsp. dried
Instructions
Preheat oven to 450 degrees F.
On a large baking sheet, combine eggplant, zucchini, onion and bell pepper. In a separate small bowl, mix oil, lemon juice, garlic, basil, oregano and salt. Drizzle over vegetables, tossing to coat.
Roast for 20 minutes or until vegetables are tender. Halfway through cooking time, remove from oven and stir in diced tomatoes with liquid. Transfer back to oven and roast for 10 more minutes.
Meanwhile, place baguette slices on a large baking sheet. Spray with nonstick butter spray or brush with butter, and toast in oven until golden, 5-6 minutes. Remove from oven and top each slice with a pinch of mozzarella. Transfer back to oven for 2-3 minutes to melt cheese.
Top each toast slice with heaping 1 tablespoon vegetable mixture and a sprinkle of parsley. Serve warm or at room temperature.
Enjoy!