Warm, richly spiced apple cider slow cooked with fresh apples. Treat your family and friends to the irresistible aroma and goodness of a cozy cup of this homemade cider. The ultimate fall sip for slow mornings and evenings in!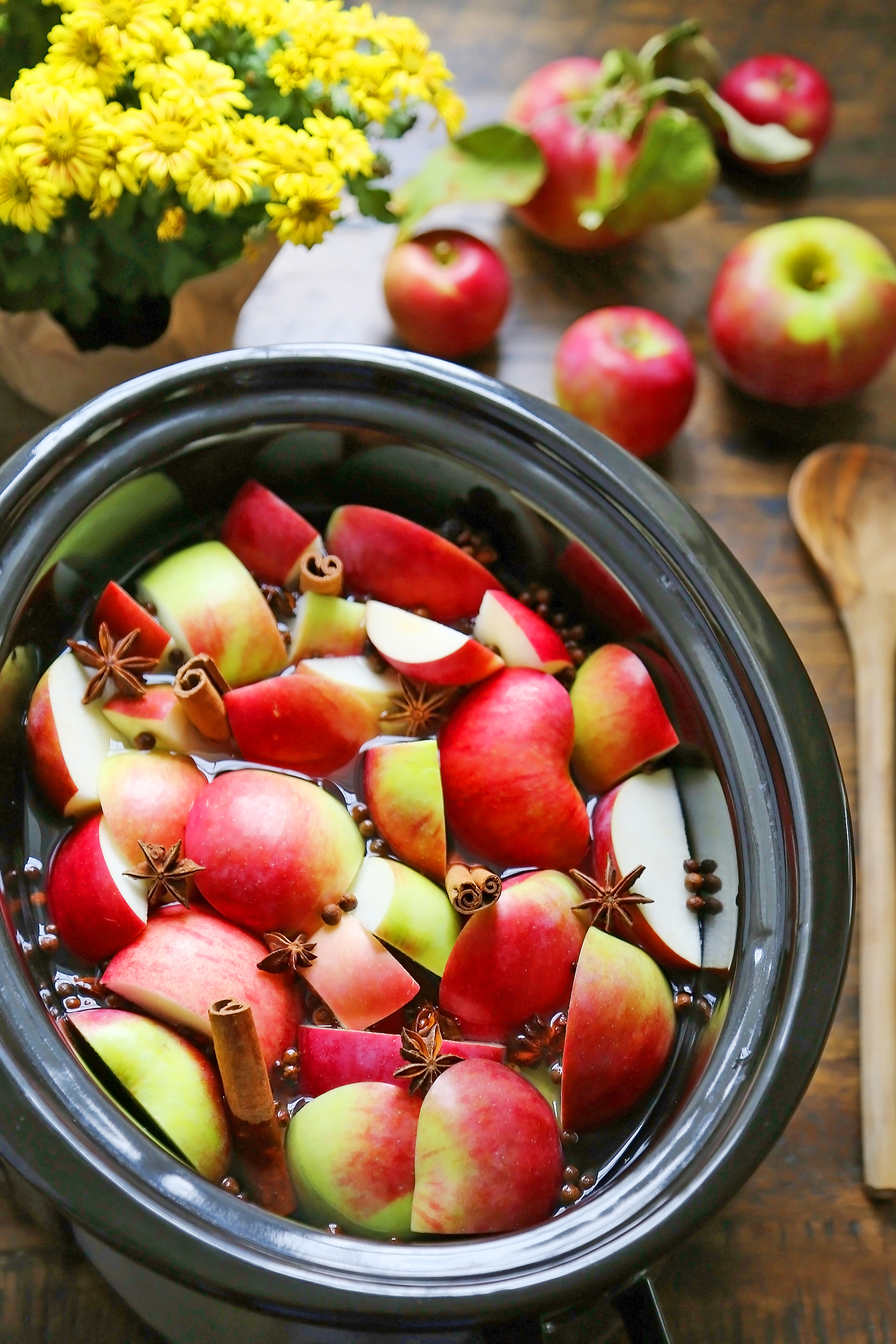 Happy fall, y'all! What better way to celebrate than with a warm cup of freshly made, spiced apple cider?
I can't even begin to describe how lovely it has been to have the aroma of this apple cider bubbling away, filling my home with the scent of rich cinnamon and simmering apples.
With the bounty of apples that my daughter and I picked in the past weeks, it's no surprise this recipe has been on permanent rotation. Along with warm sugary turnovers, coffee cake bursting with juicy apple bits, and flaky, mile-high pies in the near future.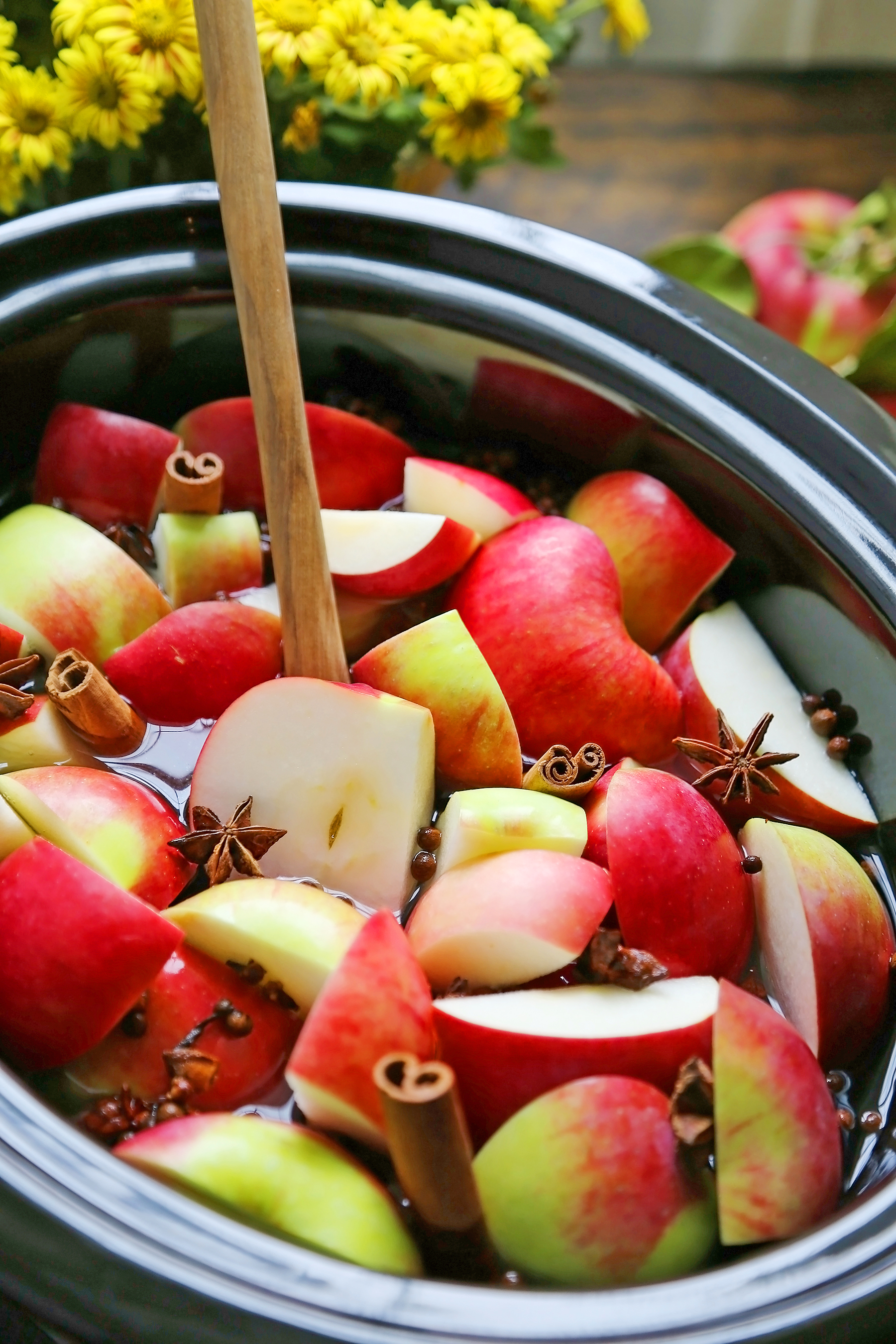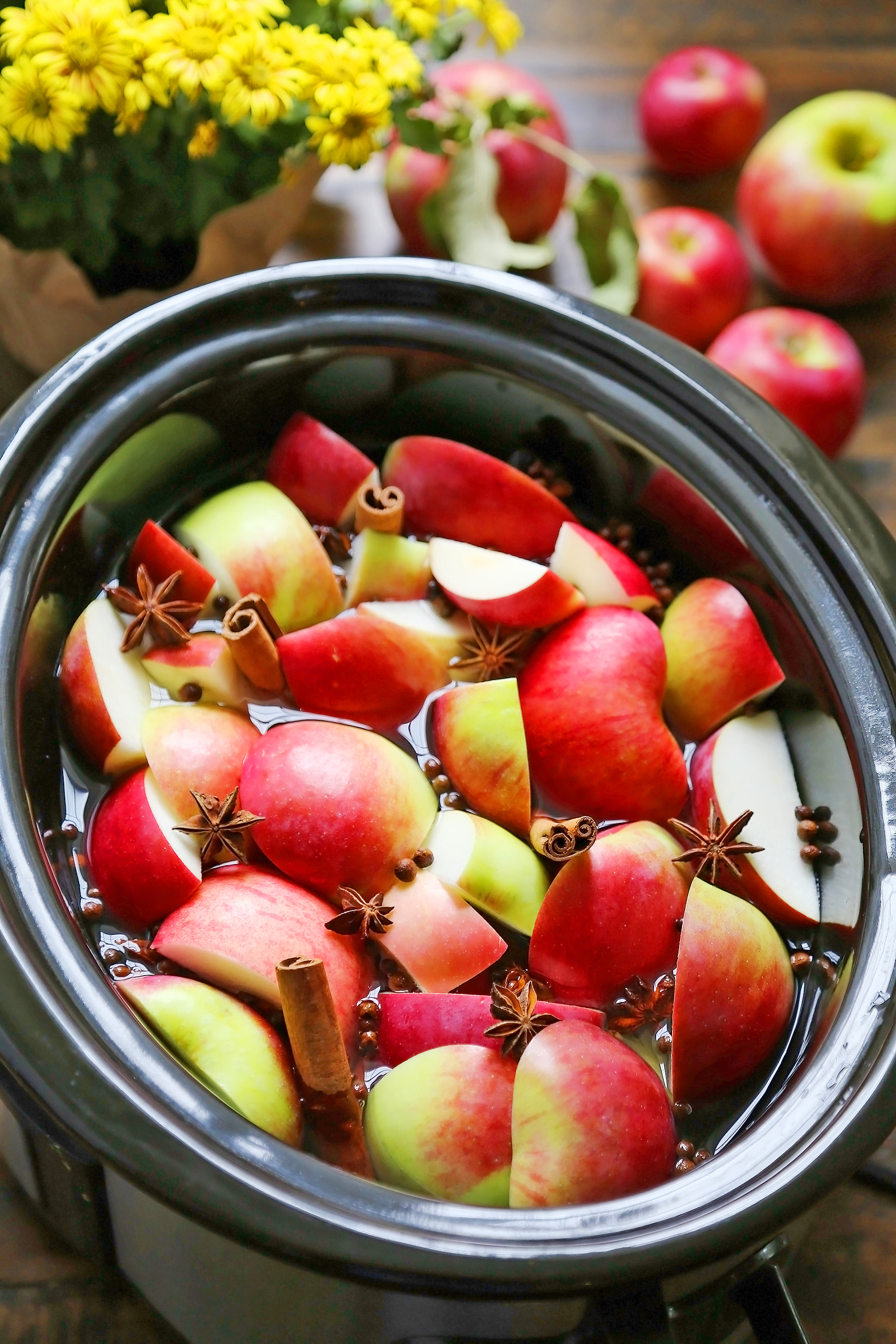 Want to make your own? It's surprisingly easy.
Simply combine 10-12 quartered apples in a large slow cooker. No need to peel your apples. For a sweeter cider, try Gala, Fuji, Cortland, Golden Delicious or Red Delicious. For a more tart flavor, go with Pink Lady, Braeburn, Jonathan or McIntosh. Or, you could use a combination!
Cover the apples with enough water to cover completely (they will rise to the surface; don't worry). You can also toss in some orange slices for added flavor, but this isn't necessary.
Throw in some whole cinnamon sticks, cloves, allspice, star anise, and a few strips of fresh ginger if you have it. These create incredible warm and rich spicy aromas as it bubbles, so don't skimp on your spices!
Cover your slow cooker and allow the mixture to simmer away for a few hours before straining through a fine mesh sieve. Add your desired sweetener (I prefer pure maple syrup, like a good New Englander, ha!) like brown sugar, honey, simple syrup or agave nectar. And, you're done!
Pour your cozy, spiced cider into mugs and get toasty by the fire. Or, pour into mason jars and refrigerate or freeze. We intend to make recipes with the apple cider, like syrup for pancakes, cider donuts, and all sorts of goodies. Along with enjoying a glass of our rich apple-y goodness year round!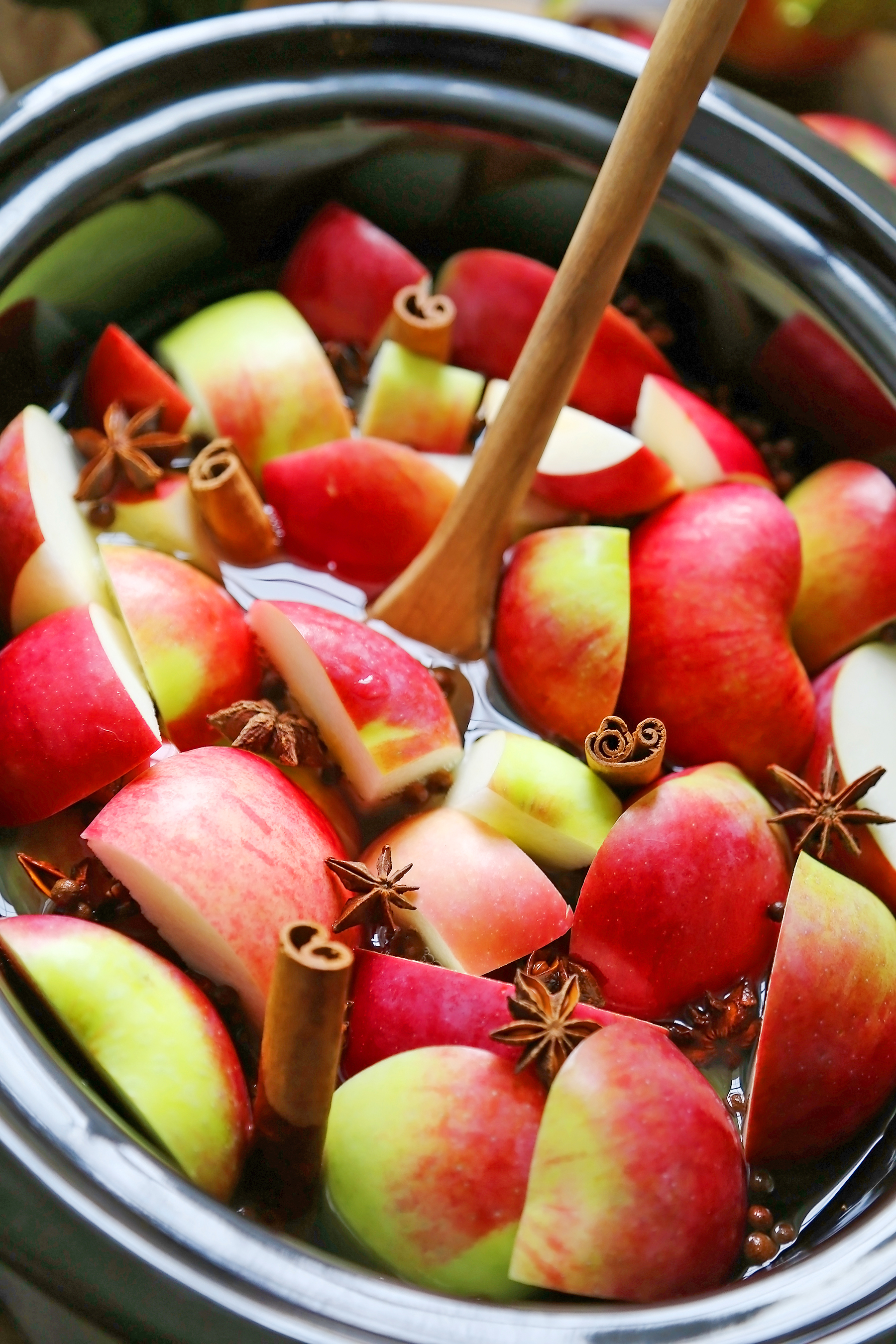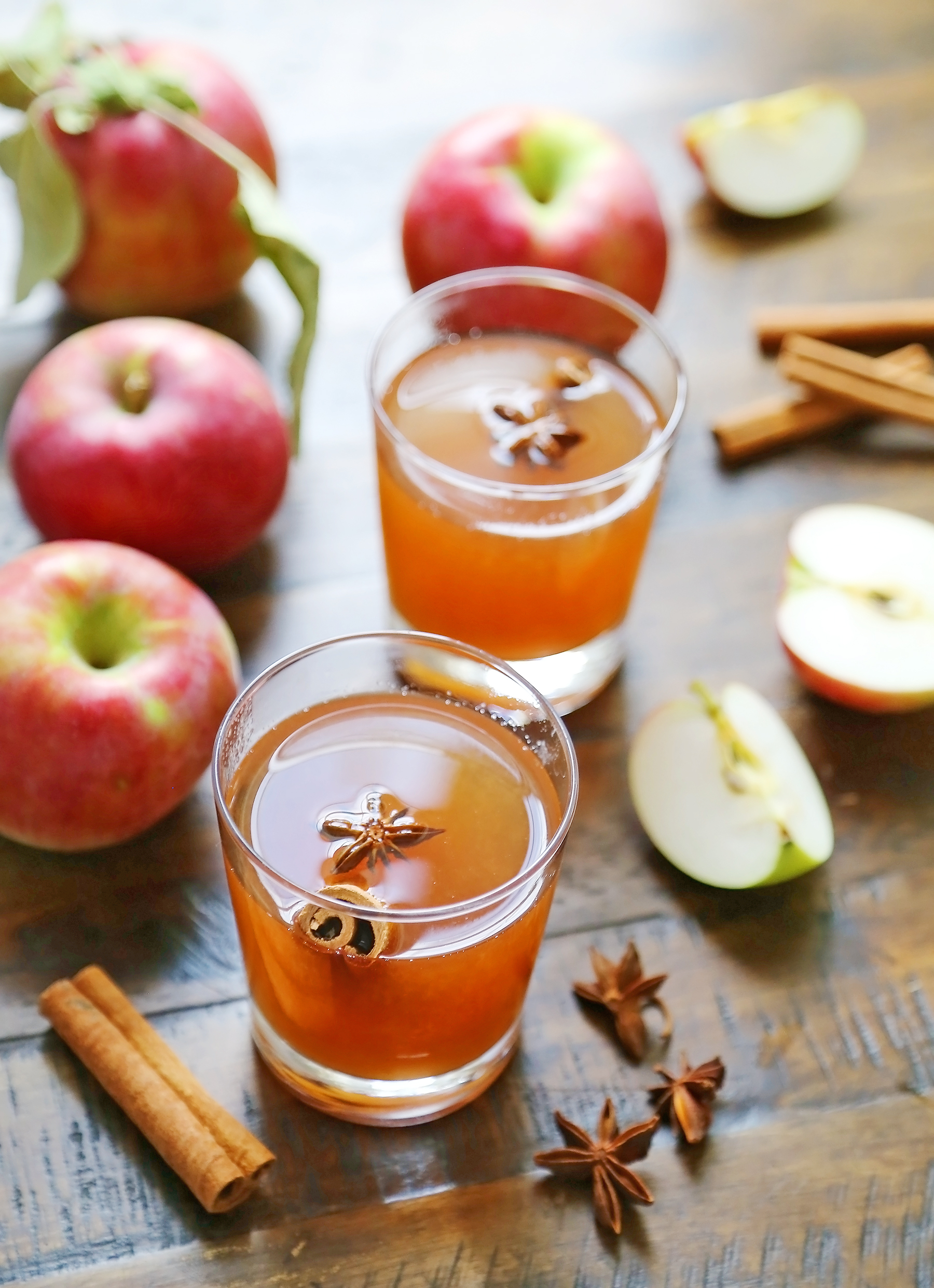 Easy Homemade Apple Cider
Total Time:
2 hours
10 minutes
Ingredients
10–12 medium apples, (any type), quartered
4 cinnamon sticks
1 tablespoon whole cloves
1 teaspoon whole allspice
1 whole nutmeg, optional
1 inch fresh ginger, optional
16 cups water, more or less
after cider is finished cooking, add:
1/2 cup sweetener, or to taste, recommended: brown sugar or maple syrup
Instructions
Combine all ingredients (except sweetener) in your pot. Cover with water, leaving 1-2 inches of space at the top of the pot.
Simmer. If using a stockpot, heat cider over high heat until simmering. Reduce heat to medium-low. Cover and simmer for about 2 hours, or until the apples are completely soft. If using a Crock-Pot, set to High heat and cook for 2 hours.
Strain. Once cooked, pour the pot contents through a strainer and into a large bowl. Press solids against the strainer to release all of their juices. Discard solids and return liquid to your pot.
Sweeten. Stir in your desired amount of sweetener, to taste.
Serve hot or cold. Ladle cider into mugs and enjoy! Adding a few orange or apple slices and cinnamon sticks to the pot makes for pretty serving and extra flavor.
Notes
To store: Let cider cool to room temperature. Pour into a pitcher and refrigerate for up to 5 days; freeze for up to 3 months.
Adapted from Gimme Some Oven

Want to receive our latest recipes straight to your email inbox? Click here to subscribe!