Crunchy, tender and crazy delicious chicken strips full of flavor in under 30 minutes! One easy weeknight meal that families love and has everyone begging for seconds. Serve with a sweet, tangy homemade honey mustard sauce, or your favorite dip or dressing.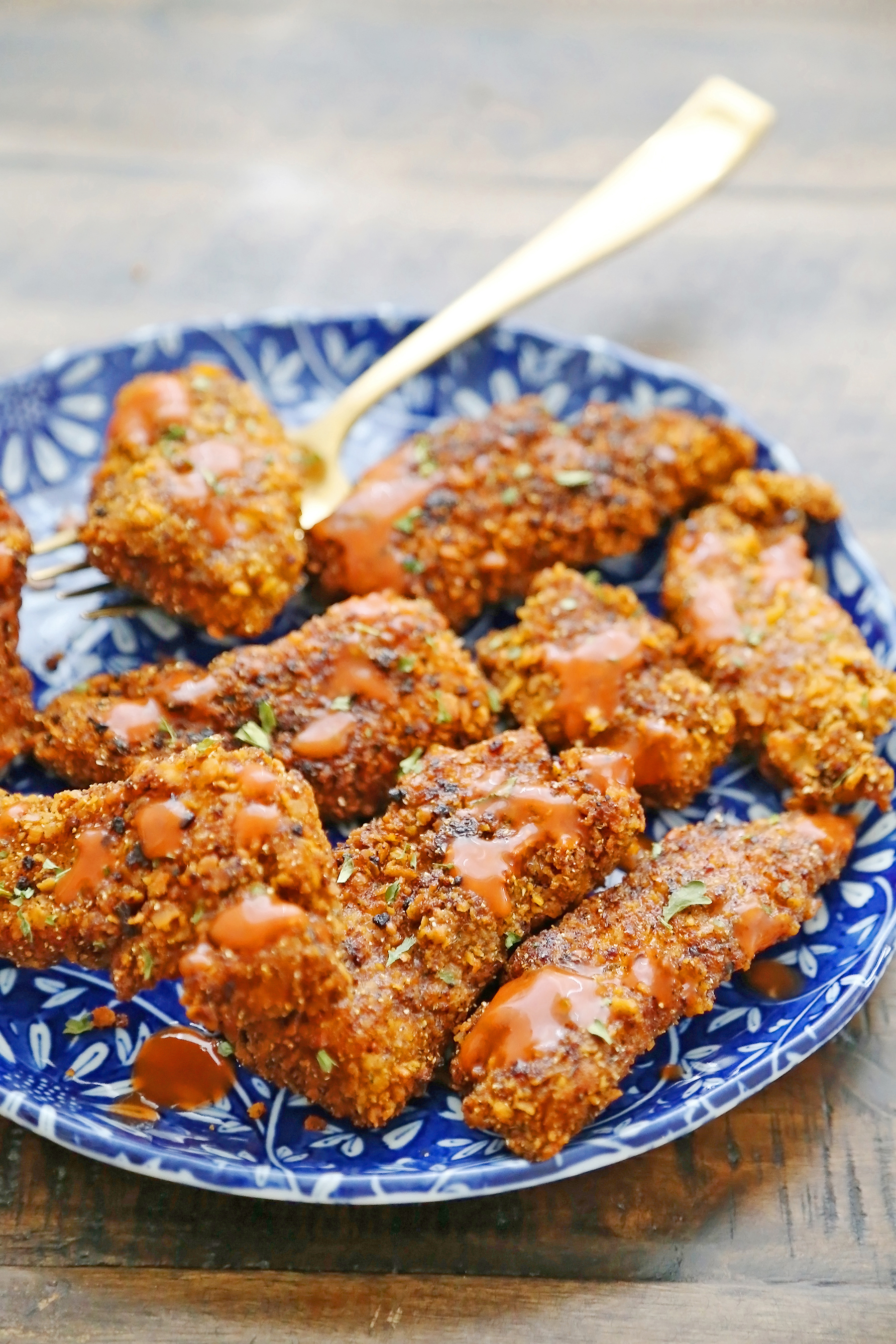 In this house, we are always looking for ways to switch up classic comfort food favorites. One meal that always pleases is my chicken tenders recipe. However, I loved the idea of coating these juicy, tender chicken strips with Ranch-seasoned crushed cheese crackers, as opposed to traditional breadcrumbs.
So fun and easy to make, even the kids can help!
And irresistibly delicious dunked in a tangy, sweet homemade honey mustard sauce.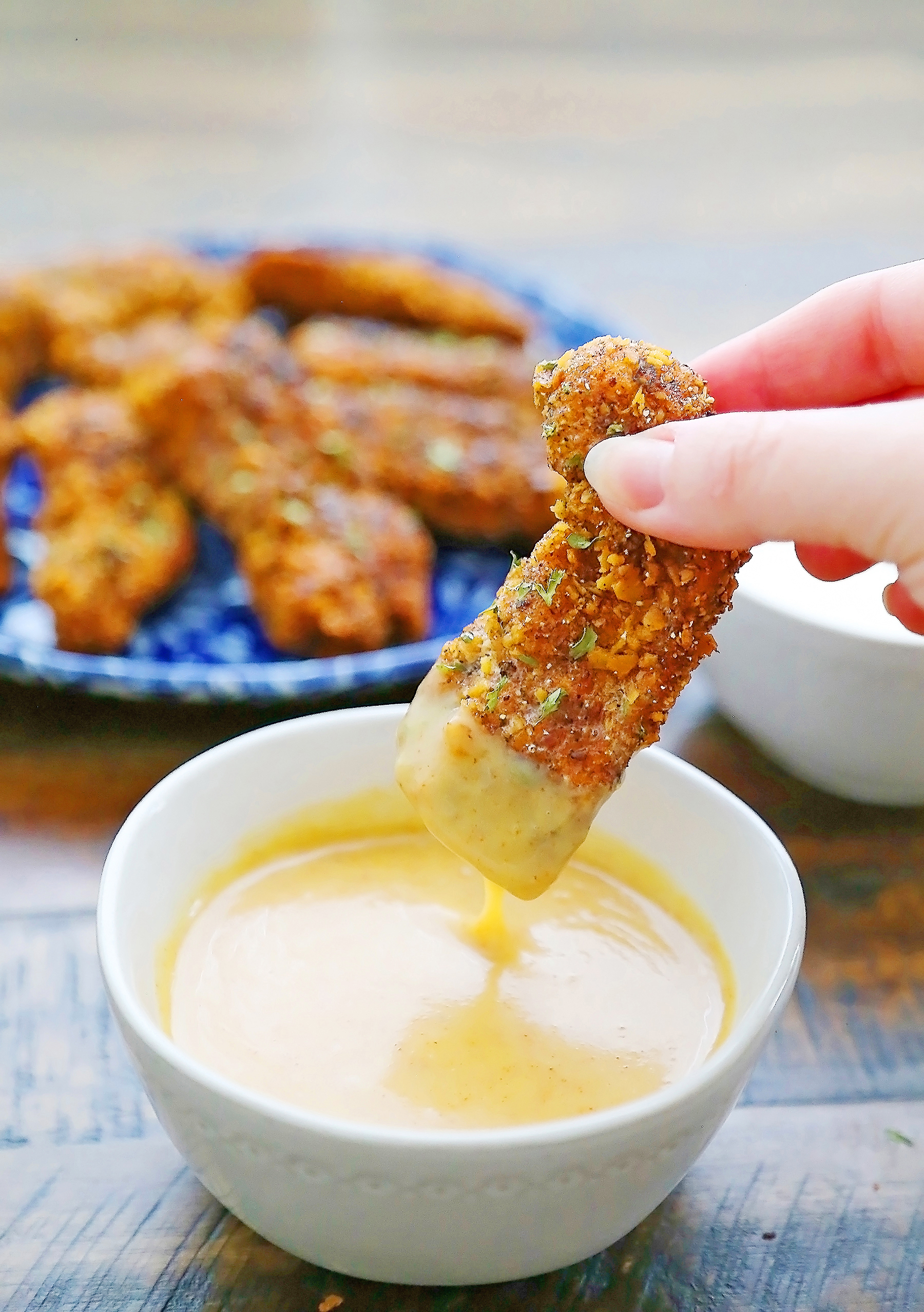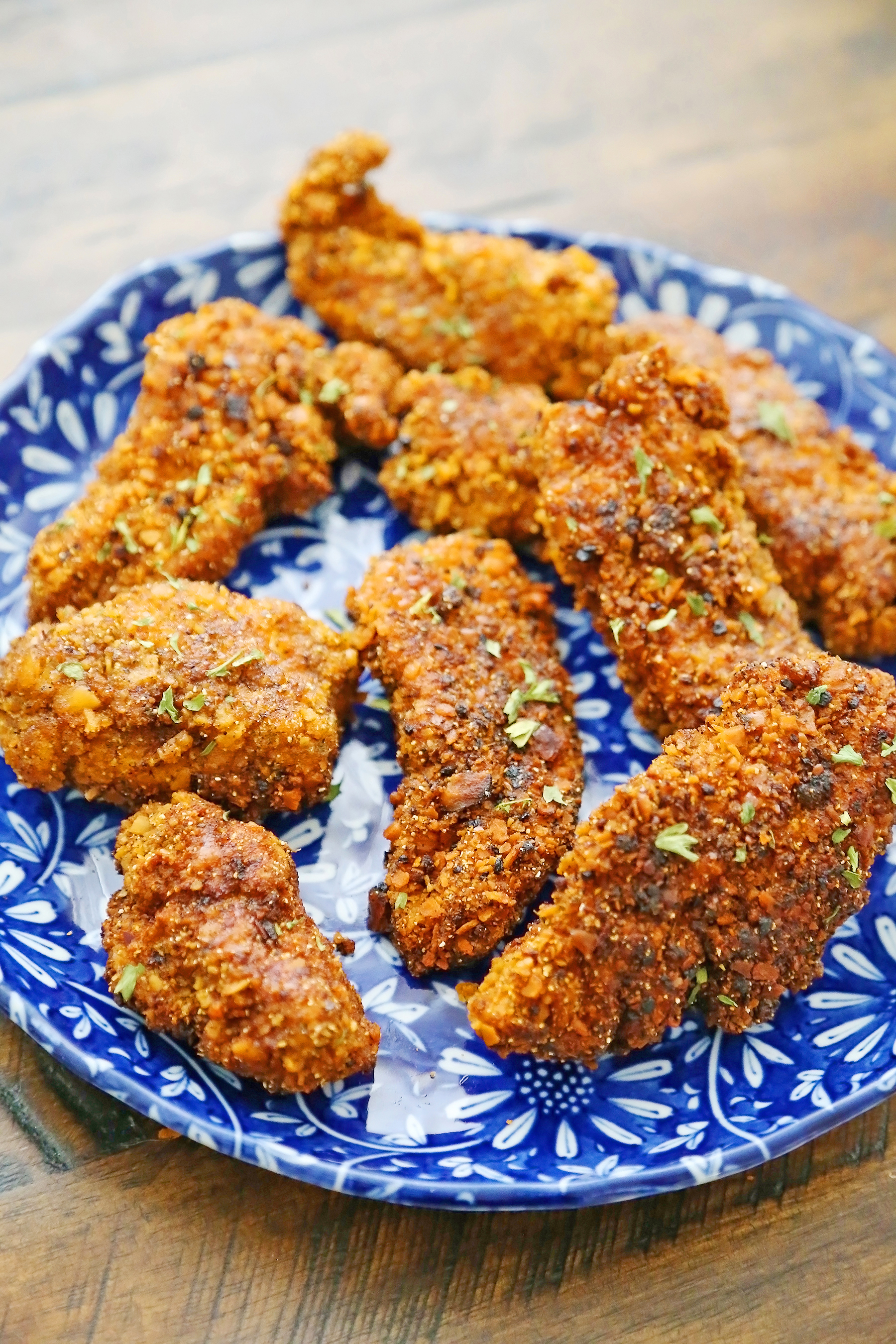 The recipe couldn't be more simple. Coat your chicken strips in a bowl of flour, then egg, then your finely crushed cheese crackers (like Cheez-Its, or your preferred brand) mixed with dry Ranch seasoning. You can bake or pan-fry these chicken tenders to crispy perfection and have dinner ready in under 30 minutes. Easy!
I like to whip up my honey mustard sauce – a blend of Dijon mustard, mayo, honey and vinegar, plus a sprinkle of cayenne pepper – to let the flavors marinade and have it ready to go when my chicken is hot out of the oven.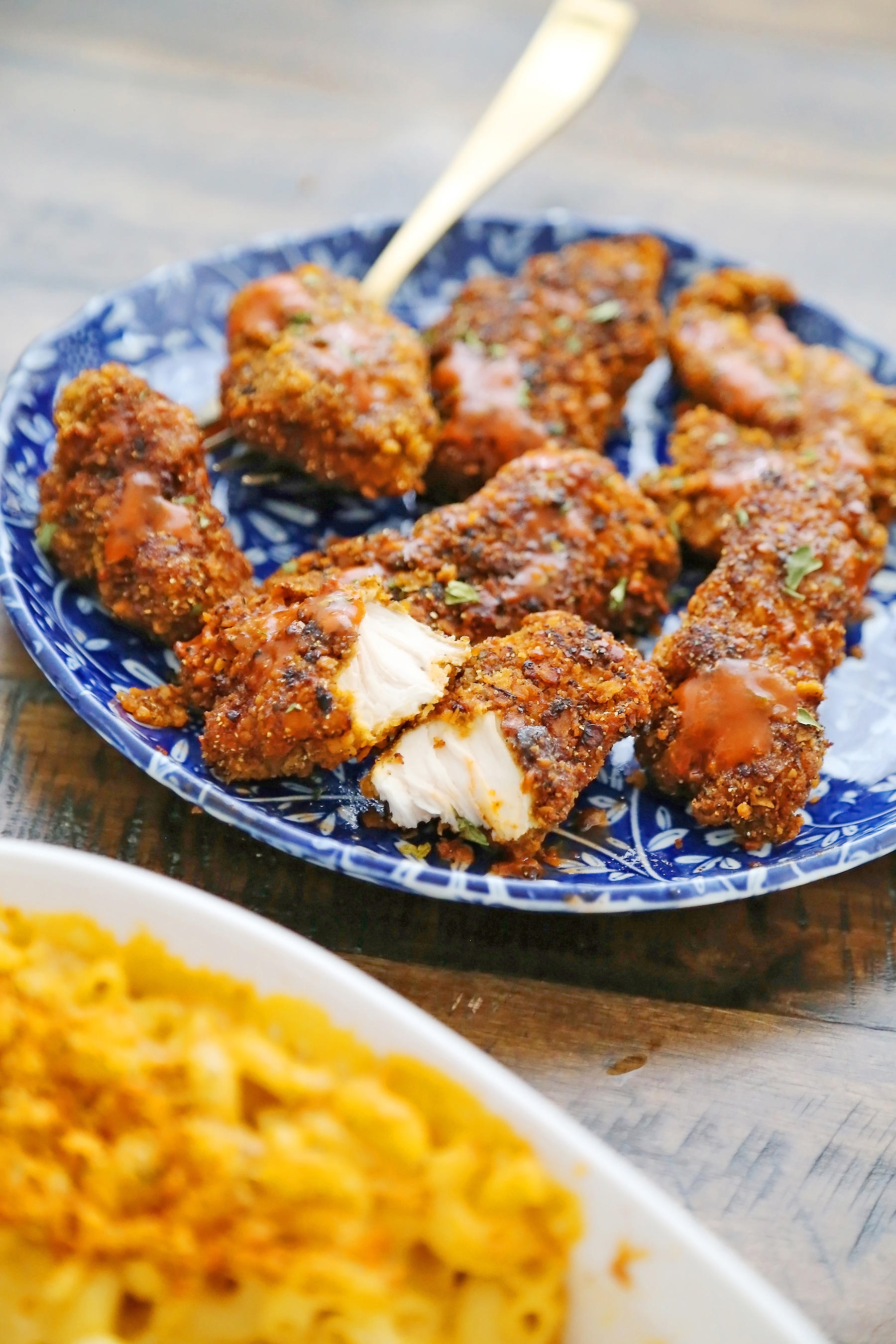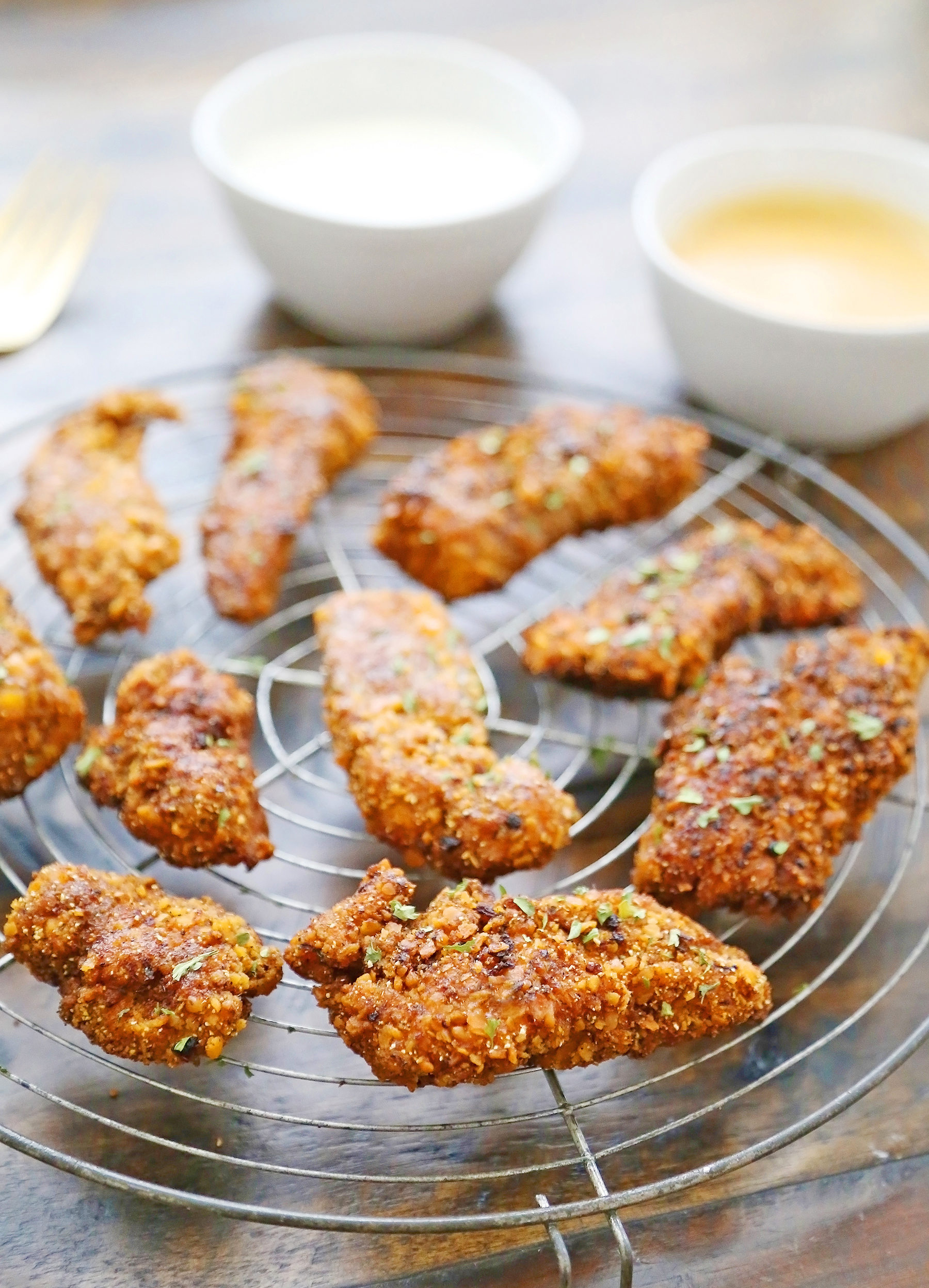 For cozy weeknights in or company on the weekends, football Sundays and any day in between, you will love this simple, scrumptious chicken tenders recipe. So crispy, crunchy and juicy!
The honey mustard sauce is completely optional – enjoy these with your own favorite dipping sauce or dressing like Ranch dressing, bleu cheese, queso, barbecue sauce.
Love the heck out of this one, like we do, and spoil your family and friends!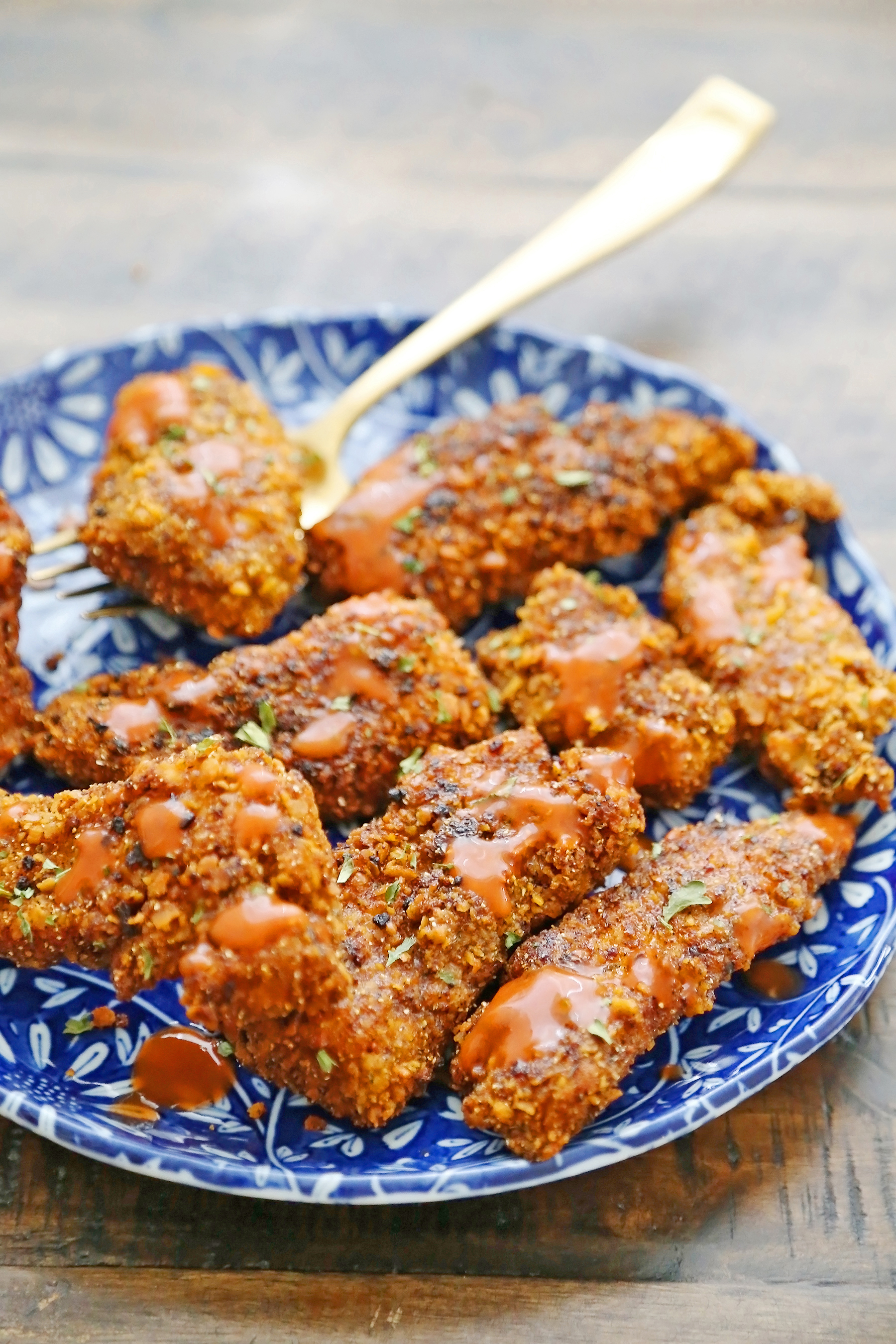 Cheddar Ranch Chicken Tenders with Honey Mustard Sauce
Ingredients
For the Chicken Tenders:
1 to 1.25 pounds boneless skinless chicken tenders
1 1/2 cups finely crushed cheese crackers, such as Cheez-Its, from 6 ounces of crackers
1 (1 oz.) packet Ranch seasoning mix, or 1 teaspoon Ranch seasoning
1 large egg + 1 tsp. water
1 cup all-purpose flour
1 teaspoon kosher salt
1/2 teaspoon freshly ground black pepper
For the Honey Mustard Sauce:
1/4 cup honey
1/4 cup mayonnaise
1/4 cup Dijon mustard
1 Tablespoon white vinegar or apple cider vinegar
1/4 teaspoon cayenne pepper
Instructions
For the Chicken Tenders:
Preheat oven to 400 degrees F. Line a large baking sheet with aluminum foil; set aside.
To a large bowl, add cracker crumbs and seasoning; stir together. In a separate medium bowl, add egg and water; whisk together. To a separate bowl, add flour, salt and pepper;whisk together.
Dip chicken tenders in the flour, then egg, then crushed cracker crumbs, pressing with your hands to coat crumbs on chicken. Place chicken on the prepared baking sheet.
Bake for about 15-20 minutes, flipping halfway through cooking, if desired. Serve immediately.
For the Honey Mustard Sauce:
In a medium bowl, whisk all ingredients until smooth. Serve with chicken tenders.
Enjoy!
Notes
Chicken will keep airtight in the fridge for up to 5 days, or in the freezer for up to 4 months. Reheated chicken will not retain its crispiness.
Honey mustard sauce adapted from Pinch of Yum

Want to receive our latest recipes straight to your email inbox? Click here to subscribe!