Soft, gooey pumpkin cinnamon roll perfection with just five ingredients! These decadent breakfast treats only take 10 minutes to make, with NO rise and NO mess! These rolls are fun and fabulous for Sunday mornings and festive fall brunches. Spread with a cream cheese glaze and enjoy with a hot coffee.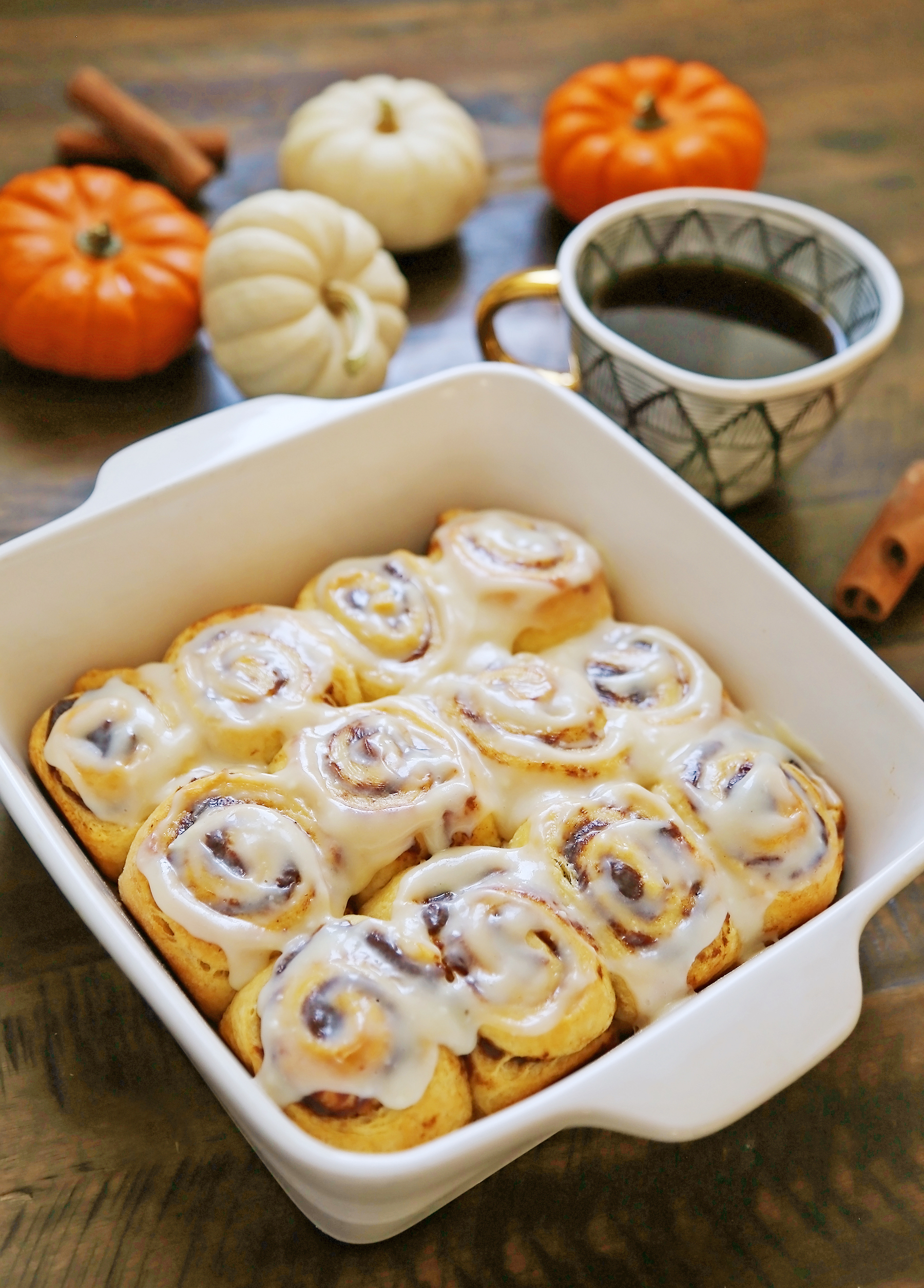 Can you even handle this?
I've loved cinnamon rolls for as long as dinosaurs have walked the Earth (I'm old, y'all). But, I do not love the painstaking effort of making rolls from scratch, waiting for the dough to rise, cleaning up the kitchen disaster, and praying they come out soft and fluffy.
My prayers were answered in this easy, melt-in-your-mouth recipe found from my friend Jessica at The Novice Chef. Girl always comes through with delicious and easy treats that hit the spot for home cooks with no time on their hands. I mean, HELLO. With homeschooling a six-year-old and the juggling act of life in general, time is a hot commodity for this busy mama. Some days call for cinnamon, sugar, coffee and hiding in the bathroom for a little bit. Can I get an amen?
Okay, thanks.
Let's get back to these beautiful, gooey pumpkin cinnamon rolls of your dreams!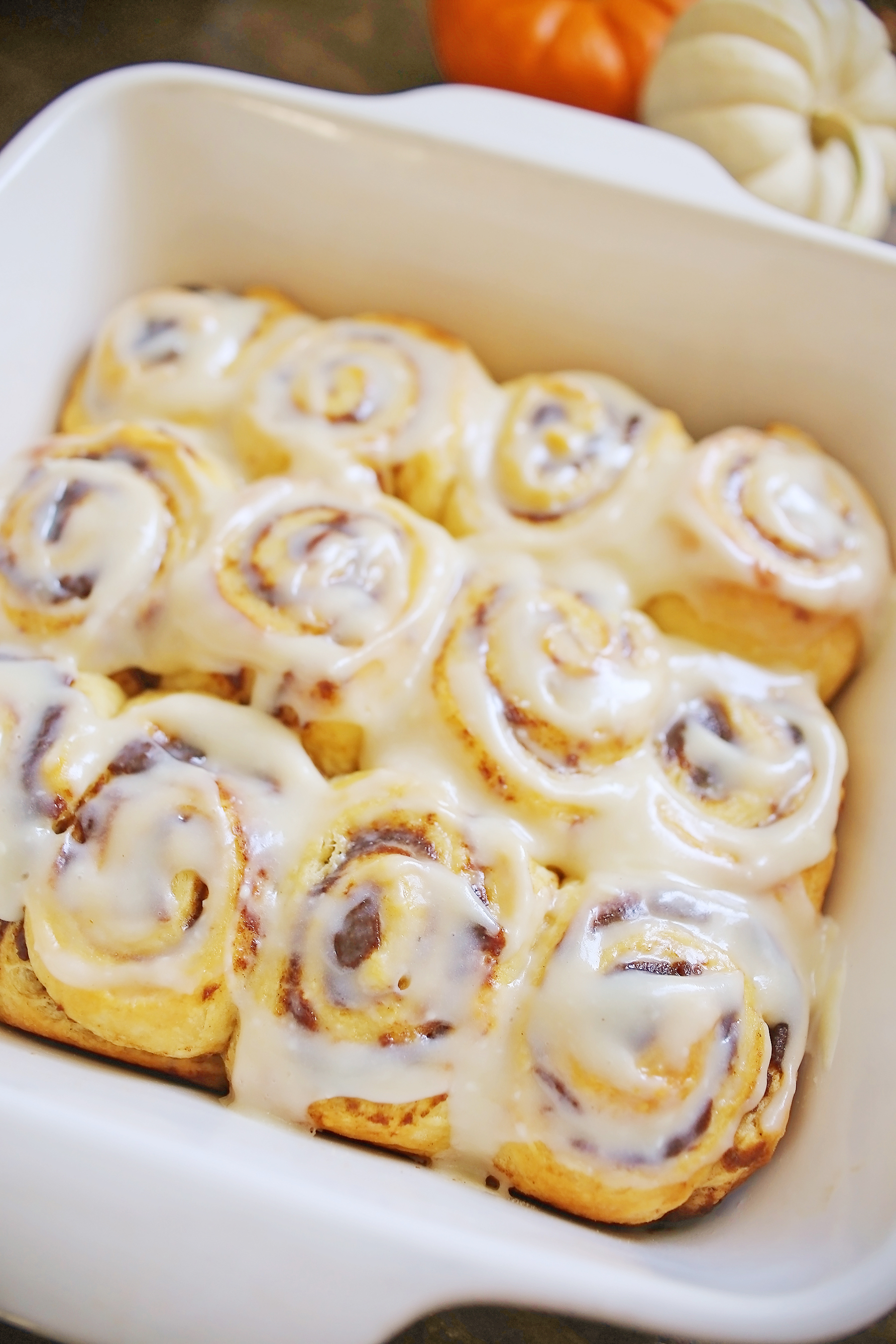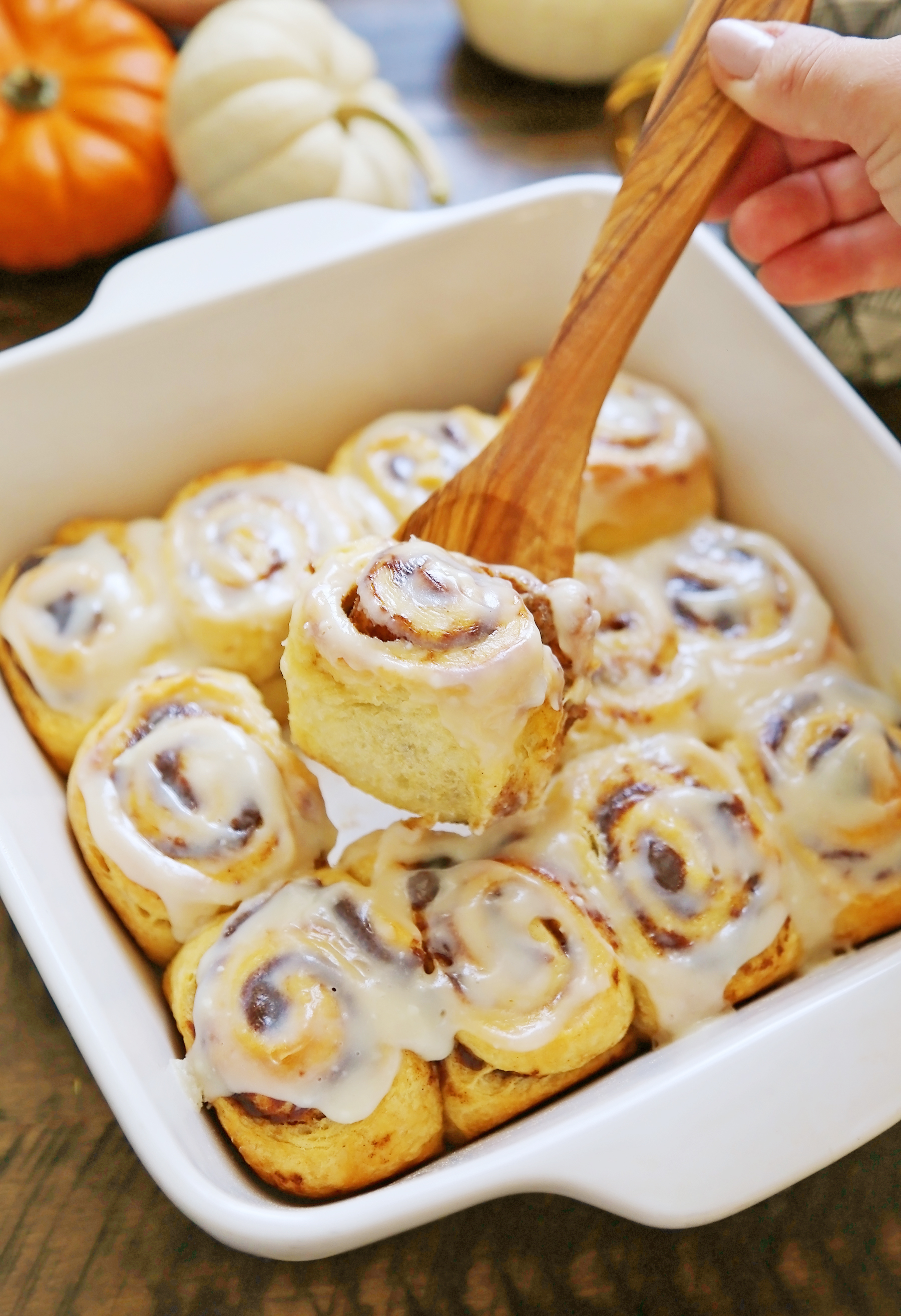 Unreal, am I right?
So easy, too. I'll show you the way.
Just unwrap a roll of crescent dough (I used Pillsbury Grands crescents – Big & Buttery, 12 oz. can). Separate into 4 triangles and seal the perforations with your fingers to create rectangles. Spread with a mixture of pumpkin puree, brown sugar and cinnamon. Roll 'em up tight and slice into rounds. You will end up with about 12 rolls. Place in a square baking pan. Bake until golden and bubbly, about 20-25 minutes.
Whip up a creamy, sweet glaze as shown (just another five ingredients). Spoon it over the hot spiced rolls and serve warm. Or, you can ditch the glaze altogether, because these babies are bangin' just as they are!
Bake a batch some cozy fall weekend morning, and share with your family and friends. These perfect pumpkin cinnamon rolls are irresistible and are finished in under 30 minutes. You have no excuse not to try them, so get going!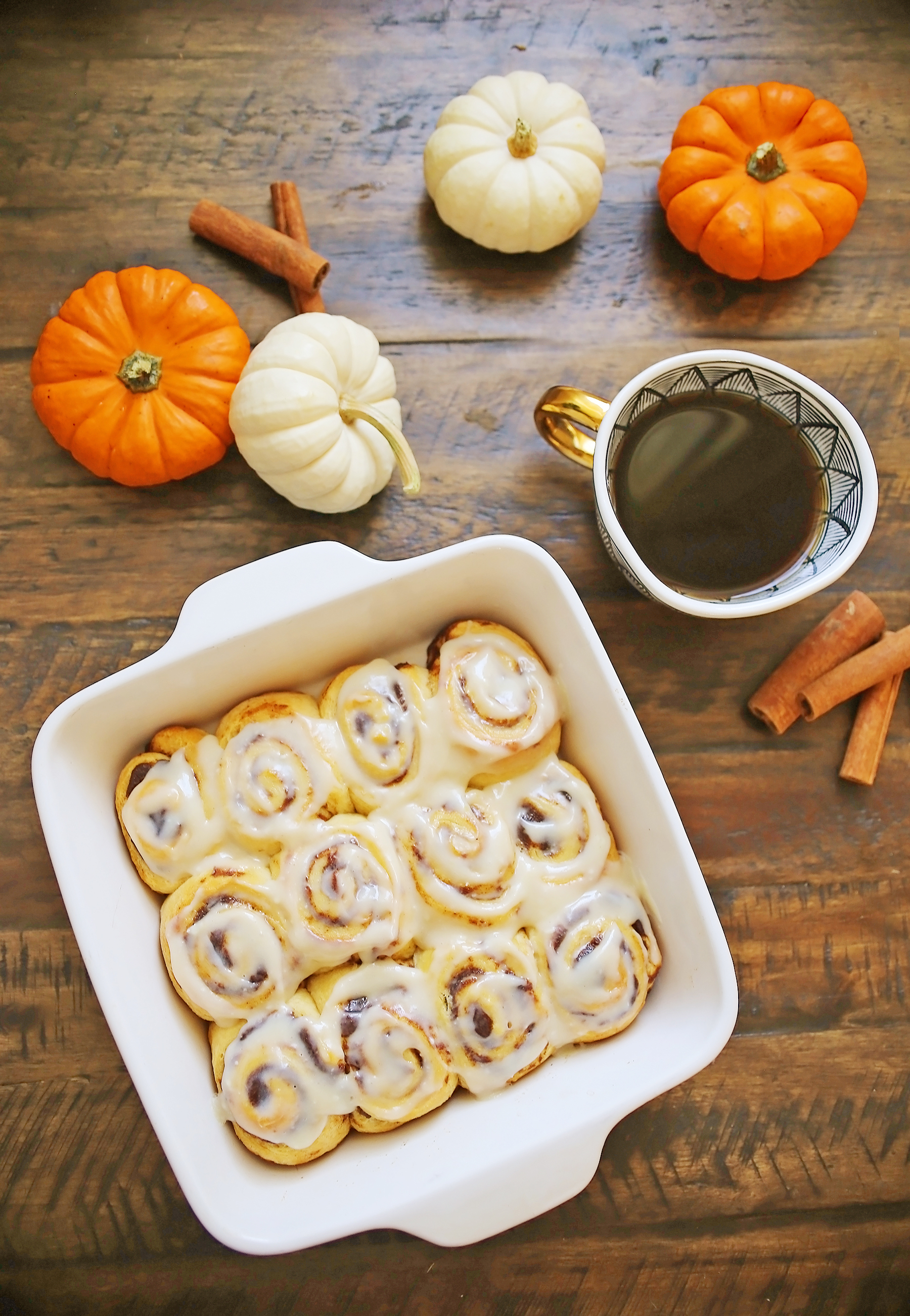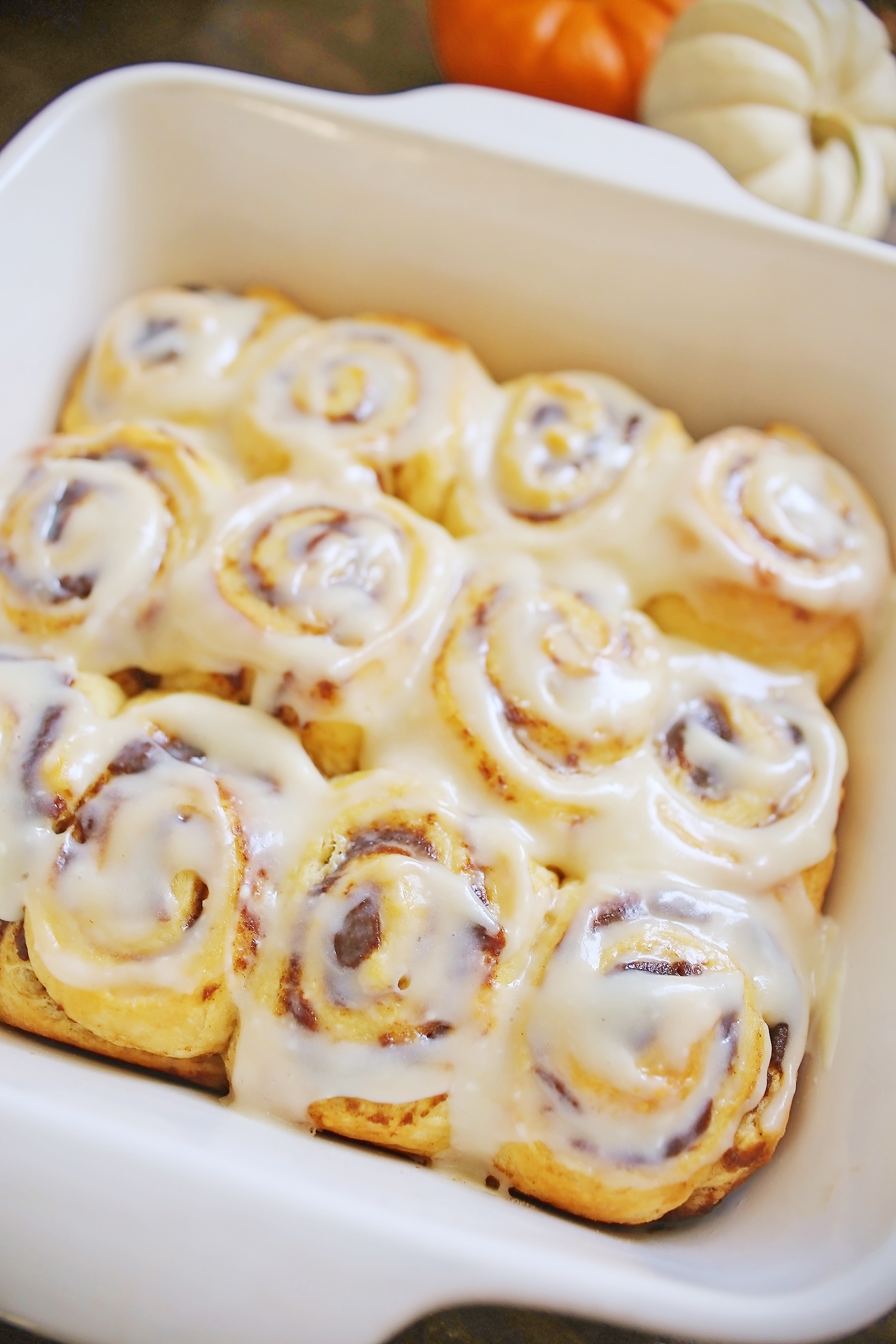 5-Ingredient Pumpkin Cinnamon Rolls
Ingredients
For the cinnamon rolls:
1 package (12 oz.) Pillsbury crescent rolls
1/2 cup pumpkin puree
1/3 cup packed brown sugar
1 teaspoon ground cinnamon
For the cream cheese glaze:
3 oz. cream cheese, softened
1 1/2 tablespoons butter
1 teaspoon vanilla extract
1/2 cup powdered sugar
2 teaspoons milk
Instructions
Preheat oven to 350 degrees F. Coat a 9x9-inch baking pan with nonstick cooking spray; set aside.
Unroll crescent dough and separate dough into two squares(4 crescent roll triangles will make one square). Firmly press perforations to seal.
In a small bowl, combine pumpkin puree, brown sugar and cinnamon. Spread evenly over each dough rectangle. Roll dough over the pumpkin mixture.
Using a serrated knife, cut each roll into round slices. Place slices, cut side down, in prepared pan.
Bake for 20-25 minutes, until rolls are lightly golden at the edges.
Meanwhile, combine cream cheese, butter, vanilla extract, powdered sugar and milk in a bowl. Beat until completely combined.
Once baked, remove cinnamon rolls from oven. Spread with glaze and serve warm.
Enjoy!
Notes
These work great, even without the pumpkin puree added. Feel free to omit pumpkin, if desired.
For a pumpkin cinnamon roll recipe from scratch, click here.
Adapted from The Novice Chef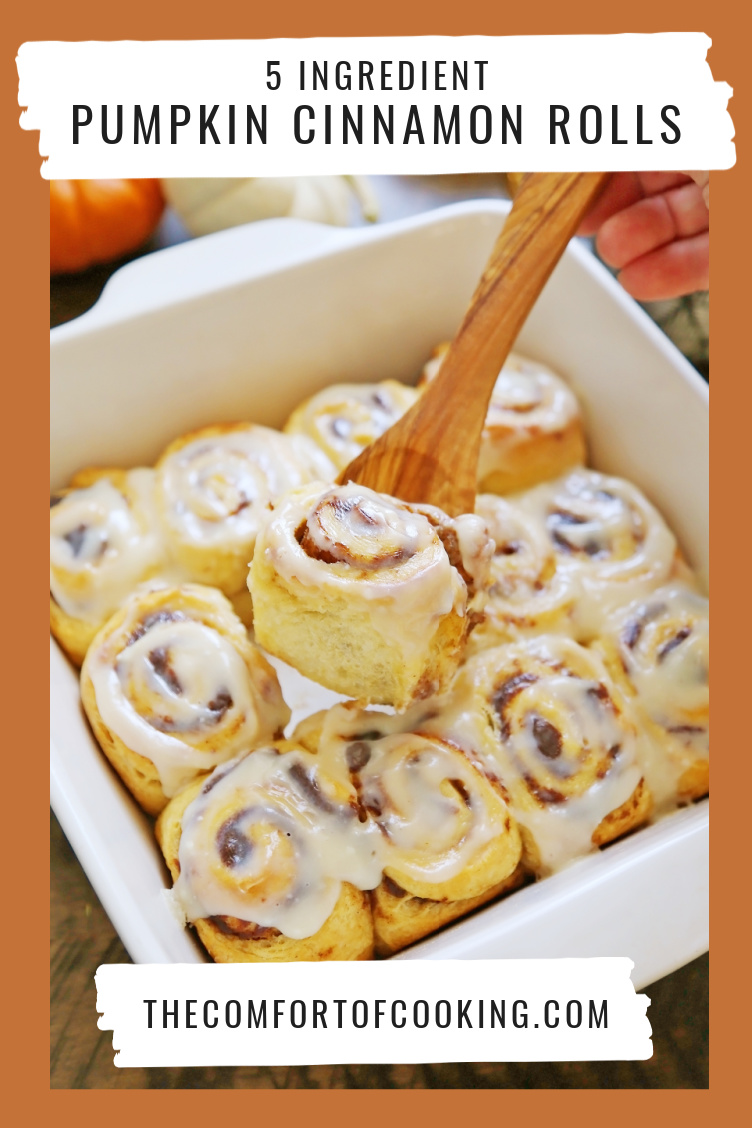 Want to receive our latest recipes straight to your email inbox? Click here to subscribe!