One of the things I love most about this season is giving. Giving heartfelt hugs to my family and friends, giving them a nice compliment, and best of all, giving them a gift home-baked from my kitchen. Besides hugs and compliments, it's the way I show my love the best!
These spiced, soft gingerbread loaves with cream cheese glaze will be going to a few special people, and with just a handful of basic ingredients and an hour, they can be part of your home, or a lucky recipient's, too!
I imagine, cuddled up with a cup of chai tea and a swipe of cinnamon-vanilla butter, a slice of this gingerbread loaf would be heaven on earth. For breakfast, dessert, a simple snack or anytime in between… no occasion needed to enjoy this tasty holiday treat!
The spiciness of the fresh ginger and warmth of cinnamon, cloves and nutmeg make these gingerbread loaves an irresistible Christmastime indulgence, and a pretty sweet gift, too! Topped with a luscious cream cheese glaze and a sprinkle of chopped walnuts, these loaves are both pretty and palate-pleasing.
Add this one to the holiday baking list, and get your family involved in this easy and delicious recipe! You'll have just as much fun making it as you will devouring it hot out of the oven, or giving it to a special someone!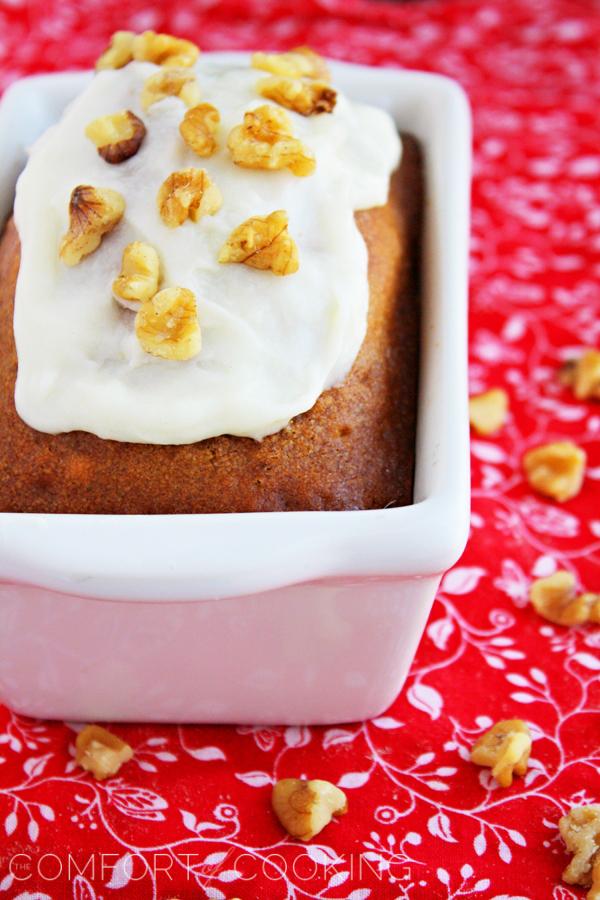 Mini Gingerbread Loaves
Yield:
3 mini loaves / 1 cup glaze
Ingredients
Mini Gingerbread Loaves
① 2 cups all-purpose flour
② 1 cup sugar
③ 1 teaspoon ground cinnamon
④ 1/2 teaspoon ground ginger
⑤ 1/2 teaspoon ground cloves
⑥ 1/2 teaspoon ground nutmeg
⑦ 1/2 teaspoon baking soda
⑧ 2 teaspoons baking powder
1 egg
1 cup milk
1/2 cup maple syrup
1 Tablespoon vegetable oil
1/3 cup chopped walnuts
Cream Cheese Glaze
2 ounces cream cheese, room temperature
1/2 cup powdered sugar
2 Tablespoons unsalted butter, room temperature
1/4 teaspoon vanilla extract
Instructions
Mini Gingerbread Loaves
In a large bowl, combine the first eight ingredients. In another bowl, combine the egg, milk, syrup and oil. Stir into the dry ingredients just until moistened (batter will be thin). Pour into three greased mini loaf pans.
Bake at 325° for 38-41 minutes or until a toothpick inserted near the center comes out clean. Cool for 10 minutes before removing from pans to wire racks. Brush with cream cheese glaze (recipe below) and sprinkle with chopped walnuts.
Cream Cheese Glaze
Combine cream cheese, powdered sugar, butter, and vanilla in medium bowl. Whisk until smooth. Spread glaze on warm gingerbread loaves, or use as desired.