Bake a batch of mini chocolaty Salted Caramel Brownie Bites for your next party! So easy, adorable and totally unique for a two-bite treat. Top them with what you like, but I'm partial to pecans and sea salt!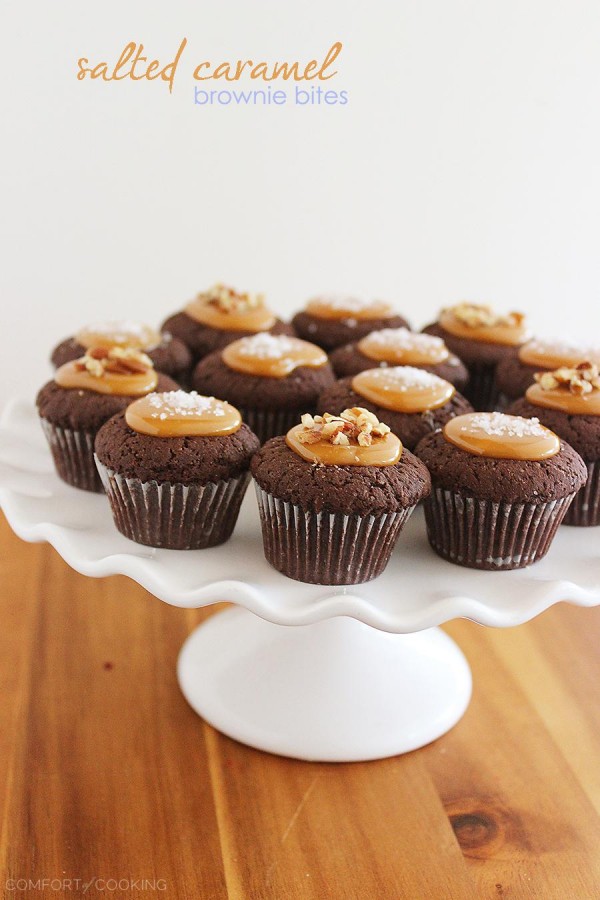 I'm the biggest fan there is of traditional autumnal sweets. I live for a forkful of warm, cinnamon-spiced apple pie, I crave a cranberry cobbler year round, and pecan pie is my weakness. But, that doesn't mean I don't like to change up our favorite fall and winter desserts once in a while! To offset the snowman-sized slabs of cake, pie and cobbler at holiday parties, I enjoy offering little bites of something unique and chocolaty. But still very party friendly and easy on the waistline!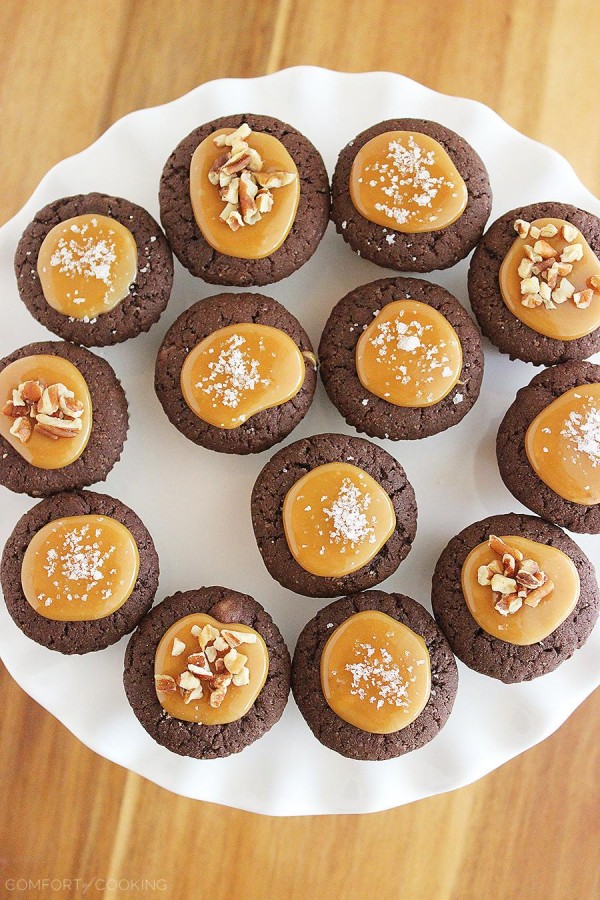 These bites are so simple and scrumptious, and they make a pretty presentation at any holiday party. You can also customize the toppings according to what you like!
Best of all, you only need a handful of ingredients for these sinfully good chocolate brownie bites. Yes, you heard me right! The brownies are irresistibly soft and fudgy, especially with a drizzle of hot caramel on top. Sprinkle on some sea salt or chopped pecans to really amp up the flavor (and pretty presentation) of these irresistible two-bite treats!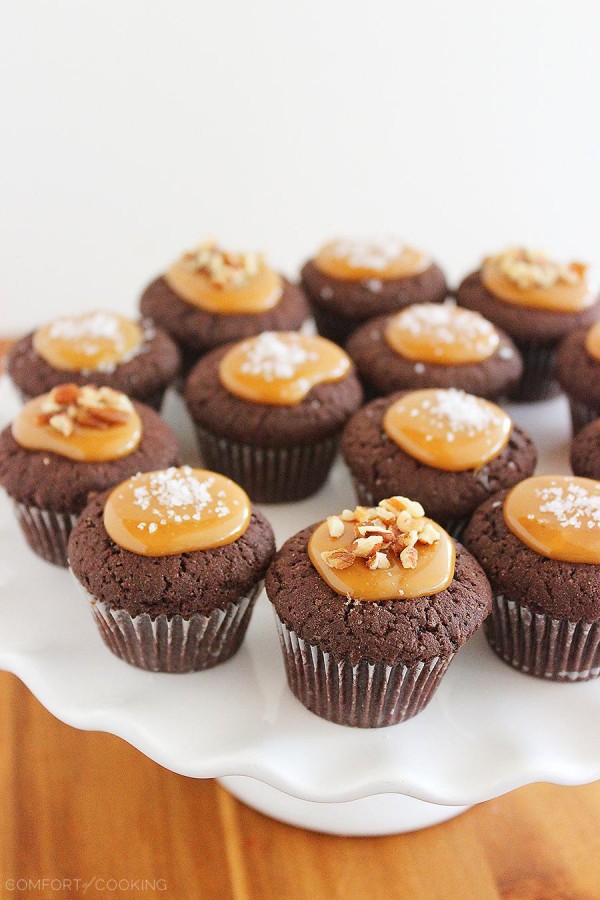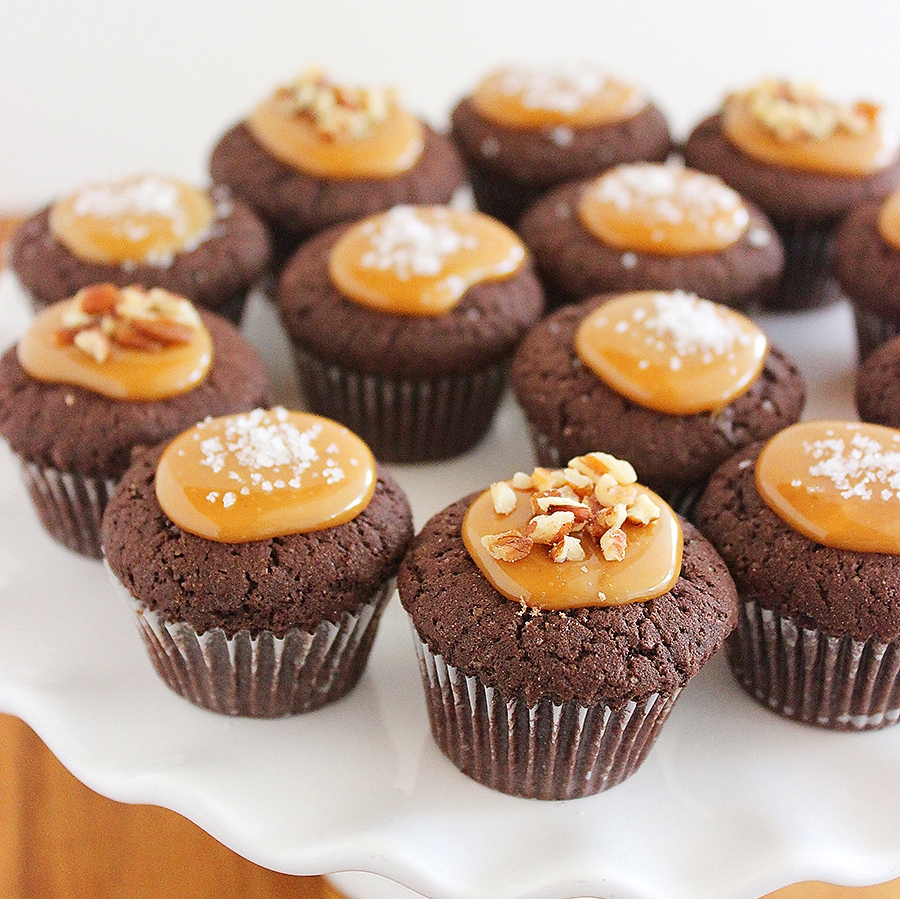 Salted Caramel Brownie Bites
Ingredients
For the brownie bites:
1 18 oz. box brownie mix
Eggs, oil and water, as called for on box
For the caramel:
About 15 soft caramels, I used Kraft Caramels
1-2 Tablespoons heavy cream
For topping:
Coarse sea salt, such as kosher salt or fleur de sel
Chopped nuts, such as pecans, walnuts or almonds
Instructions
For the brownie bites:
Preheat oven to 350 degrees F.
Line cups of a mini muffin pan with mini cupcake liners. Spray lightly with nonstick cooking spray.
Prepare brownie mix according to package instructions. With a small cookie scoop, fill mini muffin cups almost to the top with brownie batter.
Bake for about 15 minutes, or until a toothpick inserted in center comes out clean. Let cool completely before topping with caramel.
For the caramel:
Combine caramels and 1 Tbsp. heavy cream in a small saucepan over medium heat. Stir until completely melted and smooth. Add more cream if necessary. Remove from heat and let cool for 5 minutes. As the caramel cools, it will firm up.
Dollop caramel onto tops of cooled brownie bites. Immediately sprinkle with sea salt and/or chopped nuts.
Enjoy!