Crispy, chocolaty peppermint bark – made 10x better than store bought! This quick, addictive holiday favorite combines layers of graham crackers, melted white chocolate and crushed candy canes. So perfect for parties and gift giving.

Come the holidays, we are big fans of peppermint bark in this house! This year, I wanted to try a tasty spin on the classic Christmassy treat and use crispy chocolate graham crackers, melted white chocolate and smashed peppermint candy canes. Perfect for snacking and gifting!
This recipe is fun and easy to make, only needs one bowl, and less than 10 minutes to prepare. Kids love it, too! A scrumptious snack that is completely foolproof. The creamy, sweet chocolate and crackers with minty crushed candy canes is our favorite holiday flavor combination! Otherwise known as "Christmas crack", this peppermint bark is truly addictive and makes a wonderful holiday gift.
The steps are simple:
• Line a large baking sheet with parchment paper.
• Arrange your graham crackers on the sheet.
• Spread melted white chocolate all over the crackers.
• Top with crushed candy canes.
• Cool completely in your fridge or freezer, then break into pieces.
Now, they're ready to package up pretty or serve on a festive platter for movie night. Get the popcorn and snacks ready!
Keep reading for full ingredient list + recipe, below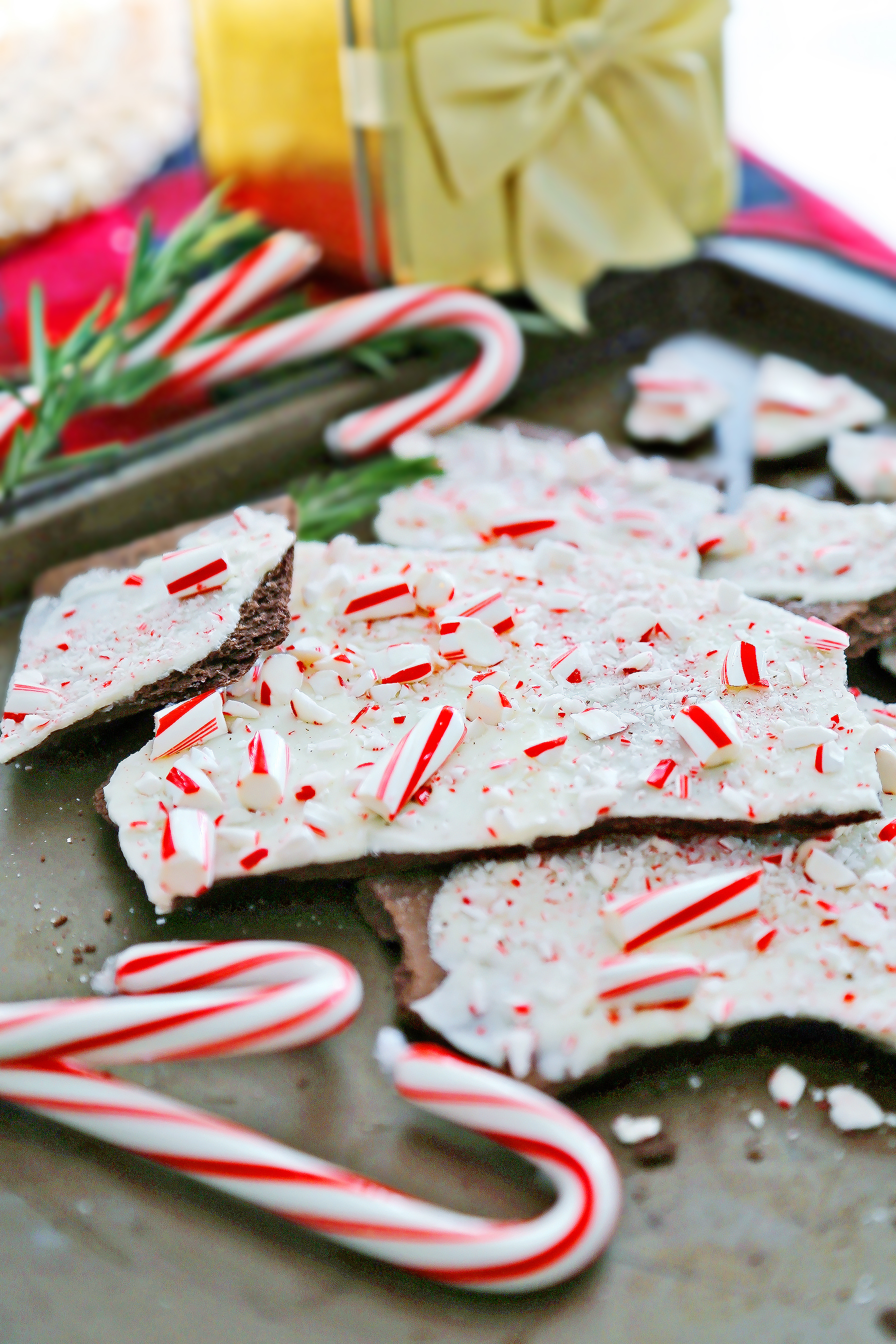 Gifting homemade treats is one of the warmest ways to show you care. A cute tin topped off with a little sweet something is always well received.
Not feeling peppermint? Try adding mini chocolate chips, chopped nuts, marshmallow bits, mini M&M's, cookie pieces or sprinkles. Get creative!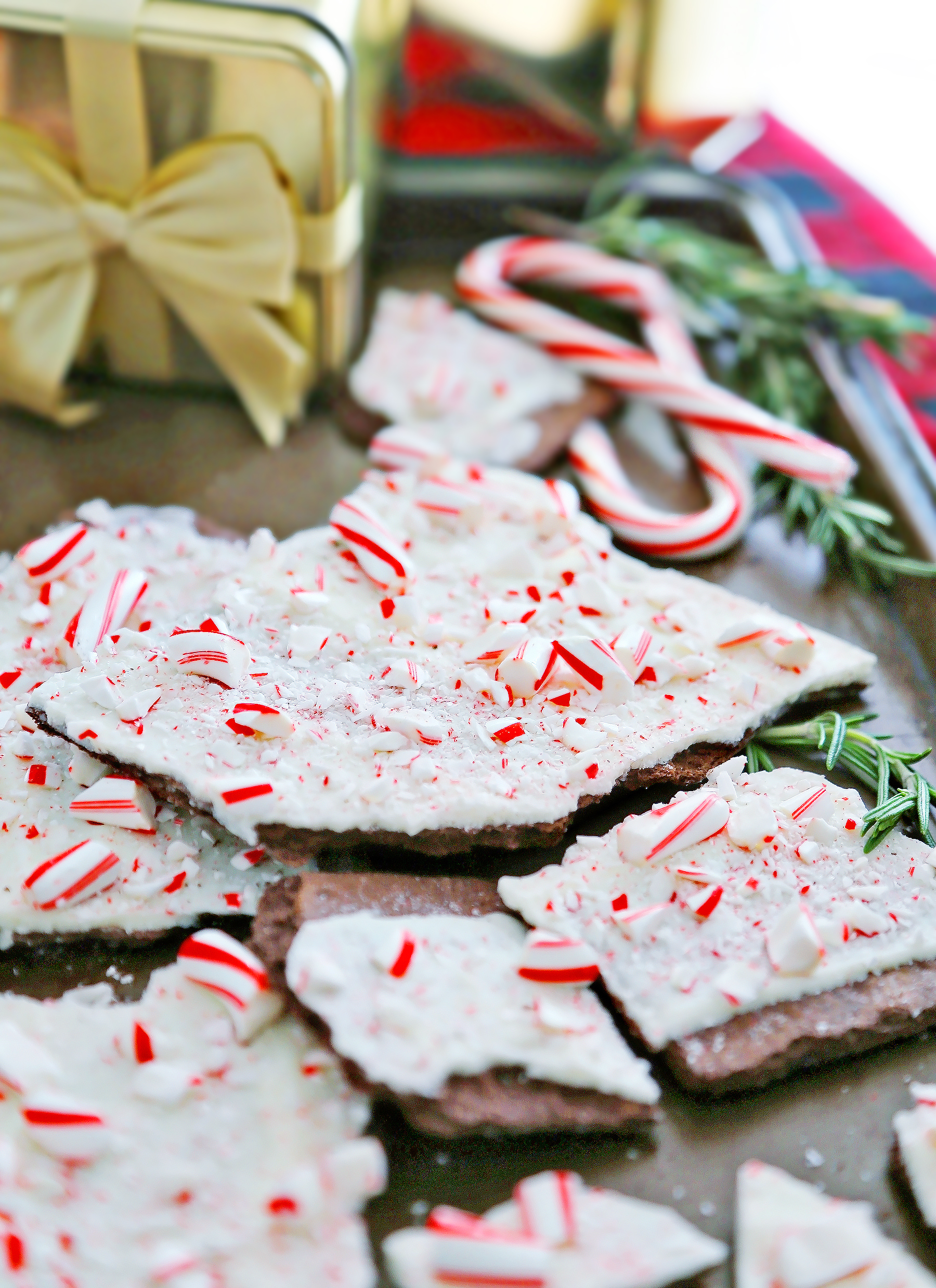 Looking for more candy recipes for snacking + gifting? Try these!
• Chocolate Covered Peppermint Oreos
• Peppermint Candy Cane Marshmallows
• 5-Ingredient Graham Cracker Toffee
• 4-Ingredient Salted Caramel Chocolate Cups
• Homemade Reese's Peanut Butter Cups


This peppermint graham cracker bark is colorful, quick, deliciously addictive and perfect for when that chocolaty craving hits. A big batch is SO simple to make with pantry ingredients and makes enough for everyone to enjoy. You and your family will love these crunchy bites!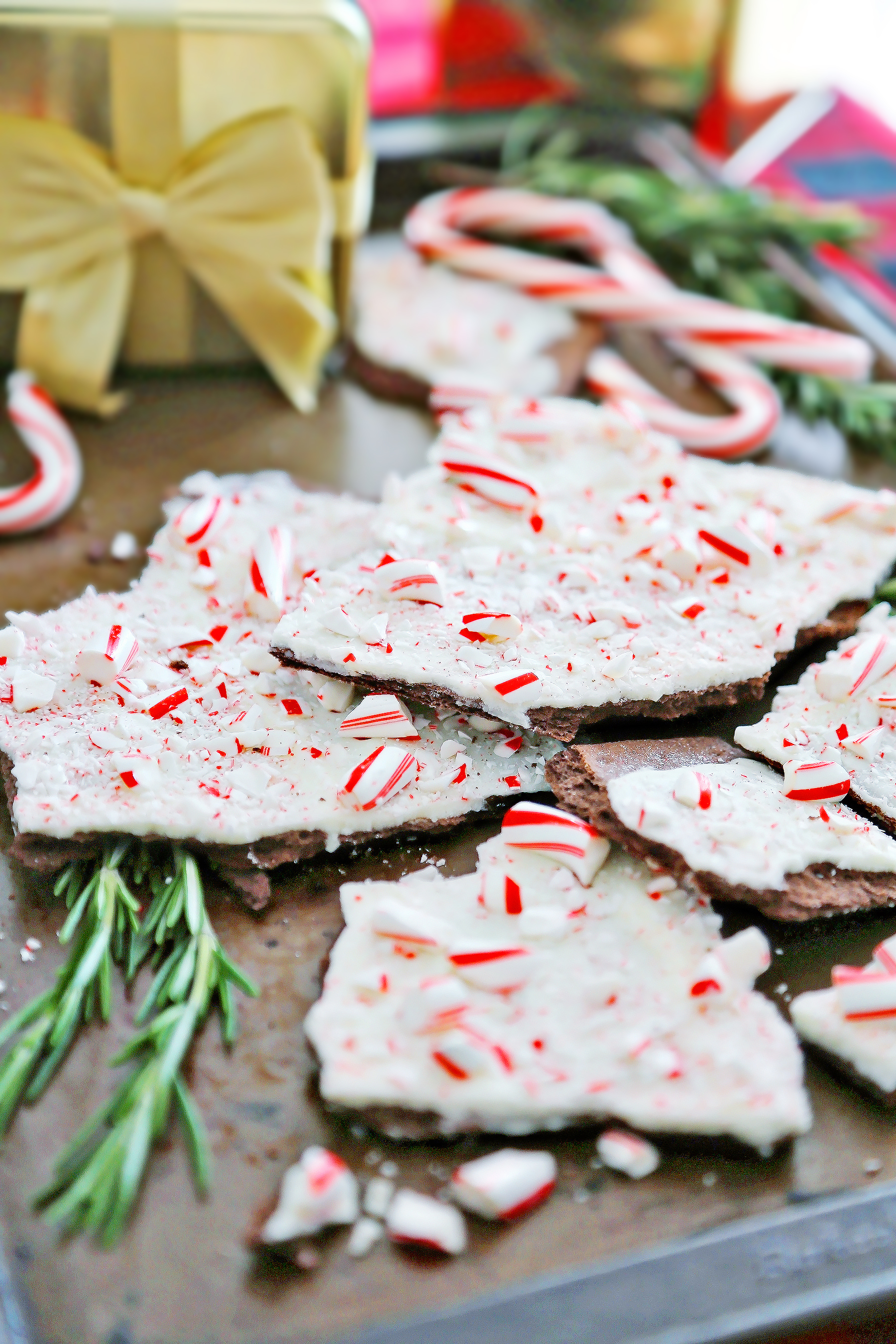 3-Ingredient Peppermint Graham Cracker Bark
Ingredients
1 (14 oz.) box chocolate graham crackers
1 (12 oz.) bag white chocolate chips
16 candy canes, crushed
Instructions
Line a large baking sheet with parchment paper or aluminum foil. Arrange graham crackers to create a large rectangle.
Melt white chocolate chips in a microwave-safe bowl. Microwave at 15 second increments, stirring frequently. You can add a little bit of a neutral oil (vegetable, canola, grapeseed) to thin out the melted chocolate, if you'd like.
Spoon melted chocolate all over chocolate graham crackers. Sprinkle crushed candy canes on top.
Place sheet in your refrigerator or freezer to cool completely. Break into pieces, then package or serve.
Enjoy!
Notes
These keep well in your freezer for months, or in your refrigerator for a few weeks.
Want to receive our latest recipes straight to your email inbox? Click here to subscribe!