When I cook, I like to take chances and maybe add a little more or less of this or that, and it usually works out well. But when it comes to baking and tampering with the perfect chemistry required to make one ingredient work with the next, I'm always learning that precision is not optional; you need to do it exactly the way the book tells you to, and you need to do it right.
Well, I had it right with the white chocolate mousse I planned to bring to our friends' place on July 4th, and then I messed it up. It just wasn't chocolatey enough, and so while the dreamy, heavenly cloud-like confection was sitting innocently in the fridge, I melted the rest of the $10-per-pound white chocolate that would later be mixed in to the mousse and lead to its sad, deflated demise.
Down the drain it went, but I didn't even have a second to pout. It was straight on to "plan B"!
For years, this light yet decadent cake was my "plan A", but still, while it's fun to try new things, it remains one of my favorite summer desserts. Underneath all that dreamy whipped cream mixed with vanilla pudding is an angel food cake split in two, with a layer of strawberries in between, then topped with – you guessed it – more whipped cream and garnished with sliced fresh fruit and a sprinkle of blueberries. So yummy.
It's a festive little thing, isn't it?
I'll probably try the mousse again one of these days, but I've definitely learned two things: You've gotta be precise when it comes to baking, and you should always have a "plan B" in case "plan A" doesn't work out quite right!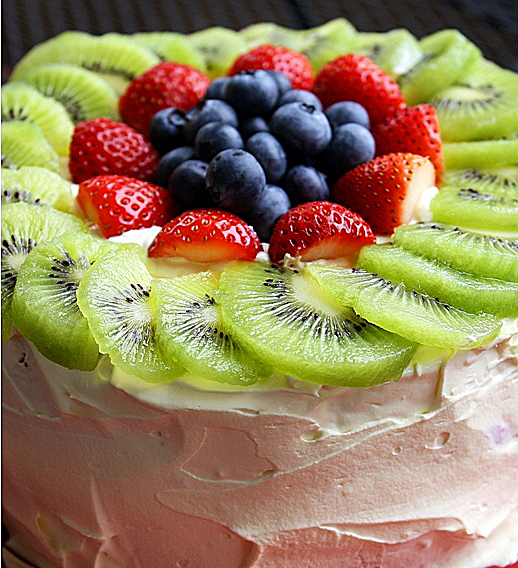 Fresh Fruit Angel Food Cake
Ingredients
For angel food cake:
12 eggs
1 1/4 cups confectioners' sugar
1 cup all-purpose flour
1 1/2 teaspoons cream of tartar
1 1/2 teaspoons vanilla extract
1/2 teaspoon almond extract
1/4 teaspoon salt
1 cup sugar
For homemade whipped cream (makes 2 cups):
1 cup heavy whipping cream
1/2 tsp vanilla extract
1/4 cup powdered sugar
For topping:
1 pkg. (3.4 oz.) JELL-O Vanilla Flavor Instant Pudding Mix
3/4 cups milk
1/3 cup granulated sugar
2 cups fresh strawberries, sliced (reserve 5-6 halved strawberries for garnish)
4 fresh kiwi, sliced
1 carton fresh blueberries
Instructions
For angel food cake:
Separate eggs; discard yolks or refrigerate for another use. Measure egg whites, adding or removing whites as needed to equal 1-1/2 cups. Place in a mixing bowl; let stand at room temperature for 30 minutes.
Meanwhile, sift confectioners' sugar and flour together three times; set aside. Add cream of tartar, extracts and salt to egg whites; beat on high speed. Gradually add sugar, beating until sugar is dissolved and stiff peaks form. Fold in flour mixture, 1/4 cup at a time. Gently spoon into an ungreased 10-in. tube pan. Cut through batter with a knife to remove air pockets. Bake at 350 degrees F for 40-45 minutes or until cake springs back when lightly touched. Immediately invert pan; cool completely before removing cake from pan.
Cut cake horizontally in half; stack layers on plate. Top the bottom layer with the pudding mixture, then the sliced strawberries, then another layer of the mixture. Smooth the remaining pudding mixture all over the cake, and garnish with fruit.
Refrigerate up to one day, or serve immediately.
For homemade whipped cream (makes 2 cups):
In a chilled, medium-sized bowl and using chilled beaters, beat cream until it begins to thicken. Add powdered sugar and vanilla, and beat until soft peaks form. Store in the refrigerator.
For topping:
Beat pudding mix and milk in a medium-sized bowl with whisk for about 2 minutes. Stir in the whipped cream.
Toss sliced strawberries with sugar. Set aside kiwi and blueberries.