Wintertime in Southern California is not exactly harsh, but at its coldest, I remember wishing, hoping, praying that in just a few short months we would have a blazing hot summer. Why? Of course, so that I could spend every waking hour at the beach, working on my tan.
At 90 degrees, yesterday was the most sweltering, sticky day yet, but I know it doesn't hold a candle to what you East Coasters have been suffering through! Still, what better opportunity to step away from my stove and make something to sip that's fruity and refreshing. Enter this ice-cold peach and mint iced tea!
With three juicy, ripe peaches and a few sprigs of fresh mint in hand, I set a pot of water to boil, dropped in a few tea bags, and took a book outside. I waited as long as I could, poured a big glass full, and downed the whole thing as I daydreamed of winter.
A hot summer is nice for beach days and iced teas, sure, but it's not so nice when your makeup is melting off and you feel like you need to shower ten times per day! That's why I'm resolving to spend today lying on the beach with a good book, and I'm taking a big jug of this iced tea with me!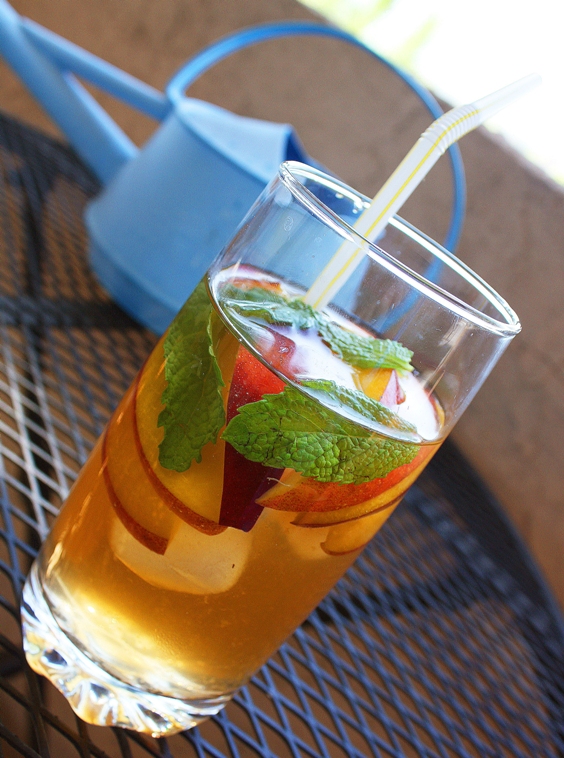 Peach and Mint Iced Tea
Ingredients
8 cups boiling water
6 tea bags
3 ripe peaches, sliced
2 small bunches fresh mint sprigs
2 tbsp. sugar, optional
Instructions
Set 8 cups of water to boil in a medium saucepan. Once boiling, remove from heat, add tea bags and let steep for 20 minutes. Remove and discard the bags. Add sliced peaches, mint and sugar, if desired.
Allow the tea to cool to room temperature. Pour tea into a large pitcher and refrigerate.
Before serving, add additional peaches and mint and pour over ice.
Enjoy!