These popsicles are made with fresh watermelon, tequila and orange liqueur for a fun twist on everyone's favorite summer cocktail!
Newsflash! Popsicles are not just for kids anymore. In fact, these ones are not for kids at all. Nope, not one bit. But, by swapping out the tequila and orange liqueur for water and orange juice, they very well could be. And then everyone's happy, see? Especially mom and dad. Whee!
To create these crazy delicious, icy cold summer treats with a twist, just whirr up some fresh watermelon, lime juice, sugar and a healthy splash of good tequila and liqueur. Strain it through a sieve, then pour the fruity mixture into the molds if you can keep yourself from pouring yourself a glassful first!
After about an hour of freezing, poke in some popsicle sticks, then let them continue hardening overnight, or at least 6 hours. Once they're nice and solid, shimmy out your pretty watermelon margarita pops and slurp 'til your heart's content!
These freshly made, fruity and flavorful pops are a perfectly easy summer treat for the big kids, and perfectly easy to make alcohol-free, too. Try them as a fun experiment to help you beat the heat, or make them for a crowd of margarita-craving friends and family. They make for a cute, tasty twist on everyone's favorite cocktail!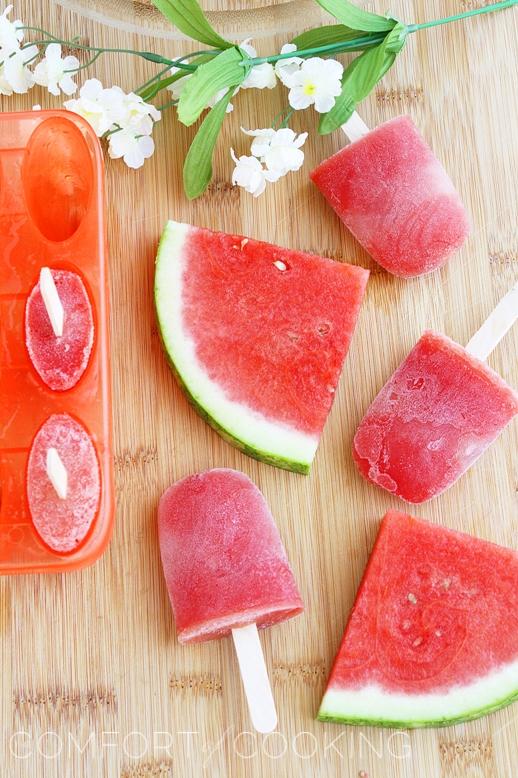 Watermelon Margarita Popsicles
Ingredients
5 cups chopped seedless watermelon
2 tablespoons fresh lime juice, from 2 limes
2-3 tablespoons granulated sugar
2 tablespoons orange liqueur
1/4 cup clear tequila
6 1/2 cup capacity popsicle molds
Instructions
Combine all ingredients in a blender; puree until smooth. Strain mixture through a fine-mesh sieve into a large measuring cup, pressing on and then discarding solids. Skim off any foam; pour mixture evenly into molds. Freeze 1 hour. Insert sticks and freeze until firm, about 24 hours.
To make non-alcoholic: Replace 2 Tbsp. orange liqueur with orange juice and 1/4 cup tequila with water.
Enjoy!