These decadent, fudgy pecan brownies are gluten free (with easy to find ingredients), simple and absolutely scrumptious!
After spying this fabulously frugal, no-frills brownie recipe in my June issue of Everyday Food (a great magazine, by the way), I knew I had to give it a shot. The ingredients were easy to find, the result looked absolutely delicious, and I had long decided that I wanted to dabble in gluten-free baking. Just, 'ya know, get my feet wet. Boy, am I glad I did! These brownies are to. die. for.
These rich, nutty brownies use cornstarch in place of flour, and so they don't contain any gluten. For those of you unaware, gluten is a protein found in grains such as wheat, rye and barley. People who observe a gluten-free diet may be allergic to this protein, or suffer from celiac disease. It's easy to see a gluten-free diet as restrictive, but you'd be surprised at all the fresh foods that are safe and still satisfying!
The beautiful batch of brownies that resulted from this recipe were scrumptious and so simple to make. Soft, fudgy and mouthwatering with a glass of milk, it wasn't hard to see that gluten free could also mean gosh darn delicious! Plus, they were so rich that only a small square was more than enough. Substitute pecans for walnuts or omit them altogether, if you'd like. To find some great recipes and learn more about living gluten-free, visit With Style & Grace, Gluten Free Goddess, and Elana's Pantry. Those ladies make flourless baking fancy and low-carb cooking absolutely irresistible!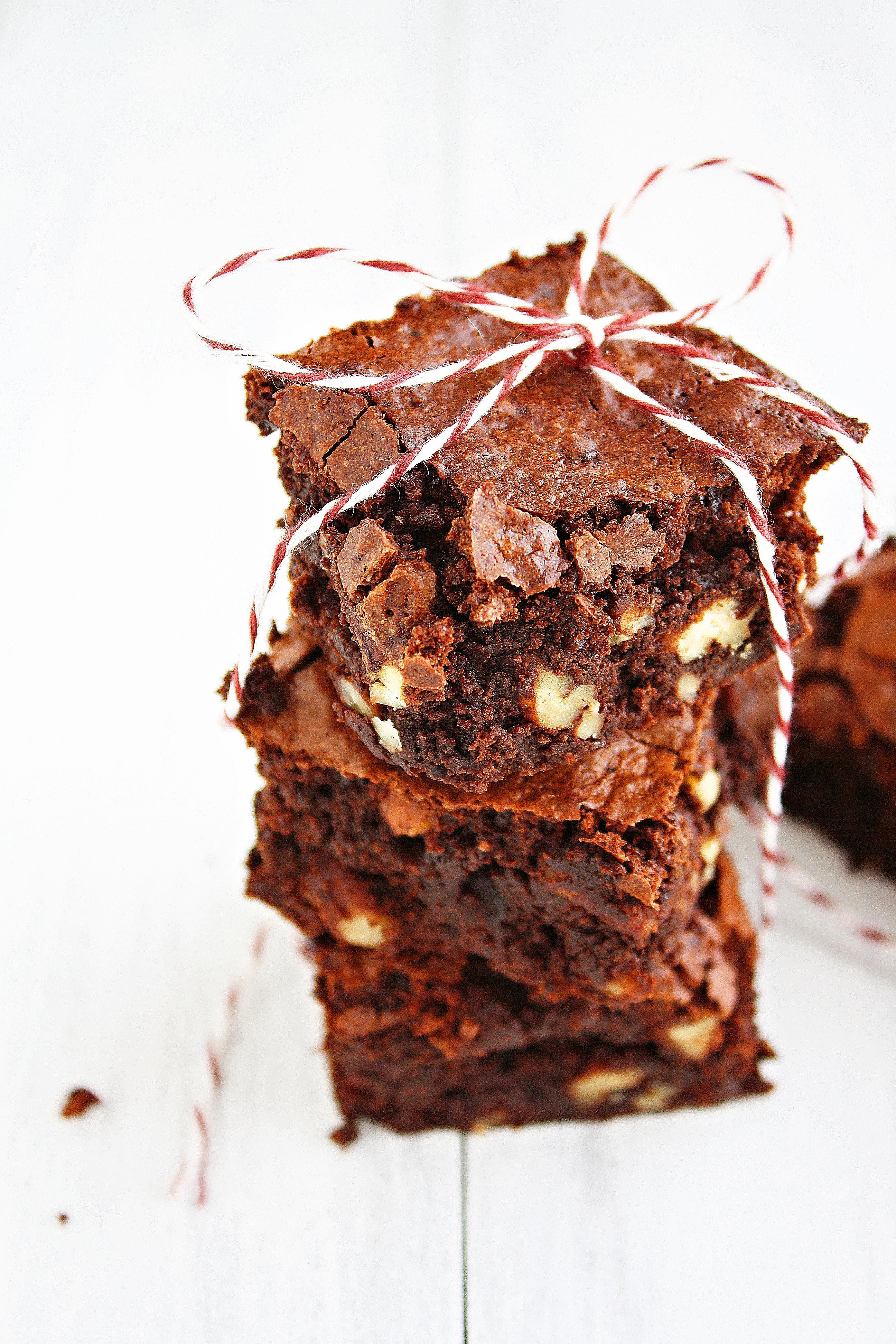 Gluten-Free Fudgy Pecan Brownies
Ingredients
6 tablespoons unsalted butter, cut into pieces, plus more for the pan
1/3 cup cornstarch, spooned and leveled
1/4 cup unsweetened cocoa powder
1/2 teaspoon ground cinnamon
1/2 teaspoon table salt
12 ounces semisweet chocolate chips
3/4 cup granulated sugar
1 teaspoon pure vanilla extract
3 large eggs
1 cup chopped pecans or walnuts
Instructions
Preheat oven to 350 degrees. Lightly butter an 8-inch square baking pan and line with parchment paper, leaving a bit of overhang on two sides (Buttering underneath the parchment will help it lay flat on the baking pan).
In a small bowl, whisk together cornstarch, cocoa, cinnamon and salt. Set aside.
In a large microwaveable bowl, microwave butter and chocolate in 20-second increments, stirring between, until melted and smooth, about 2 minutes. Stir in sugar and vanilla. Stir in eggs one at a time, until combined. Add cornstarch mixture and stir vigorously until mixture is smooth and begins to pull away from side of bowl, about 2 minutes. Stir in pecans.
Pour batter into pan and smooth top. Bake until a toothpick inserted in center comes out with a few moist crumbs attached, about 35 minutes. Let cool completely in pan on a wire rack or trivet. Using paper overhang, lift brownies out of pan and cut into 16 squares.
Store in an airtight container, up to 3 days.
Enjoy!