Juicy tomatoes, fresh basil and melty mozzarella top this delicious Italian bruschetta for a simple snack that's easy too!
I've always felt that the essence of Italian cooking is simplicity – simple ingredients, simple preparation and absolutely mouthwatering results! Bruschetta is no exception. And I think you can agree that there simply isn't anything better than a fluffy loaf of bread topped with flavorful, fragrant ingredients like tomato, basil and lotsa garlic.
I pick up these fresh loaves every week for a dollar, and since I always have basil in the garden and tomatoes and garlic at the ready, this delicious mozzarella bruschetta was a no brainer. It's easy as pie and elegant enough for dinner guests but casual enough to nosh on alone.
Besides, let's face it – who would want to share this anyway?
Just slice up a luscious loaf of your favorite Italian bread, slather it with olive oil mixed with spices and garlic, toss tomatoes and mozzarella on top, and bake until melty and golden brown. Sprinkle on fresh basil and dig in! Simply prepared and simply delish.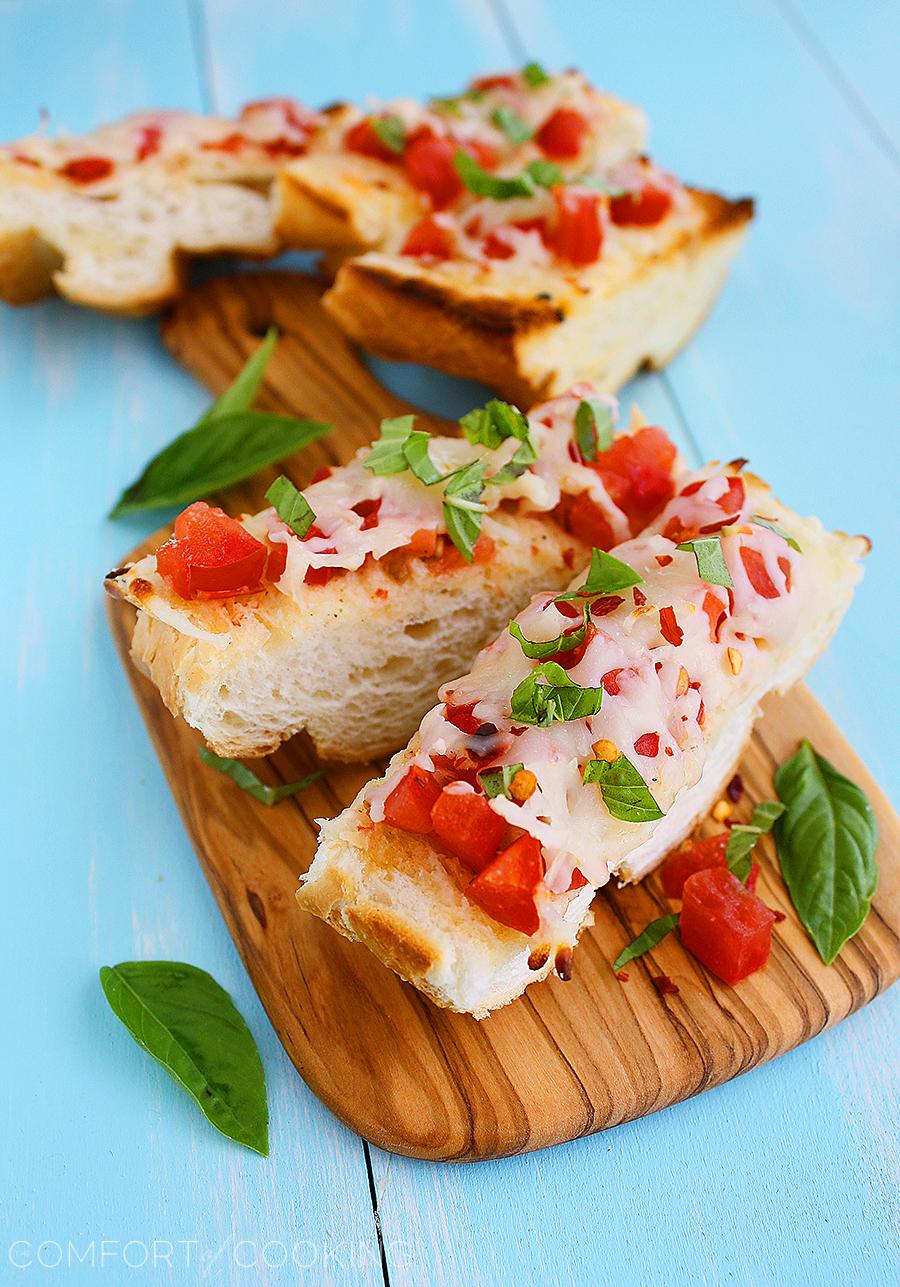 Mozzarella Tomato Basil Bruschetta
Ingredients
1 loaf Italian bread
1/3 cup olive oil
2 cloves garlic, minced
1/2 tsp. kosher salt
1/4 tsp. freshly ground black pepper
1/4 tsp. crushed red pepper flakes
1 Roma tomato, diced
1-1/2 cups 6 oz. mozzarella cheese
6-7 leaves fresh basil, chopped
Instructions
Cut bread in half lengthwise. Place cut-side up on foil-lined baking sheet. Combine oil, garlic, salt, pepper, crushed red pepper; brush over bread. Top evenly with chopped tomato and mozzarella.
Bake in preheated 500°F oven 3 minutes, or until cheese is melted and edges of bread are browned.
Cut into 1-inch pieces. Sprinkle with fresh basil and serve.
Enjoy!