One of the most delicious and easy pasta sauces I've ever made! You only need a handful of ingredients for this savory, buttery tomato sauce. Tossed with hot cooked linguine and topped with fresh Parmesan, this is one tempting, fork-twirling bowl of goodness!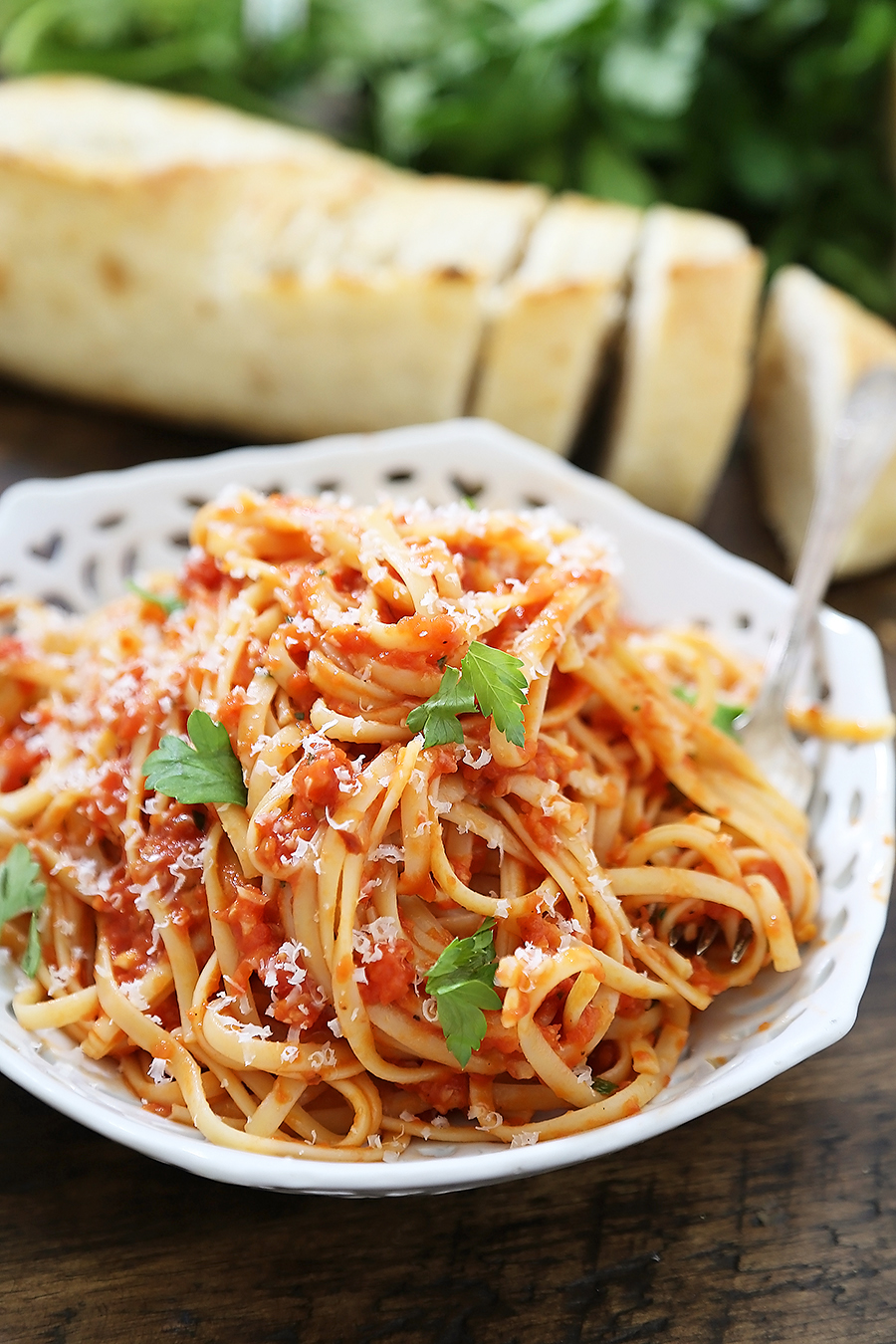 I have been legitimately obsessed with this pasta sauce ever since I discovered it.
It is truly the essence of what I believe good Italian food to be! Simple, fresh and no-fuss flavors that blend beautifully and marry deliciously together. Your favorite pasta + this buttery tomato sauce = dinnertime bliss. ♥
I find warm, al dente linguine with a dab of butter and sprinkle of Parmesan irresistible enough. Though it's one of my go-to's for guests and a recipe I could cook with my hands tied, I always prefer my pasta swirled in a sauce lighter than the typical heavier, thicker tomato sauce. This type of sauce is where my heart truly lies. It makes a perfect side to chicken parmesan, or serves as an easy, elegant main dish that doesn't leave you groaning with cries of, "I can't eat another bite!"
You have to save room for a nice scoop of gelato, after all!
Keep reading to get the recipe and jot down your grocery list for the ingredients. You only need five ingredients (really), plus a sprinkle of salt. One pan, one pot, and you're ready to get cookin'!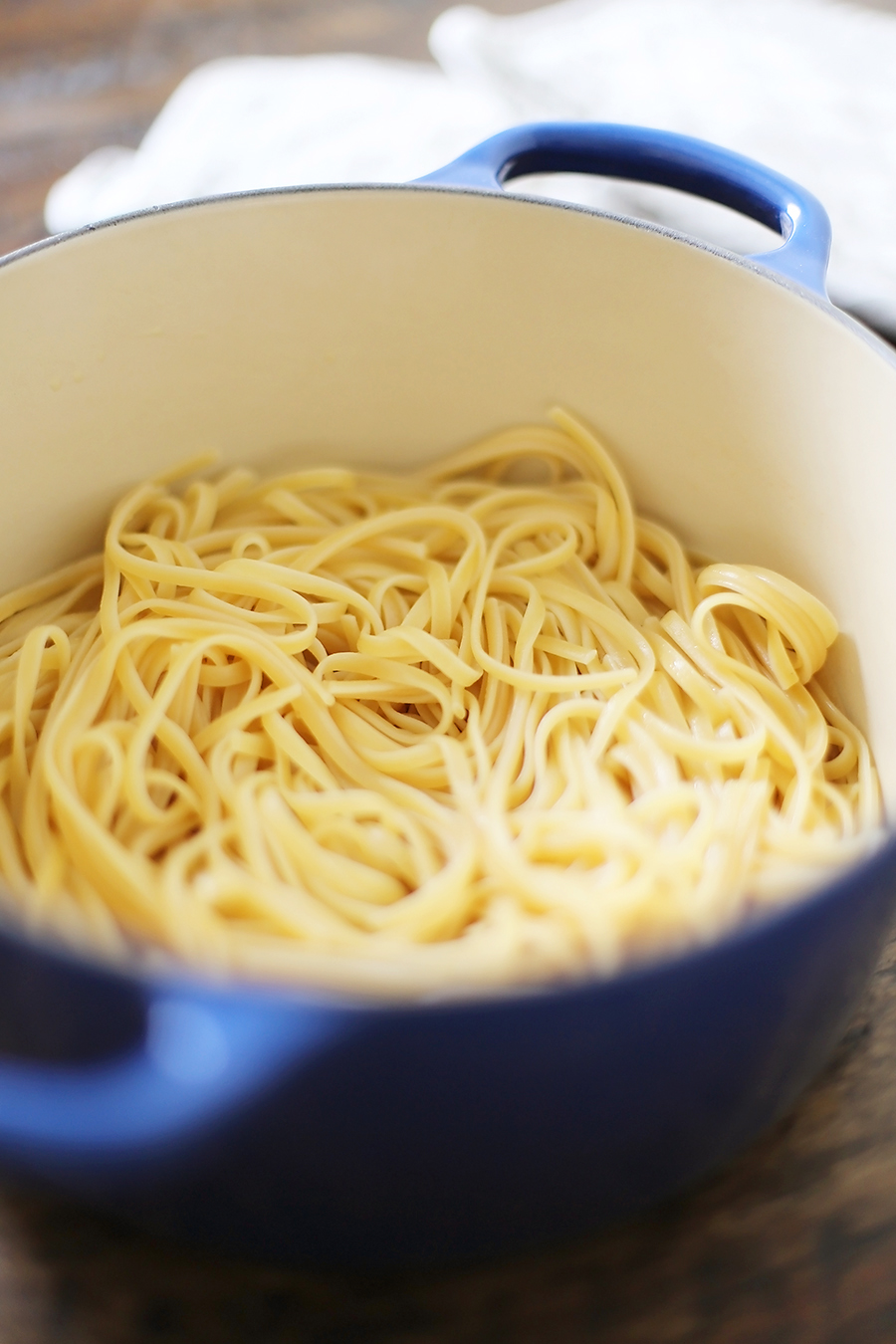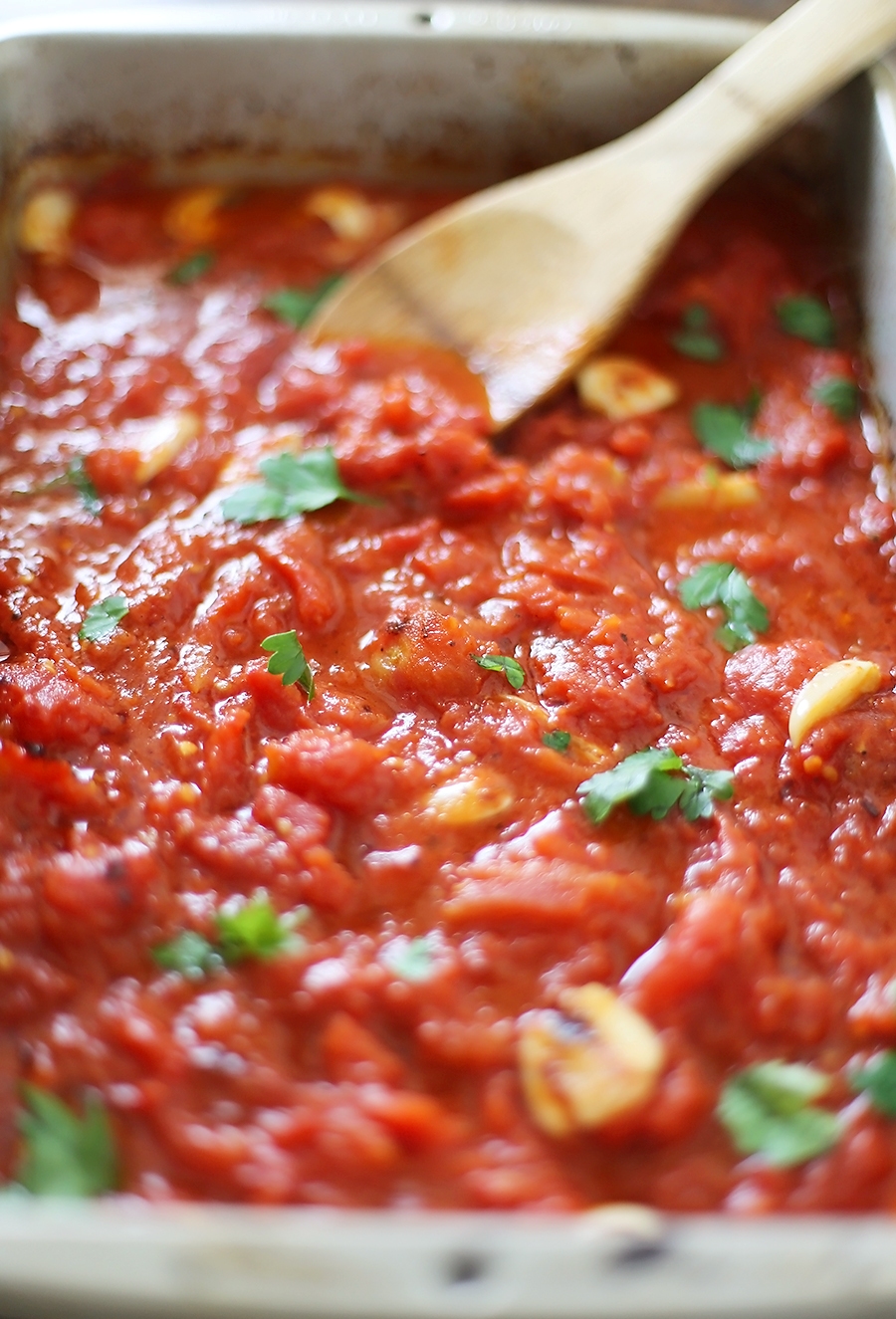 I grew up on Italian-American home cooking, so pasta is my comfort. Spaghetti, farfalle, orzo, gnocchi… I love them all! My husband is from Louisiana, so his hug-in-a-bowl comfort food comes more in the form of rice dishes. But, meal by meal, I'm slowly convincing him that a heaping pot of pasta is soul food, too. A warm bowl of saucy noodles with tiny clouds of grated Parmesan can make you feel good about any kind of day you've had. It has magic, I tell him. And he nods in agreement, between mouthfuls.
It can be a slightly messy process making this sauce, but grab your apron (and a little kid), and get squeezing your tomatoes onto a large sheet pan. There is no way that little seeds and juices won't go flying in different directions when you break down the tomatoes for your sauce! But, Italian food can be a messy but delicious labor of love. Kids are sure to enjoy getting their hands in this part.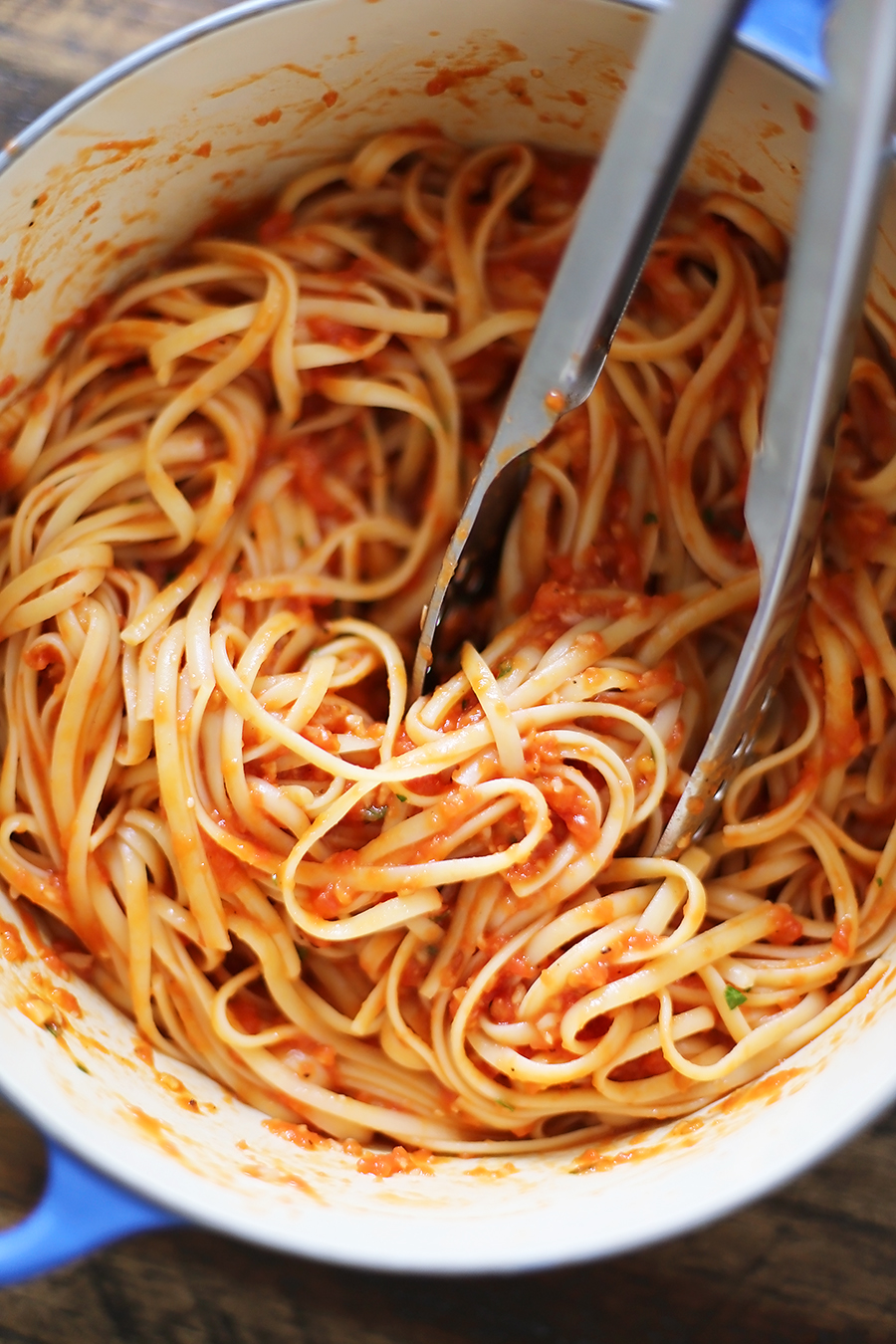 Don't you want to dive fork-first into that heaping bowl of carby goodness?
With a light green salad, or a hearty garlic bread for mopping up the leftover sauce, you have the easiest and most effortlessly Italian dinner for your family! All it requires is a roasting pan for your sauce and a pot for bubbling your pasta to al dente perfection. Use any pasta you like, but I think this sauce is well suited for a slippery linguine, bucatini or spaghetti! If cooking for your date, go with a stubbier pasta – penne, farfalle, ravioli or tortellini! If cooking for your family, grab the camera and some napkins!
As your tomatoes roast and melt deep into the butter, garlic, red pepper flakes mixture, give it a stir and continue roasting for 30-45 more minutes. After then, depending on whether I want a chunky or smoother sauce (as shown), I'll either mash the mixture with a fork or potato masher. Or, I'll blend with my immersion blender or in a food processor (you may need to do this in batches). When you've reached your desired consistency, toss it with your pasta and sprinkle on some Parmesan! I like adding some fresh parsley or basil leaves, too. It's just so incredibly good no matter how you serve it.
Then, all that's left to do is mangia!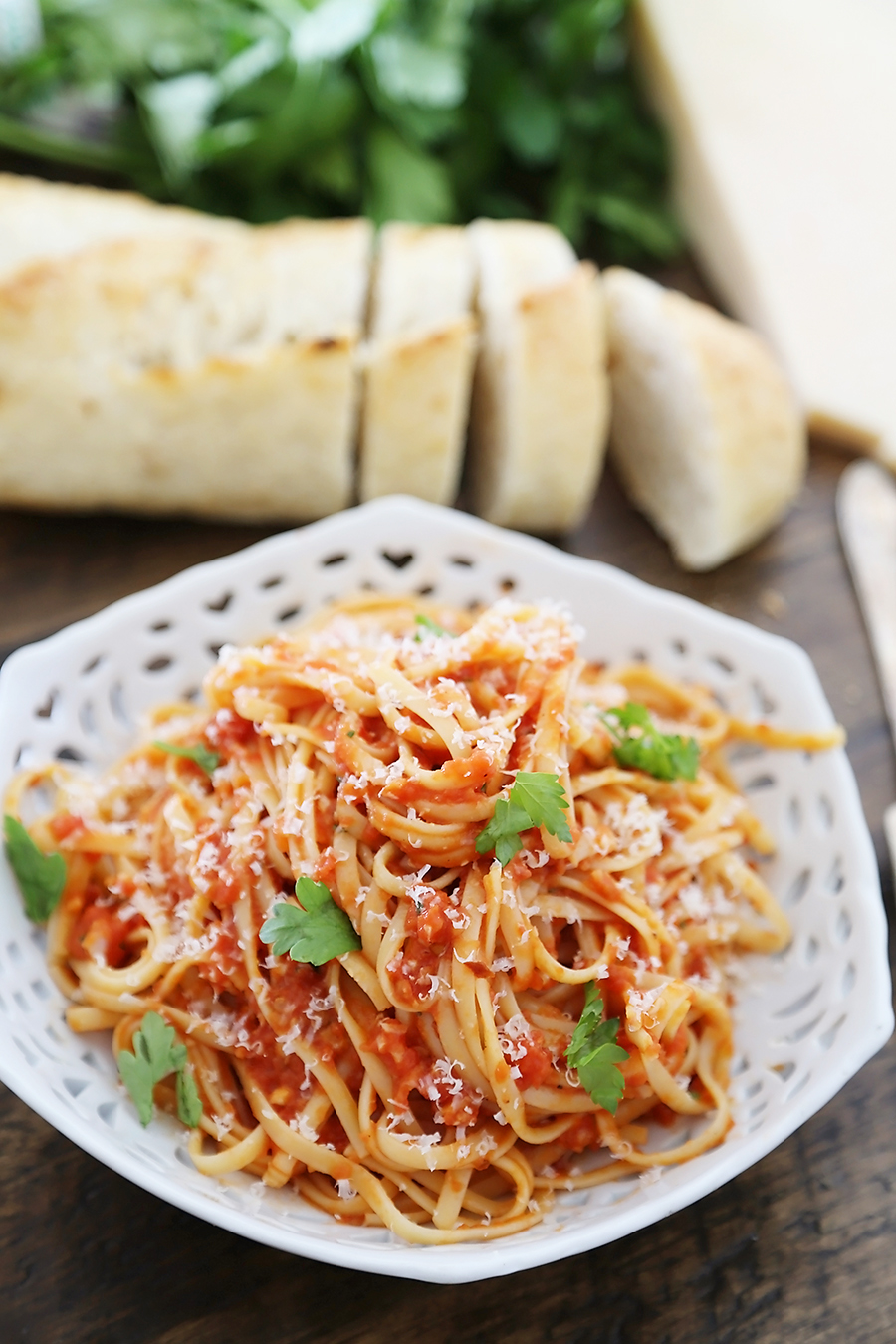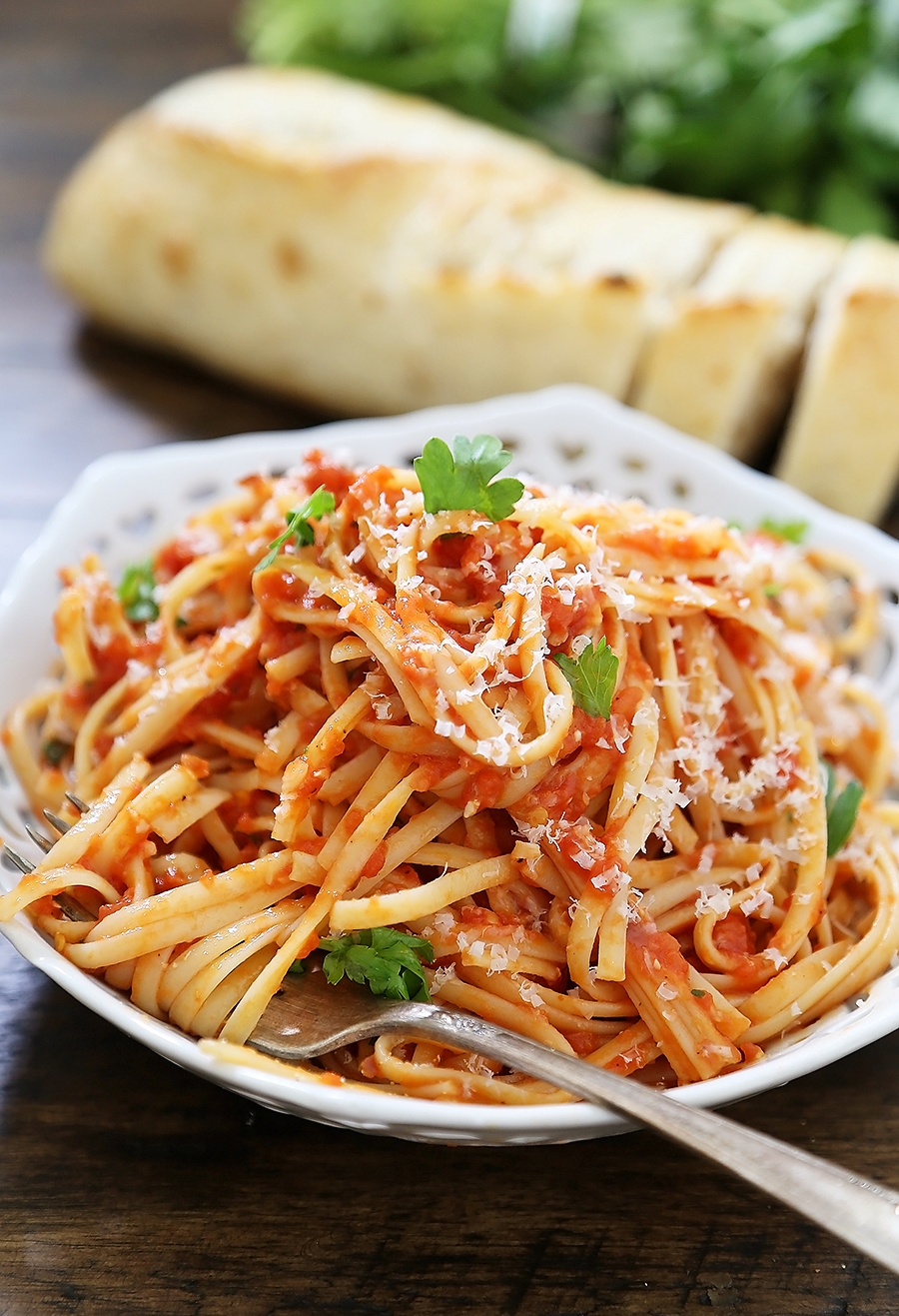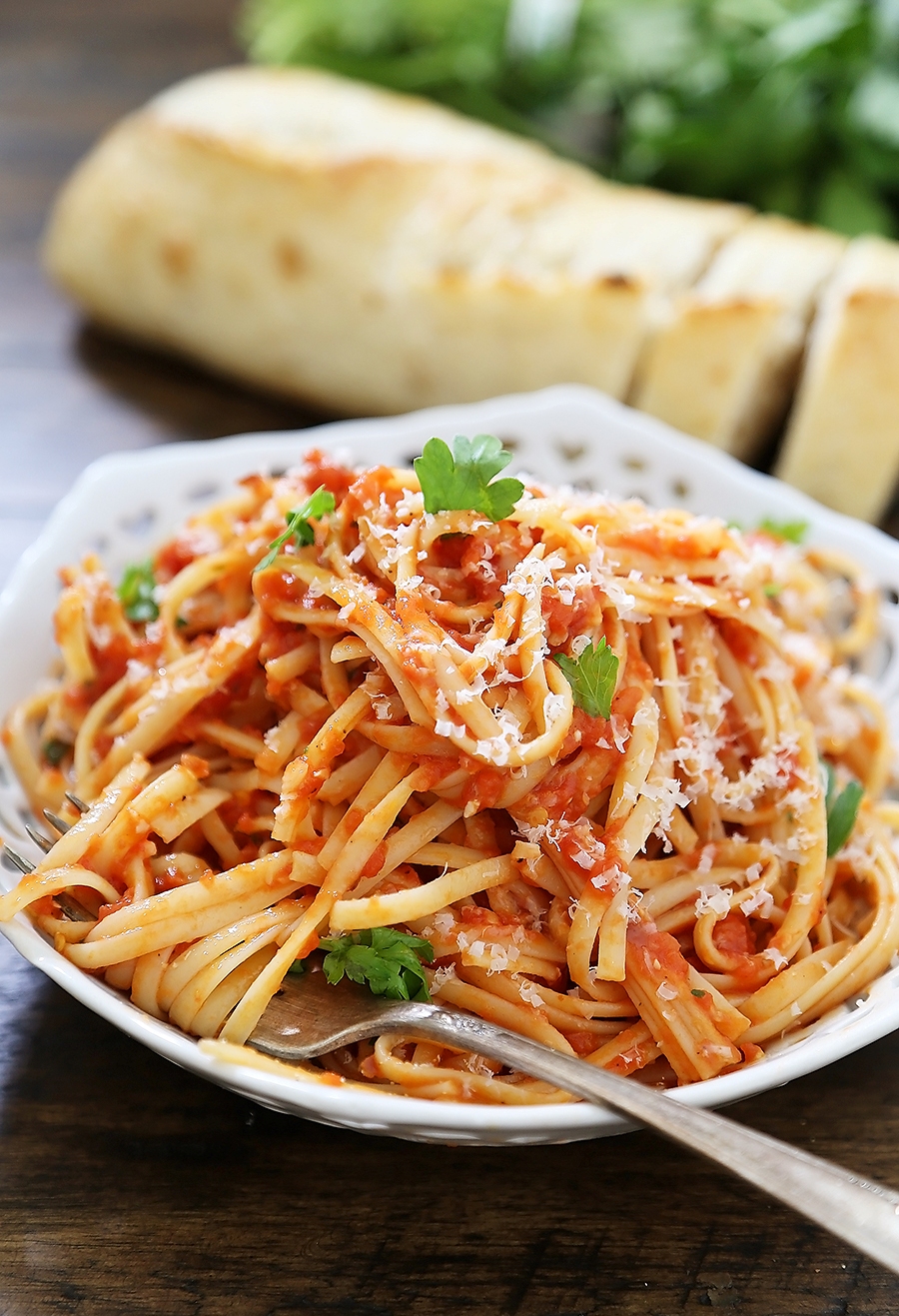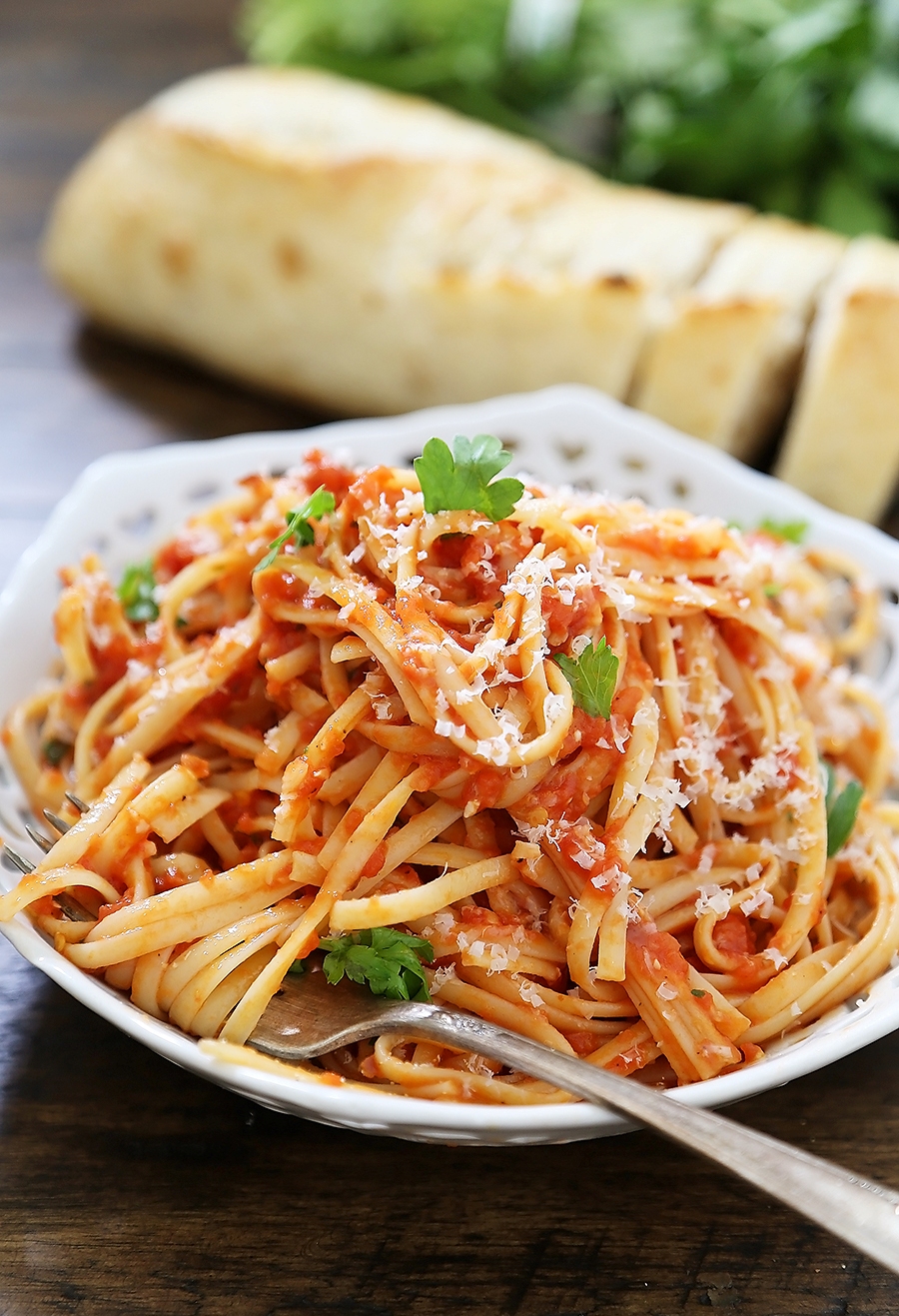 5-Ingredient Butter Roasted Tomato Sauce with Linguine
Ingredients
1 (28 oz.) can whole peeled tomatoes (with juice)
8 garlic cloves, peeled, crushed
1/3 cup unsalted butter, cut into small pieces
1/2 teaspoon crushed red pepper flakes, or to taste
Kosher salt
12 oz. (about one handful) dry linguine
For serving (optional):
Finely grated fresh Parmesan
Fresh basil or parsley leaves
Instructions
Preheat oven to 425 degrees F.
In a 13 x 9-inch baking dish, combine tomatoes (crushing them with your hands), garlic, butter, and red pepper flakes. Season with salt. Roast, stirring mixture after 15 minutes, until vegetables are softened and fragrant, about 35–40 minutes.
Meanwhile, cook linguine in a large pot of boiling salted water, stirring occasionally, about 6-7 minutes. Drain and set aside.
Remove tomato mixture from oven. For a chunkier tomato sauce, use a potato masher or fork to break up garlic and tomatoes. For a smoother sauce, blend in your food processor or with an immersion blender (as shown in pictures).
Return pasta to pot. Stir in tomato sauce.
Scoop into individual serving bowls. Top with grated Parmesan and fresh basil or parsley, if desired.
Enjoy!
Notes
The tomato sauce can be cooked and refrigerated up to 4 days ahead of serving. Before storing, let cool completely, then cover and chill. Reheat in a pot or microwave before mixing with pasta.
Adapted from Bon Appetit