Meet my one-bowl dream cookie! Perfectly soft and chewy peanut butter cookies, with gooey chocolate peanut butter cups hidden in every bite. Bake these decadent, irresistible and easy treats for the weekend!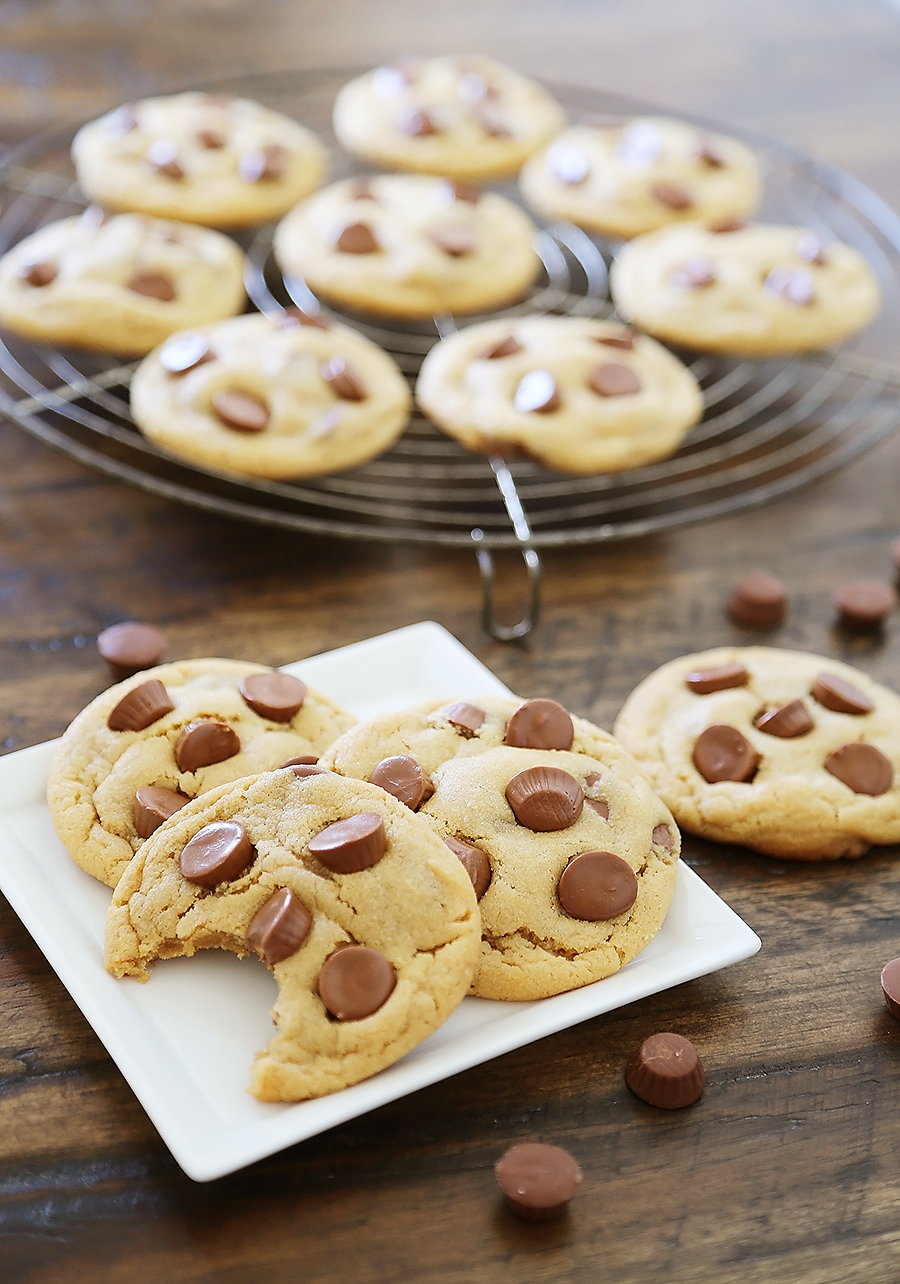 It's been a while.
I'm so happy to be sitting here, typing this for you now, but I have to confess that it has been many months since I have felt fully devoted to The Comfort of Cooking. There is no good excuse, except to say, life has been pulling me in many different directions lately – personally and professionally – all with good intent and upward momentum. Somewhere in between planning my wedding and our upcoming move to Massachusetts, increasing my freelance projects and dedicating more time to my almost-three-year-old daughter, my website got lost in the shuffle. I still love it though, this creative space, my first baby born of a passion for cooking, creating, and making mountains of dishes. I have missed it so much, and felt like a piece of me has been missing for a while now. But, in the teetering scale of balancing home life and work life, one thing I was not willing to compromise was my family, for the sake of pounding out more posts late into the night and sharing content that didn't come from the heart. That just isn't me. I guess you could say, I lost my balance.
Life has been a bit busy, and though it is quieting down a bit, I have truly needed more quiet moments to savor my husband and daughter. My family is my everything.
I hope you understand. And I hope you'll bear with me as I slowly ease back in with more frequent recipes and bit-and-bobs about life. I do cherish this little Internet home I've built, and the people who have made it a great place to share, learn and rediscover simple, good home cooking. I had to take a break for a while, to reprioritize and become inspired again, refresh my creative brain a bit. But, I have been cooking more lately, mostly for my family and not my camera lens, and it feels good. They come first, but you can bet whatever gets a thumbs-up-between-mouthfuls at the dinner table (or from the cookie jar), I will be sharing with you.
Let's hug it out?
Okay then, here's a really yummy cookie. Or a dozen.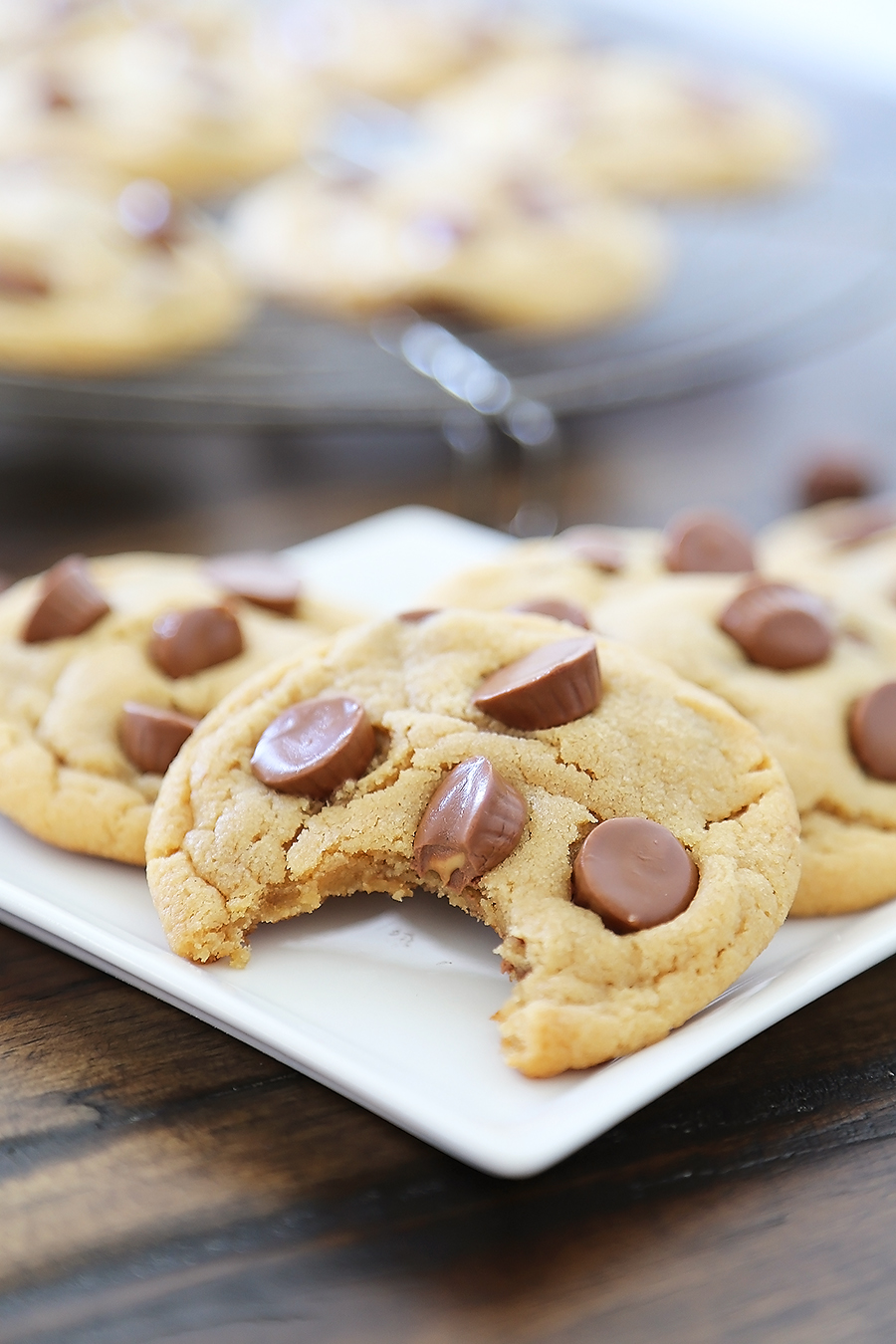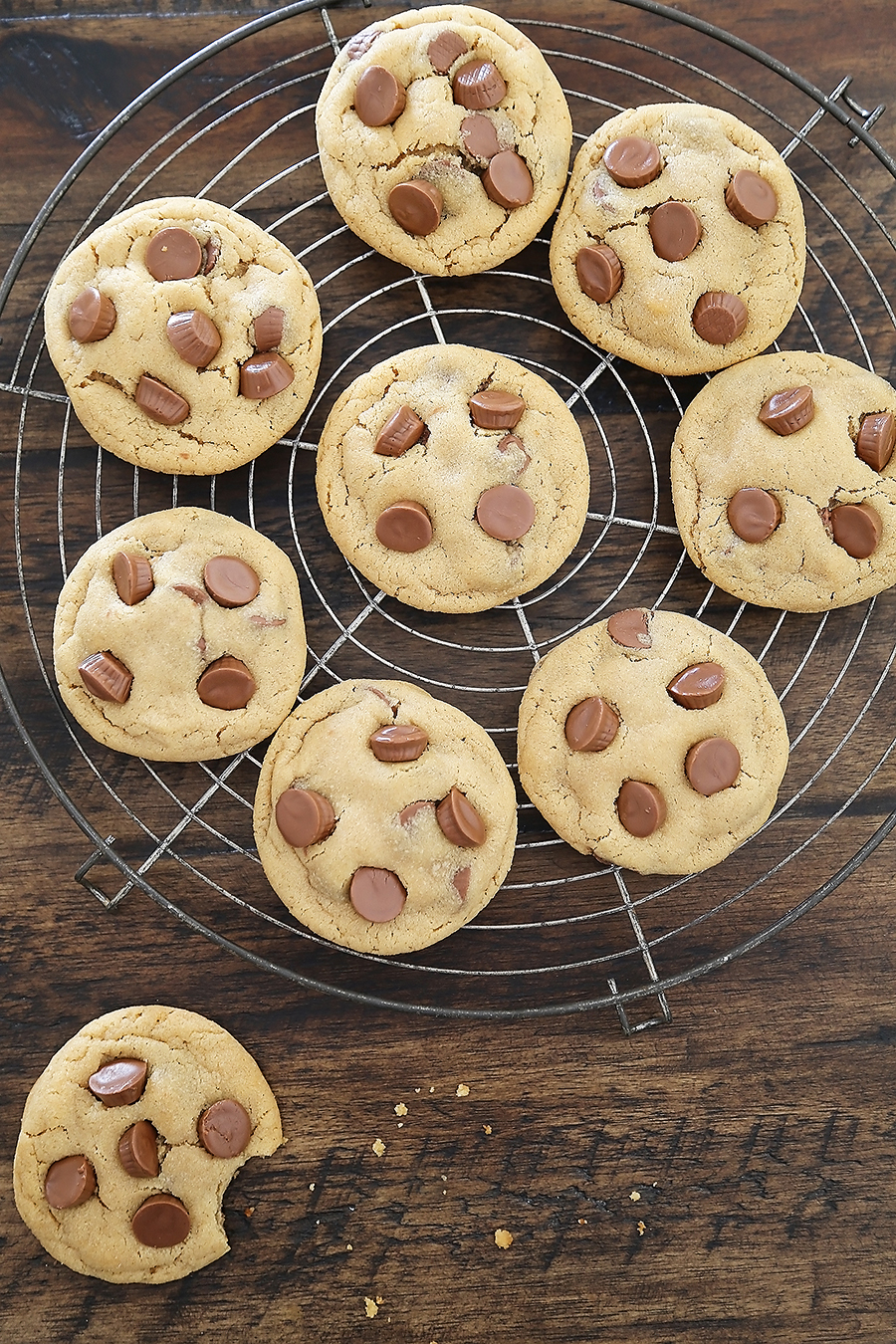 First, I am recently remarried to the love of my life, whose third love to myself and my daughter, is peanut butter. I don't have any other way to describe his love for peanut butter, except to say he is NUTS for it. He will literally eat it by the heaping spoonful when I'm not looking. He's unstoppable.
So, like any good wife, I baked him a 35-cookie batch of super creamy, soft peanut butter cookies with mini chocolate peanut butter cups nestled inside.
Even someone like me, who is take-it-or-leave-it about peanut butter had to admit, these were the BEST peanut butter cookies I had ever had. Be gone crumbly, dry, fork-marked PB cookies of sheet pans past. These are not your grandmothers batch! They are super buttery, gooey and soft, melt-in-your-mouth good. Amazing as they are, or stuck with creamy chocolate chips or mini peanut butter cups.
They hardly lasted five days in my house of three. They disappeared as quickly as the full milk jug, because c'mon, what's a peanut butter cookie without a glass of milk? The combo is pure comfort sweetness!
I am so happy to share these with you today. I have been hanging onto this new family favorite recipe for some time, and had to hop on to tell you about them. Bake a batch for the people you love, share them with your family or friends, and keep this recipe tight to your heart! Or, at least your Favorites bar.
From my kitchen to yours… I hope you bake and enjoy these irresistibly good peanut butter cookies! All you need 10 ingredients, 1 bowl, and the willingness to share a cookie, or at least the recipe. Peanut butter passion optional.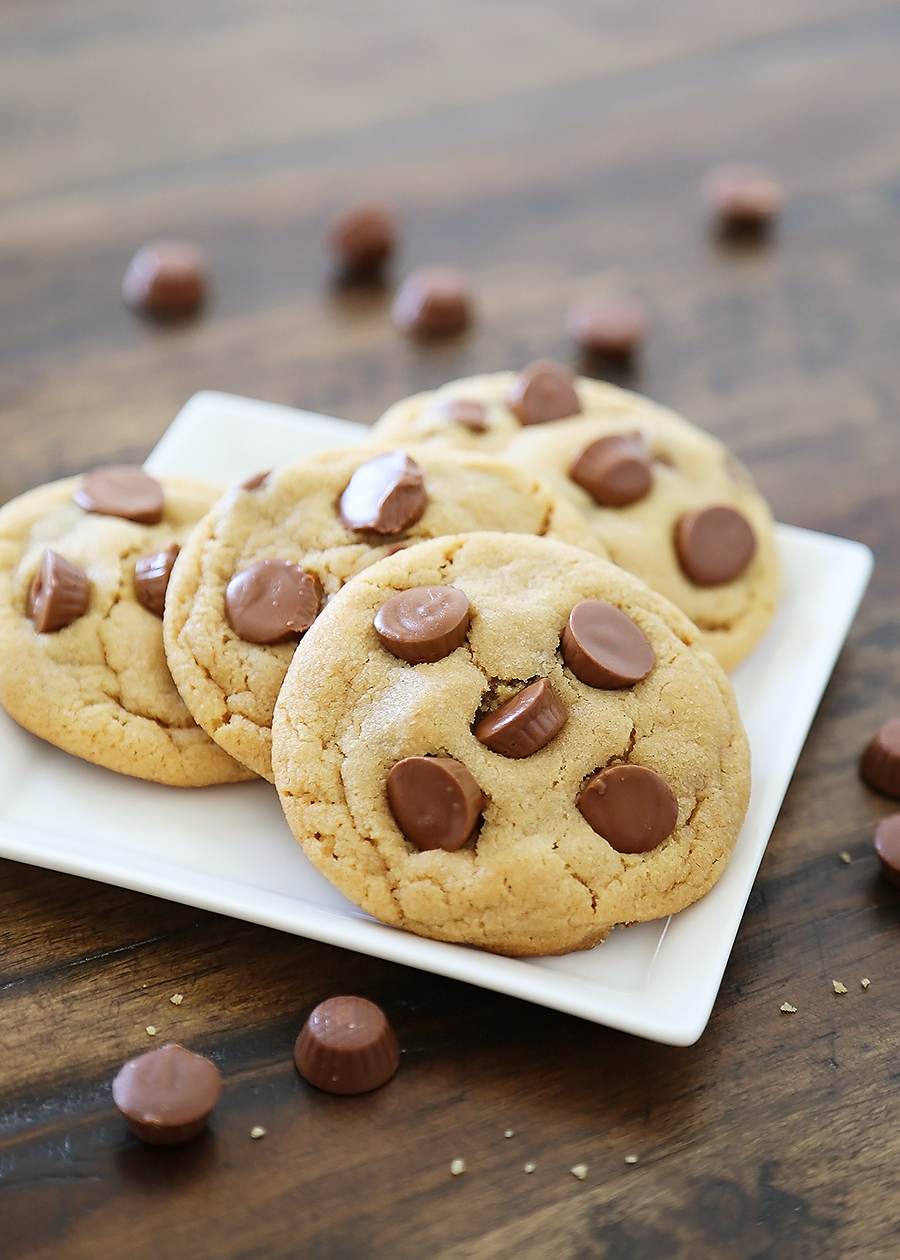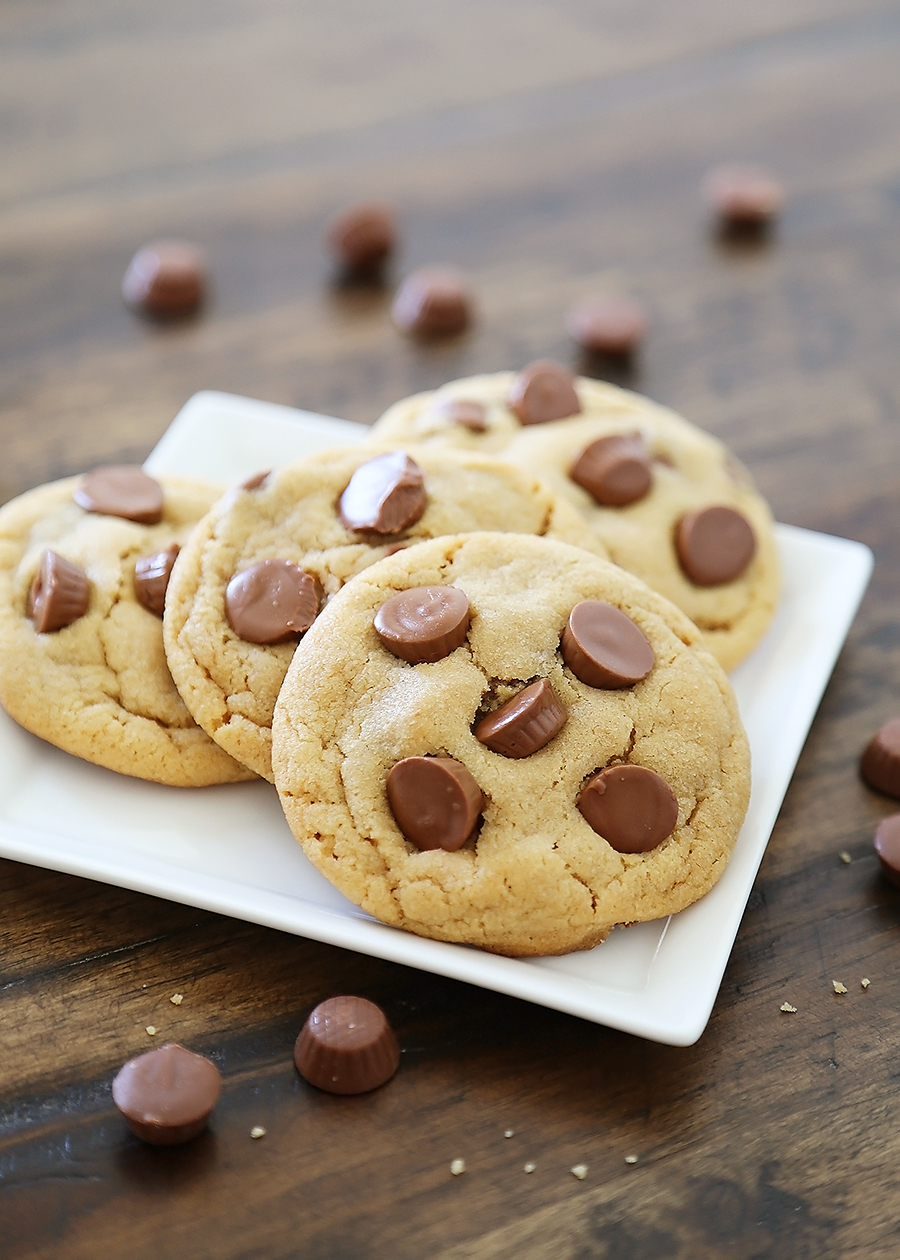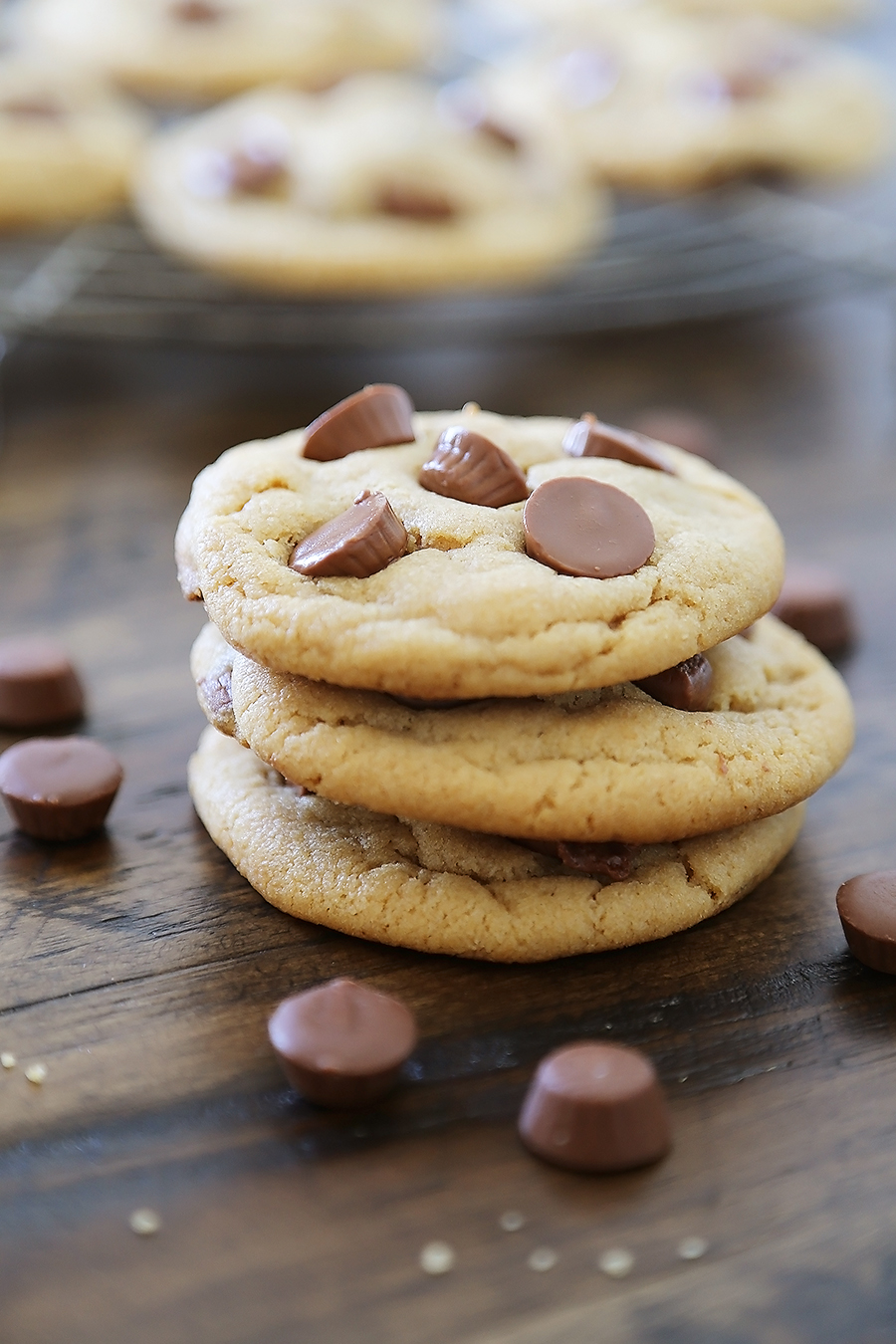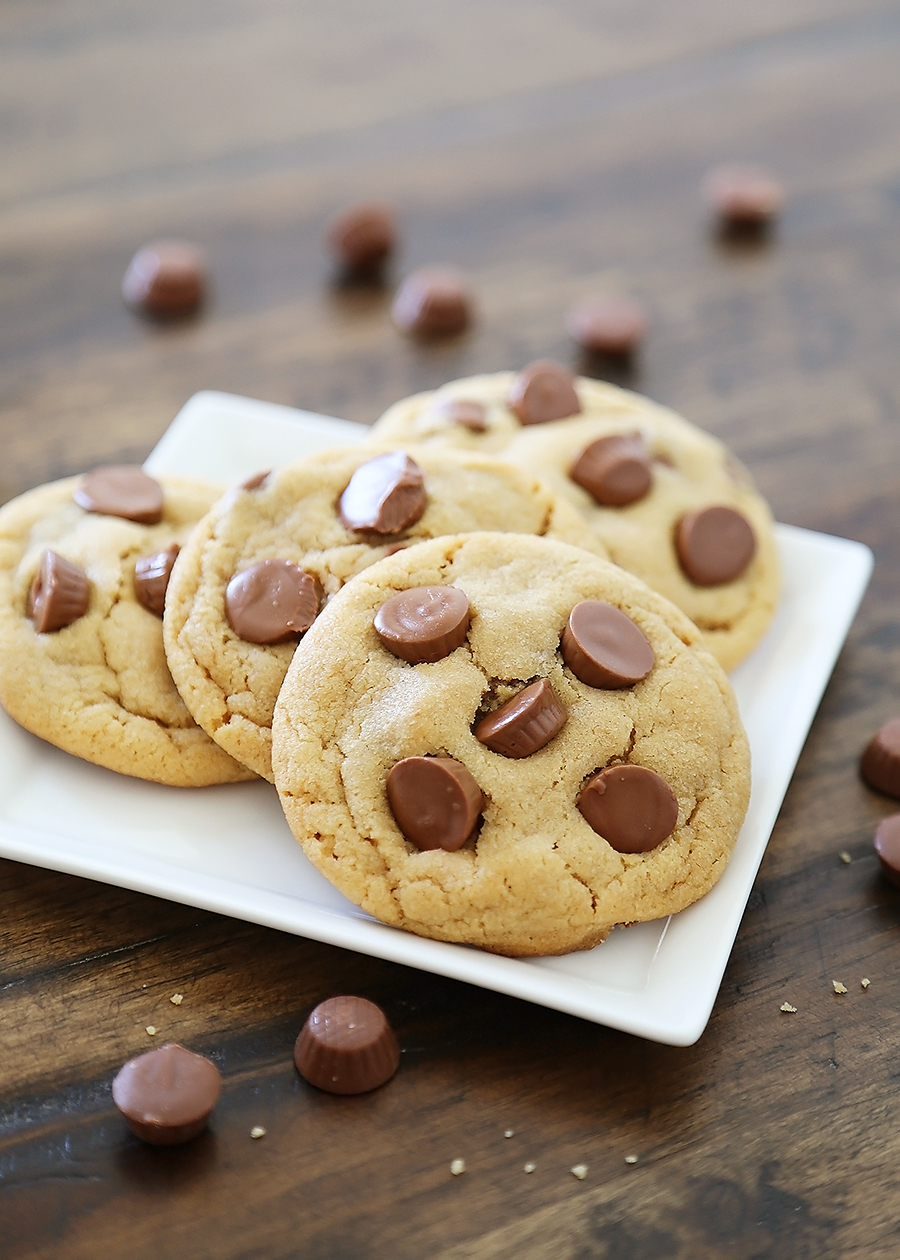 Soft Peanut Butter Cup Cookies
Ingredients
1 cup creamy peanut butter
1 cup unsalted butter, softened
1 cup packed light brown sugar
1 cup granulated sugar
2 large eggs
1 teaspoon baking soda
1 teaspoon baking powder
1 teaspoon vanilla extract
2 1⁄2 cups all-purpose flour
2 cups mini chocolate peanut butter cups
Instructions
Preheat oven to 350 degrees F. Prepare 2 large baking sheets with parchment paper or a silicone baking mat.
In the bowl of an electric mixer fitted with the paddle attachment, or with an handheld mixer, cream peanut butter, butter, brown sugar and granulated sugar together. Add eggs, one at a time, beating well. Add baking soda, baking powder and vanilla, beating well. With the mixer on low speed, mix in flour until well blended. Gently stir in peanut butter cups.
Scoop dough into tablespoon-sized balls and place on prepared baking sheets.
Bake for 8-9 minutes, or until cookies are golden and appear slightly under-baked. Remove from oven and let cool on baking pan for 5 minutes (they will continue to bake on the hot pan, but will remain perfectly gooey and chewy!). If desired, top cookies with additional peanut butter cups.
Remove to a wire rack to cool completely.
Enjoy!