Juicy, extra-crispy boneless chicken tenders with a flaky golden coating. No special equipment needed and ready in under 15 minutes! So delicious dunked in your favorite dipping sauce. Easy, family friendly fried chicken that is 100x better than any takeout.
In the past, when I craved crispy fried chicken, I would dial up the closest greasy spoon. The less-than-crispy contents in the takeout bag have always been less than satisfying. So, I've learned that nothing beats the comfort and convenience of quick, homemade crispy chicken tenders with my favorite dipping sauces. After trying this foolproof 20-minute recipe, you will definitely agree.
Frying has a bad rap as being an intimidating task. But, it really is so simple! Having a large pot and a candy thermometer for accurate temperatures helps. I don't use a thermometer, though. Flick a tiny piece of bread into the hot oil – see if it sizzles and turns golden brown pretty quickly. There's your answer to a perfect oil temp for frying flawless chicken, or any fried treat.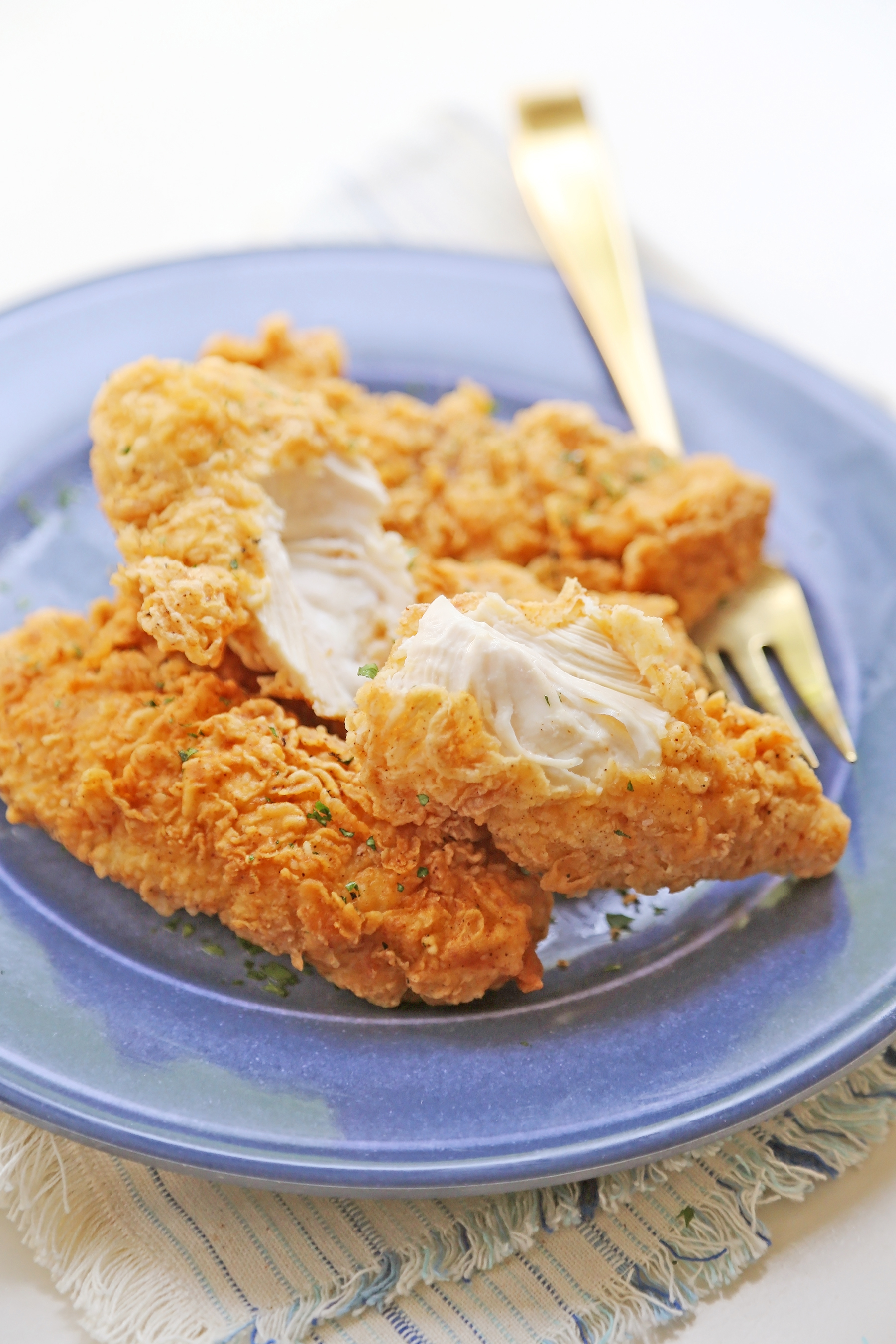 We love dunking these in our favorite dipping sauces. My favorite is a sweet-spicy Thai sweet chili sauce. You also try my perfectly tangy honey mustard sauce. Or, Ranch dressing (mix with Sriracha for a zesty kick!). Try buffalo sauce, Bleu cheese dressing, marinara sauce, Caesar dressing, and any other delicious dipping sauce you can dream up!
Want more crispy chicken recipes? Try these!
• Crispy Parmesan Chicken Cutlets with Tomato-Mozzarella Salad
• Cheddar Ranch Chicken Tenders with Honey Mustard Sauce
• Crispy Baked Honey Garlic Chicken
• Crispy Honey-Dijon Baked Chicken Tenders
• Crispy Buttermilk Popcorn Chicken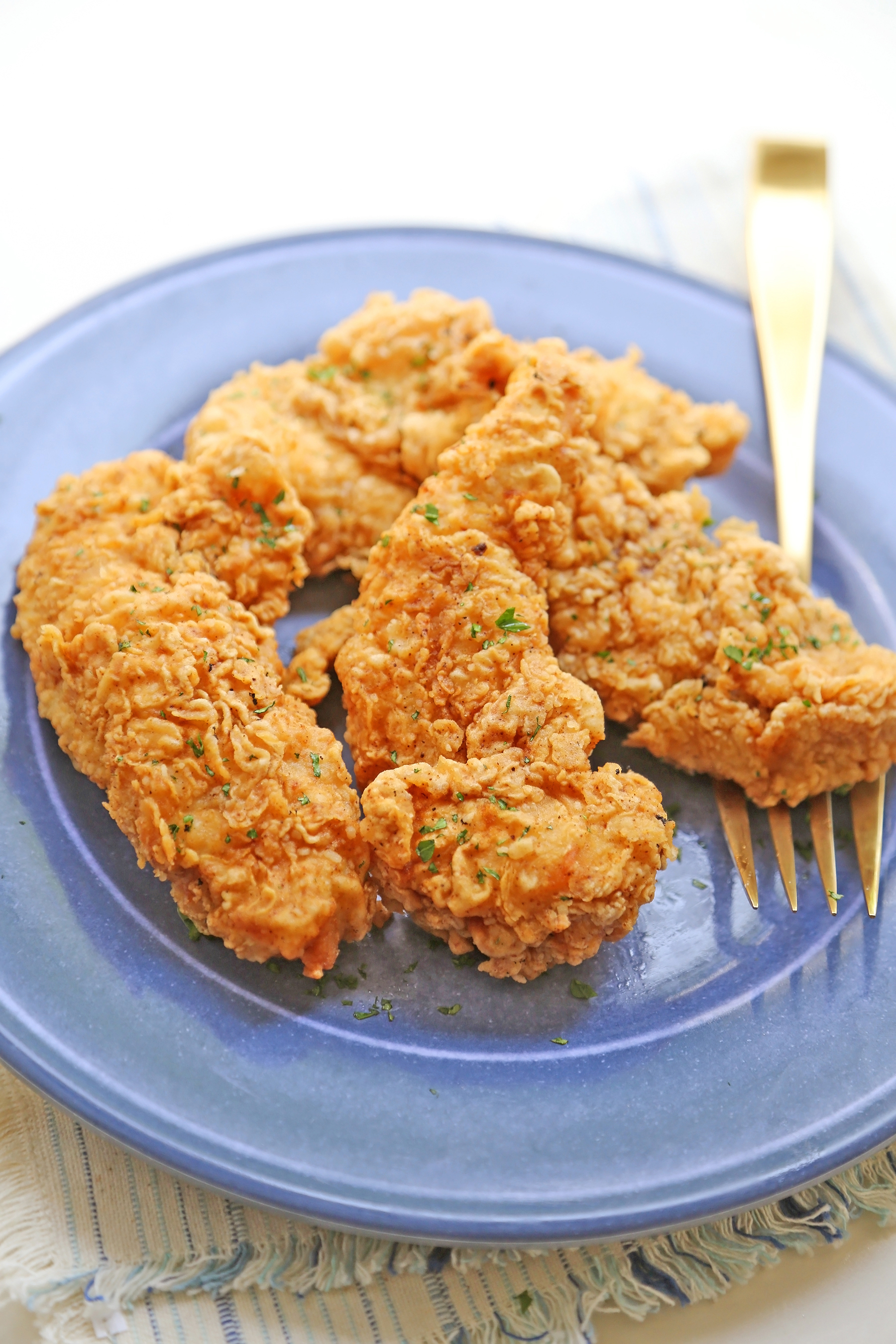 Craving your own crispy chicken? The steps are simple:
1. Preheat your oil in a large pot or deep skillet.
2. Coat chicken pieces in a flour-spice mixture.
3. Dip in egg wash, then back into the flour.
4. Fry in batches, about 8-10, until golden brown.
5. Serve with your favorite dipping sauce.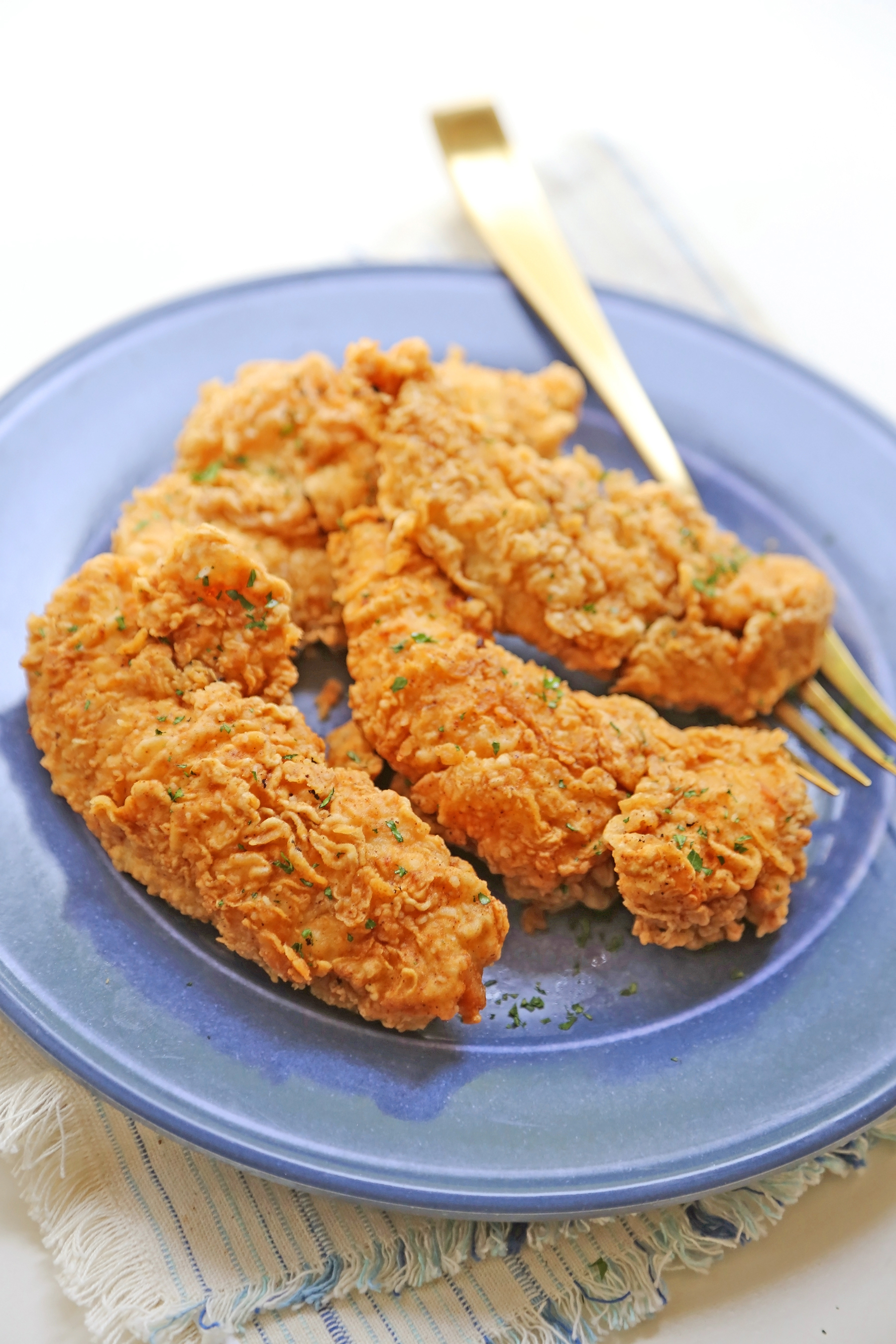 Serve with mashed potatoes, roasted veggies, sweet potato fries, rolls, steamed broccoli, mac and cheese or buttermilk biscuits… just to name a few options!
You will love how tender, juicy and EASY these chicken tenders are for weeknights or weekends at home.
They're ready in under 30 minutes and make mouthwateringly delicious comfort food!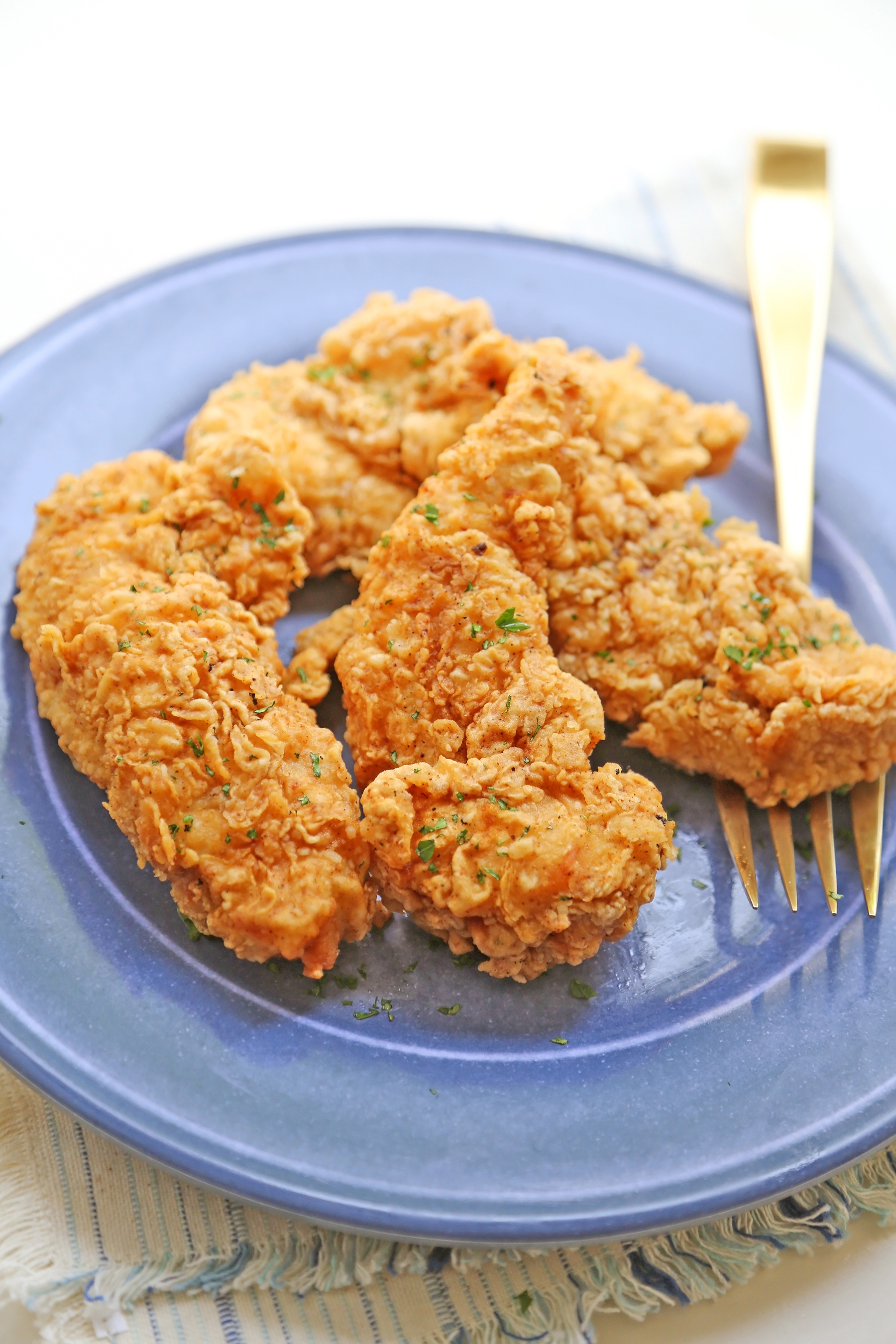 Crispy Fried Chicken Tenders
Yield:
10 chicken tenders
Ingredients
1 1/2 to 2 pounds chicken tenders, OR 2 large boneless skinless chicken breasts sliced into 1-inch thick strips
1 1/2 cups all purpose flour
1/4 teaspoon black pepper
1/4 teaspoon garlic powder
1/4 teaspoon smoked paprika
1 large egg + 2 tablespoons water, beaten
Vegetable oil, for frying
Instructions
Fill a large pot with about 2 inches of oil.
In a large bowl, mix flour, salt, pepper, garlic powder and paprika.
In separate large dish, whisk egg and water.
Dredge the chicken in the flour, coating well. Shake off excess flour and dip in the egg, then back in the flour. Set aside.
Check oil temperature (around 365-375 degrees F), or drop in a little bit of flour. If it sizzles, add chicken (2-4 pieces at a time) and fry until golden brown – about 8 to 10 minutes, or so.
Cook remaining chicken in batches.
Transfer to a paper towel lined plate. Serve with your favorite dipping sauces.
For serving (optional):
Honey mustard, Ranch dressing, Bleu cheese dressing, Thai sweet chili sauce, or your favorite dipping sauce

Want to receive our latest recipes straight to your email inbox? Click here to subscribe!