This one-skillet dish is deliciously easy for weeknights or elegant dinners in! Crispy, salty and tangy flavors combine to make this one mouthwatering meal. Serve with crusty artisan bread for dipping in the citrusy sauce!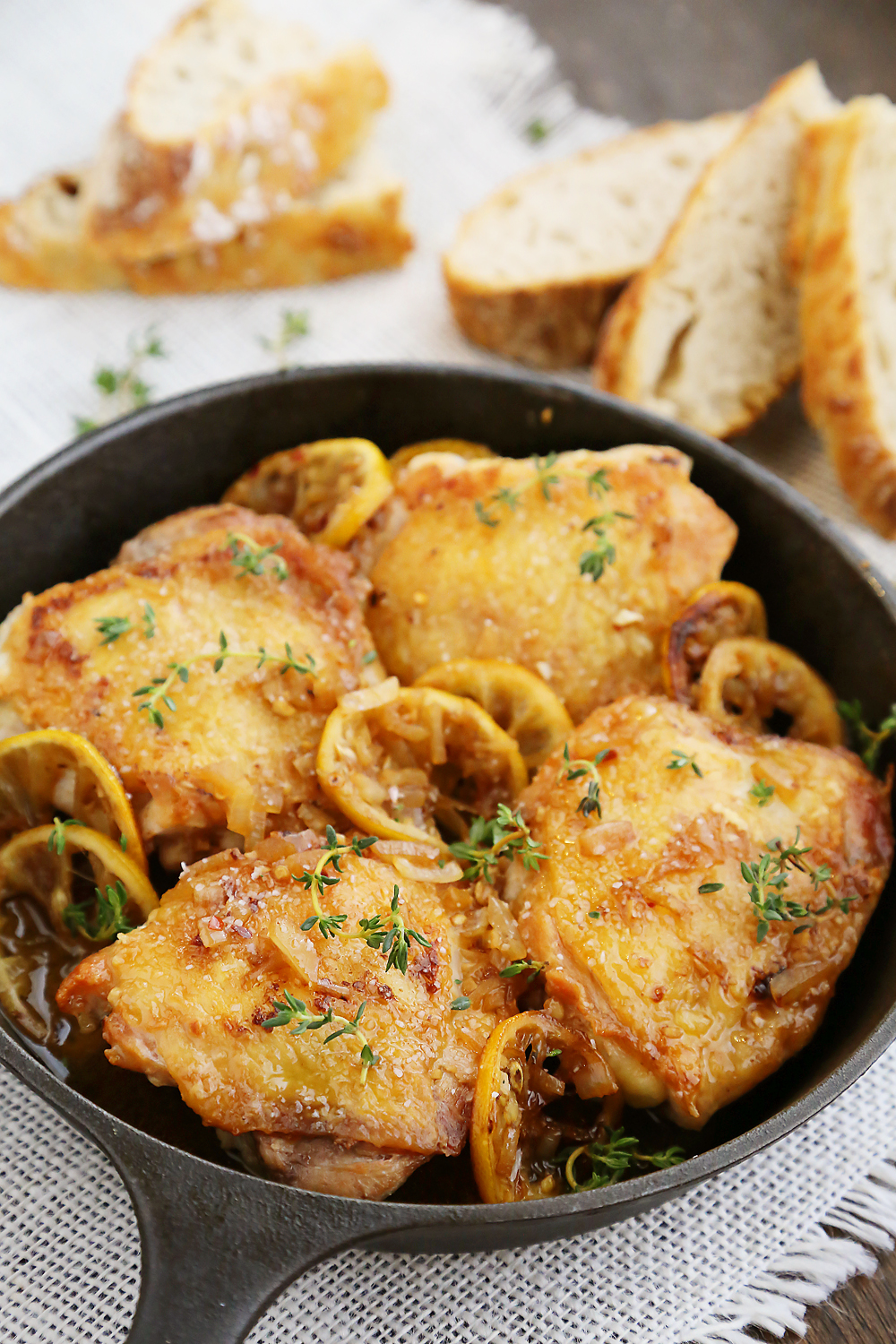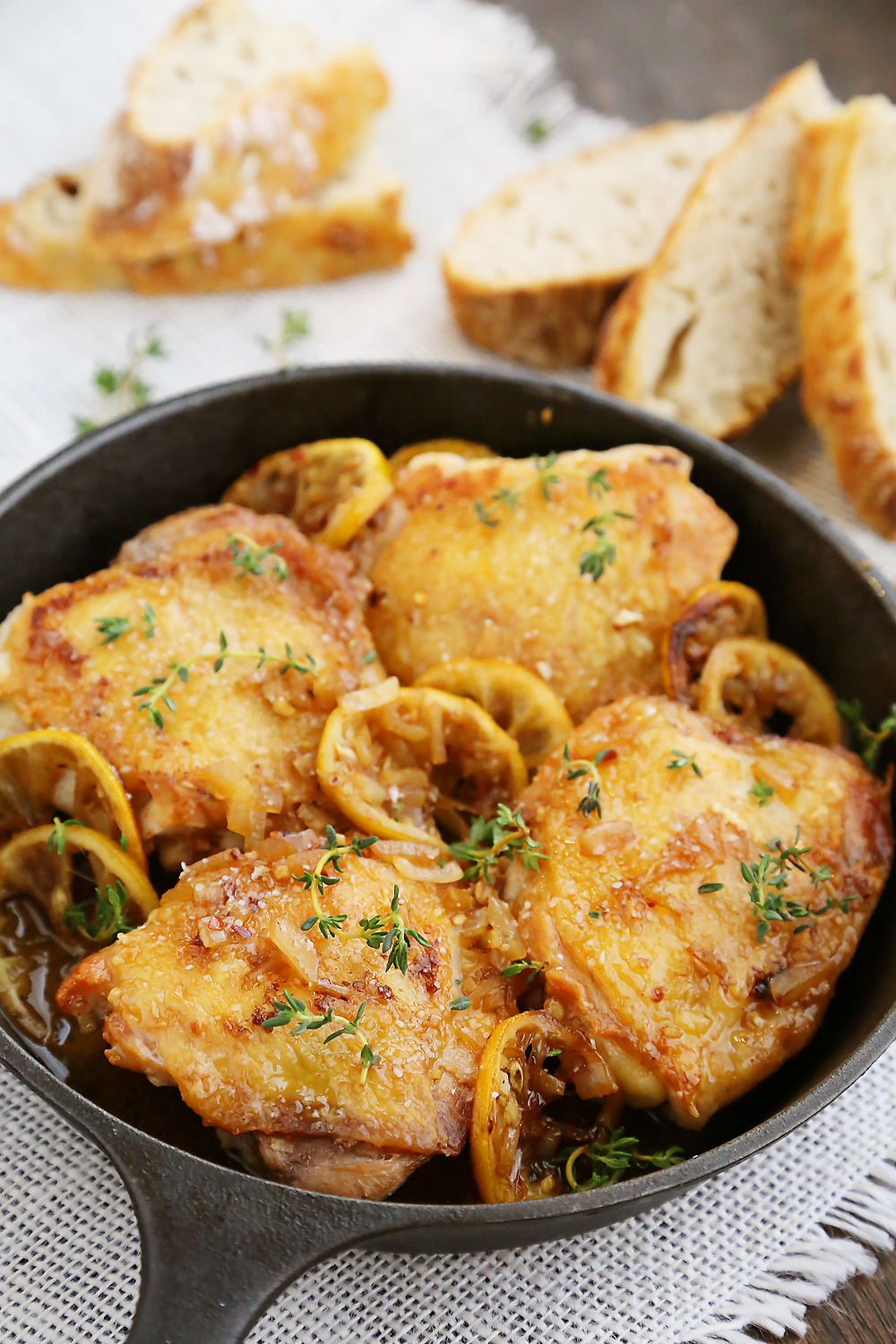 There's nothing I love more than a robust, flavorful skillet dish that suits both everyday dinners with the family and special occasions. In my house, this is that kind of meal! Plus, by always keeping a few staples on hand like chicken broth, lemons, garlic and some crisp greens for the side, it keeps my trips to the store minimal.
For this recipe that feeds four, you only need bone-in, skin-on chicken thighs, onion, garlic, chicken broth, cooking wine and a few seasonings. And a lemon. Oh, how I can't get enough of lemon-everything this time of year! From dessert bars to drinks and barbecue sauces, I am all about lemons all the time in the spring and summer. Love that citrusy punch it adds to everything. Okay, getting off track here!
Just pick up the juiciest lemon you can find, some fresh herbs (if you don't have thyme, rosemary or parsley will do), and a golden, fluffy artisan bread (or bake your own). Now you're ready to get cookin'!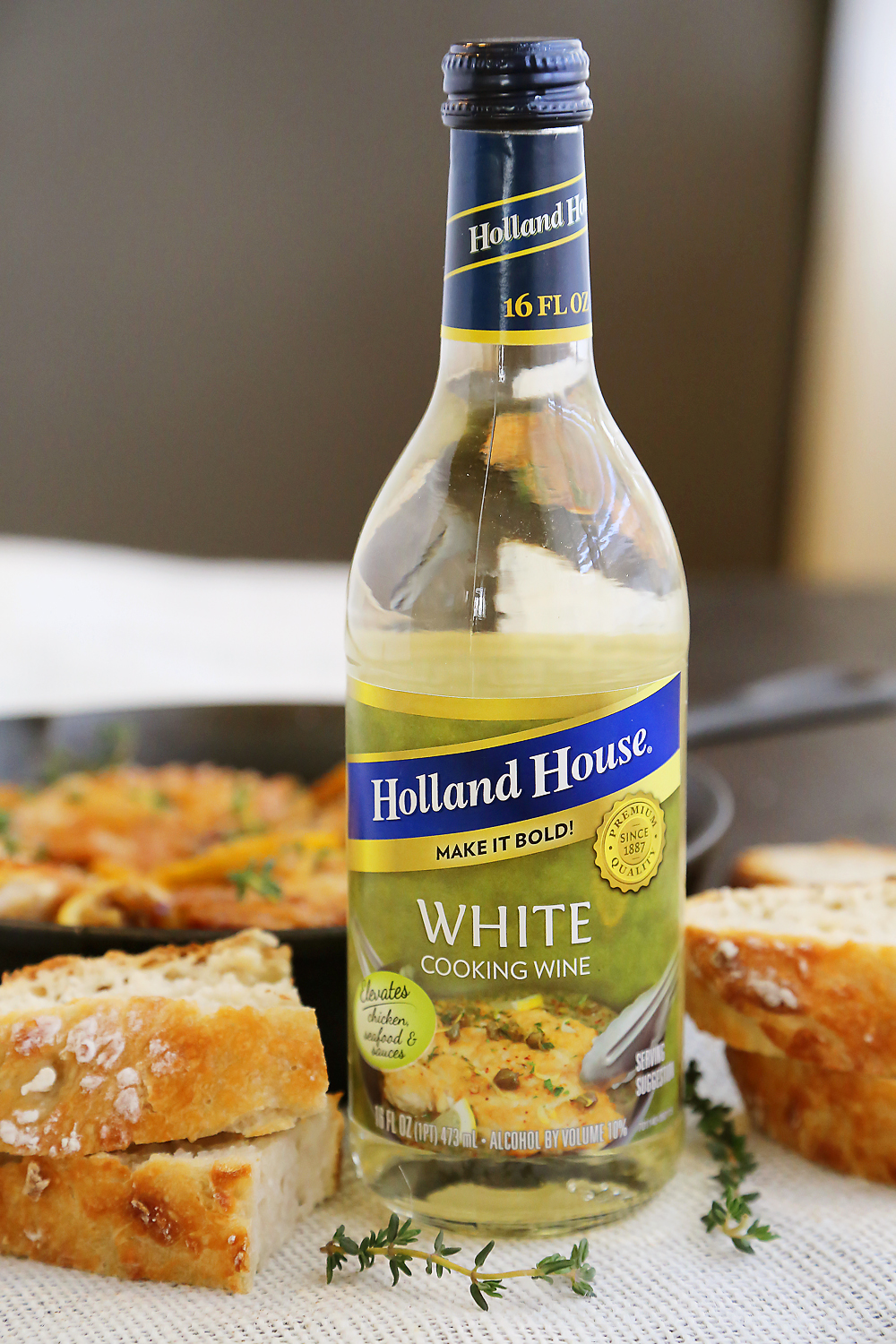 Every time I cook with wine these days, I use Holland House Cooking Wines, and their white wine variation is one of my favorites for lighter springtime dishes. I specifically love them because these wines are MADE for cooking! Instead of cracking open a bottle of white wine and having it spoil, I can use this cooking wine a little at a time and store it in my pantry until I need it again. No need for refrigeration. Using this cooking wine also allows me to reduce the amount of salt called for in my recipes, since each cup of wine is flavored with one teaspoon of salt already.
This cooking wine adds the perfect amount of brightness and bold flavor to my lemon chicken dishes, and I also love using it in sauces, marinades, glazes and for sautéing vegetables. The aroma is incredible!
Want to try it for yourself? Here's a coupon for 50 cents off any flavor of Holland House Cooking Wine!
Whether you need to impress or just need a warm meal to enjoy after a long day, you will love the comfort of this crispy, citrusy lemon chicken with fresh herbs. Serve it with your favorite crusty artisan bread and a leafy green salad for a perfectly delicious, healthy dinner in… with minimal dishes!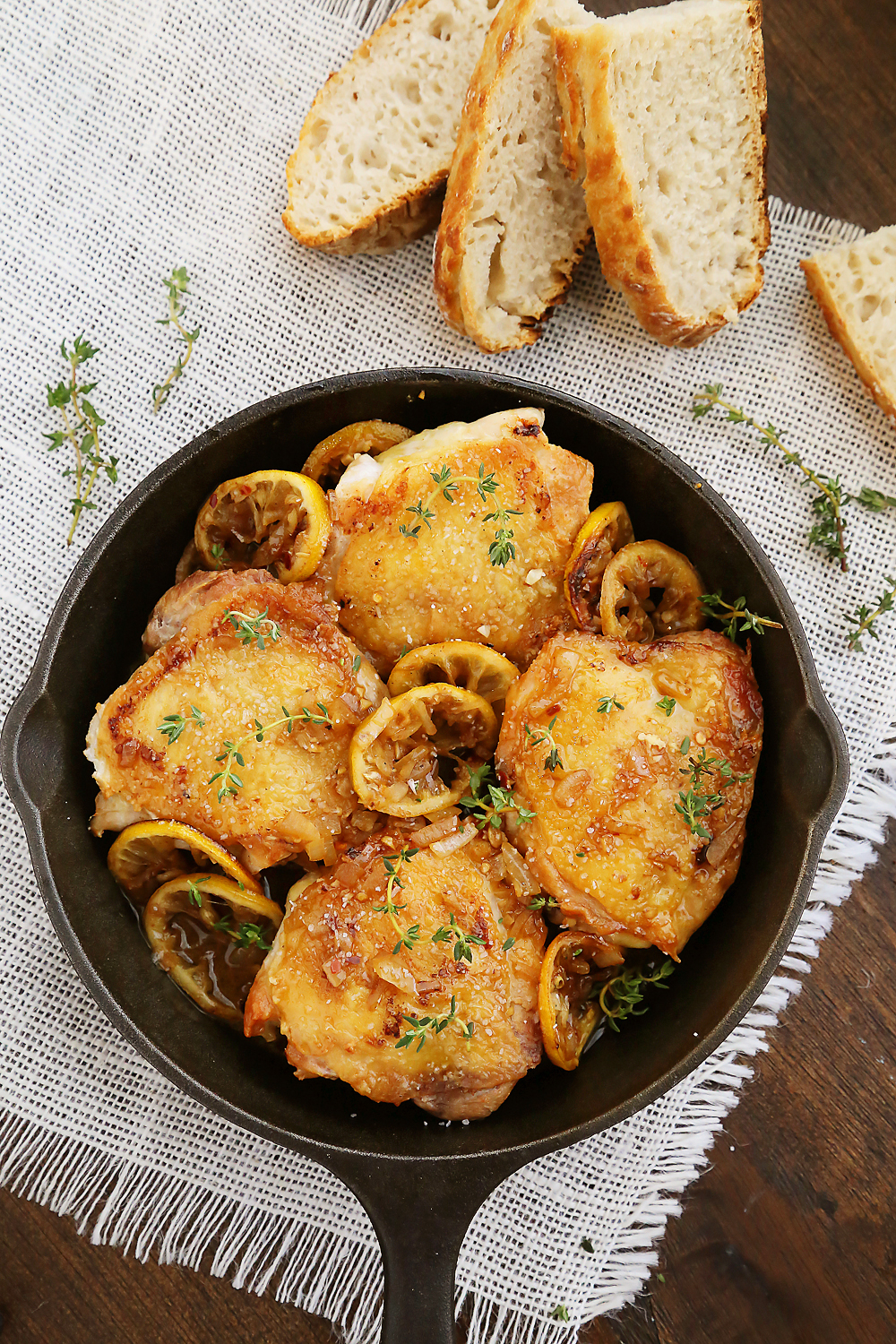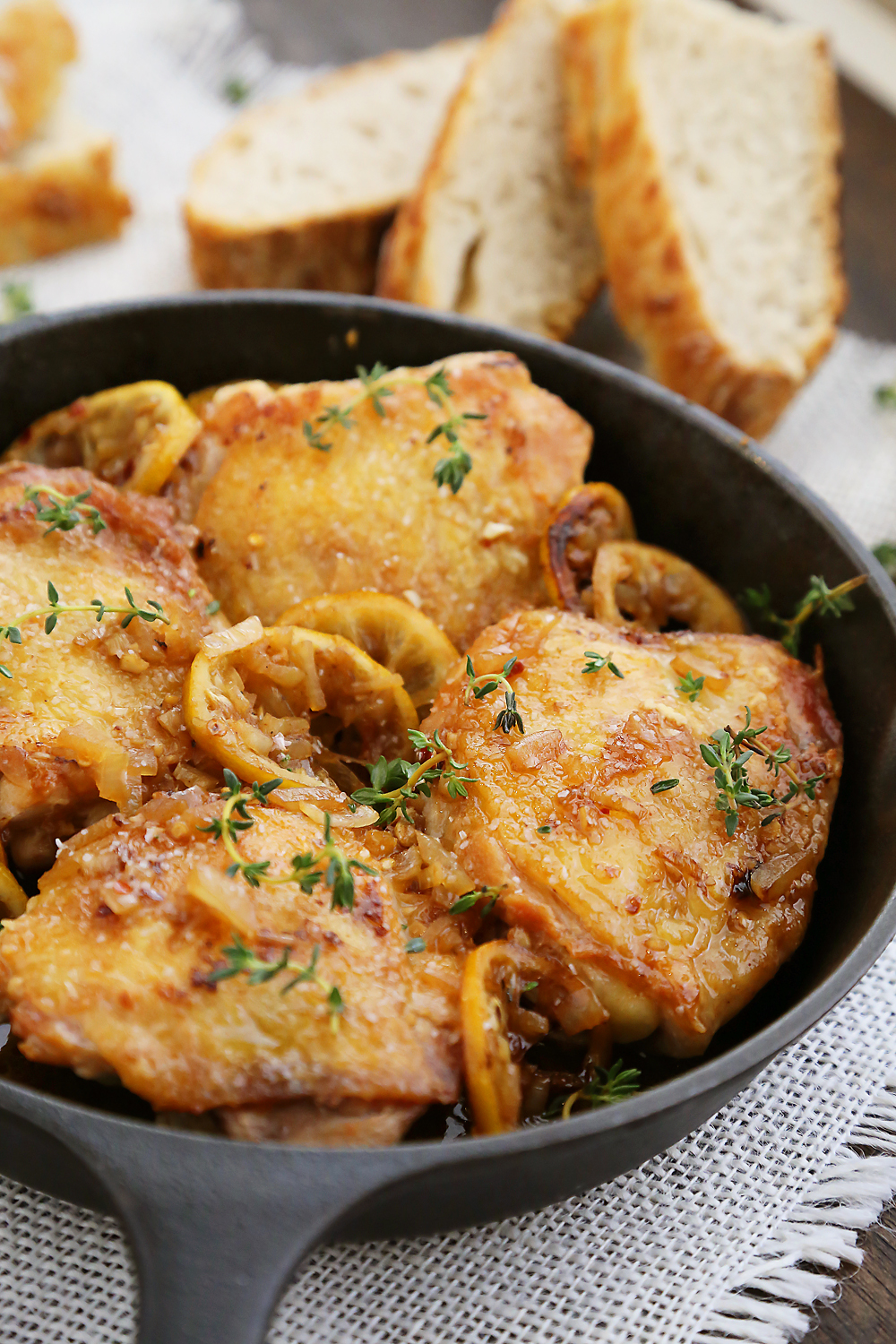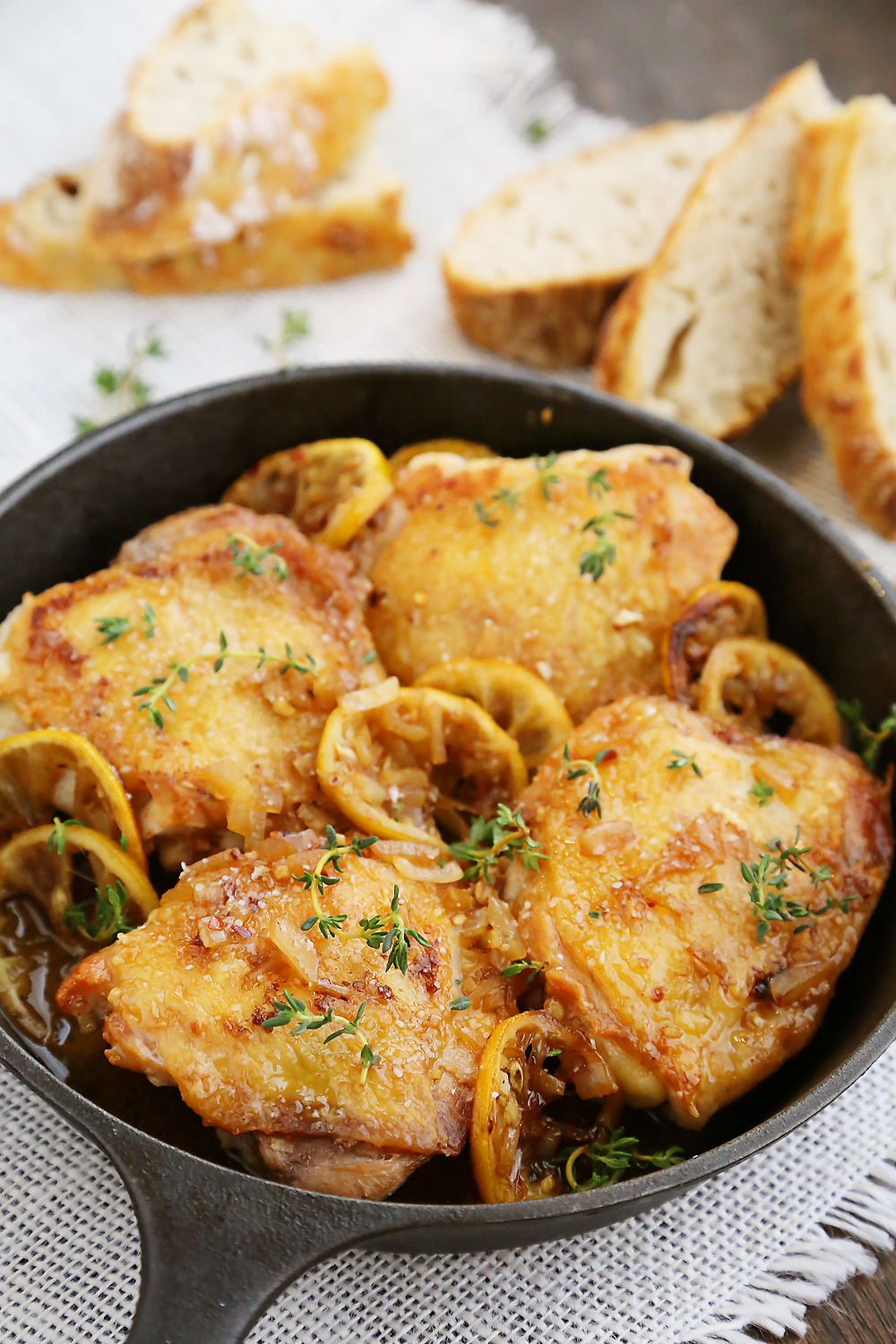 Skillet Crispy Lemon Chicken with White Wine Sauce
Ingredients
1 large lemon, thinly sliced
4 large or 8 small skin-on, bone-in chicken thighs
Kosher salt and freshly ground black pepper
3 teaspoons olive oil, divided
3 sprigs fresh thyme
1 small yellow onion, small diced
2 garlic cloves, minced
1/8 teaspoon crushed red pepper flakes
1/4 cup Holland House White Cooking Wine
1/2 cup low-sodium chicken broth
Instructions
Preheat oven to 425 degrees F.
Season chicken thighs with salt and pepper. Set a large ovenproof skillet to medium heat and add 1 teaspoon olive oil.
Once hot, add chicken skin-side down. Cook until skin is browned and chicken is cooked halfway through, about 10 minutes. Remove from heat. Arrange lemon slices underneath and around chicken, keeping skin-side down.
Place skillet in oven and roast until chicken is fully cooked and skin is crisp, about 10 more minutes. Transfer chicken pieces, skin-side up, to a plate. Leave lemon slices in skillet.
Return skillet to medium heat. Add thyme, onion, garlic, and red pepper flakes. Cook, stirring frequently, about 2 minutes. Add cooking wine and broth. Simmer until reduced by half, about 5 minutes. Season with salt and pepper. Drizzle with 2 teaspoons oil. Return chicken to skillet, skin-side up, to re-warm. Top with caramelized lemon slices. Serve with crusty bread for dipping, if desired.
Enjoy!