Everyone's favorite frozen treat made at home! These creamy, crisp ice cream cones taste even better than store bought. You'll love the irresistibly smooth vanilla ice cream mixed with sweet chocolate and nuts!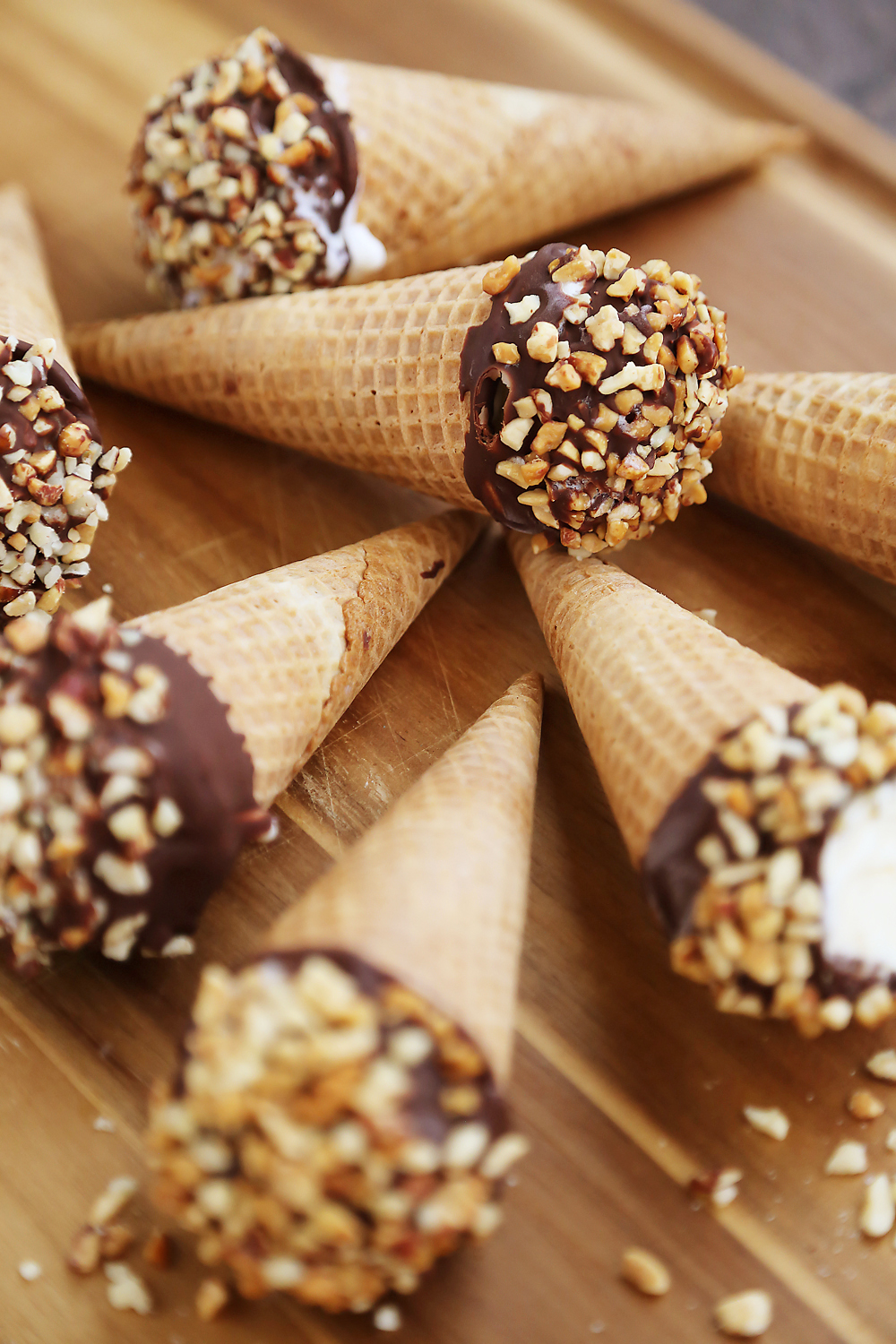 When it comes to store bought frozen treats, my longtime pull has been toward those sweet, crispy and creamy ice cream cones! This is a sinfully scrumptious childhood favorite that has crossed over big-time into adulthood. However, I never considered making these irresistible treats homemade. And I never realized how simple it would be to achieve even better taste and texture from wholesome ingredients!
Since this recipe only requires five ingredients, you can create your own delicious ice cream cones with total ease. You can also make them repeatedly with wild abandon, because they keep disappearing mysteriously from your freezer. Best to just grab double the ingredients listed, and whip up a larger batch!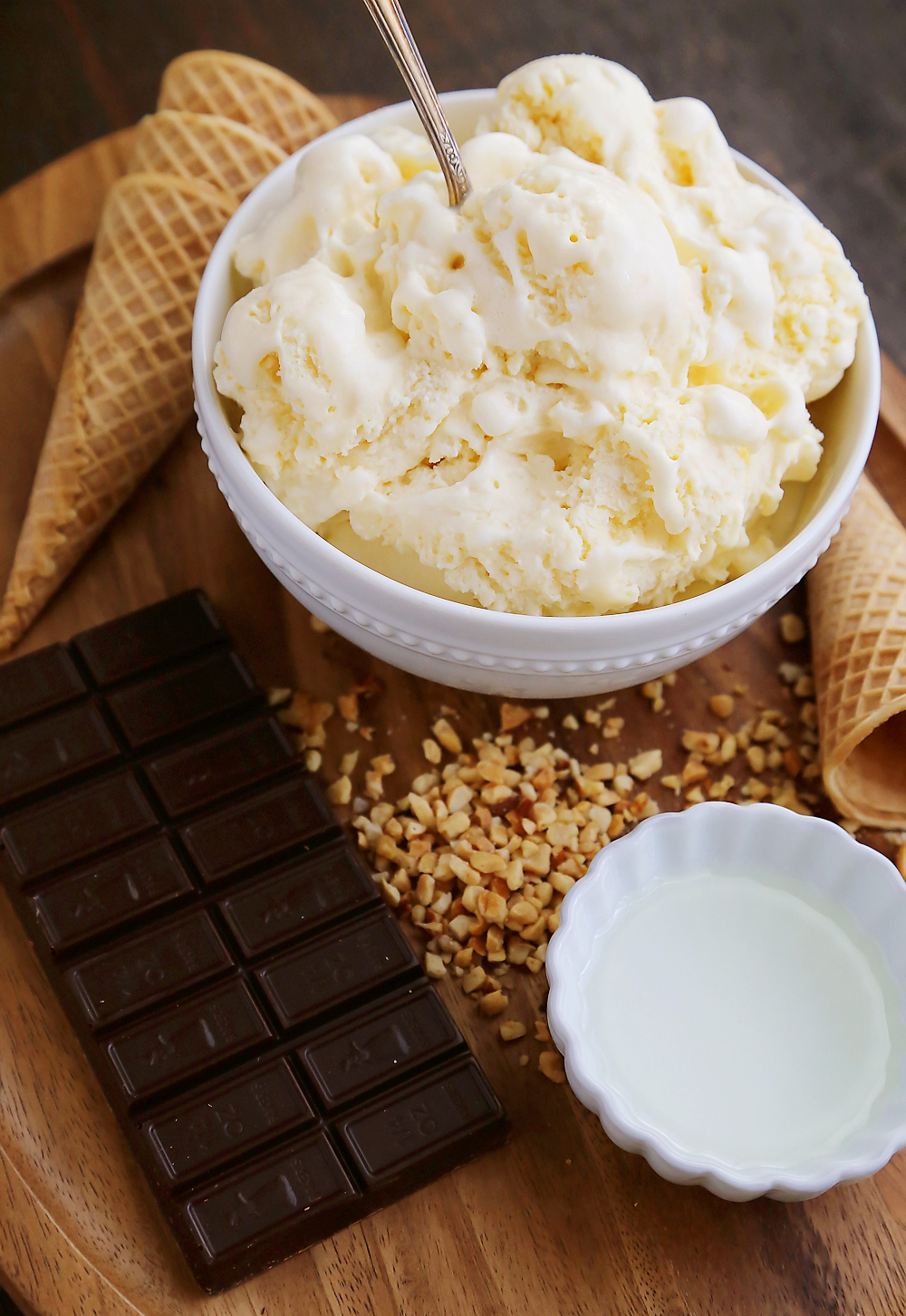 The latest way I've discovered to love vanilla ice cream is packed into crisp, sugary cones, dipped into velvety smooth Baker's Semisweet Chocolate, rolled in nuts, and frozen for a late night treat! Can you just practically taste it from the photos? For decades, I have loved using this semisweet chocolate for everything from brownie baking to strawberry dipping, and especially for that perfectly thin drizzle over top of my favorite baked goods. It melts so beautifully and makes a flawless, sweet coating over top of these irresistible ice cream cones.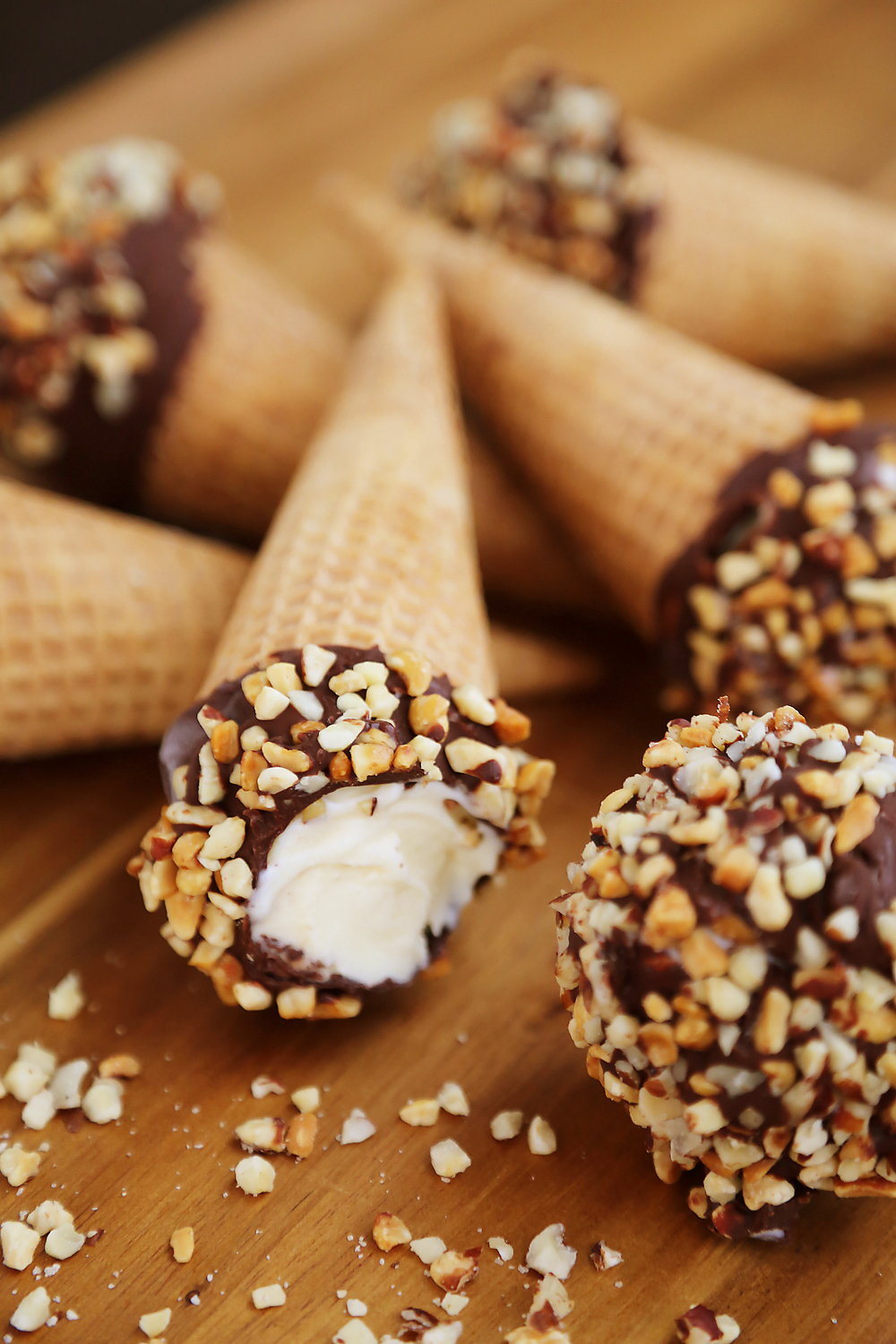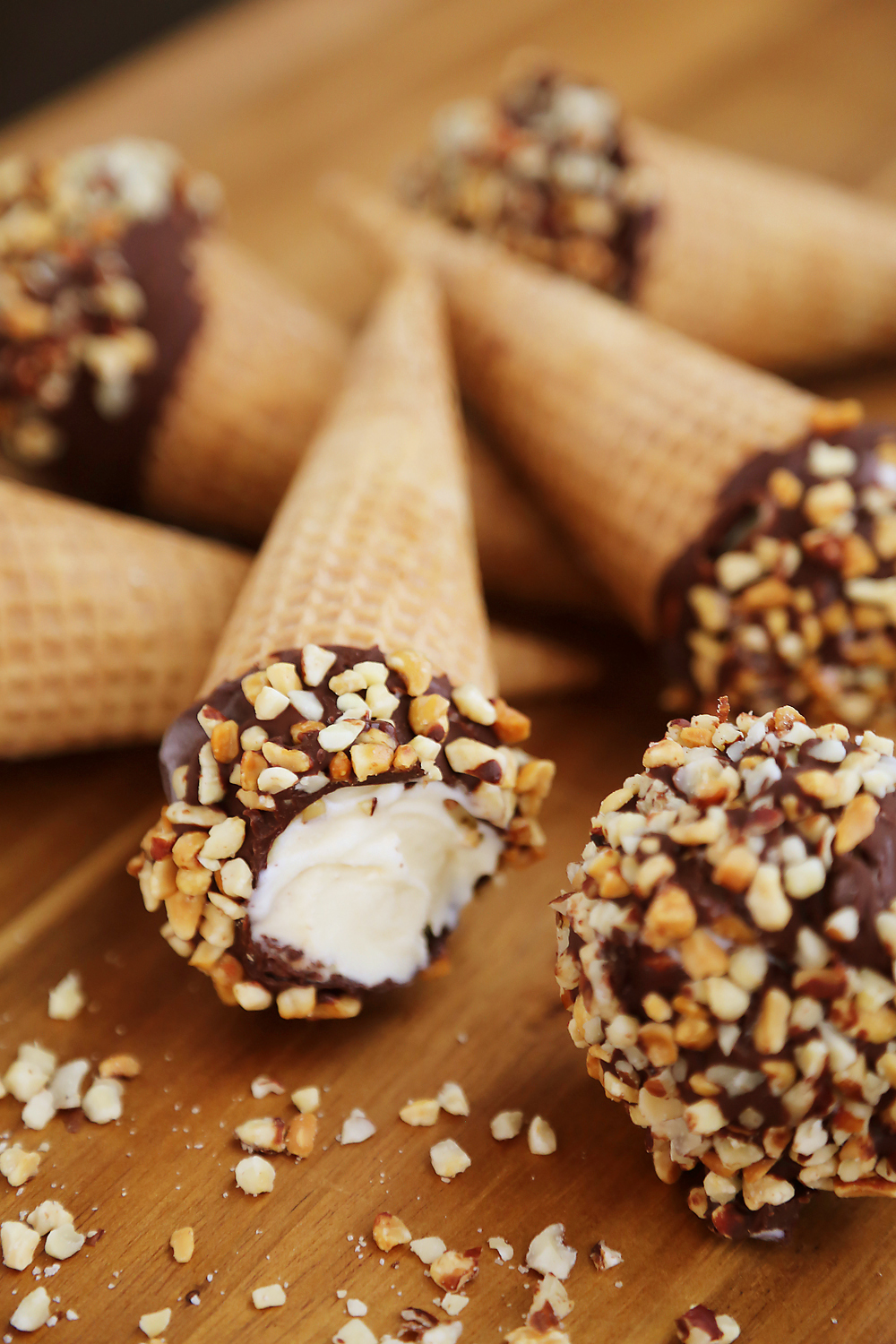 I can't leave out mention of the best part, though. The bit of hard chocolate hidden in the bottom of the cone! Simply drizzle a bit of melted chocolate and let it set. Not only is it a delicious surprise, it keeps the ice cream from dripping out of the delicate, crispy cone.
You will have so much fun making these homemade vanilla ice cream cones! They're perfect for indulging any time of year, especially for springtime desserts. They can also be frozen for up to 1 month. Though I doubt they will last that long!
This recipe is now live on the Kraft blog – come check it out here!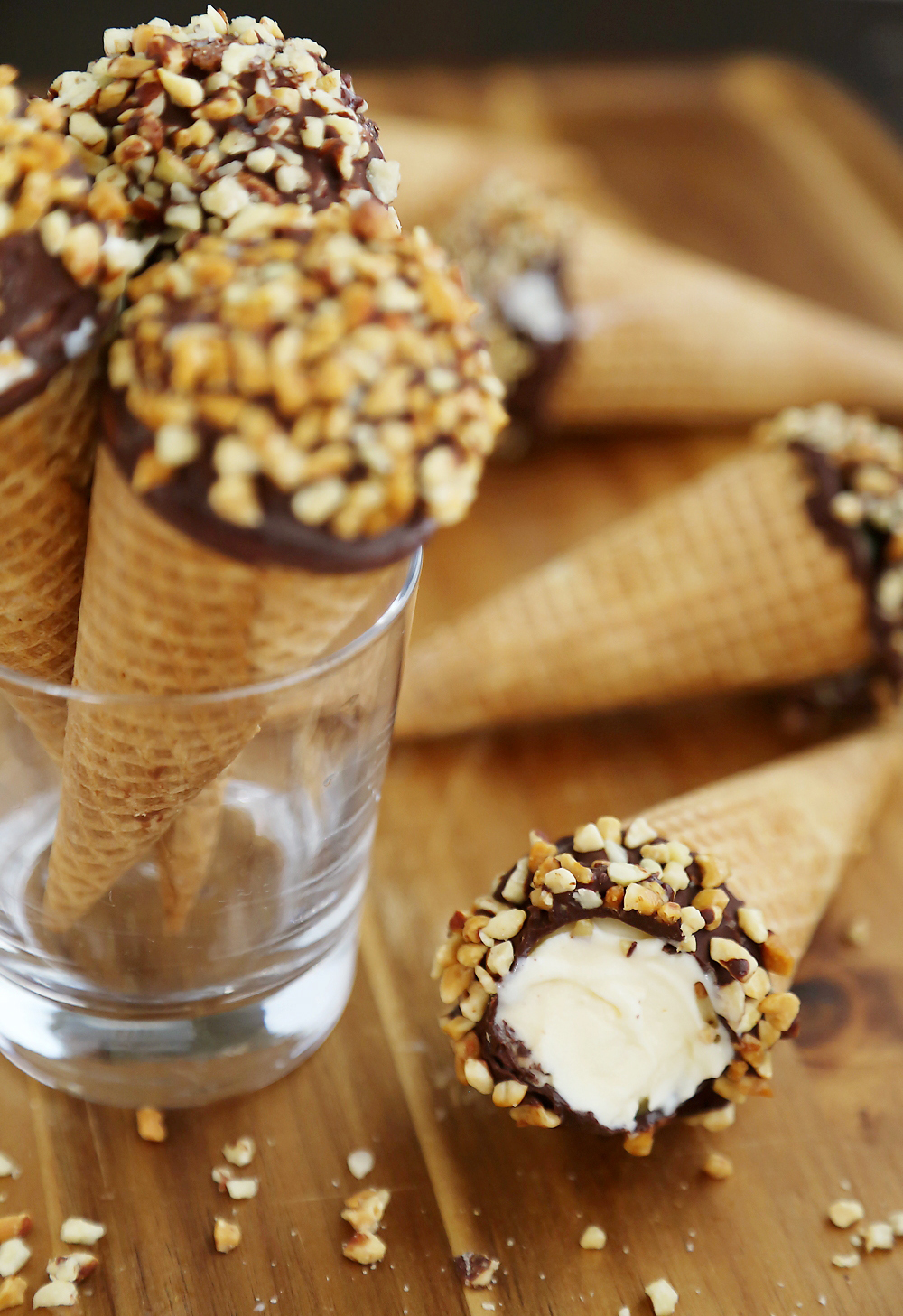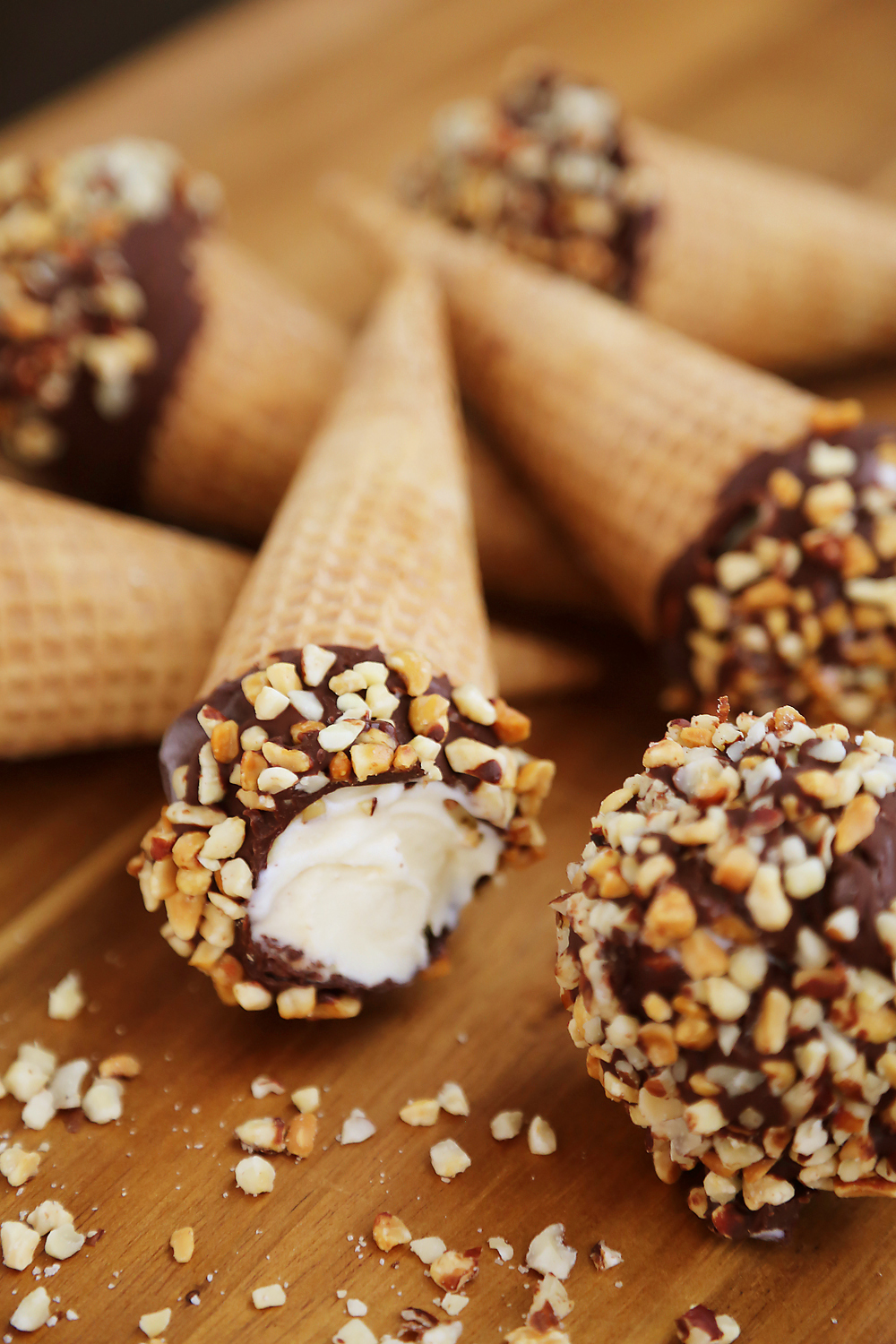 Homemade Chocolate-Dipped Ice Cream Cones
Ingredients
2 (8 oz.) packages Baker's Semisweet Baking Chocolate Squares
2 Tablespoons vegetable oil
6 ice cream sugar cones
1 (1.5 qt.) container vanilla ice cream
1-1/2 cups mixed chopped nuts
Instructions
In a medium bowl, microwave chocolate and vegetable oil for about 1 minute. Stir every 20 seconds until smooth.
Place ice cream cones on a small lined baking sheet. (Make sure you have cleared space in your freezer for the sheet.). Drizzle about 1 teaspoon melted chocolate into the bottom of each ice cream cone. Place in the freezer for 10 minutes, to set chocolate.
Remove vanilla ice cream from freezer to let thaw a few minutes before filling cones. Scoop ice cream into cones. Place filled cones into short glasses and onto baking sheet. Freeze for 10 minutes to set ice cream.
One at a time, dip tops of cones in melted chocolate mixture (you may need to warm in your microwave for 15-20 more seconds to thin slightly).
Immediately roll into chopped nuts. If necessary, sprinkle nuts over top to coat evenly.
Place the cones back into the short glasses, onto the baking sheet, and into your freezer.
Repeat process until all sugar cones are filled, dipped and sprinkled with nuts.