Dig in to the warm and gooey deliciousness of this 5-ingredient skillet s'mores dip. Loaded with creamy caramel and pecans, and super quick and easy! Perfect for an anytime treat and last-minute guests. No campfire required!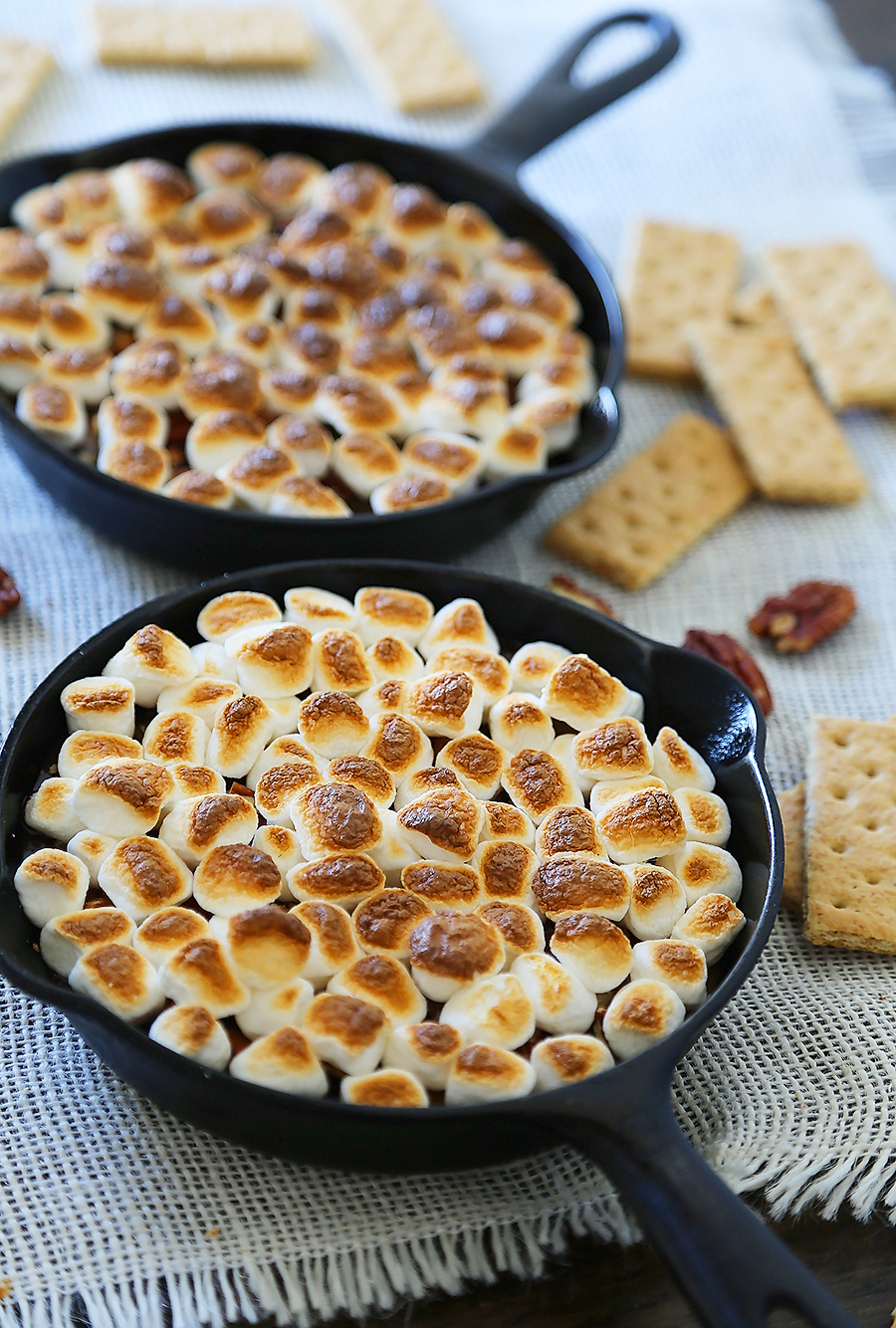 When I first met my Southern gentleman, now fiancé, we were intent on spoiling each other with food. Specifically, the summer of 2015 saw our new relationship blossom around a string of never-ending home cooked meals. There was sizzled pork belly, braised veal osso bucco, melt-in-your-mouth short ribs, buttery lobster tails, and oh dear. The desserts! Flambéed bananas over vanilla bean ice cream comes to mind. And coconut cookies, and pecan pies, and little layer cakes for our birthdays. I didn't want to come up for air!
It wasn't about impressing each other, as much as it was about just enjoying the good life. Delicious food made by two people who love to cook, and happened to find each other at the right moment. Plain and simple, good old-fashioned courtship was cookin'. And it was a time of belly, heart-filling goodness.
However, months later when he returned to his teaching hours, we realized we had to make our elegant weeknight meals and desserts much easier. That is, simpler, but still scrumptious and full of love. When we started to make our meals smaller and more weeknight-friendly, the desserts were reigned back a bit, too. But, that doesn't mean we've given up the occasional sweet treat!
This s'mores dip has become our latest guilty pleasure, and it is sinfully easy! Want to make yours? Keep reading!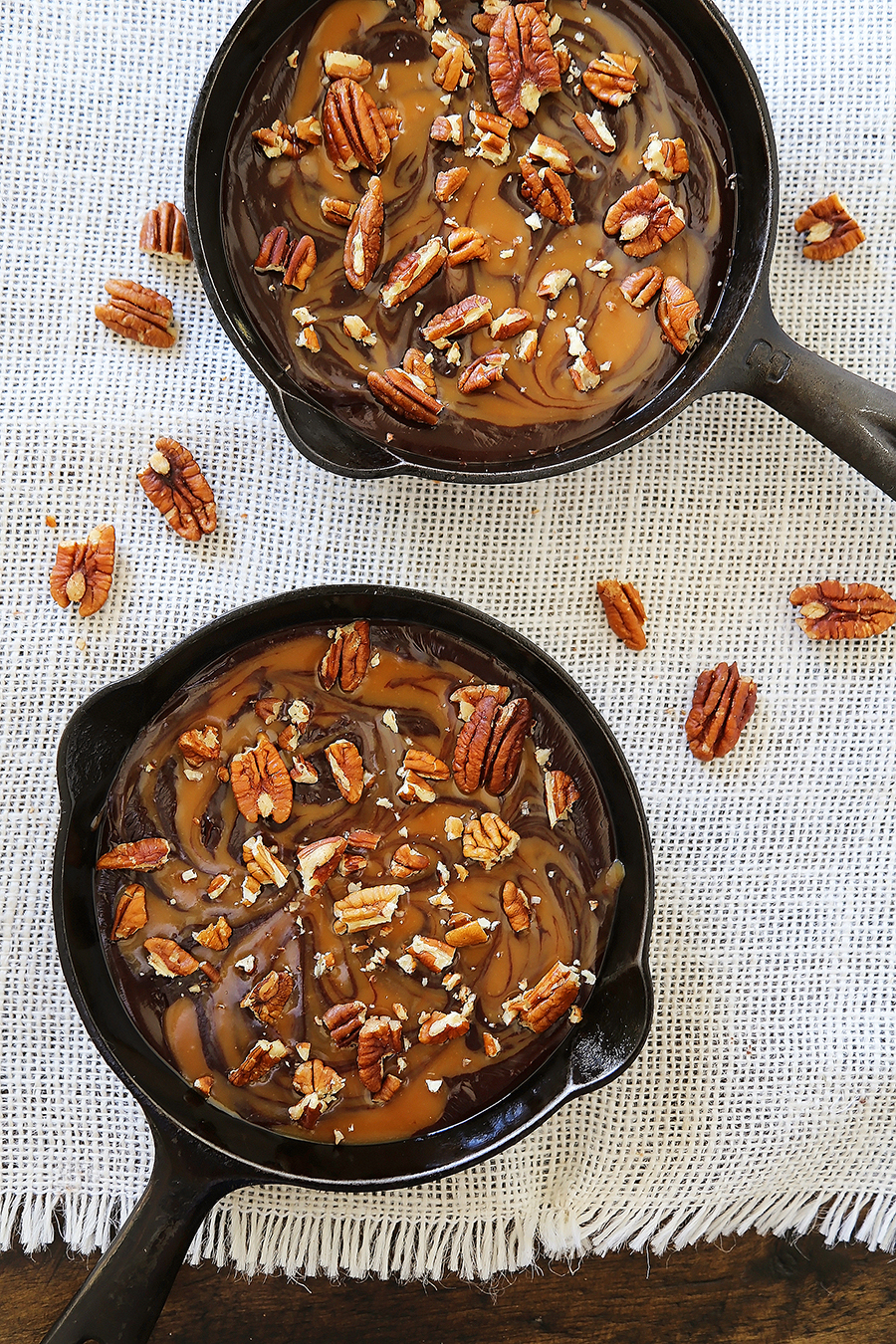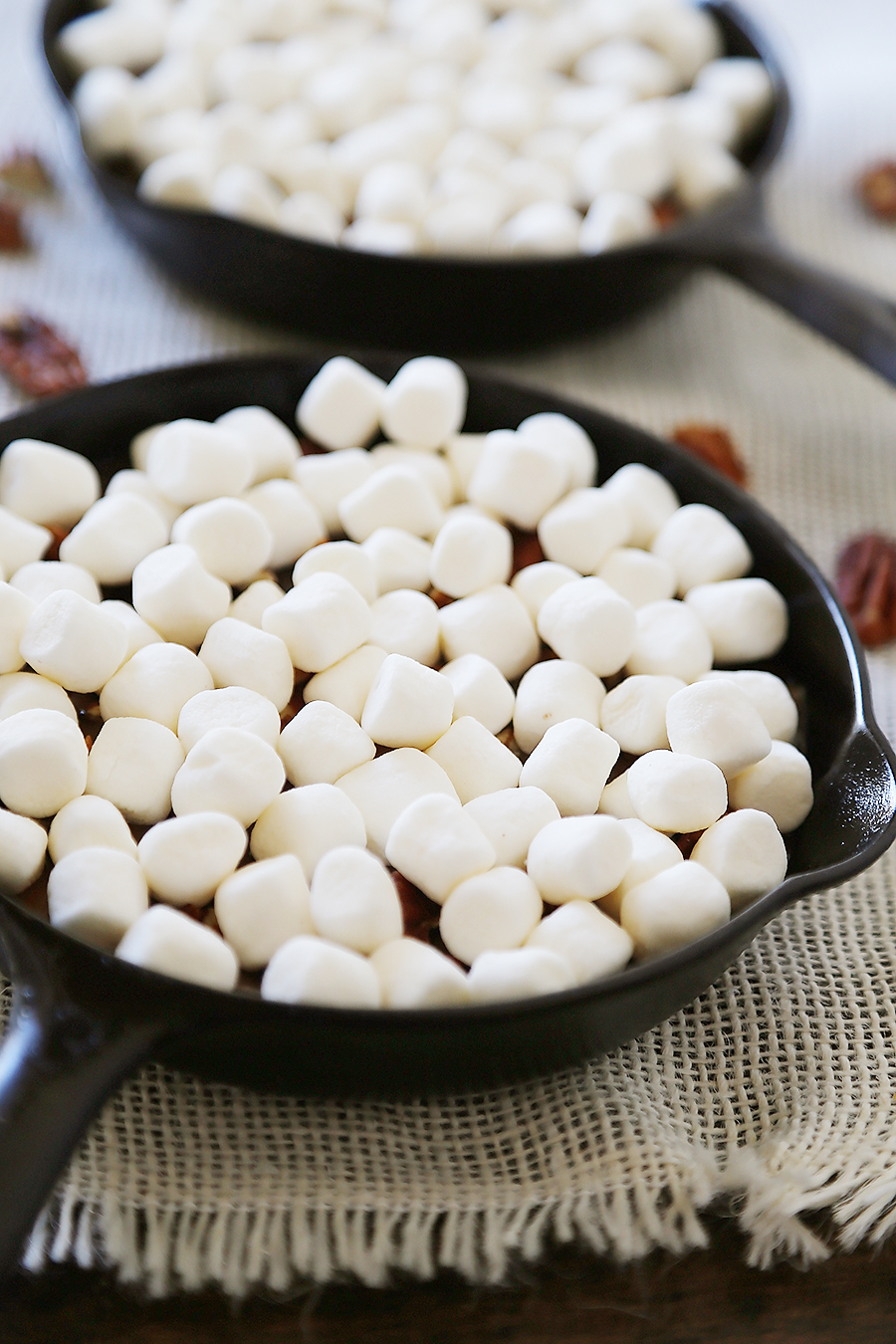 All you need are five ingredients, plus graham crackers, for these mini s'mores skillet dips! You can make yours mini, or make them in a medium (9-inch-ish) skillet, or even a baking dish. However, I think smaller is better for these delicious dips! That way, if you have a crowd of hungry chocolate lovers scooping away, everyone doesn't have to share the same skillet or dish. Dig me?
Simply combine chocolate and milk in one pot, and caramel and milk in another. Slowly melt them separately, for about 7-9 minutes, stirring until each is smooth and creamy. Add a little more milk, if necessary, to thin the chocolate to a syrup-like consistency.
Pour the chocolate into your skillet, then the caramel on top. It's fun to swirl these together with a skewer or blunt knife, too! Crumble a handful of pecans on top, or you can leave these out if you prefer. Then, heap on the marshmallows as heavy or light as you like. Pop your skillet under a hot broiler, and watch carefully to avoid the marshmallows setting ablaze. It can happen quickly!
If you're doing two skillets or dishes, it might be best to do them one-at-a-time. That way, if one burns, you have a spare! And it's always good to keep a spare s'more.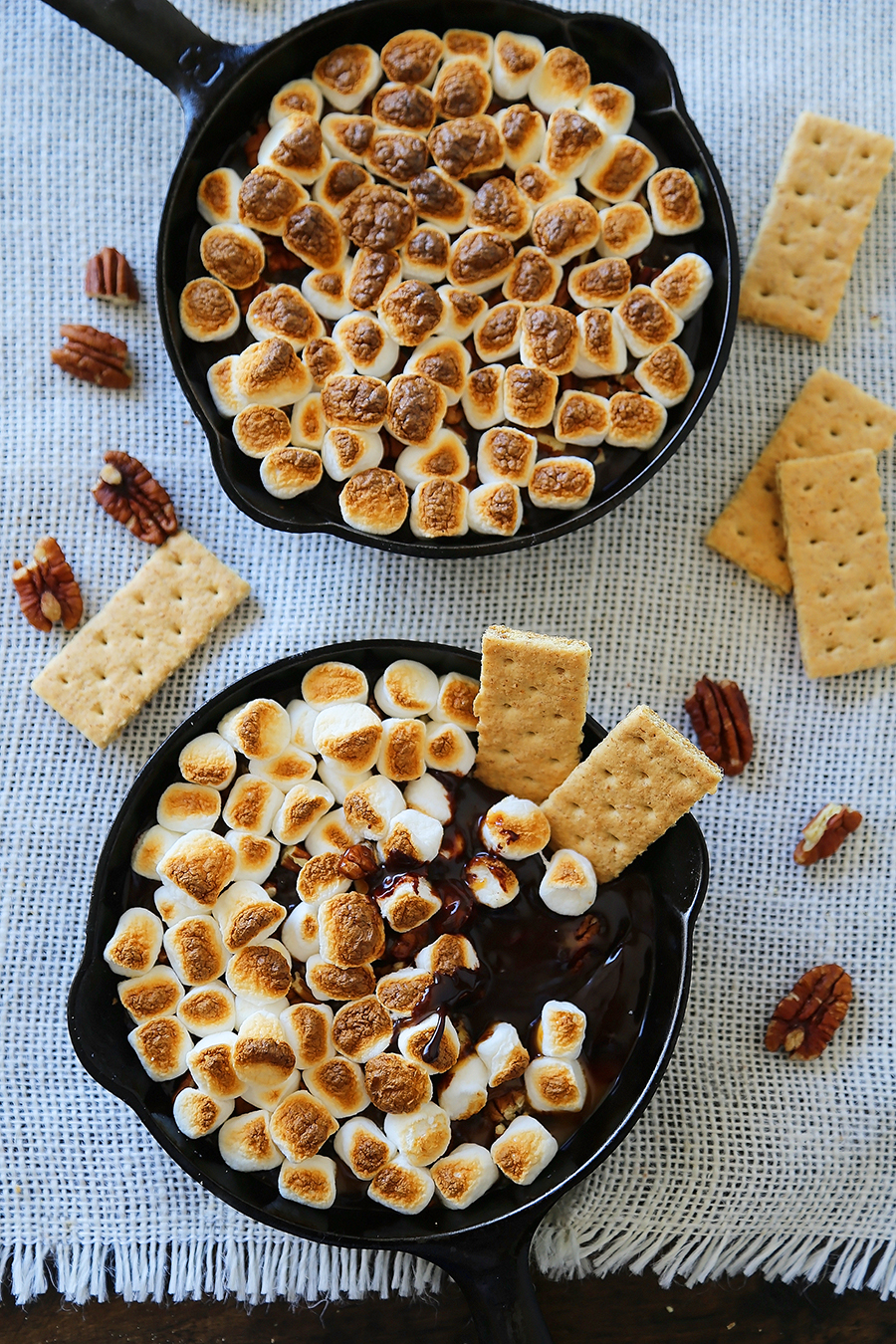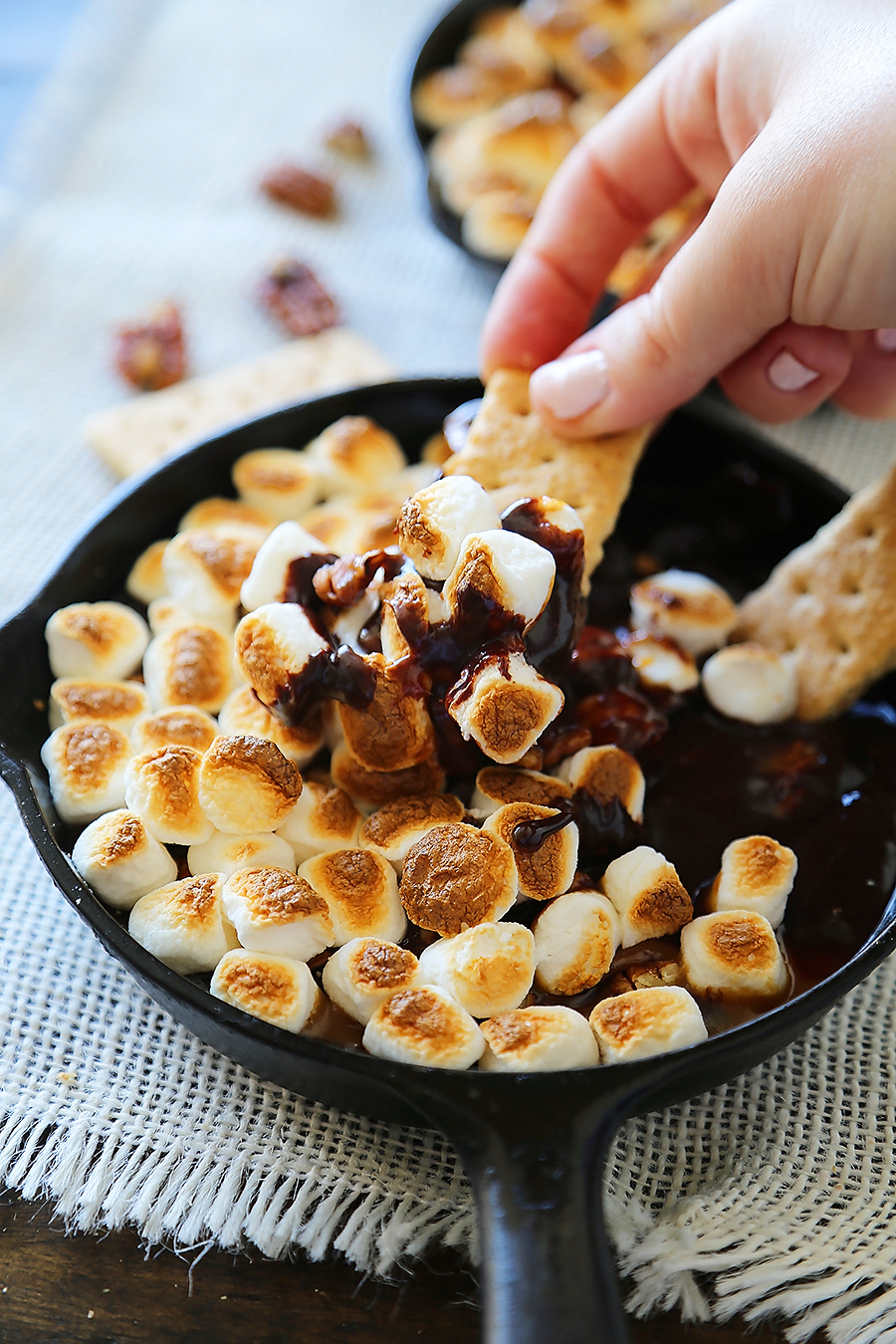 These are terrific fun for kids to help with, and my toddler really enjoyed getting in the action! She loved helping pour the chocolate and sprinkling on the marshmallows. Just remember to keep their little hands away from the hot pots of melting chocolate and caramel, and the broiler.
I know you, and whomever is lucky enough to share with you, will flip for these ooey-gooey s'mores dips. They are a totally delicious and unique way to enjoy that classic campfire treat easily at home!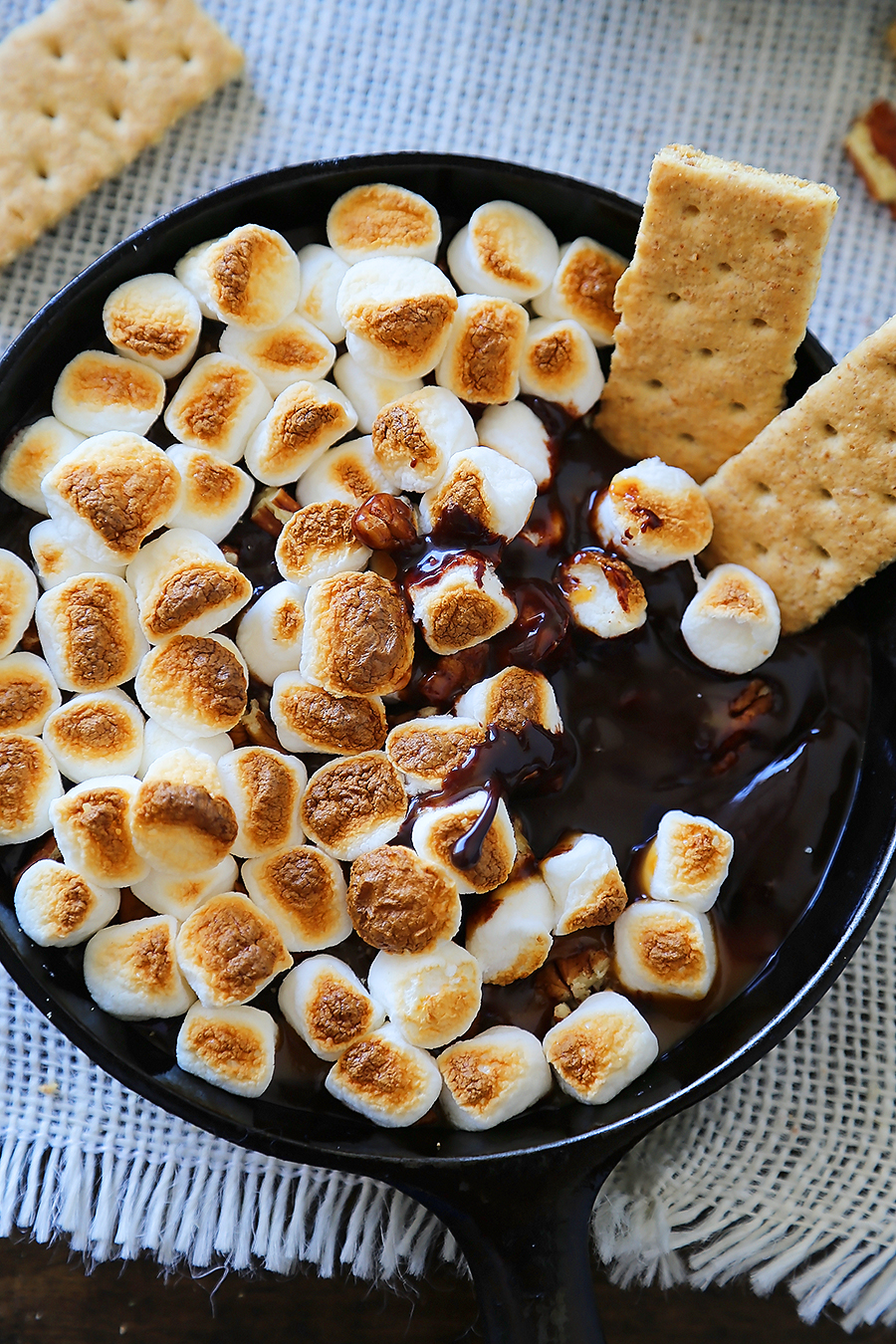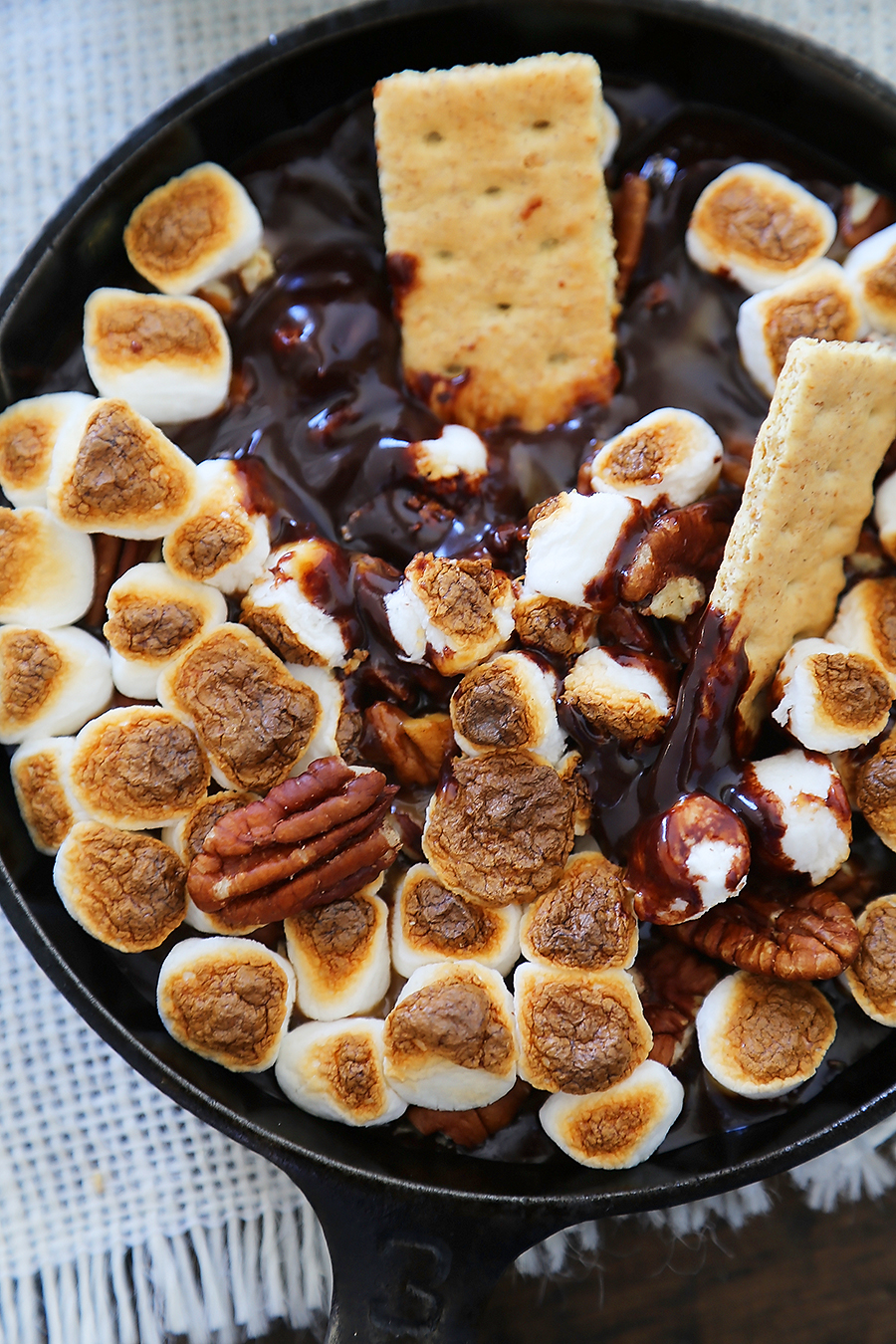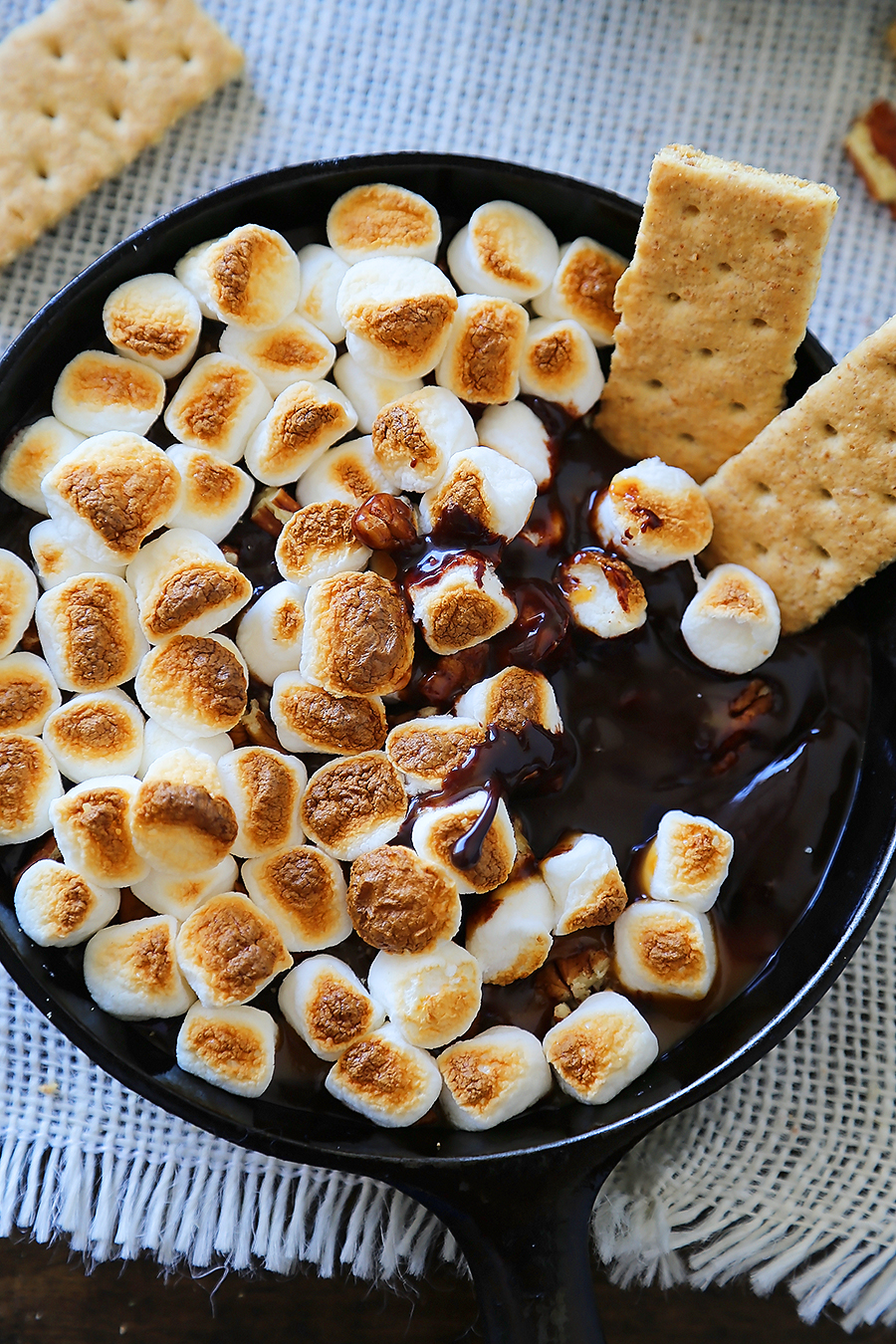 5-Ingredient Caramel Pecan S'mores Dip
Ingredients
1 cup semisweet or milk chocolate chips
1/2 heaping cup soft, chewy caramel candies (recommended brand: Kraft)
1/4 cup + 2 Tablespoons milk (any kind), divided
1/4 cup chopped pecan pieces (or, omit for nut-free)
2 cups mini marshmallows
Graham crackers, for serving
Instructions
In a medium pot set to medium-low heat, combine chocolate chips and 1/4 cup milk. Stir until melted and smooth. Remove from heat.
In a separate medium pot set to medium-low, combine caramels with remaining 2 Tbsp. milk. Stir until melted and smooth.
Pour melted chocolate into an oven-safe dish or skillet. Pour melted caramel over top. Top with pecan pieces and mini marshmallows.
Preheat your broiler. Broil for up to 1 minute, just until marshmallows are lightly toasted. Watch carefully to avoid burning marshmallows.
Serve warm, with graham crackers for dipping.
Enjoy!