Need a spin on your same-old salad? Try this colorful, mouthwatering Mexican bowl! Tender, juicy lime and chili-marinated chicken with fresh bell peppers, onions, garlic and avocado slices will be sure to hit the spot. Sprinkle on some creamy queso fresco and fresh cilantro for extra eye appeal and flavor!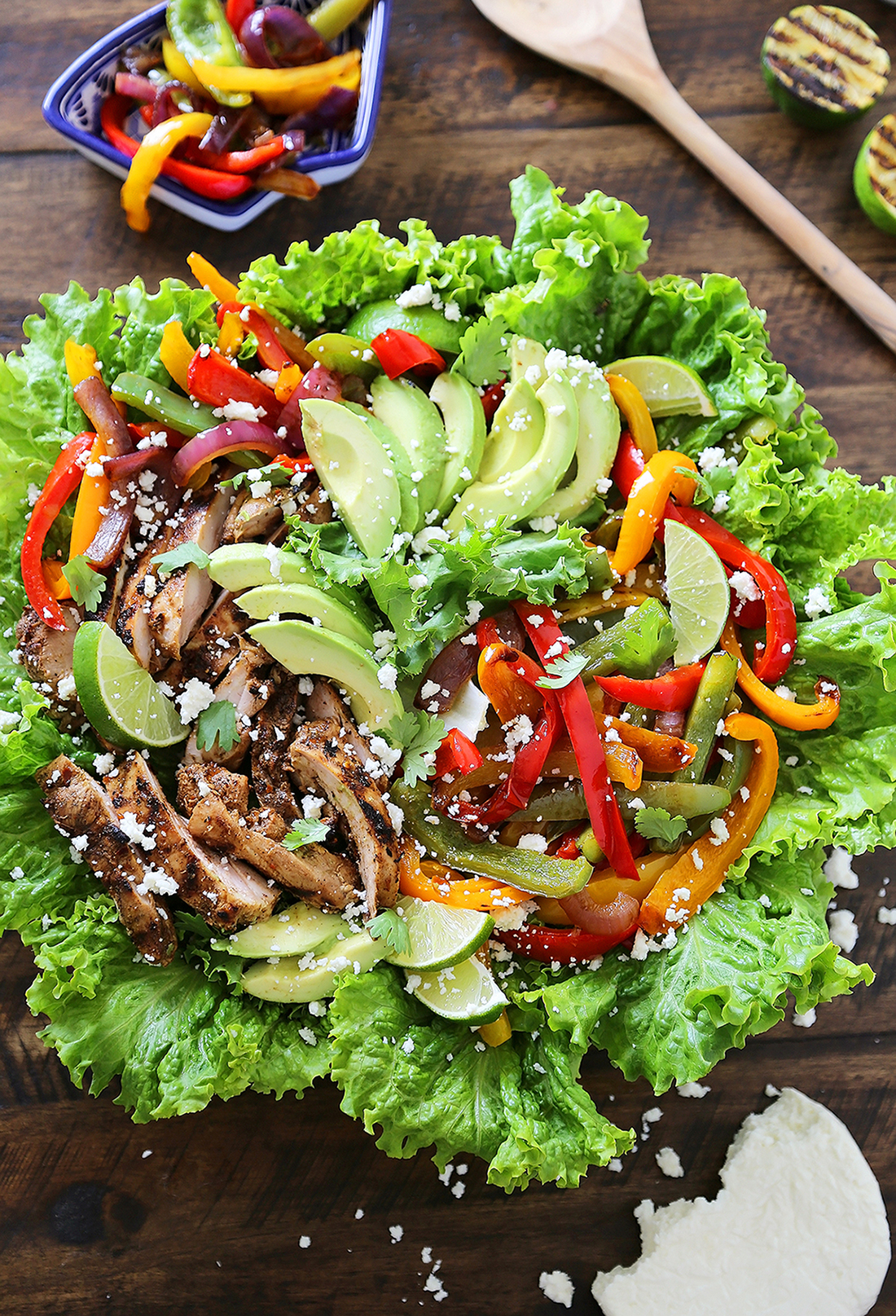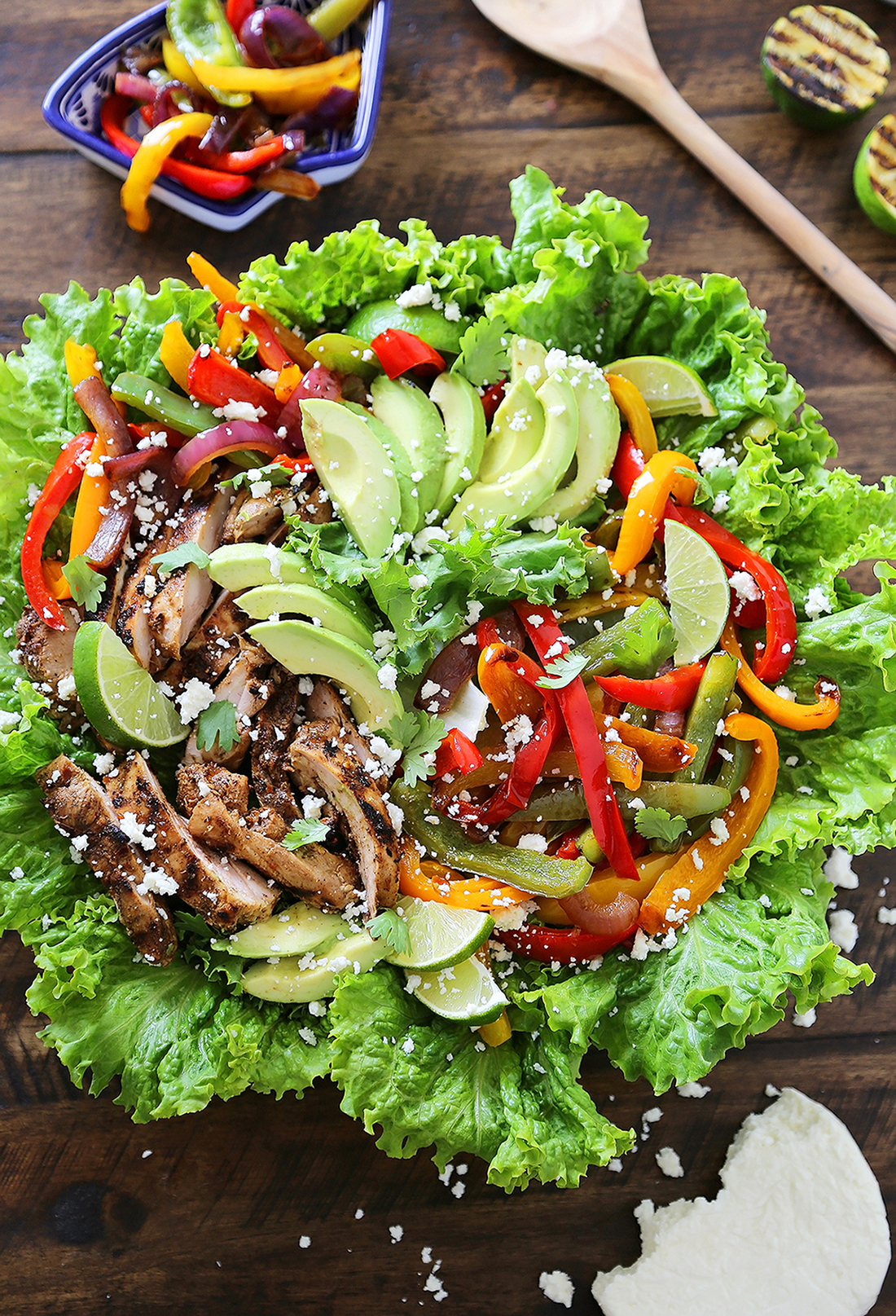 If you're like me, you get stuck in a cooking rut once in a while. It can be hard to break your habit meals, but for the sake of a little variety, a change of menu is well worth the effort. When I tend to get too comfortable cooking the same few recipes, I realize that I need to spice things up a bit! Enter this scrumptious, and incredibly simple, chicken fajita salad with peppers and onions, fresh avocado slices and crumbled queso fresco.
Though I have nothing against them, I don't often crave some traditionally heavy Mexican meals, piled with goopy cheese and refried beans. However, I frequently crave colorful and flavorful Southwestern dishes… and this healthy grilled chicken salad with bell peppers, avocado, cilantro, limes and queso fresco fit the bill perfectly!
All you need is a handful of easy-to-find pantry staples for one mouthwatering chicken marinade, and the freshest veggies you can find for the salad. I love all the color and crunch that bell peppers add, which, let's be honest, makes eating your greens a little more fun.
Want to cook up this easy, eye-popping salad tonight? Keep reading!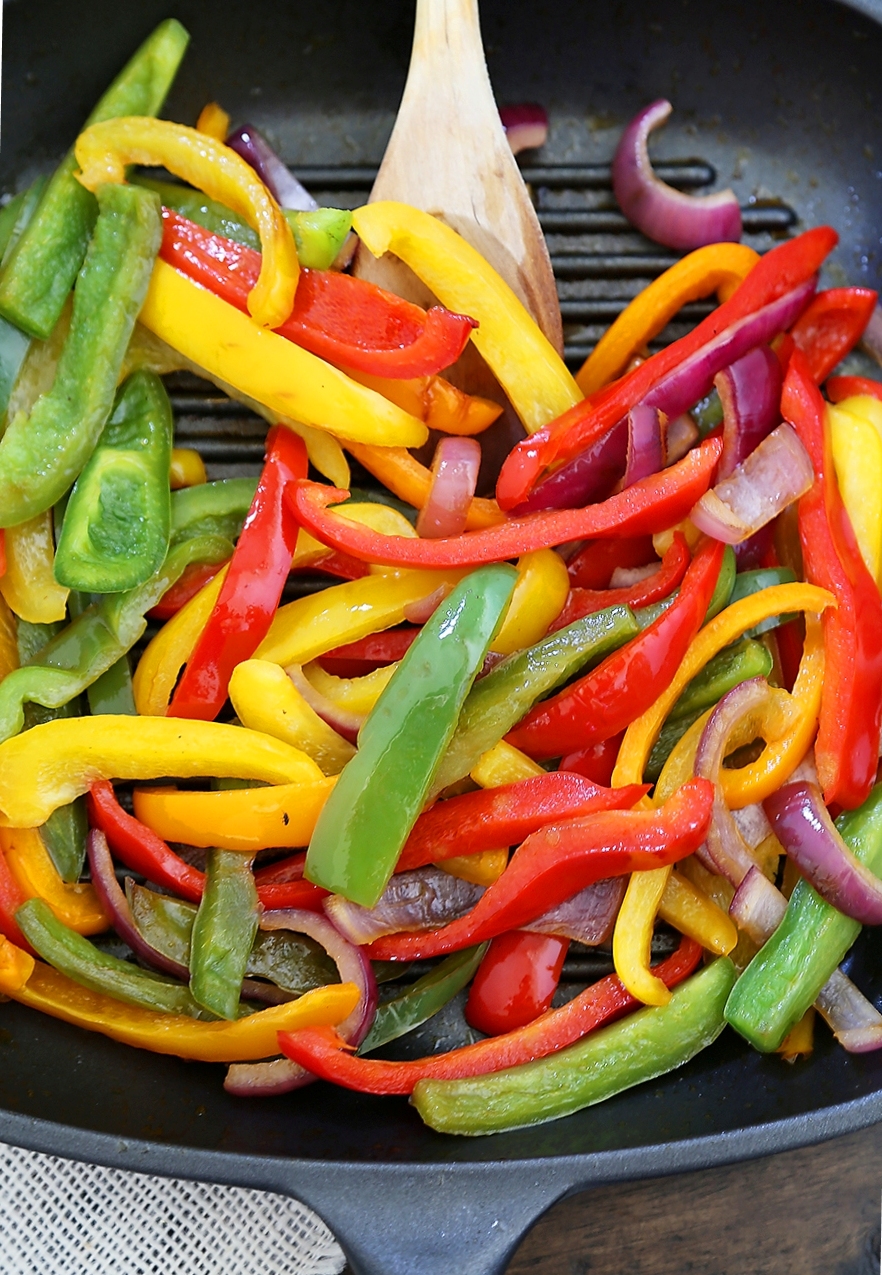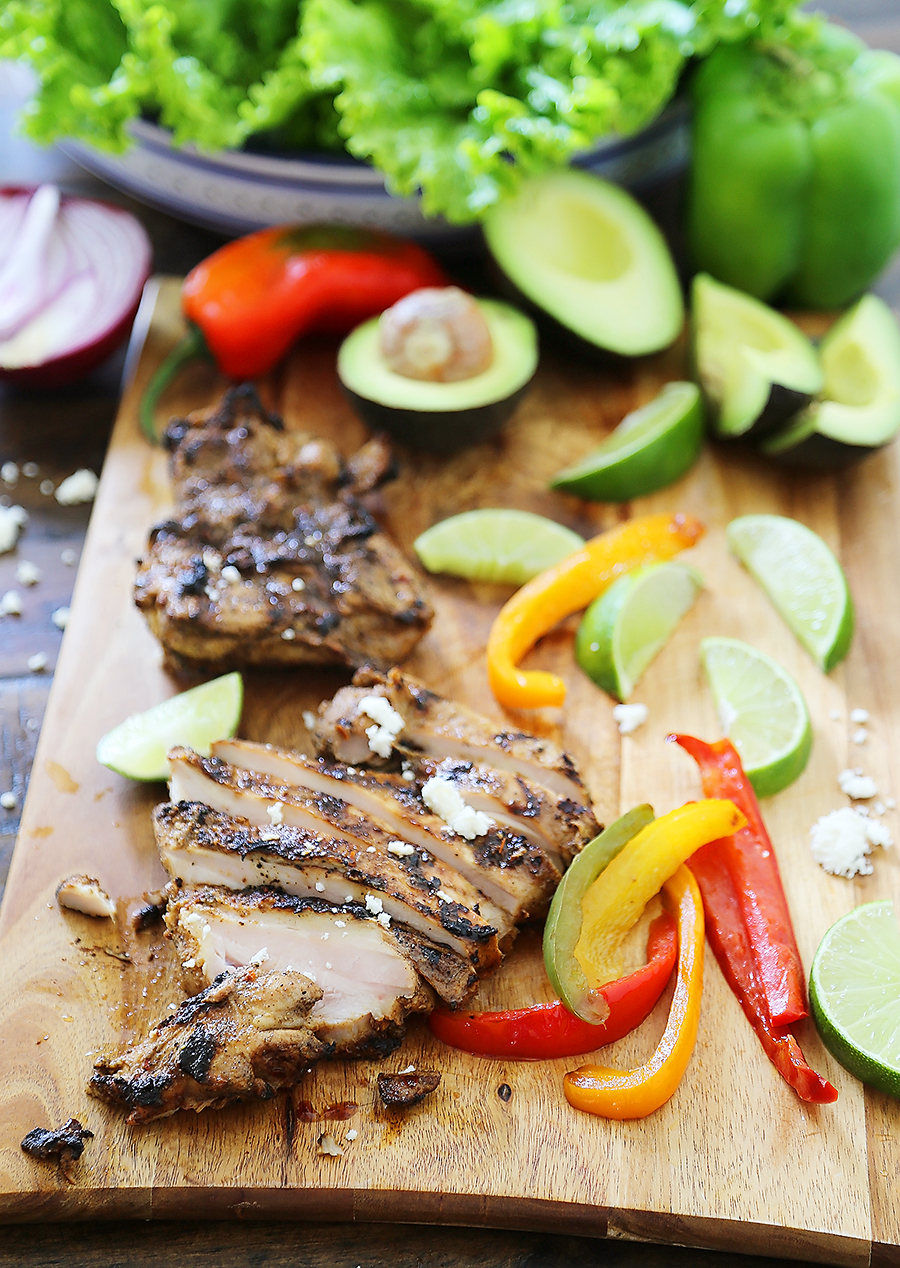 To start, simply combine your marinade ingredients in a bowl, or (my favorite method) a resealable plastic bag. Give those spices, oil and lime juice a good shake (this part is fun for kids!). Then, add your raw chicken and really knead the marinade into it. You want the chicken completely saturated as it soaks up that tangy, spicy goodness for at least one hour, or overnight if you choose. The longer, the better and more flavorful your chicken will be.
When you're ready to cook, remove your chicken from the marinade. Set the chicken on the sizzling hot grates of a lightly greased grill pan, or outdoor gas grill. Just about 10 minutes per side should do it. You want your chicken golden brown, with clear not pink juices, and deliciously crispy blackened bits for stealing before serving.
While your chicken is resting, sizzle up your bell peppers and onions in a hot skillet. Maybe cut up your lettuce, avocado, cilantro and lime wedges while you wait? It is fun to add the lettuce to a heaping huge bowl, pile everything on top, and serve from there. Also makes for a pretty-but-rustic platter picture, I think!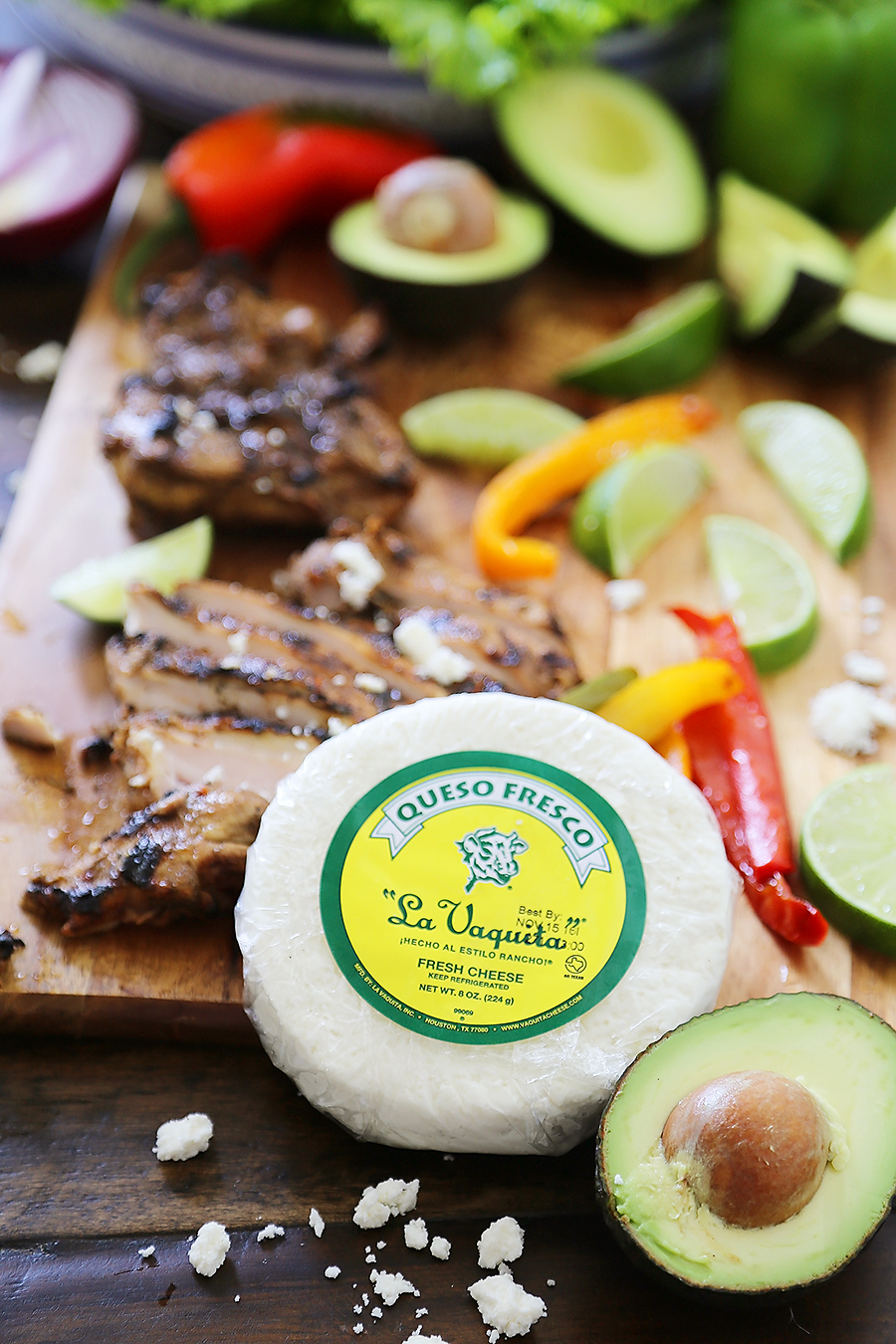 I saved sharing the best-ever topping for last, because it deserves its own individual mention. Two words: Queso. Fresco. Literally, "fresh cheese." And boy, is it the most fresh and unexpectedly delicious addition to this salad. It takes this salad from pretty good to incredible!
Queso fresco was the only ingredient here that I was somewhat unfamiliar with. But, when I spied a wheel of creamy La Vaquita Queso Fresco at my local grocery, I knew we were meant to be. It was just a matter of building a blossoming Southwestern salad, like this one, that would truly compliment it!
Never tried queso fresco? You're in for a treat.
This is a Mexican crumbling cheese with a texture similar to goat cheese, but a mild-milky flavor that makes a fresh addition to salads, tacos, soups, and even rice and potato dishes. Kids will love crumbling it over top of the salad! It is absolutely delicious, and will become a new staple in my fridge for sure. While prepping the salad and taking photos, I found myself grabbing crumbles to snack on between busy work!
Craving some fun facts? La Vaquita began 45 years ago as a business built on a queso fresco recipe, learned from a family farm. Since then, the small-batch artisanal recipe has been passed down through generations. They offer a wide range of quesos and cremas available in various sizes, and better yet, it's made right here in Texas. Perfect for lending any dish that delicious, instantly authentic Mexican flavor. If there's one thing I love, it's an easily accessible and unique cheese!
You can find these versatile, high-quality cheeses in most local Texas grocers like H-E-B, Walmart, Kroger and Fiesta.
Run, don't walk, to grab a La Vaquita queso or crema!
I know you will absolutely love this salad, and enjoy sharing it with family and friends!
Grab a simple handful of fresh ingredients and spices, and you are on your way to a perfectly nutritious meal everyone will enjoy. This has truly become one of my favorite easy dinners, and this is coming from someone who is a new friend to salad. If you catch my drift.
Please let me know how this salad turns out for you, if you give it a try. And, don't forget the queso fresco!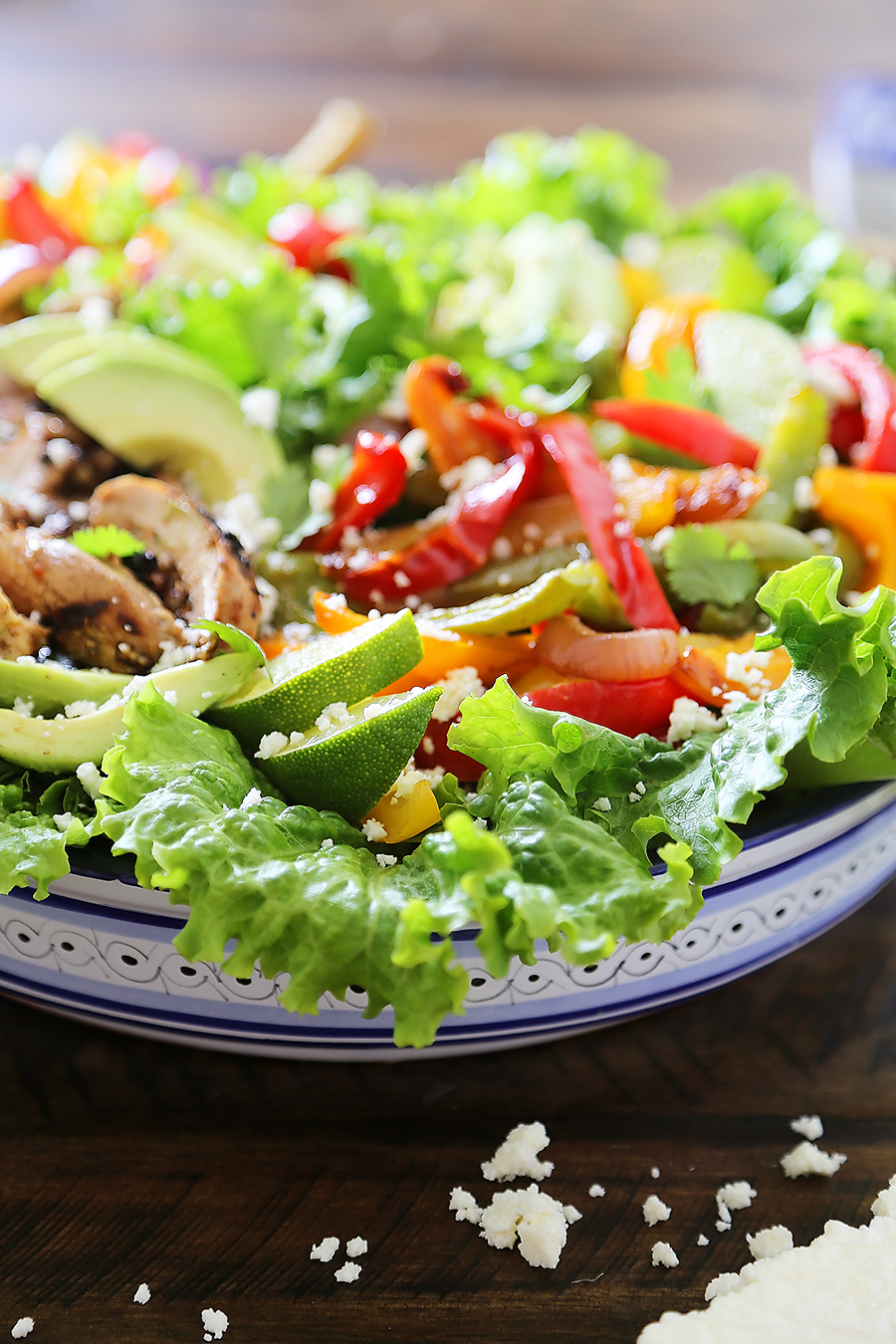 Are you looking for a great portable grill for your indoor and outdoor summer grilling? Visit GloboSurf for the best recommended grills for picnics, tail gaiting and beach days!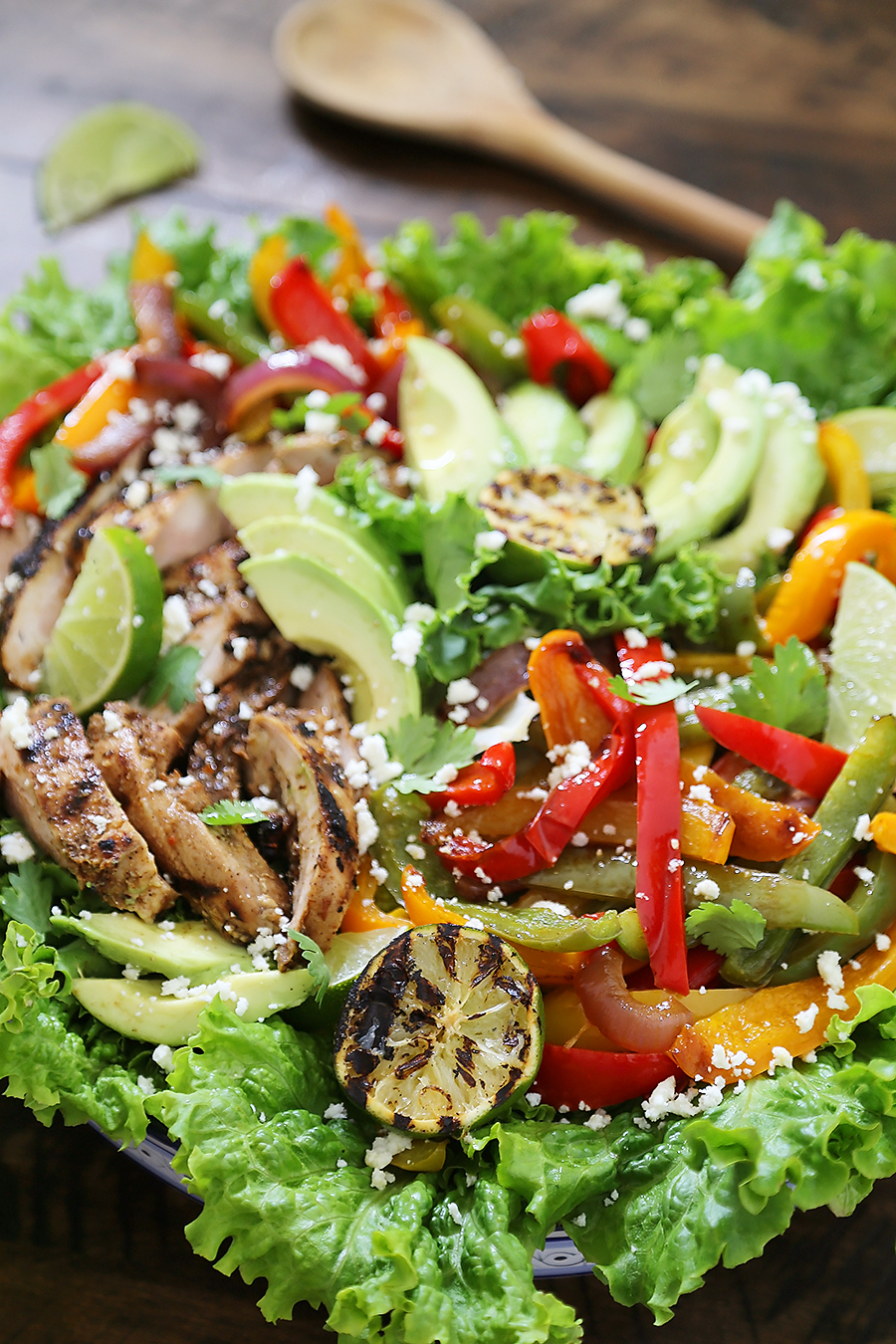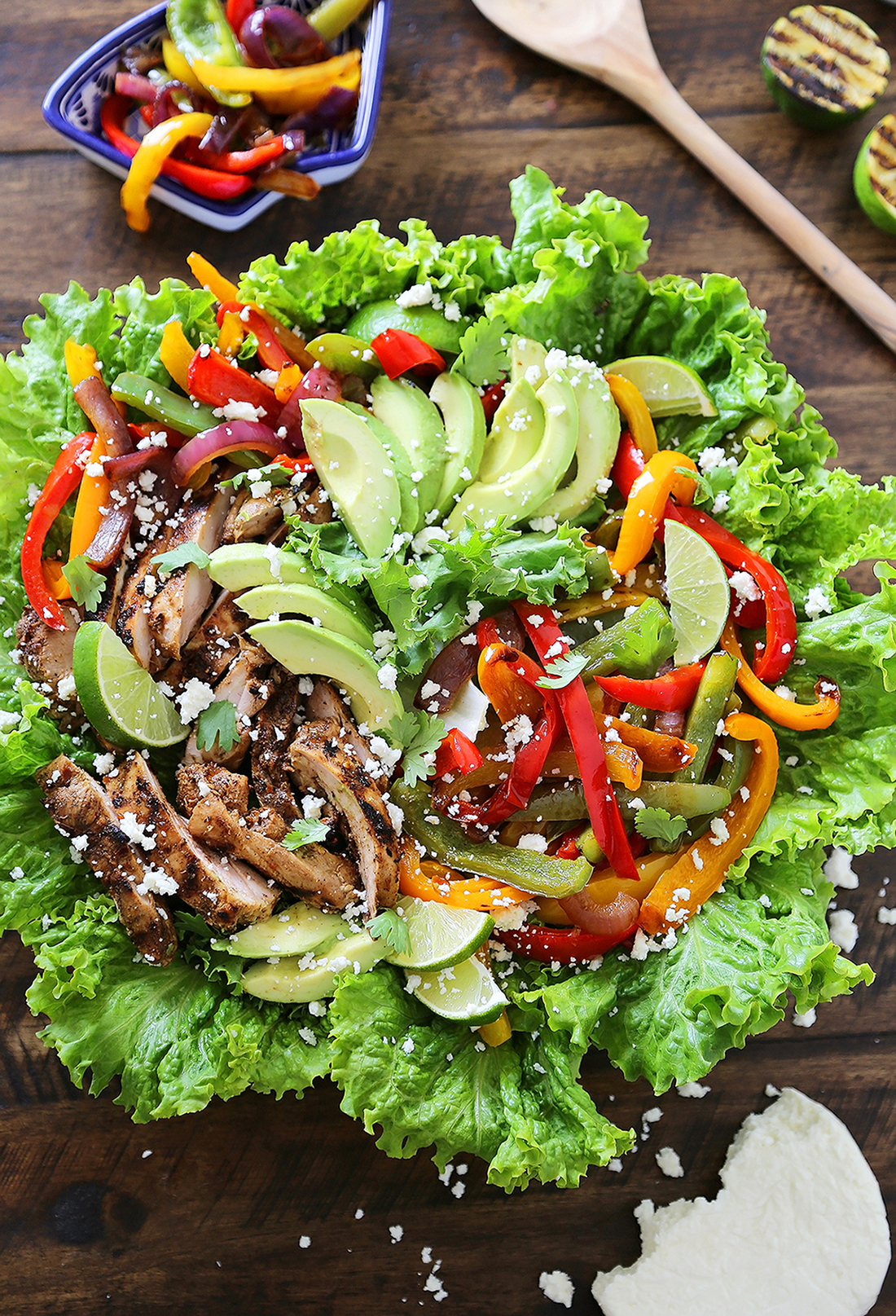 Grilled Chili-Lime Chicken Fajita Salad
Ingredients
For the marinade:
5 Tablespoons + 2 teaspoons olive oil, divided
2 limes, freshly squeezed
2 Tablespoons fresh chopped cilantro
4 cloves garlic, crushed
2 teaspoons light brown sugar
1-1/2 teaspoons crushed red pepper flakes, or to taste
1 teaspoon ground cumin
2 teaspoons kosher salt
4-5 boneless, skinless chicken thighs
For the salad:
1 each: yellow, red and green bell peppers, sliced into strips
1/2 red onion, sliced
5 cups lettuce leaves, washed and dried
2 avocados, sliced
1 (8 oz.) La Vaquita Queso Fresco, crumbled
For topping:
Fresh cilantro and lime wedges, optional
Instructions
For the marinade:In a large bowl or resealable plastic bag, whisk together 5 Tbsp. olive oil and remaining marinade ingredients. Add chicken thighs and toss to evenly coat with the mixture. Refrigerate and let marinade for at least 1 hour, or overnight.
For the salad:When ready to cook, set your grill pan or outdoor gas grill to medium-high heat. Brush with 1 teaspoon olive oil. Once grates are hot, grill chicken (about 10 minutes each side) until golden and cooked through (juices should run clear; grill in batches, if needed). Once chicken is cooked, transfer to a cutting board and let rest.
Return your grill to medium-high heat. Add 1 teaspoon olive oil. Grill bell pepper strips and onions until lightly charred, or to your desired doneness (about 3-5 minutes).
Slice chicken into strips and lay on top of individual bowls of lettuce. Top with grilled bell peppers, onions, and avocado slices. Sprinkle each bowl with crumbled queso fresco. Add fresh cilantro and lime wedges, if desired.
Enjoy!