So mouthwatering, crispy and fresh! Celebrate the season's best flavors with a fresh tomato-mozzarella salad on top of crispy, pan-fried Parmesan chicken. This is one of our favorite meals ever!
I've been staring at my screen now for 10 minutes, all googly-eyed and unsure of what to say, like a nervous girl on a first date. I think, instead of stumbling over what I really mean to say and taking forever to get the point (like I'm doing now), I'll just say it: Make this. Please, please make it!
To me, it just doesn't get more simple or scrumptious than this, and if you agree, I know you'll absolutely love this recipe. Crispy, pan-fried Parmesan chicken cutlets topped with a sweet, juicy and fragrant tomato-mozzarella salad with fresh basil and an olive oil-balsamic drizzle. Well, go ahead and slap me, I think I'm dreaming!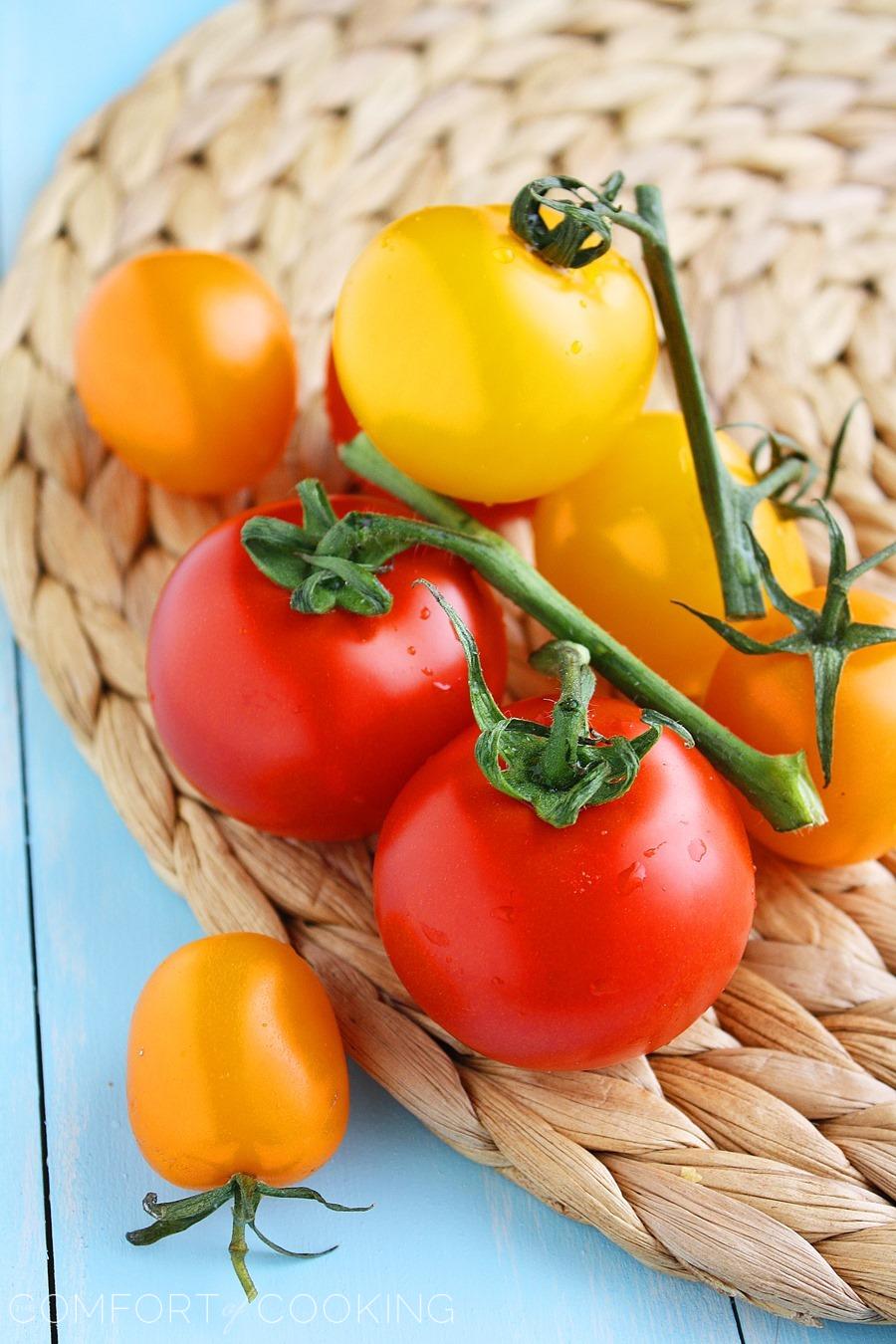 While I've made variations of this meal many times, I particularly loved the method for it found in the America's Test Kitchen cookbook, The Best Simple Recipes. In it, they describe this mouthwatering meal as a lighter take on heavier, gooier chicken parmesan. Though chicken parmesan is still a major favorite around here, I think this light, summery meal is a great alternative and perfect for the season of swimsuits and fresh, seasonal produce.
Whip up this super-easy and delicious dinner some weeknight, or even for a dinner party, and serve it with a hunk of garlic bread and salad. I guarantee you'll love it just as much as we did!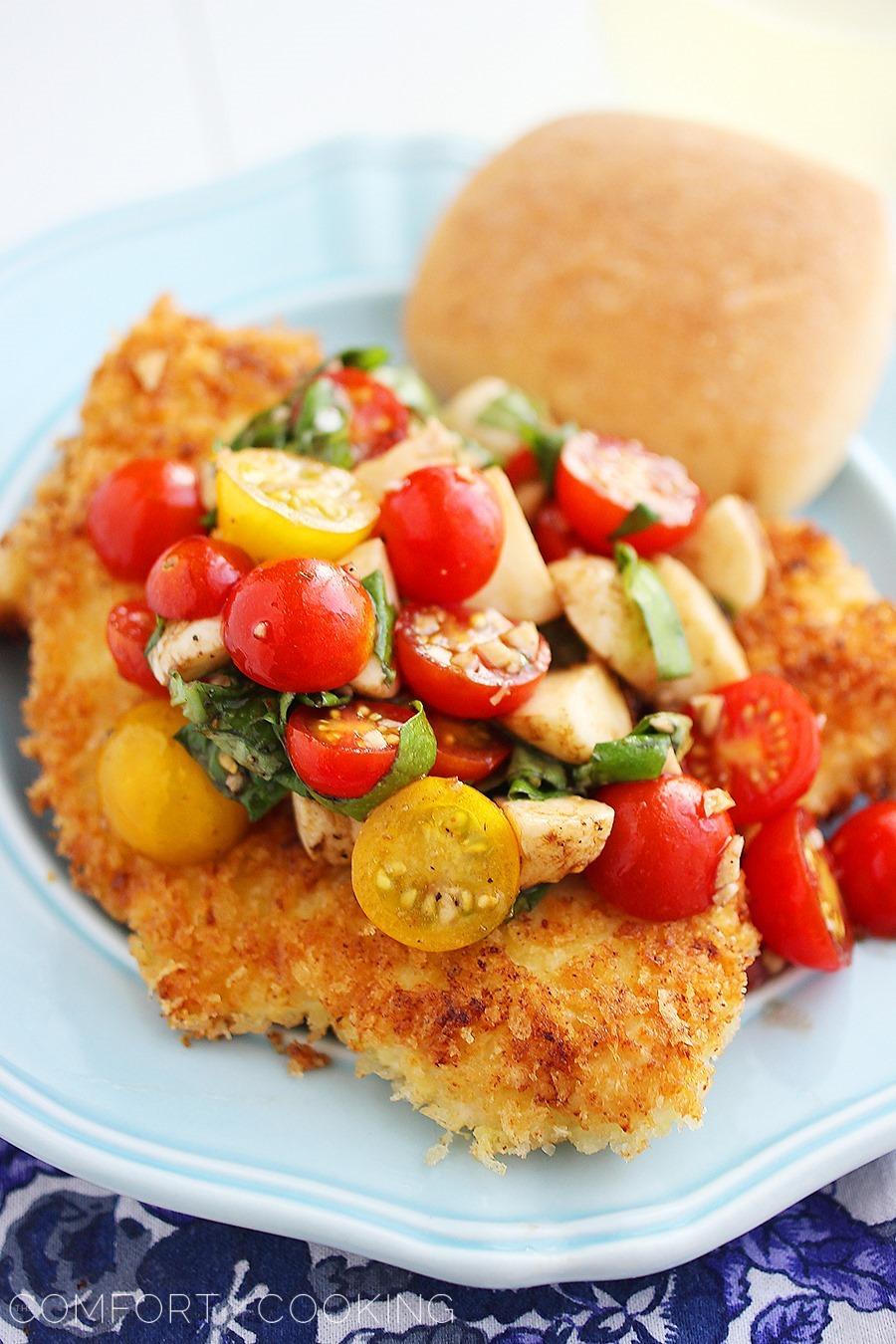 Crispy Parmesan Chicken Cutlets with Tomato-Mozzarella Salad
Ingredients
1/2 cup all purpose flour
2 large eggs
1 cup panko breadcrumbs
1/2 cup shredded Parmesan cheese
4 4 ounce chicken cutlets, 1/2 inch thick, trimmed of fat
Salt and pepper
7 Tablespoons olive oil, divided
1 1/2 cups 12 ounces cherry tomatoes, halved
1 cup 8 oz. fresh mozzarella, cut into bite-sized chunks
1 garlic clove, minced
1 teaspoon balsamic vinegar
2 Tablespoons finely chopped fresh basil
Instructions
Spread flour in a shallow dish. Beat eggs in a second shallow dish. Combine panko and Parmesan in a third shallow dish. Pat chicken dry with paper towels and season with salt and pepper. Working 1 cutlet at a time, dredge cutlets in flour, dip in egg, then coat with panko mixture, pressing gently to adhere.
Heat 3 Tablespoons oil in a 12-inch nonstick skillet set to medium heat. Once hot, cook 2 cutlets at a time until golden brown and crisp, about 2 minutes per side. Transfer to a paper towel-lined plate and place in a warm oven (170-200 degrees) to keep warm. Repeat with 3 Tablespoons oil and remaining cutlets.
Toss tomatoes, mozzarella, garlic, balsamic vinegar, basil and remaining 1 Tablespoon oil together in a bowl. Season with salt and pepper, to taste. Transfer chicken cutlets to individual plates and top with tomato-mozzarella salad. Serve.
Enjoy!