A forgotten favorite gets a delicious, skinnier twist! You'll love these saucy Swedish meatballs… total comfort food with fewer calories!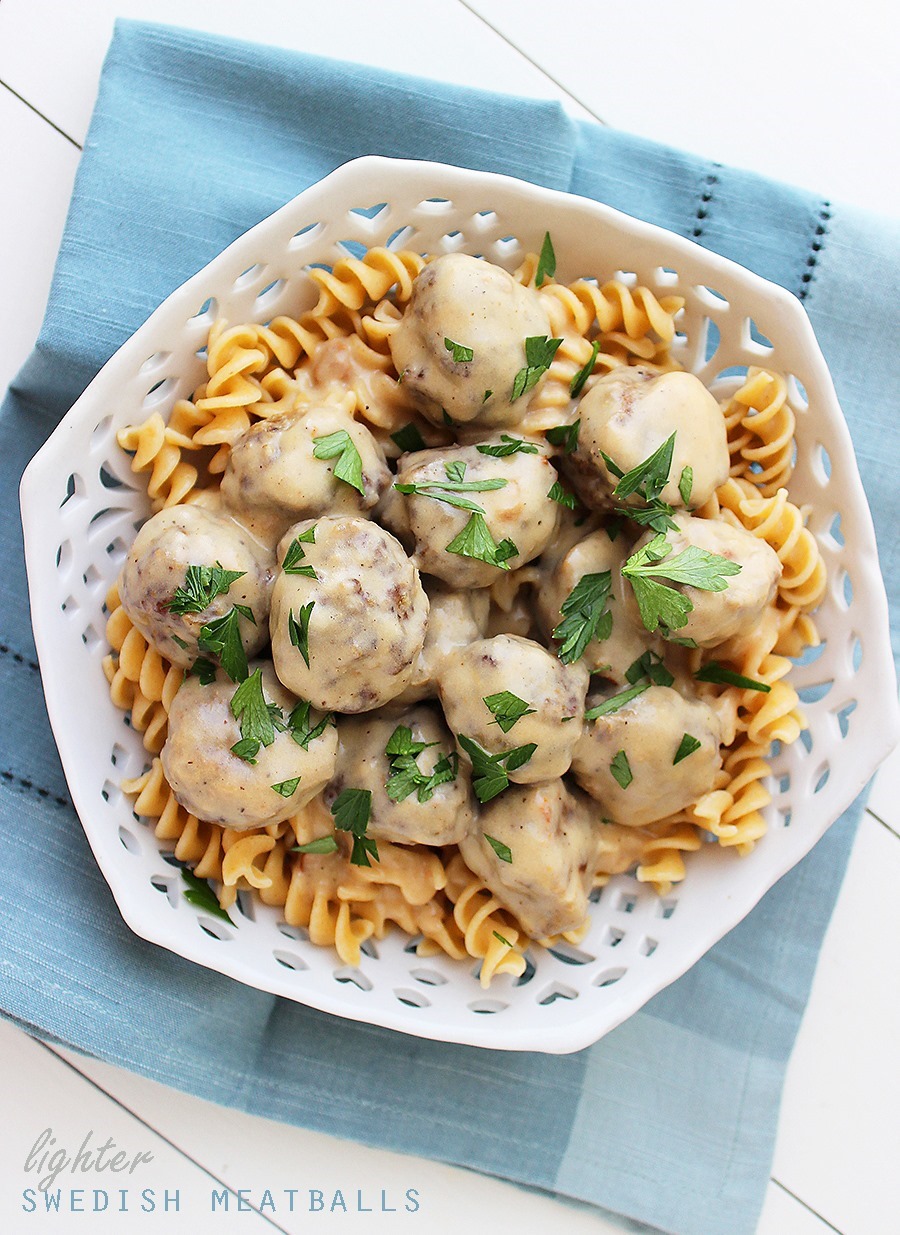 When I say this dish is a forgotten favorite, I mean forgotten. Buried under years of trying adventurous new meals and always seeking out something new, Swedish meatballs just got lost in the sauce!
See what I did there? Har har.
But, let me break it down for ya. This is something my mom used to make pretty often, and the savory, oniony aroma would fill every crack and crevice of our home. I couldn't wait to stab a fork into a saucy meatball, mop up the sauce with the noodles, and fill my belly! It's just one of my favorite comfort food memories, and last week, one after another forkful transported me back to that farmhouse. Made for the first time in my own home, this skinnier take on scrumptious Swedish meatballs was just as satisfying, and let me tell you, we couldn't get enough of it!
As much as I was looking forward to the leftovers for lunch the next day… alas, there were none. The trials and tribulations of living with a big, hungry manivore!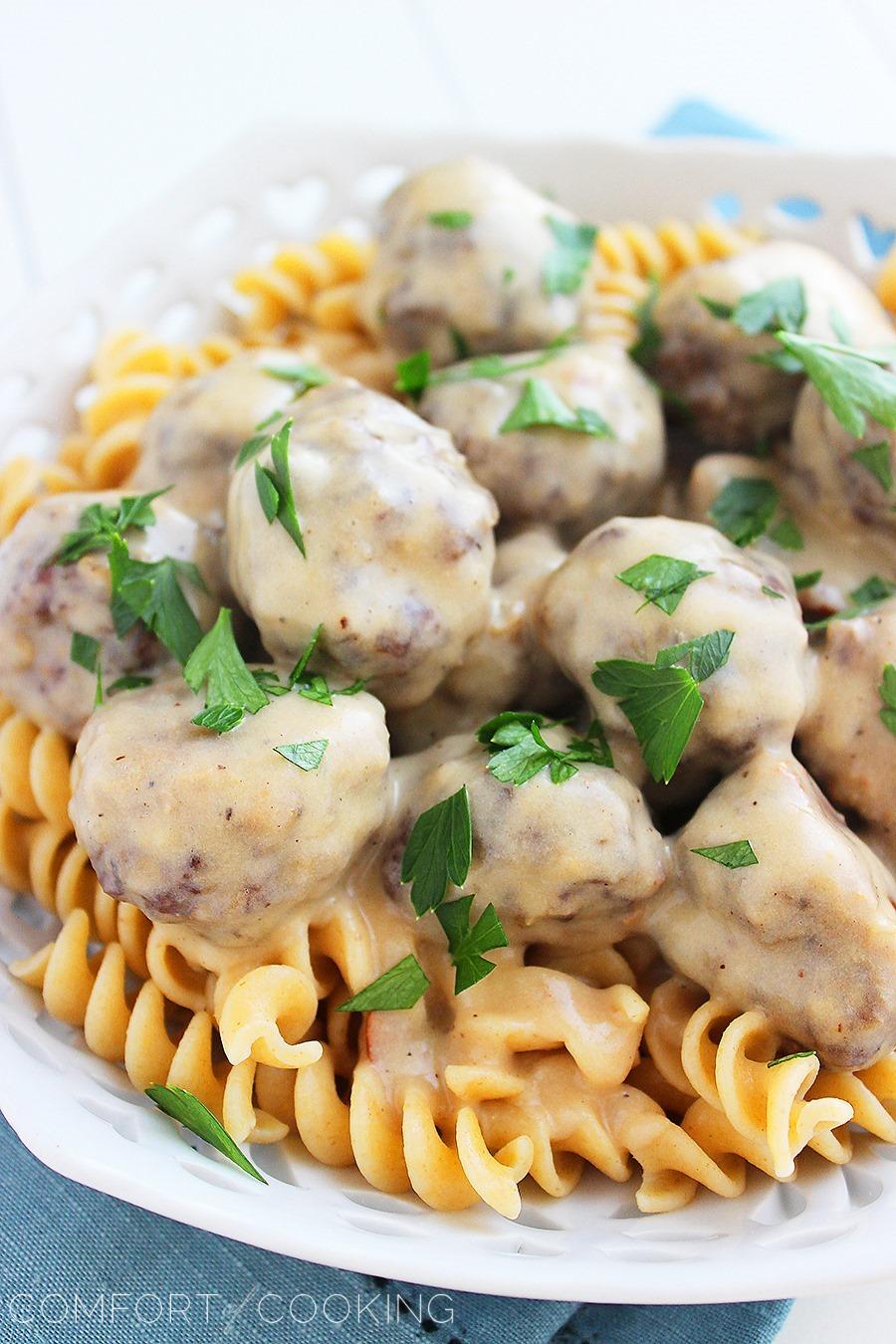 Served on top of warm whole wheat pasta and smothered in a creamy sauce made with skim milk, these Swedish meatballs were mouthwatering. The milk makes a surprisingly rich-tasting sauce without the calories, so trust me and try it for yourself!
This is one scrumptious rediscovered meal I'll be adding back to my rotation, and I know you'll love it, too! It's like a big hug in a bowl, I tell ya.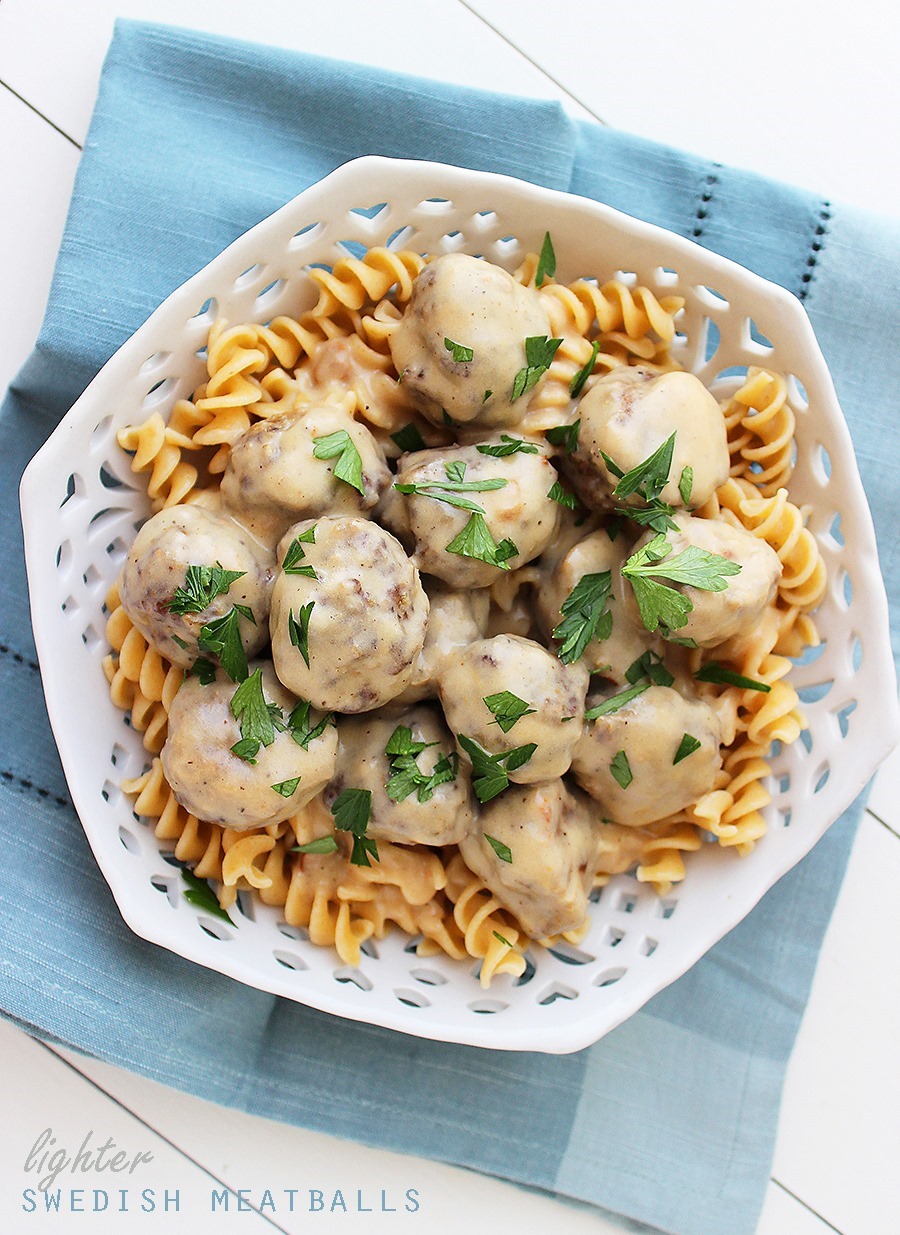 Lighter Swedish Meatballs
Yield:
30 meatballs (4 servings)
Ingredients
For the meatballs:
1 pound lean ground beef or ground turkey
1 large egg
1/4 cup fat-free milk
1/3 cup fine dry bread crumbs
2 teaspoons minced onions, dry (recommended) or fresh
1 teaspoon kosher salt
1/4 teaspoon garlic powder
1/4 teaspoon ground black pepper
1/4 teaspoon ground allspice
For the sauce and serving:
2 tablespoons butter
2 tablespoons flour
2 teaspoons beef bouillon granules
1/8 teaspoon ground black pepper
2 cups fat-free milk
2 cups cooked pasta, egg noodles or rice
Instructions
Preheat oven to 350 degrees F. Prepare a large baking sheet lined with aluminum foil and sprayed with nonstick cooking spray.
In a large bowl, combine all ingredients and mix well with your hands. Shape into about 30 (1-inch) meatballs. Arrange meatballs on baking sheet. Bake 20 to 25 minutes, or until cooked through. Remove from oven and pat dry with paper towels (this helps the sauce stick better).
Meanwhile, melt butter in a large skillet on medium-high heat. Stir in flour, bouillon granules and pepper. Gradually add milk, whisking constantly as you pour. Bring to a boil then reduce heat to a simmer, stirring frequently. Simmer 6-7 minutes, or until sauce has significantly thickened. Add meatballs to skillet, cooking until heated through.
Serve on top of warm, cooked pasta, egg noodles or rice.
Enjoy!