Simmer these delicious, low-carb Asian chicken lettuce wraps in your slow cooker for a fresh & healthy home-cooked meal!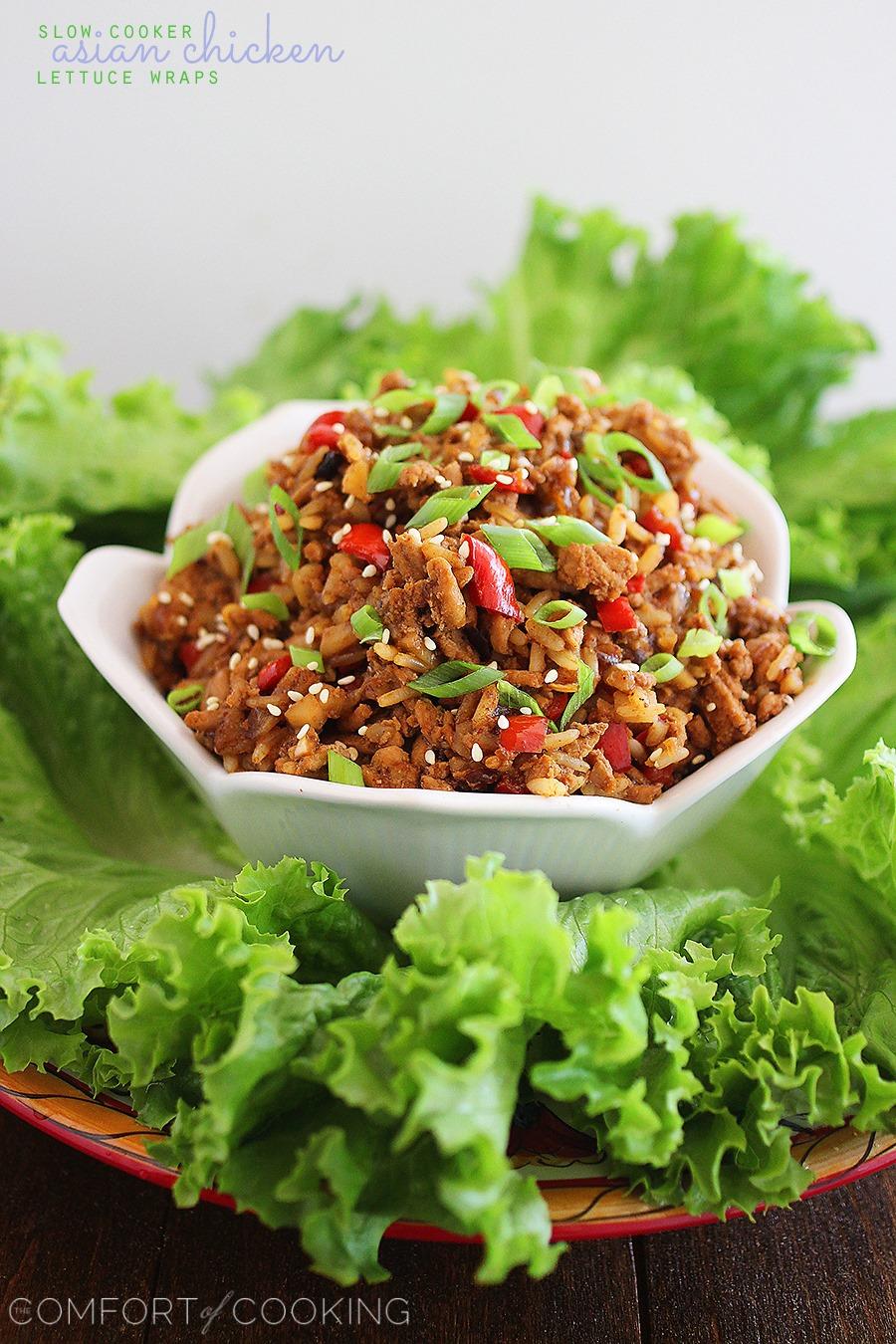 You guys. I straight up licked the spoon like it was brownie batter on this one!
It was shameful, yes. But delicious? You bet your lettuce-lovin' buns.
I take that back. Does anyone really love lettuce, after all? I find that we have a love-hate relationship, honestly. Nestled underneath a spicy steak with veggies, it adds the perfect freshness and crunch. Tossed with fresh strawberries and a lemony poppy seed vinaigrette, it makes a scrumptious sweet-savory pairing. Plain on a plate with just a squirt of bottled dressing? Well, I'm about to flip a table!
These luscious lettuce wraps are anything but plain. They're positively packed with flavor, easy to make (thank you slow cooker!), and a healthy twist on Asian take-out at home! With a drizzle of spicy Sriracha, I all but ate my dinner plate when these delicious wraps suddenly left me with just a couple crumbles of chicken.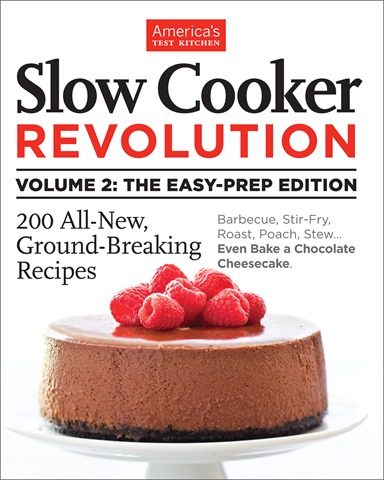 The recipe I snagged (and made my own slightly) is from the brand spankin' new America's Test Kitchen cookbook, Slow Cooker Revolution Volume 2: The Easy Prep Edition. The index alone is enough to make your mouth water, where they have an irresistible collection of the classics – soups, casseroles, sauces and stews – but you can also find whole roast chickens, steaks, creamy dips, and cheesecakes!
YEAH. Slow-cooked. Cheesecake.
For a peek inside this fabulous new book, and for a preview of more of their surprising and easy slow cooker recipes, click here. You can grab yourself a copy here. The photos alone are drool-worthy!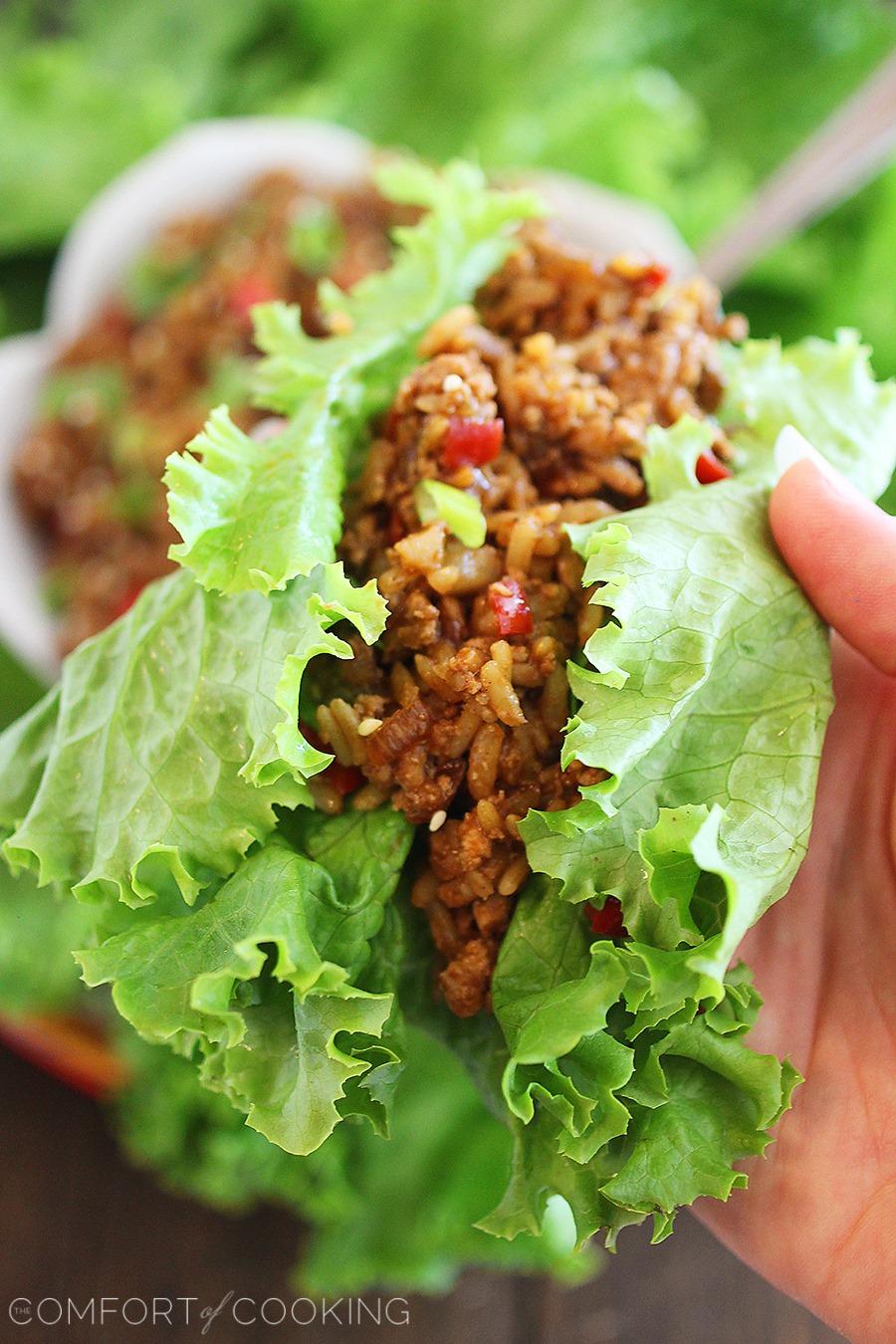 But, back to the wraps before I get distracted by sweets!
By simmering ground chicken in a saucy mixture of hoisin, soy, garlic and ginger, you're able to make a hearty meal for 4 in no time! The chicken turns out SO moist and tender, the sweet-salty sauce binds it together beautifully with the veggies and the rice. The whole shabang gets simmered in your slow cooker on "Low" to keep the chicken from drying out, so I don't recommend jacking it up to "High" if you want to be more speedy about the process. If you don't have a slow cooker, or just don't have time, simmer everything together in a large nonstick skillet until everything is cooked and warmed through.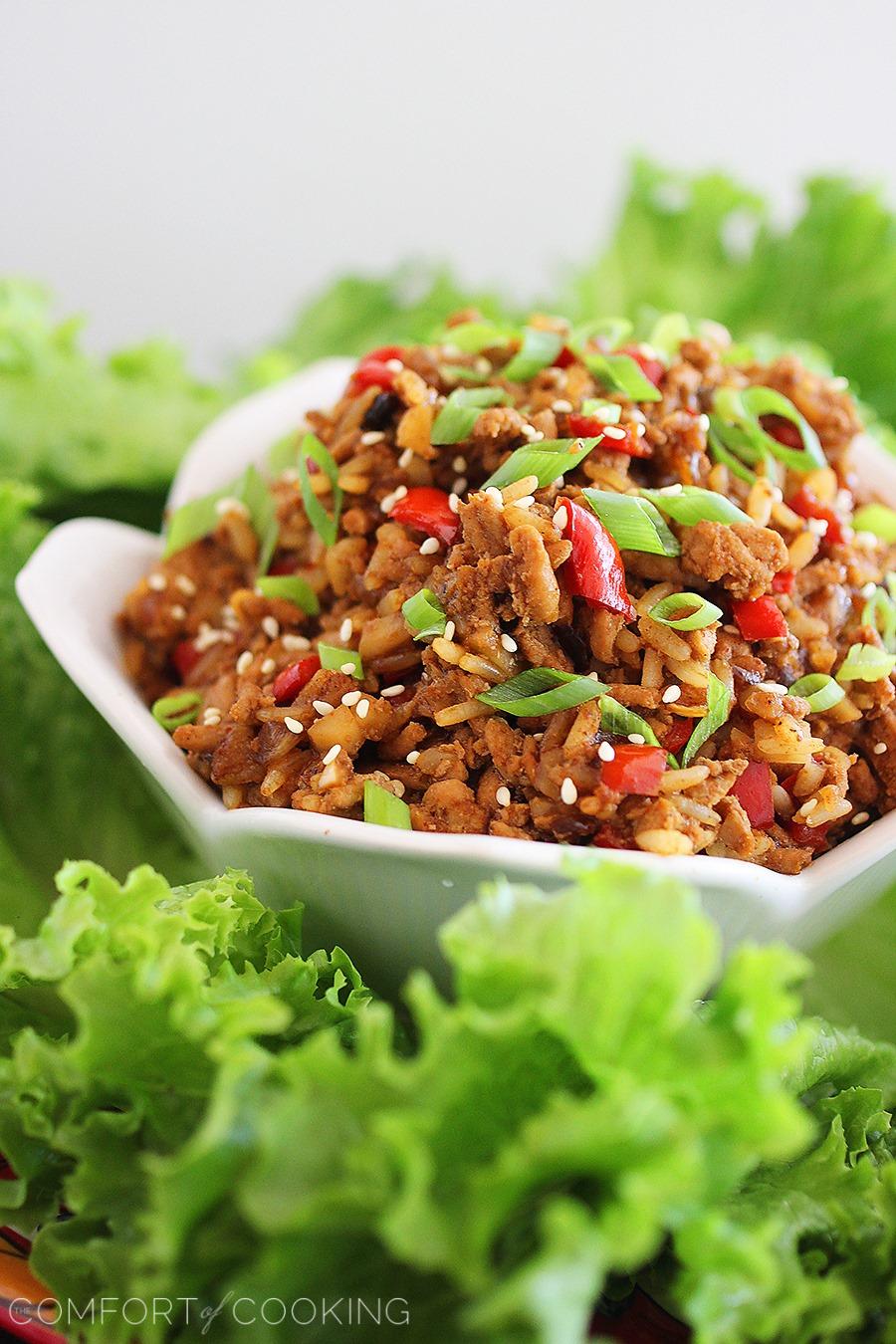 Chopped scallions and water chestnuts add freshness and crunch to compliment the intense flavors of the chicken. Rice joins the mix to soak up the extra sauce and bulk up the filling for a surprisingly hearty, comforting homemade meal that's healthy, too. Wrapped up in a crunchy, crisp lettuce leaf, or even served over a bed of chopped greens, this chicken is definitely a new favorite in our house!
Try these wholesome and delicious Asian chicken lettuce wraps for dinner some night and you'll see what I mean. They make for an easy next-day lunch, too. Just don't forget the hot sauce!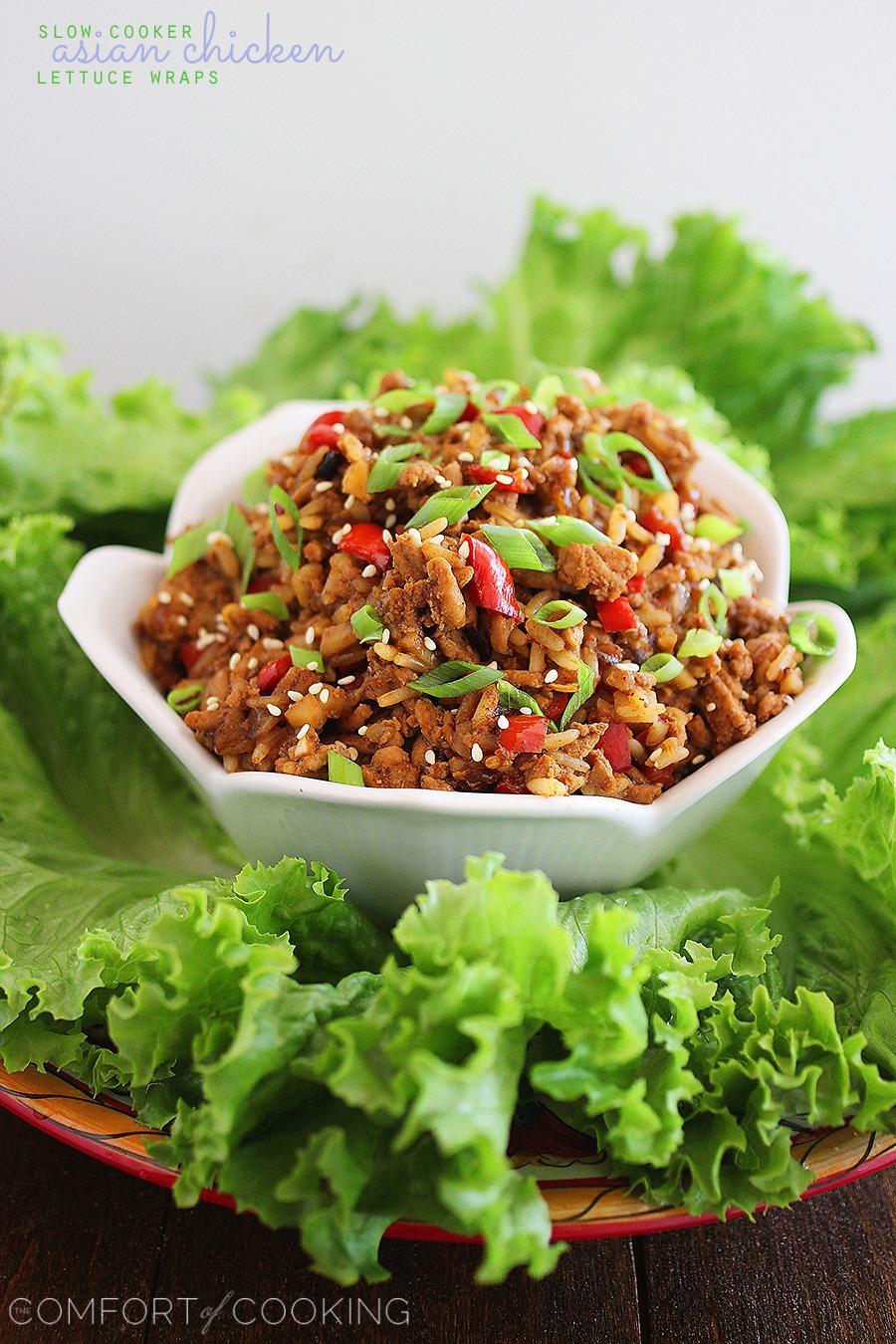 Slow Cooker Asian Chicken Lettuce Wraps
Ingredients
1 pound ground chicken
1 red bell pepper, cored and chopped fine
1/2 yellow onion, finely chopped
2 garlic cloves, minced
1/2 cup hoisin sauce
2 Tablespoons soy sauce
1/2 teaspoon freshly ground ginger
1/4 teaspoon kosher salt
1/8 teaspoon freshly cracked pepper
4 oz. sliced water chestnuts, finely chopped
1 cup cooked rice, I used brown
3 scallions, thinly sliced
1 head Bibb, Romaine or iceberg lettuce, rinsed and pat dry
Sriracha hot sauce, for drizzling, optional
Instructions
Microwave ground chicken in a medium bowl, stirring occasionally, until chicken is no longer pink, 3-5 minutes. Drain off liquid and transfer mixture to slow cooker. Crumble chicken with a wooden spoon and stir in bell pepper, onion, garlic, hoisin sauce, soy sauce, ginger, 1/4 teaspoon salt and 1/8 teaspoon black pepper. Cover and cook on low until chicken is tender, 1 1/2 to 2 hours.
Stir in water chestnuts, rice and scallions. Let sit until heated through, about 5 minutes. Serve with lettuce leaves and Sriracha hot sauce, if desired.
Enjoy!