Not too long ago, salad was nothing but a leafy green necessity that I had to force down a few times per week, whether I liked it or not. However, since I've learned to cook and combine new flavors, I've also started to experiment with new, flavorful salads, enjoy them and realize that they can be really darn fun!
For my daily dose of vitamin D-rich veggies, I always keep a box of organic Mixed Greens & Spinach salad on hand. With its great variety of greens, including spinach, romaine, arugula and radicchio, it makes throwing together a salad so easy.
As a quick lunch, I'll top a few leafy handfuls with some grilled chicken and my favorite dressing, or just eat it with some cut-up tomatoes, cucumber and shaved Parmesan cheese. Delish!
But, onto the fun stuff. This strawberry salad with homemade poppy seed vinaigrette from Paula Deen was just heavenly! So much so that, after I took these pictures, I sat down and ravenously finished the whole plate in about five seconds. And, like I said, salad and I are still learning to be friends. I think we're a whole lot closer now.
Though you might not usually think to top your spinach salad with strawberries, you will be amazed at how fresh, light and delicious the sweet-savory combination can be. Tied together with a super simple lemon vinaigrette, it was a slightly sweet and very refreshing dish that made me feel like I had my feet in the grass and a fruity drink in hand. Are you here yet, spring?
Oh, here's a hot tip for you: Scoop out your lemon seeds with a fork to catch them all at once. Another hot tip: Make this vinaigrette and use it on any salad for a little sweet pick-me-up. It is so easy, and it's to-die-for delicious! Also of note: Poppy seed fingers!
Ah, fresh California produce. It can't be beat. I may be moving away from you eventually, land of sweet strawberries and luscious lemons, but I'll never forget your bountiful harvest even in the middle of this chilly late winter season!
For a simple and refreshing side dish, lunch or meal any time of day, you must try this strawberry and mixed green salad. It is divinely delicious, good for ya and might just inspire you to create all new flavor combinations in your own kitchen!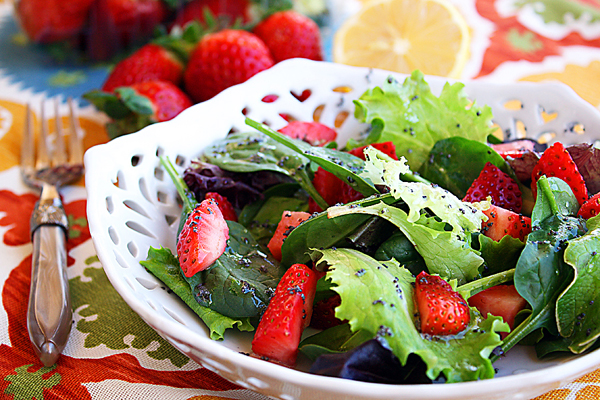 Strawberry and Mixed Green Salad with Poppy Seed Vinaigrette
Ingredients
Salad:
1 10 to 12-ounce package baby spinach or mixed greens, washed and dried
1 pint strawberries, hulled and quartered
Vinaigrette:
1/2 lemon, juiced
2 tablespoons white wine vinegar
1/3 cup sugar
1 tablespoon vegetable oil
1 teaspoon poppy seeds
Instructions
In a large salad bowl, add the mixed greens and strawberries, and toss together.
For the dressing: In a small glass bowl or jar with a tight-fitting lid, combine the lemon juice, vinegar, sugar, oil and poppy seeds. Whisk together in the glass bowl or shake if using a jar. Dress the salad right before serving.
Enjoy!