One of my favorite meals to make on winter weekends is a warm and cozy, and usually very meaty, chili. However, I figured I'd try something new this time around and trick our tastebuds with a three-bean vegetarian chili that would be just as filling, hearty and lick-the-bowl-clean delicious as what I usually make. And hey, why not add a soft and crispy polenta cake to the mix, too? Polenta had been something I'd always wanted to try, and since it has a taste and texture similar to cornbread, it pairs wonderfully with a big bowl of piping hot chili!
The best part of this recipe is that though the ingredient list is a little lengthy, the process only requires three sentences of directions – that's it! Just sauté your onions, bell peppers and garlic, and in go the spices – brown sugar, chili powder, cumin and oregano – along with stewed tomatoes, kidney beans, cannellini beans and black beans. Simmer for half an hour, and you're done!
Now, for the polenta, which is delicious just in its creamy consistency but I loved to make it into little "cakes". You need a medium- to coarse-grind cornmeal; I used Bob's Red Mill Cornmeal. Following Alton Brown's basic polenta recipe, it took just about 10 minutes of stovetop stirring and 40 minutes in the oven.
After cooling in a round cake pan for a few hours, mini polenta cakes were cut out, sautéed in olive oil and plopped atop the chili for a delicious dinner! Remember: If you're going to make polenta cakes, make the polenta in the afternoon and give it time to cool in the fridge. Then, when your chili is almost done, cut out the cakes and sauté them then.
Even for meat-lovers like my husband and me, this was an absolutely scrumptious meatless meal and one I look forward to making for many weekends to come. I know you would enjoy it just as much as we did, and hopefully go back for seconds and thirds like we did, too!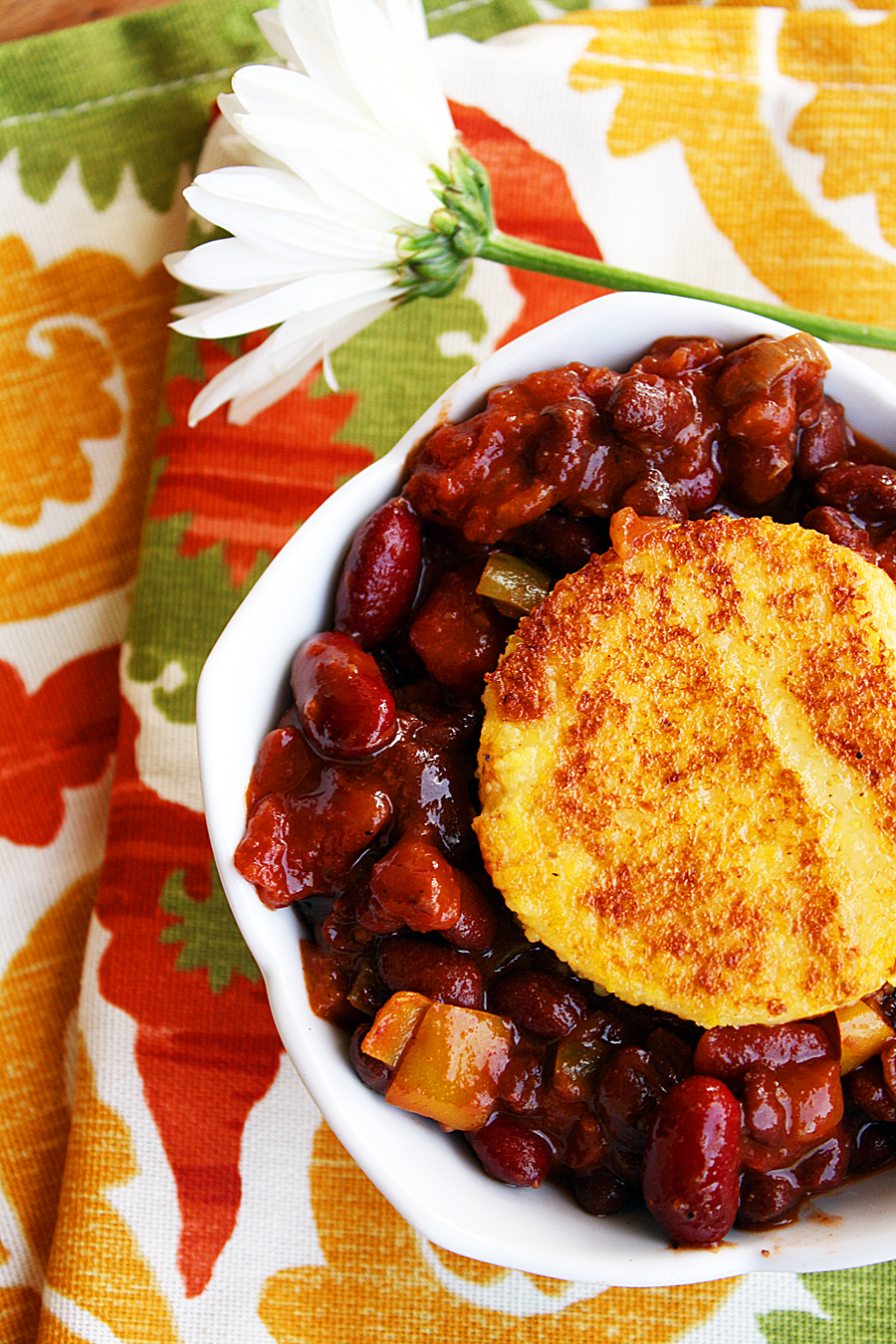 Hearty Vegetarian Chili with Polenta Cakes
Ingredients
Vegetarian Chili
1 tablespoon vegetable oil
2 cups chopped onion
1/2 cup chopped yellow bell pepper
1/2 cup chopped green bell pepper
2 garlic cloves, minced
1 tablespoon brown sugar
1 1/2 tablespoons chili powder
1 teaspoon ground cumin
1 teaspoon dried oregano
1/2 teaspoon salt
1/2 teaspoon black pepper
2 16-ounce cans stewed tomatoes, undrained
2 15-ounce cans black beans, rinsed and drained
1 15-ounce can kidney beans, rinsed and drained
1 15-ounce can cannellini beans, rinsed and drained
Basic Polenta
2 tablespoons olive oil, plus extra for grilling or sautéing if desired
3/4 cup finely chopped onion
2 cloves garlic, finely minced
1 quart chicken stock or broth
1 cup coarse ground cornmeal, I used Bob's Red Mill Medium-Grind cornmeal
3 tablespoons unsalted butter
1 1/2 teaspoons kosher salt
1/4 teaspoon freshly ground black pepper
2 ounces Parmesan, grated
Instructions
Vegetarian Chili
Heat the oil in a Dutch oven over medium-high heat. Add onion, bell peppers, and
garlic; sauté 5 minutes or until tender. Add sugar and remaining ingredients,
and bring to a boil. Reduce heat, and simmer 30 minutes.
Basic Polenta
Preheat oven to 350 degrees F.
In a large, oven-safe saucepan heat the olive oil over medium heat. Add the onion and salt and sweat until the onions begin to turn translucent, approximately 4 to 5 minutes. Reduce the heat to low, add the garlic, and sauté for 1 to 2 minutes, making sure the garlic does not burn.
Turn the heat up to high, add the chicken stock, bring to a boil. Gradually add the cornmeal while continually whisking. Once you have added all of the cornmeal, cover the pot and place it in the oven. Cook for 35 to 40 minutes, stirring every 10 minutes to prevent lumps. Once the mixture is creamy, remove from the oven and add the butter, salt, and pepper. Once they are incorporated, gradually add the Parmesan.
Serve as is, or pour the polenta into 9-inch round cake pan lined with aluminum foil or parchment paper. Place in the refrigerator to cool completely, about 2-3 hours.
Once set, turn the polenta out onto a cutting board and cut into squares, rounds, or triangles. Brush each side with olive oil and sauté in a nonstick skillet over medium heat, or grill.
Enjoy!