As this Sunday is Halloween, I find it only fitting to share with you one of my favorite candies, and flavor combinations in general: The sweet-and-salty, delectably creamy sea salt caramel.Simple to pop on your tongue and let melt in your mouth, but just as simple to make in your own kitchen with a pot, a spoon and a baking dish. Nope, you don't even need a candy thermometer.
The combination of smooth, sweet caramel and slightly crunchy salt crystals may seem unusual at first, but it's just that intense flavor that makes it impossible to stop after just one of these candies.
In a nutshell, here's how the process goes: You boil sugar, evaporated milk, and heavy cream. Next, add the light corn syrup, paying attention to the temperature of the mixture with a thermometer. Then goes in the butter and vanilla extract. Stir, stir, stir. Wait until the temperature rises a little more, and move the caramel to a cool burner. Try not to stick your finger in it. Add sea salt, pour it into a pan, stick it in the fridge to cool, and PRESTO!
You have a delicious, diverse candy that can be given as holiday gifts, stuck in the center of your favorite dessert (try 'em in the middle of these mini molten cakes), plopped into a cup of coffee, or simply gobbled up on its own.
I know you will just love the combination of silky, soft caramel and crunchy sea salt in these candies. The ingredients are easy to find, they're not too time consuming, and it doesn't take a master candy maker to make 'em perfect. Trust me. If I can do it, you can, too.
Oh, and Happy Halloween! Make sure to stay safe, wear a funny costume, and if you have kids, confiscate at least a little of their candy for your own stash. ;)
Speaking of sweets… What's your favorite Halloween candy?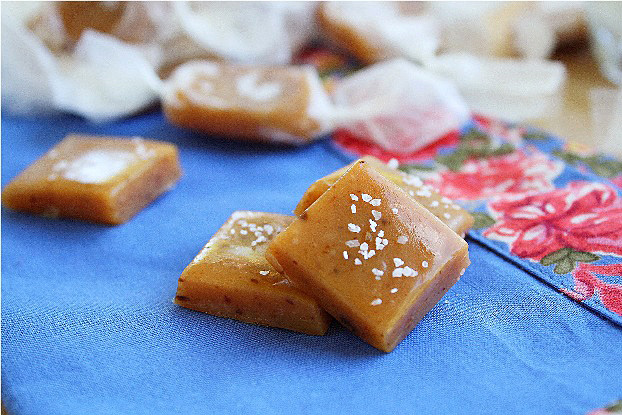 Sea Salt Caramel Candy
Yield:
70 (1-inch) pieces
Ingredients
1 3/4 cups sugar
1 12 oz. can evaporated milk
3/4 cups heavy cream
3/4 cups light corn syrup
2 tablespoons butter
1/4 teaspoons vanilla extract
1/2 tablespoons coarse sea salt
Oil or cooking spray
Instructions
In a large, heavy-bottomed saucepan, bring sugar, evaporated milk, and heavy cream to a boil over medium heat. Add corn syrup and continue cooking until mixture reaches 220 degrees F.
Add butter and vanilla; continue cooking, stirring constantly, until caramel reaches 225 degrees F. Remove from heat, stir in salt, and carefully pour into a lightly oiled 9" x 13" baking dish (parchment paper in the bottom of the pan is helpful).
Let cool at least 1 hour in the refrigerator. Invert onto a cutting board covered with waxed or parchment paper and cut into 1-inch pieces with a sharp, lightly oiled knife. After cutting, sprinkle each piece with a few flecks of coarse sea salt.
Caramels can be wrapped in waxed or parchment paper or cellophane. (To serve candy-store style, wrap individual pieces in waxed or parchment paper and secure the ends with a simple twist.) Store airtight at cool room temperature (around 65 degrees F) or in the refrigerator; will keep up to 3 weeks.
Enjoy!