As I shared last week, the cookies I baked for my mom and mother-in-law were rendered completely and totally un-giftable after they crumbled in my hands. I hadn't thought for a second that the cookies wouldn't make the short trip from the counter to a box, but as with most cooking and baking ventures, rarely does everything go exactly the way you want it to. So, after sitting in a defeated heap on the floor for a little while, I hugged my husband and started thinking of a different plan.
I was at a creative block and couldn't think of anything that didn't involve just starting over. But luckily, Mark seemed to have been studying Good Housekeeping magazine that week and came up with a great idea: Cookie mix in a jar!
There's nothing more I wanted than to send the moms some homemade treats, but if that wasn't possible then this idea was a darn good alternative. The mix involves just eight ingredients, most of which you probably already have in your cabinets, is very easy to assemble, and is a creative way to send a caring, semi-homemade gift when fragile cookies just won't cut it.
Not only would this make a nice Mother's Day gift, but it could also be a sweet host gift or holiday gift to neighbors, friends, teachers and coworkers, or contribution to a bake sale. This cookie mix is a variation of this recipe from AllRecipes, and from the reviews you can see how much fun it is for everyone, and what scrumptious cookies it yields!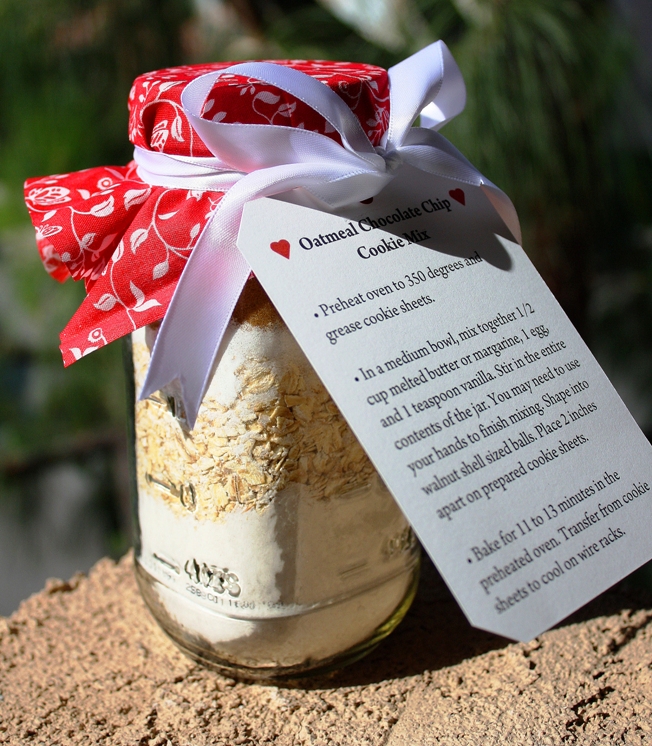 Cowboy Cookie Mix in a Jar
Ingredients
1 1/3 cups all-purpose flour
1 teaspoon baking powder
1 teaspoon baking soda
1/4 teaspoon salt
1 1/3 cups oatmeal
1/2 cup white sugar
1/2 cup packed brown sugar
1 cup semisweet chocolate chips
Instructions
Layer the ingredients in a wide-mouth 1 quart jar in the order given. Press each layer firmly in place before adding the next layer. If the jar is not wide-mouth, shape a piece of paper into a cone, stick the small end into the jar, and pour ingredients through the top.
Include a card with the following instructions: • Preheat oven to 350 degrees and grease cookie sheets. • In a medium bowl, mix together 1/2 cup melted butter or margarine, 1 egg, and 1 teaspoon vanilla. Stir in the entire contents of the jar. You may need to use your hands to finish mixing. Shape into walnut shell sized balls. Place 2 inches apart on prepared cookie sheets. • Bake for 11 to 13 minutes in the preheated oven. Transfer from cookie sheets to cool on wire racks.
Enjoy!